If you're in the mood to take a leap outside the contemporary, choose a red jacket for your outfit. This eye-catching color is all that you need to uplift a dull and neutral look, so head over to your closet and take out the many styles of jackets that you have hoarded. Jackets are essential for styling outfits in colder temperatures; you have unlimited options to choose from, especially from The Jacket Maker.
It's essential to choose the right shade of red because many times when you're going for a monochromatic outfit, the wrong shade ruins the vibe of the entire outfit. But we will get to that later, we must first discuss how you can create stylish red outfits from a red jacket with ease.
Is it Hard to Style A Red Jacket?
Contrary to popular belief, you don't have to spend hours in front of the mirror, holding your red jacket close to you, waiting for the inspiration to hit you. In fact, there are so many pieces that you can work with to make your red jacket stand out. For example, you can wear a red puffer jacket or a red plaid jacket with a white graphic tee and blue slim-fit jeans.
This is, of course, just the beginning. In this blog, we're going to discuss the various types of red jackets that you can wear and also how you can style them for smart casual to dressier events. Furthermore, we'll be touching upon the significance of the color red and its impact on your overall appearance as well as mood.
What Does a Red Jacket Say About You?
The color red represents extreme emotions and ranges between different symbolic meanings. From feelings of courage to anger and love and sometimes even rebellion – the color manifests strong emotions. Therefore, you unconsciously absorb these feelings by wearing red – which may not always be wrong.
For instance, the color red can influence your mood and boost your courage when you absolutely need it. Not to forget, almost everyone can make this colorwork. It suits various complexions and hair colors. The psychology of different colors of leather jackets is honestly intriguing!
Types of Red Jackets
There are so many types of jackets for men that can be used and dressed in multiple ways. Although bomber jackets are the most sought-after jackets, there are other jackets that one can play and get creative with.
Aviator Jackets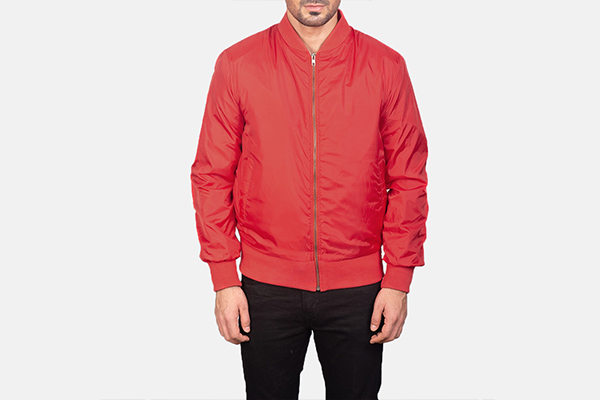 Having gone through multiple evolutions, this jacket has found a special place in pop culture. Aviator jackets have a unique silhouette and design that ranks it at the top of the list made for best outerwear.
The fabric is composed of insulating properties and has functional pockets as well. Although people prefer wearing aviator jackets in earthy tones, a red aviator jacket can sometimes be the right choice. You can wear the Zack Red Bomber Jacket with an all-white or black V-neck shirt and pants. As for the footwear, you can go for suede shoes or beige sneakers.
Biker Jacket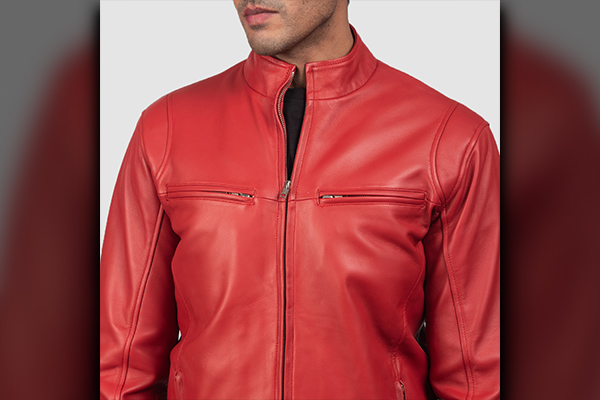 Biker jackets have an asymmetrical front with snap buttons and a waist belt. Often known as double riders; they vary in design and have a rebellious vibe to them. If you're interested in creating an outfit that is gutsy and daring, wear a red leather jacket, preferably Ionic Red Leather Biker Jacket, with all-black pants and a t-shirt. This outfit is perfect for smart-casual events.
Windbreaker Jackets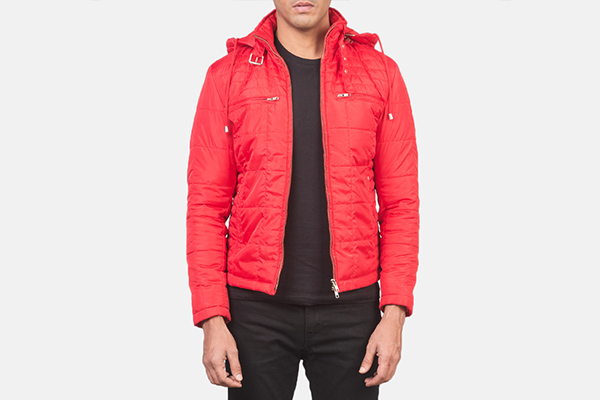 Windbreaker jackets are essentially lightweight and have high functionality. The fabric used to produce these jackets is water-resistant with elastic waistbands. You can wear it during warmer seasons as well; when you're expecting rain for protection. Bright-colored windbreaker jackets, like in red, are great to uplift your mood. Wear it with dark jeans or cotton pants. For this purpose, Alps Quilted Red Windbreaker Jacket is perfect!
Hooded Bomber Jacket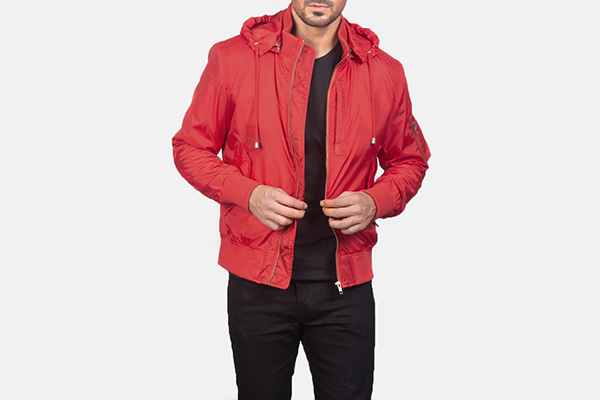 You can wear a red hooded bomber jacket like a boss by pairing it with neutral layers underneath. Go for cargo pants in any light or neutral tone along with sneakers in white. Think about the Hanklin Ma-1 Red Hooded Bomber Jacket with beige cargo pants and white footwear; the outfit screams that you're laidback and stylish at the same time.
Blouson Jacket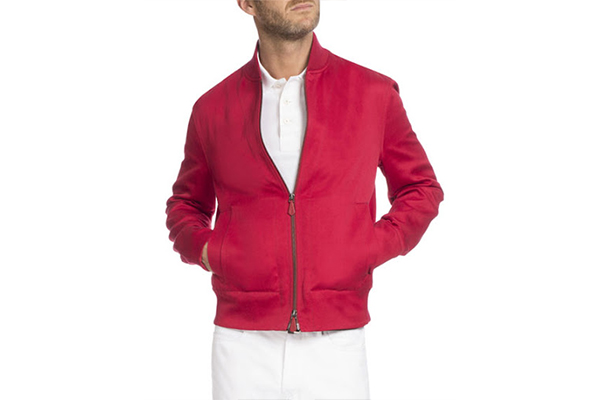 The blouson jacket is related to the Eisenhower jacket and has modern elements to it. You can wear this jacket at smart casual events; some even have hoods. A blouson jacket in red is exactly what you need to upgrade your regular style. Wear it with chinos or cargo pants. Choose a neutral shade to balance out the rest of the outfit.
Car Jackets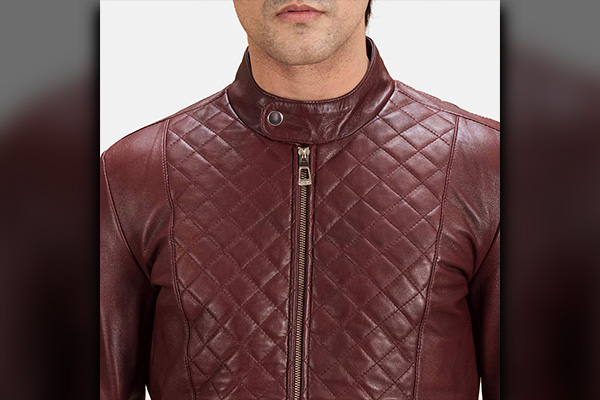 Car jackets are not only functional but also incredibly stylish. You can wear this jacket if you're going out on a road trip – the jacket is specially designed for people who are behind the wheel of a vehicle. It is extremely modern and the cut is edgy and sharp. Give a palewave look to your outfit by wearing a basic white t-shirt under the red car jacket and brown cotton chinos.
Corduroy Jackets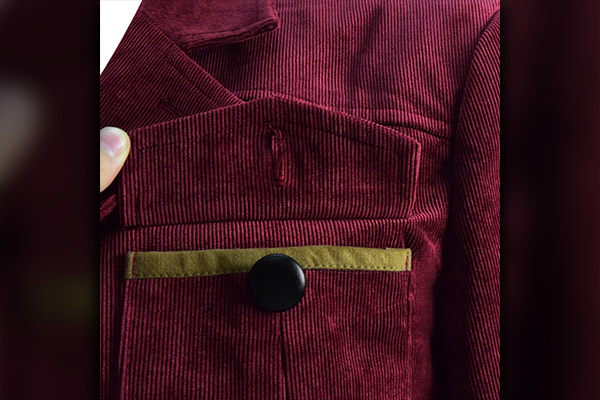 Corduroy jackets have a distinct style and are available in single as well as double-breasted coats. People generally go for earthy tones but you can give it an experimental look by choosing a bright red shade.
Dress in an all-white outfit and add drama with a red corduroy jacket. Mature men usually wear corduroy jackets, and that too in pale colors. It would be great to see all men opt for brighter and bolder shades like red provided the look is well put-together.
Field Jackets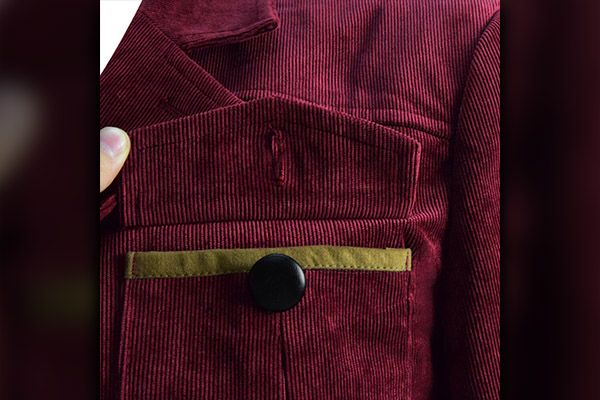 Field jackets are lightweight and great for adding layers to your outfit. You can wear this even during warmer weather. These jackets have a traditional look as well as historical significance, but you can now give it your own meaning and wear it in red instead of the usual green. Choose a grey v-neck cotton shirt and black jeans to go with this jacket and you're all set for a casual day out.
Harrington Jackets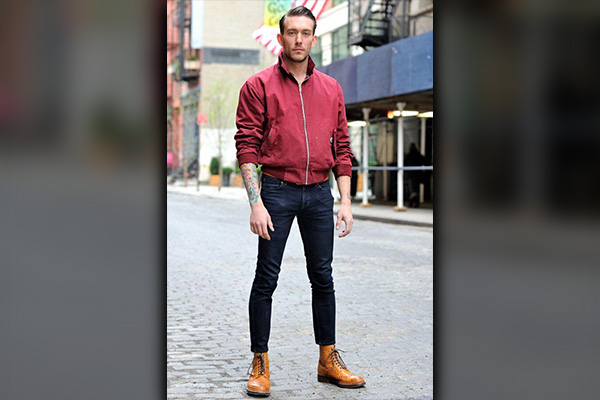 Harrington jackets are generally lightweight and made of suede leather, cotton, and even polyester. The great thing about this jacket is that you can wear it with printed shirts and brown cargo pants or even blue jeans. This jacket is perfect for creating "dad looks". Red is an interesting color to play with.
Fleece Jackets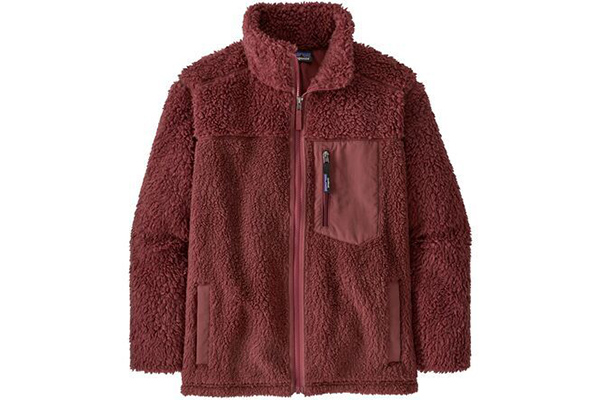 Usually made of polyester synthetic wool, fleece jackets are stylish yet simple to look at. They have thermal insulation because of which they're perfect for winters. Use this jacket to create multiple styles; for instance, you can wear a red fleece jacket with beige or tan jeans. It's great for a casual evening out with friends, especially when the weather outside is chilly.
FAQs
What Color Shoes To Wear With A White Outfit And Red Jacket?
You can go for red or brown shoes with an all-white outfit and a red jacket. 
Can Men Wear Red Jackets?
Of course, red is a color that suits people of all age groups, sizes and gender. A red jacket will not reduce your masculinity. 
What Color Goes With Red Jacket Men?
Men can wear black, lighter shades of red, grey, and white with a red jacket. 
Can You Wear Red In The Summer?
Yes, you can wear red in the summer. 
In Conclusion
It can now be said that a red jacket is sometimes all that you need to give your outfit a little oomph. Adding a red leather jacket can impact your mood and boost confidence within you. Not only is a red jacket easy to style but it is also incredibly stylish and also can be eccentric.