There are only a few jackets out there that fit seamlessly well in menswear with an effortlessly attractive look as the Harrington Jacket. It's strikingly simple charm and tailored fit reaffirms this jacket as a powerful symbol of refinement. Whether you're a fashion enthusiast, a nerd or simply one looking to expand your outerwear style options, the Harrington jacket is a definite must-have for you. Before getting ahead of ourselves, let's first explore the historical evolution of this style staple and then figure out ways to add it to your everyday looks.
The Harrigton Jacket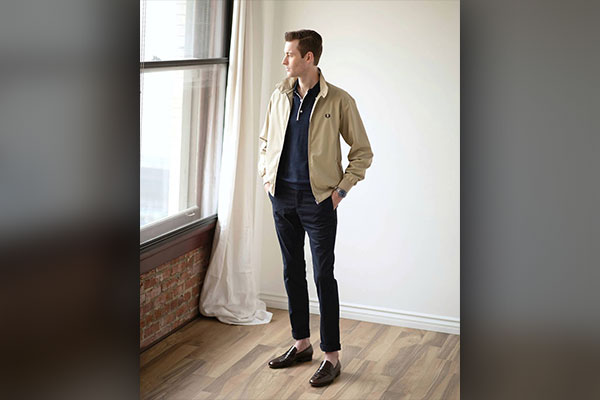 A Harrington jacket is a neatly tailored and lightweight design, manufactured with a pure blend of Cotton and Polyester and complemented with a Fraser Tartan lining. The design exudes a light and energetic appeal with its neatly lined cuffs and two-button collar. The Baracuta was the first-ever design, known today as the Vintage Harrington Jacket. Over the years, this trend has undergone numerous transformations as designers keep introducing fresher takes on this timeless classic.
History at a Glance
How was the Harrington jacket introduced? And isn't the tailoring much similar to the Bomber Jacket?- John and Isaac Miller, popular apparel manufacturers in Manchester, are credited for creating the original Harrington jacket in 1937. They launched the product as the G9 blouson, advertised under the brand label of Baracuta.
The Baracuta's quintessential vintage jacket was designed with a classic fit and manufactured with fabrics that maximize functionality and comfort. As it was introduced in response to the demand for light-weight, stylish; wet weather beaters. Therefore, the jackets had a water-resistant blend of cotton and polyester and a breathable Fraser Tartan lining. It featured front flap pockets, a sharp two-button collar, along with zipper closure, a slimming waistband and neatly tailored cuffs.
What is the Difference between a Harrington Jacket and a Bomber Jacket?
Fashion novices often confuse a Harrington Jacket with a Bomber Jacket. Truth be told, the differences are so subtle that it takes a practiced eye to identify the differences.
A Harrington Jacket is defined by its slanted flap pockets, Fraser Tartan lining, knitted cuffs, and sleeves. As compared to the Bomber Jacket, it features a larger size and a bolder, more ferocious appearance. Also, you will find a back yoke on a Harrington Jacket that allows the rain to fall away from you and your jacket. A key element that is not found on Bomber Jackets. The Harrington Jacket has a stand-up collar much like a Mandarin Collar that is not found on Bomber Jackets.
From G9 Baracuta to Harrington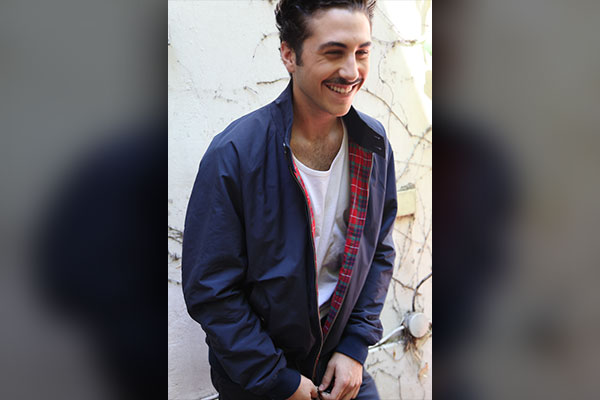 It didn't take long for Baracuta to emerge as a fashion symbol of style. The men's G9 Baracuta Jackets soared to great heights of popularity in outerwear fashion. In 1955, this legendary statement piece took over Hollywood after making a powerful impression in James Dean's "Rebel Without a Cause". While the jacket did make waves instantly, it was only later that it received a transformation in name.
How did the name Harrington get tied to the jacket? Thanks to legendary actor Ryan O'Neal, who wore the G9 Baracuta in the famous television series Peyton Place. O'Neal played the character of Rodney Harrington, who quickly became associated with the jacket's rugged masculinity and fierce charm. Hence the name Harrington Jacket.
Style Symbol: Preppy & Rebellious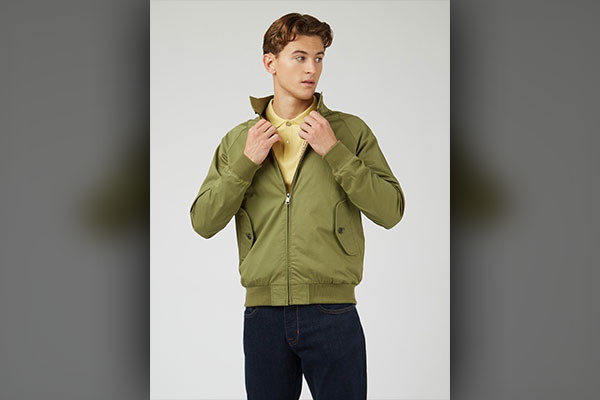 Over the years, men's Harrington jackets have been worn by the likes of Steve McQueen and Elvis Presley among others. Men worldwide began donning the Harrington jacket to emulate James Dean's uncouth charm and connect with this youthful symbol throughout the 50s.
The old-school and well-groomed profile of this neatly tailored jacket offers a universal appeal that complements anyone and everyone. It doesn't matter if you're a man, a woman, old or a teenager. It's a functional and versatile outerwear staple, which explains its unmatched popularity in streetwear fashion since the 60s.
Fun Fact: Harrington Jackets in Women's Wear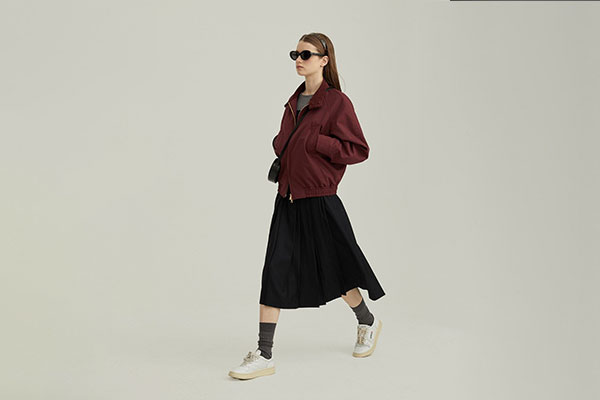 How did the Harrington Jacket become a part of women's wardrobes? The 60s, 70s, and decades onwards saw a powerful revolution in women's fashion trends with a growing demand for masculine tailoring, form-accentuating fits and structured apparel. The addition of the Harrington Jacket in women's outerwear occurred around the same time when ladies began experimenting with leather jackets, shearling bombers and other menswear trends, especially trousers. The rise of athleisure and activewear and the burgeoning influence of women in sports further fueled the demand for lightweight and functional outerwear pieces
Styling; A Non Gender Specific Wearable
For Men
Men's Harrington jackets, worn half-zipped with tailored trousers, are an effortlessly stylish and suave statement maker. An iconic outerwear staple that will never disappoint when it comes to luxury, comfort and aesthetic appeal. It's light profile and versatility will add value to your wardrobe. Not forgetting durability that will give you many years of great wear.
There are various ways to style this piece. You can pair up a vintage Harrington Jacket with basic denim jeans, jackets and t-shirts for a super casual layered outfit. For a semi-formal statement, pair up a suede Harrington jacket with a button-down and seal the look with tailored pants and matching footwear. Men's Harrington jackets also look sharp against a cream crewneck sweater or a neutral-hued turtleneck.
For Women
When it comes to incorporating a Harrington jacket in women's wear, athleisure is the best inspiration. It's lightweight and energetic appeal looks splendid with t-shirts, crop tops and yoga pants.
It's a super-versatile clothing item, so you can rock it with basically anything you own. Get creative and enjoy the preppy energy of a Harrington-style jacket! From streetstyle to sporting events, working-out and more. There is a lot you can do with a Harrington Jacket that serves a functional purpose as well as a stylish one.
Concluding our Post on Harrington Jackets
To correctly conclude our post on Harrington Jackets, it would be fitting to acknowledge the rapid evolution of this timeless classic over the last few years. Transitioning from troubled times to becoming a style essential that would literally make history in Menswear as well as Womenswear. Are you gearing up to buy a charming Harrington Jacket to add value to your wardrobe? It's a great choice for men who enjoy athleisure and functional apparel for their outdoor adventures. You can enjoy its refined tailoring with many wardrobe basics, from polo shirts and t-shirts to button-downs and crew-neck sweaters. It's an excellent go-to staple to make smooth style transitions from work to play!