If you have a knack for exploring diverse fashion around the world, you must have come across the popular perception about the impressive Italian fashion for men. It is widely believed that no one marvels at fashion more than Italian men. Their sense of dressing and the way they carry themselves is a class apart from others.
The distinct style of men from Italy is instantly recognizable. However, there are no particular fashion rules that they follow which can be imitated. The secret of Italian men having the edge over men of other nationalities in terms of style is basically their attitude. For instance, the Italian men's casual style suit can also be appropriate as workwear.
However, it doesn't mean that it's impossible to rock fashion like Italian men. We, at The Jacket Maker, will lay down some amazing ideas to give you some fascinating sartorial inspiration from Italy. Read our style guide to know how to dress like an Italian man.
The Evolution of Italian Men's Fashion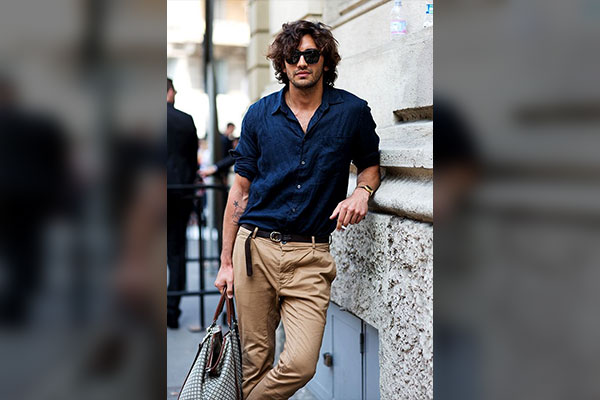 Italian men's unique and classy style has a rich history behind it that dates back to the Middle Ages.
Let's go back to the era between the 11th to16th centuries. The idea of giving importance to creative dressing was emerging. Fashion was quite extravagant in those days. People used to zoom in on details.
During the Renaissance, a lot of new trends gained popularity in men's fashion. Men wore overcoats with a contrasting color lining, and berets were a norm. Luxurious fabrics and accessories such as leather goods, jewelry and hats started gaining popularity.
Contemporary Italian Men's Fashion
Like every other trend, this one too saw a decline in the 17th to 20th century, only to fully revive in the 1950s. This was the time when French Haute Couture and Italian Fashion locked horns.
Currently, many Italian cities, including Milan, Rome, Florence, Naples and Venice, are considered important fashion centers of the world. Things to Learn From Italian Men's Fashion.
Strolling on the streets of Milan, Rome, or almost anywhere in Italy, you will hardly find a man who is badly dressed. And when you put some thought into what makes Italian men so stylish? You will likely get puzzled by the equivocacy of the way they dress.
The truth is that there is a lot to learn from Italians in terms of style. We have solved the mystery by laying down the fundamentals of Italian fashion for men so that everyone can understand and follow.
Premium Quality Fabric: Pride of Italians
The foundation of any look begins with the clothing material. Undoubtedly, Italy has always been a leading manufacturer of high quality fabric. The shirts, trousers, and all types of jackets that they wear are made with durable and premium quality fabric. This could be the reason why everyone is awestruck by the fashion of this Mediterranean country.
Italy is also reputable for its leather. The full grain leather jackets that they produce and immaculate leather stitching justifies their popularity.
We have to give full marks to the Italian men for their choice of fabrics. Be it the highly comfortable cotton and linen or velvet and meticulously woven wool, their fabric quality is supreme. As a result, this helps them create those million dollar looks whether they are dressed up casually or for a high profile business party.
Italian Men's Way of Creating Coherent Workwear
No one can beat the style of an Italian even when he is dressed for work. Italian men know the art of creating outfits for work with pieces that somehow fit together giving a visual depth. Mixing and matching colors, patterns, and fabrics that complement each other is a great way to look interesting but coherent.
Italian Style Tailoring of the Suit
The Italian suit is quite different from its British counterpart, usually exuding a certain level of flamboyance. There is less structure in the suit, with soft shoulders and a snug fit. The padding in the shoulders is not stiff like a British suit, and there are no particular rules to follow.
The lapels in the suit jacket are broad and hence, more noticeable. Mostly there are peak lapels, unlike the notch lapels of a suit jacket worn by a British man. Also, Italian suit jackets have no vents as opposed to the single vent in American jackets or the double vents in British suit jackets. When it comes to the trousers, they are tailored to a specific length, either touching the top of the shoe or a little higher than that.
Pick Up on the Trouser Length Like Italian Men
One of the reasons why Italian men's style conquers is that they pay close attention to the details like the length of their trousers. It may not be considerable for even the most fashionable men in other places, but for Italians, it holds importance. Wearing trousers that conceal your stylish footwear is not at all a move an Italian would make.
Trousers that Italian men wear are neither short, nor long enough to hide the shoes. They make sure the length reaches the top of their shoes, ending a little below the ankles. As it is hard to find a trouser off the rack which fits this perfectly, Italians buy the trousers and get them altered to the right length.
Spezzato: The Unique Italian Dressing Style for Men by Pairing Separates
If you look at photos of stylishly dressed Italian men walking on the streets, you will notice a lot of focus on using separates to create outfits. This is what is referred to as spezzato, a term which means 'broken' in Italian.
The term implies the particular style of Italian men who mix and match trousers and jackets from two different suits. They do it with such an effortless flair that it becomes a terrific style statement.
The strategy behind spezzato is to look as if you are wearing a sports coat with trousers. Another way to nail this style is to pair a suit jacket, waist coat, and tie with a casual bottom wear like cargo pants and jeans.
If splitting up the suit like Italian fashion seems difficult to you, do take care of a ew things to make it easier. Firstly, avoid mixing and matching with a pinstripe suit as it only looks great when you wear it from head to toe. If you like to go with patterns, try pairing windowpane stripes or houndstooth pattern jackets with plain trousers in a contrasting color.
When it comes to bringing materials together, don't mix a worsted wool staple with flannel or linen staples.
Sprezzatura: Mode of Fashion for the Italian Men
Much of the Italian style for men can be summed up into an Italian word, Sprezzatura. Before you get confused by this foreign term, just know that it simply means looking effortless.
Italian men attentively select their clothing and accessories and style them in a way that appears disheveled and relaxed. Their style is quite artistic and, in some cases, may take a lot of effort to create.
Sprezzatura is not limited to casual Italian fashion. From the comfortable surroundings of one's home, it has paved its way to the streets of Italy and permeated to workplaces as well. It is not unusual to see the popular "effortlessly styled" men's look in formal surroundings.
Choose a Blazer and Build Your Italian Style Look With It
Curating an Italian fashion outfit is more like a well thought out process. As opposed to the classic way of deciding your complete outfit and layering it with a blazer towards the end, Italians habitually start by choosing their blazers or suit jackets first.
After that, they decide which shirt, trousers and shoes would look best with it. Accessories come in the last, that you can pick to further heighten the style meter reading of your blazer outfit.
The technique makes sense as it puts the most important part of your outfit, the blazer, in the well deserved limelight. As all the other pieces of clothing and accessories go well with it, the outfit looks perfect.
Italian Men's Choice of Colors
When it comes to colors, Italian men love to experiment as much as Italian women. Though there is a difference between the color choices of men from Northern Italy to those of Southern Italy, it is mainly due to the influence of the weather.
North Italian men love to wear vivid colors to create their notoriously vibrant looks. They love bold prints, as often seen with their paisley and large printed shirts and trousers. On the other hand, South Italians are no lesser in terms of style, but theirs is a bit subtle with neutral colors and a little more structure in clothing. Men from the South also wear a lot of candy colors to portray their resplendence.
The Art of Dressing Down Formal Clothing
In the 50s and 60s era, wearing a suit was a norm for men. Every man, whether of any age or social background, was supposed to wear a formal suit.
Due to the absence of a casual style, the idea of dressing down the suit to feel more comfortable and unrestricted emerged. It allowed men to express their personal style while still wearing something formal.
Whether they are wearing a custom or off-the-rack jacket, Italians like wearing unstructured jackets without the inner lining and shoulder padding. It is their typical way to stay relaxed in formal wear. They also replace Windsor style ties with knitted or silk ties.
You may spot uber stylish Italian men wearing an unbuttoned double breasted blazer in an attempt to dress it down. Lastly, wearing a formal shoe like a double monk strap without socks is another way to dress down the formality.
Cotton and Linen are Significant in Italian Fashion
There are several reasons why cotton and linen jackets are a vital part of Italian fashion. One maybe the Mediterranean climate of the country, which often leaves people reaching out for breathable and light fabrics rather than conventional suiting fabrics. The other is Italians lean more towards a cool and confident style instead of a sharp look.
Cotton and linen jackets and pants may crease quickly unlike the other suit materials, but they successfully create a relaxed, attractive look. The way Italian men embrace the stylish look of cotton and linen clothing is commendable and surely inspiring.
Breaking the Style Rules: Crux of Italian Men's Fashion
Who needs to go by the book when you are a fashionable Italian man? Men around the world envy Italians for their unbeatable style even though they usually break quite a lot of rules, albeit strictly following any of them. Their style maybe nonchalant, but it is surely for the good as proven by their appealing looks.
With that said, Italians do alter the fashion rules only because they know them very well. A few examples of this would be style moves such as wearing tassel loafers with suits, wearing a non-collared shirt under a suit jacket, or wearing sunglasses even when it's not sunny outside.
Whenever you spot an Italian man wearing a half tucked in shirt, tailored shorts with suit jackets, or a loose tie knot, notice that they always do it on purpose and look great while meddling with the usual fashion norms.
Wear Your Watch in the Italian Style
There are three prominent things that you might notice in how Italian men wear their watches. First is the knack for sports style watches, which they often wear even with their suits.
Secondly, they like to wear an appropriate sized watch belt which clasps the wrist in the right place and keeps the watch in place. Another style that is classically Italian is to wear the watch over the cuff of the shirt sleeves rather than hiding it inside the cuffs.
Retro Style Eyewear is Huge in Italy Men's Fashion
Italian men's choice of sunglasses is what sets them apart from the rest. They usually wear bold sunglasses with a 70s flavor, such as wide framed shades and gradient aviator style shades. Sunglasses are a vital accessory to complete Italian style outfits.
Alla Moda: In Vogue Italian Style Men's Essentials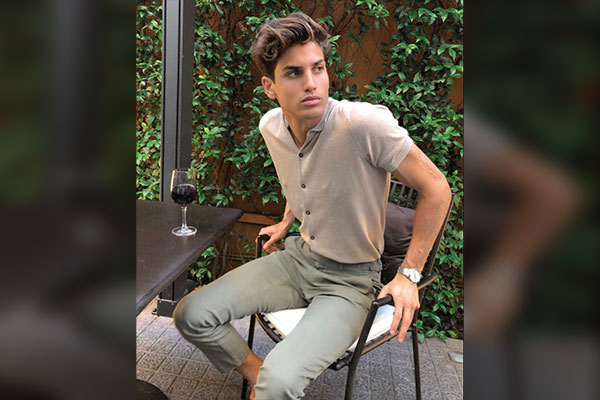 To go more in depth in the Italian men's dressing, we need to know their style essentials. Here is a break down of what kind of clothing and accessories do men from Italy use.
Shirts
Italian style men's shirts include collared dress shirts, both casual and formal, in a variety of colors. Plain ones in bold colors like yellow, pink, purple, and blue are in vogue, and so are light colored shirts with broad stripes.
Sweaters in neutral colors and polka dots, polo shirts, and crewneck ribbed sweatshirts are also a popular sight on the streets in Italy.
Trousers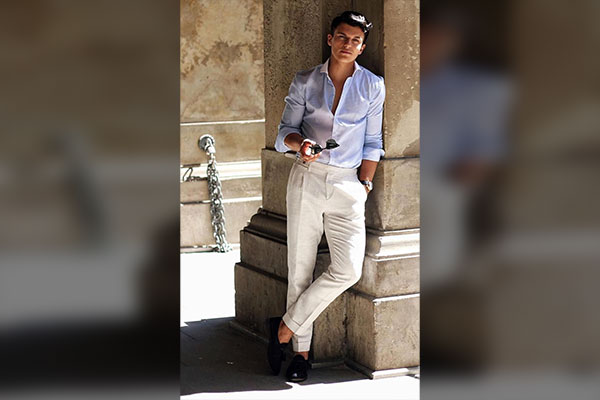 Italian men usually prefer plain or patterned tailored trousers. However, it is not a standard style as they create various stylish looks with jeans, cargo pants, and chinos. You will see a lot of men wearing white jeans with shirts and blazers in bright colors.
Jackets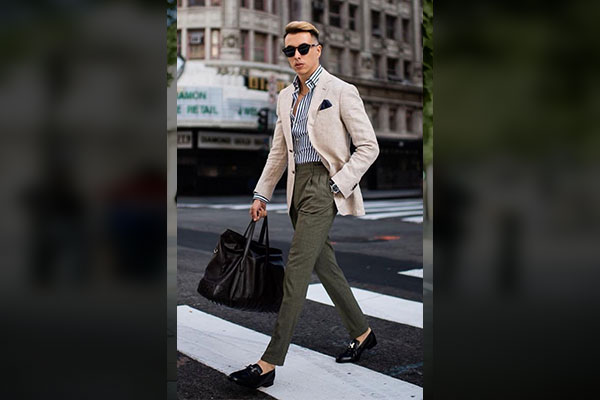 Talking about jackets, there is an immense variety that Italian men prefer. They use blazers, wool coats, overshirts, various types of leather jackets, and denim jackets to layer their outfits. Especially, the navy jacket is a staple in every Italian's wardrobe.
Classy men from Italy have a knack for vintage leather jackets as it helps them build those typical nonchalant yet luxurious looks.
Hats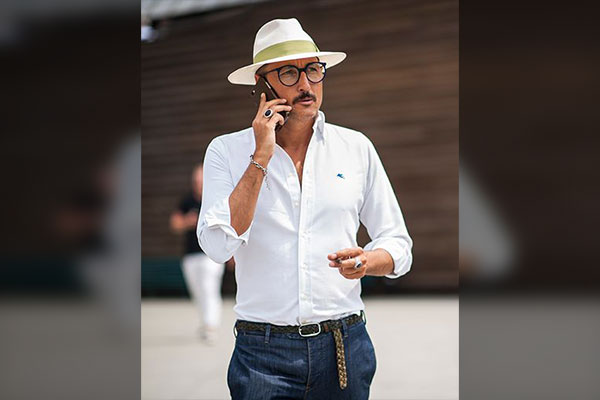 Hats are an integral part of Italian men's outfits. It is an accessory that defines their classy style. They mostly wear berets and fedoras, but it is not uncommon to spot Italian men wearing cowboy hats and top hats.
Shoes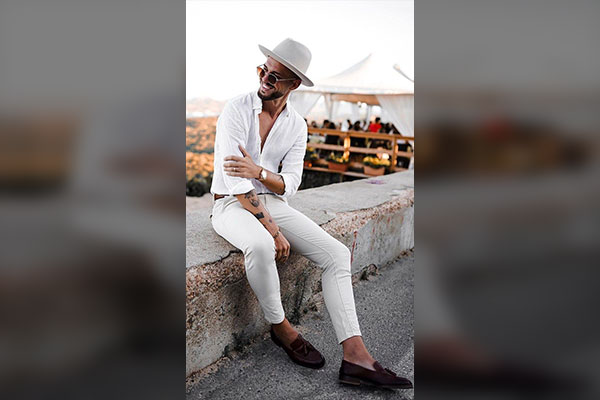 An Italian man's shoes contribute a lot to his dressing style. Men's footwear is as versatile as the rest of Italian fashion clothing essentials. Men wear casual style loafers, boat shoes, and sneakers for casual wear. For formal use, they mostly wear double monk straps, Derbys and Oxfords.
Sunglasses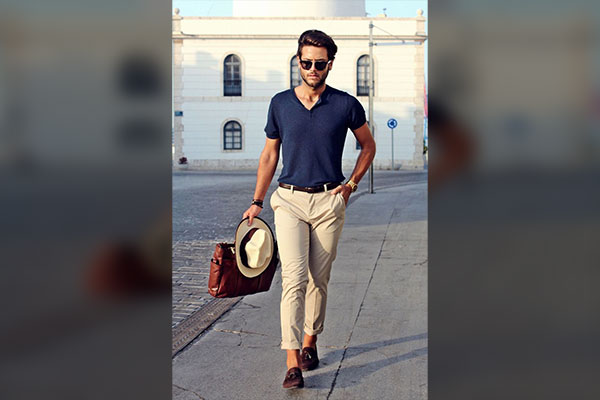 To finish off their dashing looks, Italians wear shades in bold styles. Aviator and wayfarer style eyewear is an essential ingredient of their style.
Bags and Other Accessories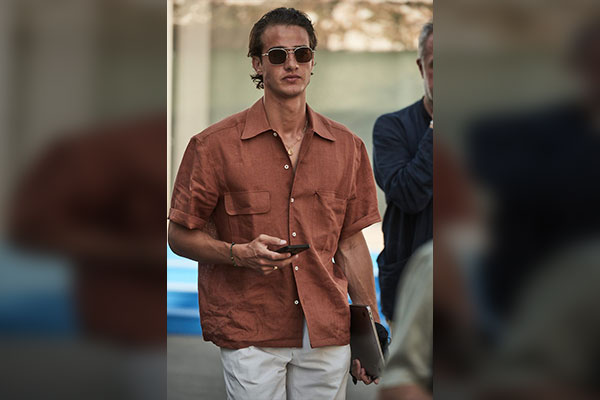 Italians have the edge over others in terms of style, mainly due to their powerplay with accessories. Be it their elegant watches, vintage European style shoulder bags, or stylish man purses, Italian men definitely ace at accessorizing any type of look.
The pocket square holds much importance in Italian men's style. The way these fashion forward men fold their pocket square is alone a display of sprezzatura. The best way to describe it would be elegantly undone.
Italians prefer wearing longer belts, as hanging excess belt material is quite typical for their style.
Outfits Inspired by Italian Men's Fashion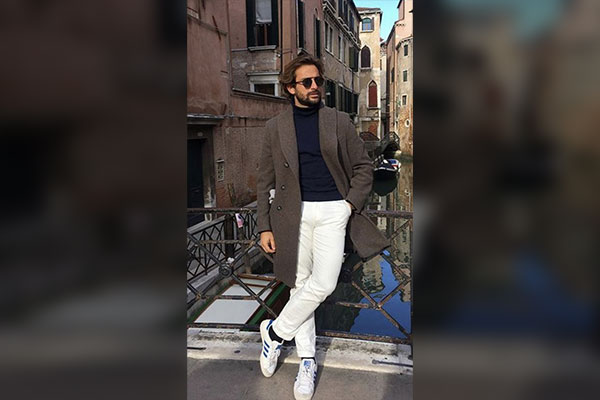 The first thing that you need to learn while putting together an Italian style outfit is that you will be making a strong style statement. Half of your style statement will come with a confident attitude and pride in what you are wearing.
Italian Men's Street Style Look
To effortlessly build an outfit inspired by the Italian men's street style, you can wear a lightweight brown sweatshirt and white jeans. Layer the outfit with a dark brown blouson jacket. Add finishing touches to your dashing look with a pair of brown Derby shoes and black shades.
Italian Men's Dapper Smart Casual Look
Pair a white button down shirt and navy trousers for a simple yet suave smart casual look. Hold the pants where they should be with a brown leather belt. You can also enhance the look by wearing a grey tweed sports jacket over this outfit.
A pair of tan double monk straps and a sports style watch is all you need to season this look.
Italian Men's Casual Summer Look
Rock the casual fashion like Italians do with a pair of slim fit jeans and a grey t-shirt. You can wear a distressed denim jacket or an unstructured black blazer to add Italian touches to your look. Go with a no sock style with a pair of light brown loafers, and you are good to go.
Italian Men's Formal Clothing Style
Wear a grey pinstriped double breasted wool suit in Italian style. Take a scarf in a vivid shade such as blue and tie it around your neck to mimic the classic Italian flamboyance. Finish off the look with brown oxfords and black aviator shades.
What is the Everyday Italian Fashion for Men in Rome?
For men, Linen pants, polo shirts, half sleeved collared shirts, and cargo pants are the usual everyday wear in Rome. Besides, you will also see men sporting leather jackets, blazers, and long coats in the fall and winter seasons.
Can Guys Wear Shorts in Italy?
It is understood if the hot weather makes you wish to wear a cool pair of shorts. Apart from the churches in Vatican City, wearing shorts is acceptable in Italy. 
What Should I Wear to Dinner in Italy?
Dress according to the level of formality of the dinner. If the dinner is corporate or very formal, wear a nice suit. Otherwise, you can dress casually in a pair of jeans and a printed shirt.
Takeaway
There is a reason why Italians are arguably the world's best dressed people. Italian fashion for men is well reputed for the use of best quality material and unparalleled clothing style. Besides that, their attitude is also noteworthy as it greatly contributes to their style. Putting it into Stefano Gabbana's words, "Italians know what matters is style, not fashion. Italian style does not have social or age boundaries."
Italian fashion for men is all about embracing style and wearing loud, bold pieces with absolute confidence. Therefore, you, too, need to practice the same in order to look good while imitating their style.