So, you need to buy a brand new suit.
Ready-to-wear or custom-made? Which one to go for? 
A quicker option is to grab it off the rack from a menswear store, where you can select from a wide variety. Or, you can plan ahead of time, and go for a custom-made one.
This blog will lay down the basics of ready-to-wear, made-to-measure and bespoke clothing in detail. We will describe what these terms actually mean, and what are the pros and cons of going for these options while buying a suit.
Suits are the top-tier formal attire in menswear. It is a tradition to wear a suit on formal occasions like a wedding, business meetings, professional forums, or an interview. Therefore, the way your suit looks tells a lot about your personality. 
A well-fitted, premium-quality men's suit jacket will make you look sharp and well-dressed. If the jacket is too tight or too loose, it will give off an impression that either you completely lack the dressing sense or have borrowed it from someone. 
Let's learn the nitty gritty of ready-to-wear (also known as off-the-rack) suits and custom suit jackets to help you make an informed choice for your wardrobe. 
What Does Off the Rack Mean?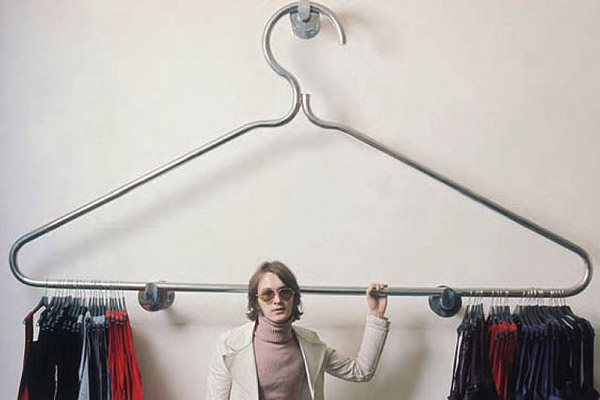 Off-the-rack clothing is simply ready-made clothing, commonly known as ready-to-wear apparel which a plethora of menswear brands manufacture. These brands do not make clothes according to individual, particular requirements. Instead, they are available in standard sizes with the goal of targeting the majority of customers. This can be problematic knowing that everyone has a unique body shape and size.
Even though an off-the-rack jacket is pre-made according to a set size, you may be able to get it tailored to fix the length, sleeves, and hem according to your preference. Though this is not always possible based on the type of suit. Doing so may make your jacket fit you better, but won't provide the perfection that a made-to-measure or bespoke jacket would.
One of the perks of buying off the rack is that you are able to choose from a wide variety of different types of jackets for men. Also, you can go ahead and buy a suit quickly when you need to wear it the next day.
What are Tailored Clothes and their Types?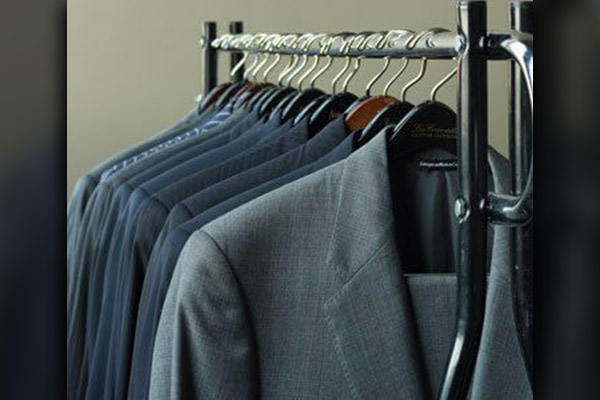 Perfect fit, self-chosen design, and carefully selected details; that is the recipe for tailored clothes. Especially, for men's suit jackets, tailoring or customization is the best bet as a suit looks good only when it fits you right. Getting a tailored suit is undeniably a time-consuming process, but worth the wait. The payoff would be the perfect piece of formal wear that will help you leave a lasting impression on people.
The price of custom jackets is higher, but they are a worthwhile choice. There are two categories of tailored suits. Made to Measure, and Bespoke.
Made to Measure:
The customization of an already available design is commonly referred to as Made to Measure. Brands that offer made-to-measure suit jackets let the customer choose from design prototypes. The customer then chooses one of the available designs and orders their size from the available suit jacket design chart. It is one of the most popular and practical ways to order a properly fitting suit jacket via online shopping.
For instance, if you choose a charcoal grey dinner jacket with a notch lapel from a brand's website, you will get an option to select your particular size from the chart. The company will then customize the design accordingly and deliver it to you.
Bespoke:
Bespoke labels make garments from scratch according to the customer's preference. Brands dealing with bespoke men's suit jackets have professional tailors who take the measurements of the customer and guide him about the fabrics and styling.
Following that, the professional craftsmen make the suit jacket with care and precision keeping in mind all the unique specifications. They sew the full canvas layer between the outer fabric and inner lining to give the jacket more structure. Before the final garment is ready, the designers call the customer for fittings at least once or twice. 
As bespoke brands make the jacket according to a person's accurate measurements, the fit it provides is beyond perfection. It is comfortable enough to make you feel like you are wearing something casual. It makes you look sculpted and well dressed.
Keep in mind that the bespoke option is not at all cheap. In fact, the starting price of bespoke suit jackets is $2000, and that too an entry-level garment.
If we contemplate bespoke vs made to measure clothing, the bespoke one will always feel better than made-to-measure. The reason for it is the absolute fit and the fact that you have chosen everything from the fabric to the buttons yourself.
Why Are Suit Measurements Different Than Off the Rack Size?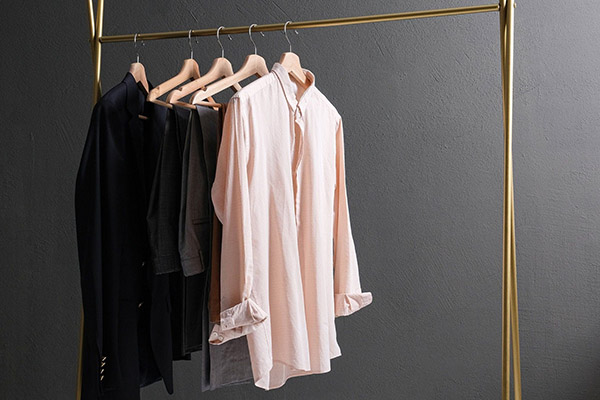 When you go shopping for a suit, you see small (S), regular (R), and large (L) off-the-rack sizes. Some brands also offer extra small (XS) and extra large sizes (XL). These sizes refer to the jacket length. As for the jacket's chest size, you will probably see sizes starting from 34 to 52. 
As for custom-made suit measurements, they are different for different body types. Completely rejecting the 'one size fits all' mantra, every customer can get a suit jacket according to his correct measurements. If you are ordering a made-to-measure jacket online, you will submit your measurements (do it yourself or ask a professional tailor to do it properly).
How to Buy Off-the-Rack Suits
When buying a ready-to-wear blazer or suit jacket, there are lots of factors to consider. You need to check the fabric, stitch, and button quality, and look closely for any flaws. There are three steps 
Firstly, keep in mind that as the quality goes up, so does the cost. If you have a low budget, you must have realistic expectations as companies make low-priced suit jackets with mediocre fabric and substandard stitching. Even if such a suit looks good, it will get ruined very quickly.
It is very important to order the size closest to your measurements. Just like buying your first leather jacket, we recommend taking help from a professional who will advise you regarding the correct size. Use the same size to order formal suit jackets.
Get the alterations done:
Until a tailor alters it according to your measurements, an off-the-rack suit will not look perfect. The sleeves might be too long, or the waist too wide. Some menswear stores offer alterations as well, but you can find a good tailor and get it done from him instead. 
Advantages of Custom-Made Clothing
Custom-made not only looks good, but it also comes with some amazing benefits.
Unique Design
With off-the-rack suit jackets, you cannot deny the fact that hundreds of other people on the same design that you are wearing. Owning a customized suit jacket is a totally different game altogether. You get an exclusive feeling that your suit is one of a kind. 
Fits Comfortably
The premium quality material, fine stitching, and perfect size paves way for a comfortable and breathable suit jacket. Especially the fit around the shoulders, allowing easy mobility and a structured look.
Stitched According to Your Unique Body Type
The custom-made suits are a perfect choice as it caters to every size. Whether you are big and tall, or have a short height and a lean physique, you can get a suit according to your unique body type. 
Your Choice of Fabric
A great advantage of tailored suits is that you are able to choose fabric for yourself. Choose from a wide variety of plain, patterned, or textured fabrics for suits, blazers, and sports jackets.
Customized Styling
The styling elements of the suit jacket consist of lapels, pockets, and buttons. Brands offering tailored suits customize all these features according to your preference. You can decorate the custom jackets with pins of your choice. Plus, you can also choose the lining material for yourself. 
Better Quality
The top-most benefit of getting a custom-made suit is that it is stitched with perfection. There would be no creases while buttoning and the buttons will be of a higher quality. Also, you can clearly see how the stitches are evenly spaced, and in straight lines which proves the high quality craftsmanship.
Durability
A made-to-measure or bespoke suit will last for years in your wardrobe, saving you the money you spend to buy ready-made suits again and again.
Tailored Clothes vs Off the Rack Clothes
If we compare tailored suits vs off the rack, you will find the ready-to-wear options a lot cheaper. However, cheap jackets won't provide you the ideal fit like custom-made ones. Also, you don't get the privilege to choose the fabric, and the style of lapel, pockets, and buttons of a ready-made suit. 
Although the price may be the foremost factor when you are making a decision to buy a new suit, it is important to look beyond the price tag.
In ready-to-wear clothes, the inner lining fabric is of debatable quality. As the ready-to-wear garment brands produce clothing on a massive scale. The machine fuses the inner lining using glue, which causes restricted flexibility and discomfort. Moreover, the low-quality fabric doesn't last long.
On the other hand, Made to measure, or bespoke suits will last longer in your wardrobe due to their premium quality fabric, top-notch stitching, and ideal fit. The professional tailors of the made-to-measure brand sew the inner lining is properly with the fabric, making the stitch strong and durable. The meticulous process of making a custom suit ensures that the final piece is perfectly according to your choice. 
Even if you are still convinced of the ready-to-wear options, think about how quickly they get ruined. Going for the seemingly expensive but long-lasting custom suits is way better than buying a $200 suit again and again. Besides that, you must consider the cost of alterations that you need to pay the tailor who hems and fits your off the rack suit.
FAQs
How To Fold a Suit Jacket?
Although it is best not to fold the suit jacket at all, there is a proper way to do it.
Unbutton your jacket.
Push one shoulder inside out.
Fold the other shoulder into the cavity created by the first shoulder. The jacket will now show the inner side.
Fold it vertically.
Roll the jacket for a compact fold, or fold it once horizontally.
What Does It Mean To Wear Off-The-Rack?
Wearing off the rack means that you visit a clothing store and buy ready to wear clothes from there. The off the rack garments are a quick solution for short notice events, but they do not match the quality and comfort of custom made clothing
What's The Meaning Of Bespoke?
Bespoke refers to clothing that brands make from scratch according to the customer's choice. From the choice of fabric to the smallest details, the customer selects everything. The brands stitch bespoke clothes according to accurate measurements rather than standard sizes.
What Is The Opposite Of Off-The-Rack?
Terms like custom made, tailored, made to measure, and bespoke are the opposite of off-the-rack. Although there is a difference between a tailored, made to measure, and bespoke garment, people use these terms interchangeably.
Off the rack clothes are ready made clothes, whereas the custom made ones are those that are made keeping individual choices and sizes in mind.
Takeaway
Sometimes, it's ok to go for time saving options like off the rack jackets, especially if you don't have time for the long customization process. However, it is best to order a made to measure, or bespoke suit ahead of time if you want to look best while staying comfortable.