Men have been wearing leather jackets for centuries to highlight their status and position in society. It continues to be an essential part of their capsule wardrobe; they mix and match it with various attires and look smooth and dashing. Leather jackets are of numerous styles and sizes, depending on the purpose and preference. But finding a quality leather jacket is challenging, especially for big and tall buyers.
Buyers complain that manufacturers of most fashion houses don't have sizes for big and tall leather jackets; raising an argument that quality jackets are only available in smaller and petite sizes. This is a valid point but sometimes you just need to do a little more research to find out how and from where to buy big and tall leather jackets, and most importantly, how to clean and maintain them because they aren't cheap.
Essential Guide to Buying a Big and Tall Leather Jacket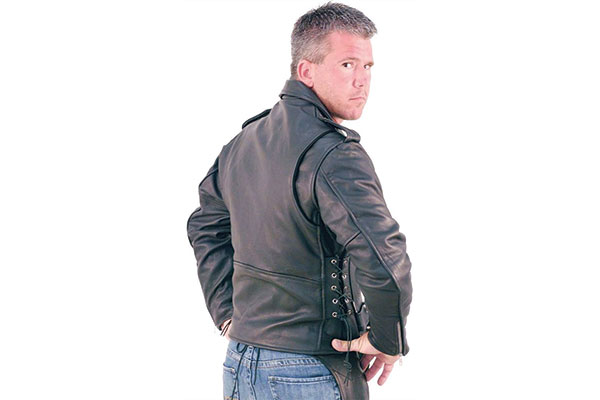 Do you even know how to buy a big and tall leather jacket? We've come across many interested buyers who say that they are looking for big and tall men's bomber jackets but they don't know exactly how to identify a quality leather jacket.
Furthermore, they usually ask for oversized leather jackets not knowing that there are different types of jackets and coats to choose from. At most, they want a particular color or leather type because of which they often end up buying faux leather jackets unintentionally, and that too, at a much higher price.
Thus, we've created a basic list of considerations for you so that the next time you decide to buy a big and tall leather jacket you know what you're doing.
Cost
When it comes to denim, you have a lot of room to bargain – but leather is a different case altogether. It is important to understand that the higher the price of a leather jacket is going to be, the better the quality will turn out. Once you stop searching for cheaper leather jackets, your options will reduce to half automatically, making your search for a quality leather jacket easier.
Production
Do you know that a quality leather jacket can last you for approximately 20 years if not more? It all depends on the construction and material used in the production, though. It is critical that you look for a jacket that is constructed using good quality materials because you don't want the jacket to fall apart in a year or two. Think about the investment; would you be willing to waste your hard-earned money on something as fickle as this?
Quality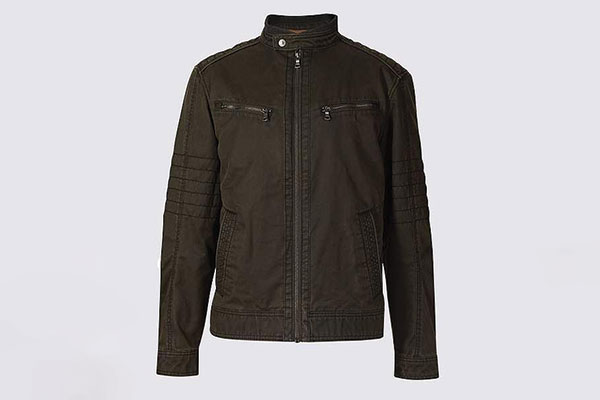 As we all know, there is a variety of leather to choose from, and naturally, some are better than others. The question is: How do you identify which leather is best and which one isn't? It's really simple; evaluate if the leather is soft and supple to feel? Does it feel good on your skin? If the answer to both questions is yes, chances are that it is quality leather. However, if you find that the leather is hard and stiff on the skin and just in its general feel, it is probably poor in quality.
But to make the decision simpler for you, the topmost layer is always the best and most expensive and it's called full-grain leather. Although it has a couple of blemishes here and there, it is still the best quality as it lasts longer and is made from the topmost skin layer of the animal making it a natural protective cover.
Top grain is another type of leather that is made out of the same layer of the animal skin but it has been sanded because it gives off a different look and feel. It's different from full-grain leather as the blemishes have been removed and dyed into different colors. Suede comes right after this layer and it has a really soft touch but it can be impossible to clean.
So the question arises: What type of leather should one not invest in? We believe you shouldn't buy bonded or particle leather because it is not only the cheapest leather but also the most misleading and poor in quality. It has been recycled and taken out from scrap so you can imagine how bad it must be. And you know what the catch is? Most companies label this leather as "genuine leather" which is honestly a trap!
Problems Faced When Buying a Big and Tall Leather Jacket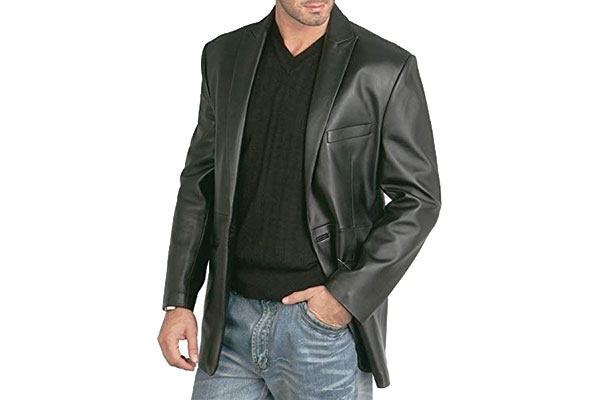 As discussed, the problem with buying big and tall leather jackets is that you don't easily find the right size. And even when you do get the size, the options are limited and incredibly expensive. Apart from having a small selection, the products used to produce these jackets are of low quality. Also, many companies claim that their manufacturing is done by US-based companies but that's not entirely true; the products are usually made in China.
Since it's a big investment, buying a leather jacket is honestly a big deal. It is expensive which is why it should last you a long time. Never underestimate the quality of a quality leather jacket as it can last for over 20 years.
Bespoke Leather Jackets by The Jacket Maker
The Jacket Maker is a great company as it is known for offering custom leather jackets. What this essentially means is that it tailors leather jackets specifically for the customer; meaning the jacket is handmade only for you. Unlike many other companies, these jackets come in all sizes – from XS to 6XL.
What size is a large leather jacket?
Large leather jackets are usually of size 46 and above. 
How do you clean expensive leather jackets?
Leather jackets are cleaned by mixing a solution of warm water and soap. First, you should dip a cloth in the solution and wipe the jacket clean by wringing it out. Some people often make the solution using vinegar and water. The most important thing to remember is to dry the leather instantly using a towel. 
Should you size up or size down leather jackets?
Most stylists recommend that you size down from your standard outerwear size. Leather jackets should feel like a warm snuggle or embrace from your arms when you button or zip them all the way up. 
Are big and tall sizes different?
Yes, big and tall sizes are slightly different. A big person is supposedly larger in size in terms of width. Hence, they will be larger from the chest, waist, and hips areas. On the other hand, a tall person is taller in length, making their height 6'2" and above. 
Are big and tall shirts longer?
Usually, a tall men's shirt is 1 and a half-inch longer compared to a regular size. Hence, measuring the sleeves can be slightly tricky and one should always be careful with the arm length when taking the measurements.
Conclusion
It can be established that big and tall leather jackets are particularly harder to find. It's better to customize them as tailor-made jackets look stylish and enhance the overall look. Their maintenance and care are also crucial and so emphasis should also be placed on that apart from just focusing on the price of the jackets.