Short men looking for style tips and leather jackets that will do them justice, read on.
A short height is to be embraced and once you have accepted this fact, it will be easier to find ways that can give the illusion of a taller stature.
Some of the best ways where you can begin this journey are by adopting scale and dimension when selecting pieces for your wardrobe.
For instance, short men would look way better wearing narrow ties as opposed to broad or traditionally shaped ones.
The same goes for leather jackets, lapels, and types of closures, buttons, and more.
The idea is to avoid anything bulky, broad, and especially oversized, in garments, details, and accessories.
What better place to adopt this element of scale and dimension than via The Jacket Maker.
What To Expect In This Article?
Color plays an important part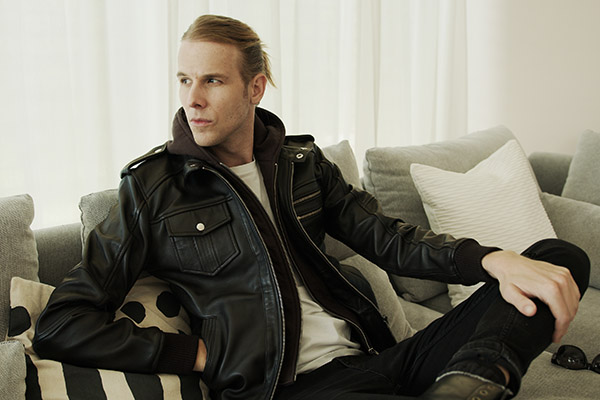 As with all people and various styles, color plays an important part in making or breaking a look, even more so for short men.
You really want to add the illusion of a tall height which is easier than you may have thought.
This can be achieved by going with one color from head to toe, more recently revised by the adoption of different tones from the same color family worn together at once, or opting for dark tones again in one color or an array of similar shades.
This can be incorporated in just about any type of style from casuals to semi-formals and formals.
It's best to avoid too many colors within one look as this will create way too much distraction as well as slicing up an already short height, it would be a big NO. For short men, the maximum should be two colors.
Fit and tailoring are synonymous when dealing with style and short men.
Tailored or Customized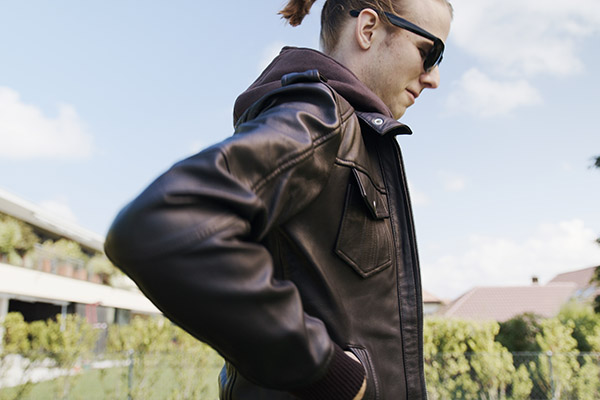 It is essential to go for a well-fitted leather jacket or have one tailored or customized as required.
The Jacket Maker would be a pretty good start to achieving this. Short men would appear taller if the silhouette is well structured and fit them well from every angle or detail.
With a huge range of leather jackets to choose from, you can't possibly go wrong.
After receiving and executing a multitude of unique custom orders, we often noticed many inquiries, especially from short men who are just as interested as their taller counterparts on what to look for when purchasing a leather jacket, especially if it is jacketed for short men.
So we make this as simple as possible by sharing with you four key points to keep in mind always so that selecting the right leather jacket may be a breeze. So here goes:
1. Tight as you can Take It
Whether it is a trend or a personal choice, many would agree that leather jackets should fit like a glove.
If your leather jacket is extra loose, it will definitely seem as if it isn't your size or that you opted to wear a borrowed piece.
A big no on either count. One of the great aspects of leather is that it has a tendency to stretch a bit which makes it easier to rock that snug look.
The Equilibrium Black Leather Jacket is a great example of what we're talking about. It is important though that you think about how you would wear this leather jacket.
For instance, will you wear it over t-shirts, shirts or sweaters, or a combination of all three, it makes a huge difference in choosing a fit that can entertain these factors well.
Remember that comfort is just as important as fit and quality, also keep that in mind.
2. Real Motorcycle Leather Jackets
Many may or may not know but there is a significant difference between real motorcycle leather jackets and branded ones that have a visible as well as a physical change in design, function, and comfort level.
Real motorcycle leather jackets have high function aside from appearances, as they have to serve a protective purpose to the rider much like a second skin.
These leather jackets are not only made with a thicker hide, but they also have a stiffer structure and boxy silhouette as commonly seen in vintage-styled leather jackets.
While this style may have a strong appeal to many men, this would not be a good option for jackets for short men.
In which case, the Burgunn Dee Maroon Leather Biker Jacket would be a good option for short men.
This leather jacket not only gives short men style but is structured in a way that will create the illusion of height.
Notice the panel effect that contributes to this illusion of height as well as the comfort level and room to wear something more underneath.
3. Sleeves and Leather Jacket Style
Sleeves on leather jackets particularly for short men are more relaxed and acceptable as opposed to perhaps a blazer or coat.
Although you could push up your sleeves to get a cool and edgy appearance, sleeve length for leather jackets have the ability to draw the eye to places that may highlight your short height, which would not be the best quality to showcase on any level.
So leather jacket sleeves are best left to the specialists who can adjust them for you, which in ideal cases should reach your wrist or wrist bone to be exact.
The Terry Blue Winter Jacket is a great example among others that point out where the sleeves should end especially for short men.
Also, notice how the blue and greys gel together to create one tonal zone from top to bottom.
This leads the eye swiftly through without any distraction or interruption due to extra color or tones that overpower each other.
4. Cool Custom Leather Jackets
Way better than adjusting your sleeve lengths by specialists would be; going all out for a custom leather jacket by The Jacket Maker.
Designed to detail to suit every form and requirement, especially short men with any type of specifications.
From choosing colors and types of fabric to adding design elements, details, and functionality to a leather jacket made especially for you.