A lot of people misunderstand casual clothing as lazy and uninspired. They think of it as nothing more than sweatpants, hoodies, and low-top sneakers. Although these are examples of men's casual fashion, they are just a small part of it. There is a whole overlooked facet of casual style that deals with looking classy without moving away from the comfort and ease of casual.
What To Expect In This Article?
Modern Casual Menswear
Modern-day casual menswear is all about being relaxed without looking sloppy or improper. You might think that it is like balancing on a tightrope. After all, how can you put minimal effort, stay comfortable while also looking well-put-together? It turns out this tight rope is actually a wide floor with tons of wiggle room for creativity and personal flair.
Even something as simple as a t-shirt and jeans can look posh. All you have to do is pay attention to the details, wear a well-fitted t-shirt, match the sneakers with the tee, accessorize with a beanie and an appropriate wristwatch, and so on. The effort required is minimal at best, and the results are always worth it.
Classy Casual Staples
Getting started with classy casual can seem daunting. So, the best way to begin your journey is to build a wardrobe full of classy casual staples. You can then experiment with these items of clothing and make your own outfits within the posh casual style. This is what you need.
Khaki Pants
Khakis are some of the most versatile pairs of men's pants out there. They are also one of the most comfortable. So, why are they overlooked for other options like jeans? The main reason is that a lot of people assume that khakis are difficult to wear or that they only work with specific outfits and colors. This is completely untrue, and having a pair in your wardrobe will drastically accelerate your quest for high-class casual.
Well-Fitted Jeans
Jeans are the most popular pair of pants in the world, and not without reason. But are they really classy? The answer is yes, they are. You just have to pair them with the right shirt. For example, you can put zero effort into your outfit if you wear a sweatshirt over a pair of blue jeans and call it a day. But you can combine the same blue jeans with a button-up and a sweater, and you'll look snazzy.
Flannels
As far as shirts are concerned, there is no better example of something cozy, colorful, yet surprisingly classy than a flannel. You can pair a maroon flannel with something basic like a pair of blue jeans for a quick outfit. Or you can wear it over brown pants and with a brown leather jacket for additional style points. Speaking of leather jackets.
Leather Jacket
If men's uppers were categorized based on their versatility, ease of use, reliability, then leather jackets would be on top. Even denim jackets. No other piece of outerwear even comes close to the potential of wearing a custom made jacket.
The keyword to note here is the "custom made" leather jacket. Sure, you can wear almost any color or design of leather outerwear and look amazing. But there are going to be a few colors and designs that work especially well for you. These are the ones you want if you're looking to up your casualwear game.
Ankle Leather Boots
Footwear for casual is just as varied as anything else. You have the choice between the different kinds of sneakers, loafers, or even tactical boots. If you had to pick just one, however, none would be a better choice than a pair of ankle-high leather boots. The choice between black, brown, shiny, or suede is completely up to you, though.
Putting Together a Casual Outfit
So, you have the casual staples waiting in your wardrobe, and you're ready to master the casual style. What do you do? Well, it is mainly a two-step process.
Picking the Clothes
The first step of wearing casual is figuring out what does and does not work for you. This includes both the physical and psychological side of things. For example, let's say you really want to wear a grey shacket on a regular basis. But a shacket might not look good on you, no matter what you pair it with. This is the physical part.
On the other hand, let's assume that a baby pink polo shirt with a pair of blue jeans looks immaculate on you. But there is a good chance that you're not comfortable wearing a pink polo, or you just don't like it. This is the psychological side.
Evaluate your choices based on these two metrics, and you'll have a clear list of clothes that you should choose in no time.
Crafting Outfits
Once you know what you can and cannot wear, it's time to start experimenting. You can take two routes here.
One is to just start combining semi-randomly. Use your own sense of style and what you think will look good to craft outfits. Unless you have tons of experience in fashion design, your initial combinations would be a bit crude. But they will be unique and personal to you.
The other option is to look at the best classy casual outfits out there. You can just copy them as closely as you can and call it a day. Or, you can take inspiration from them and add your own flair. Either way, this option is going to be much safer and result in immediately fantastic-looking outfits.
Classy Casual Day Look
There are so many amazing casual attires to choose from that listing them all is way beyond the scope of this guide. So, a practical way of finding the best casual outfits is to categorize them by scenarios. So, here are the best smart casual outfits during the day.
Weekend Style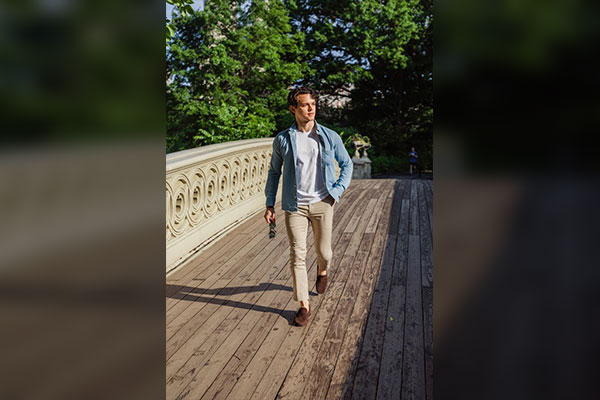 After a whole week of stressful and tiring work, weekends are a time to relax. So, an ideal casual outfit for weekends would be something along the lines of a charcoal grey polo paired with khaki pants. However, for a lot of people, weekends are also grocery days. So, something that looks good in public is a must, something like a denim shirt with khakis instead of the polo.
Street Style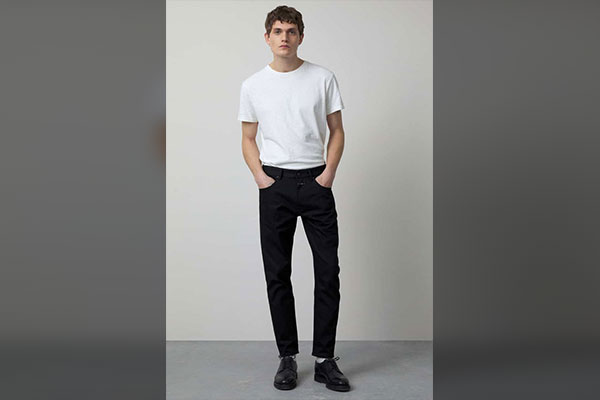 Casual street style for men can look a bit tricky at first glance. However, there is a hack to it, and that is to wear at least two contrasting layers. A great example would be a black leather biker jacket, alongside a white t-shirt and a pair of black jeans. The final piece of the street style puzzle is footwear, and black loafers are a fantastic choice.
Casual Friday at Work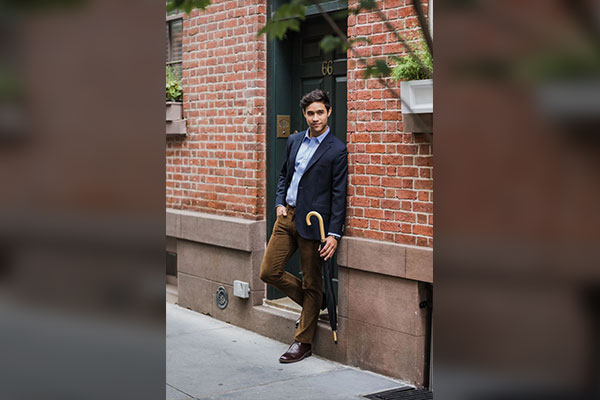 Make sure to understand and follow the dress code of your workplace before you think about crafting an outfit. Remember, just because it is casual Friday does not mean that you can wear whatever you want. That being said, the casual Friday code is often fairly relaxed.
An outfit consisting of a pair of cream chinos, a relaxed blue button-up, and velvet loafers is safe enough for any dress code but classy enough to stand out from the crowd. You will not look flashy or over the top, but your outfit will be noticeable among your colleagues.
Classy Casual Evenings
If you're just at home, then your day outfit is your evening outfit, no issue about that. But, if you're expecting some company, or going out, then donning the right attire can make a huge difference to your experience. Here are a few examples of classy men's casual outfits for the evening.
Game Night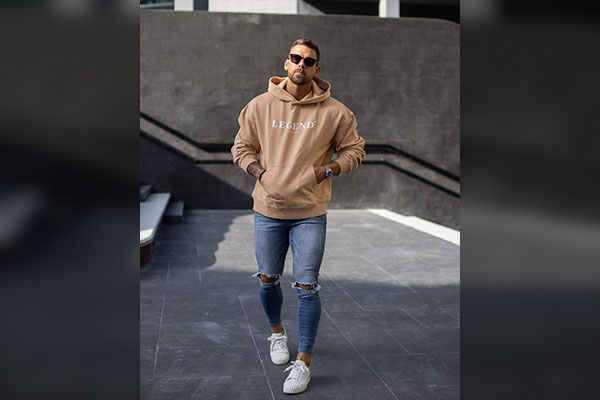 Game nights are all about hanging out with your friends, drinking, having some snacks, watching the game, and having a great time in general. The last thing you want in your attire to get in the way of this fun. So, any fitted garment like vests is out of the question (quilted vests are okay if you're outside in winter).
A hooded sweatshirt with a pair of jeans is the easiest way to get dressed for a game night. You can put in some extra effort if you want to, and swap out the sweatshirt for a V-neck, and top it off with a matching leather jacket.
Date Night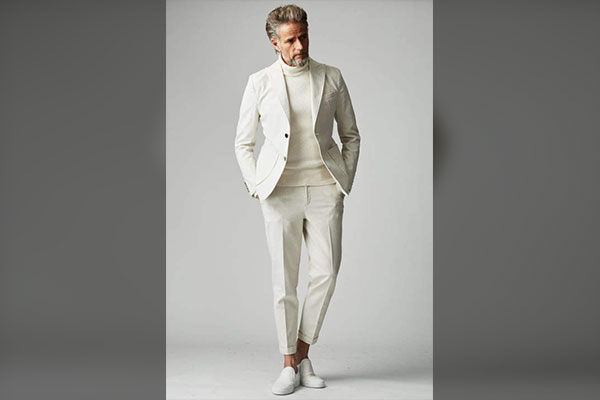 Dressing up for a date is stressful, especially if it's a first date with someone. Now, unless you know that your date partner likes that sort of thing, wearing a full suit is not a good idea. Most likely, you'll come across as pretentious instead of a handsome gentleman. However, you also cannot just rock up in a sweatsuit and expect a positive outcome.
So, the ideal setup is to stay in the middle and focus on smart casual. A fantastic and unique date night attire would be an all-white outfit. It'll consist of a pair of white pants, a white turtleneck, a white blazer, and a pair of white sneakers. The only thing to keep in mind is to ensure that the shade of white is consistent between garments. Other than that, this is as solid as casual date night outfits get.
Family Time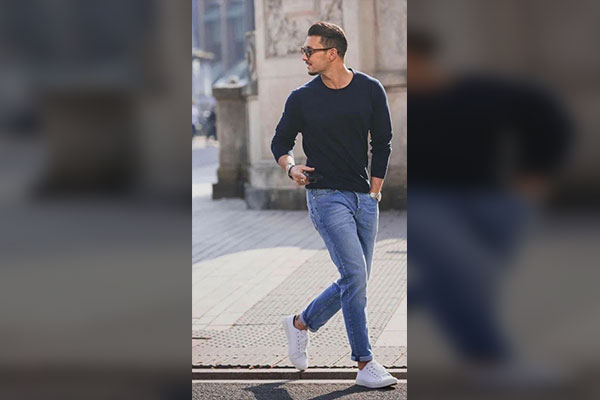 Your outfit for a family evening depends on your company. If you're just spending time with your wife and kids, then something as simple as a sweatshirt with jeans will do you just fine. But, if family means dinner with your parents and some other relatives, dressing up a bit is critical.
You can spice things up a bit with blazers and sweaters over button-ups. If that is too boring for you, try topping your outfit with a colorful smoking jacket. It will be colorful, casual, and classy at the same time.
Frequently Asked Questions
Are Hawaiian shirts considered casual?
Yes, they are casual. In fact, Hawaiian shirts are one of the best casual shirts for summer, besides the plain t-shirts.
Can I wear tactical boots with casual outfits?
Yes, and no. It depends on the outfit you're wearing. If it's a blazer with a button-up over a pair of khakis, then no. But, if you're wearing a black leather jacket over a white printed V-neck and a pair of tight-fit jeans, then yes.
Can you wear a pair of shorts and a shirt to a party?
Depends on the type of party. A BBQ night party with friends is perfect for shorts and a shirt, but an after-wedding party is not the right place for them.
How should casual clothes fit?
If your goal is to just wind down and relax, then loose clothes like a large sweatshirt are the way to go. On the other hand, if you're looking to look classy in your casual outfit, then the clothes should be fit but not tight. This means that they should follow your body shape and fit snuggly but also leave just enough room for restriction-free movement.
Are ripped jeans casual?
Yes, ripped jeans are casual. They can look great in urban street style, as well as with leather jackets for parties and stuff. If you need your outfit to look "neat," then ripped jeans are not a good idea.
What are some men's casual hats?
Baseball caps, fedoras, bucket hats, dad hats, and beanies are all considered casual.
Do trench coats fit the casual style?
If you were asking this question a century ago, then no. Trench coats were for professional businessmen. Though, things are a bit different now. So, yes, you can wear trench coats as casual attire, especially in winter.
Final Words:
For a lot of men, a large majority of their life is spent in casual clothing. However, not all casual occasions are the same. You can wear a sweatsuit to some and cannot to others. Luckily, looking classy and well-put-together in casual clothing is not that difficult. All you need is a small collection of smart casual must-haves and a willingness to experiment.