Let's debunk the myth that you cannot pull off a classy look without any color!
There are abundant styling possibilities for men with white clothing essentials. With the right staples paired together and on point accessorizing, all white outfits for men will certainly make you go high on the fashion charts.
To give a strong style statement, men often resort to classic staples, most of which are in dark or neutral colors. For instance, an all black look is considered a no fail for men of all ages. What is unknown however, is that a white on white look can do wonders to upgrade your style and is quite easy to pull off.
If you too think that an all white look may turn out to be an uninteresting one, give this blog a complete read. You will find many ideas on how to pair white clothing essentials for a dapper style.
Men's All White Outfit Trend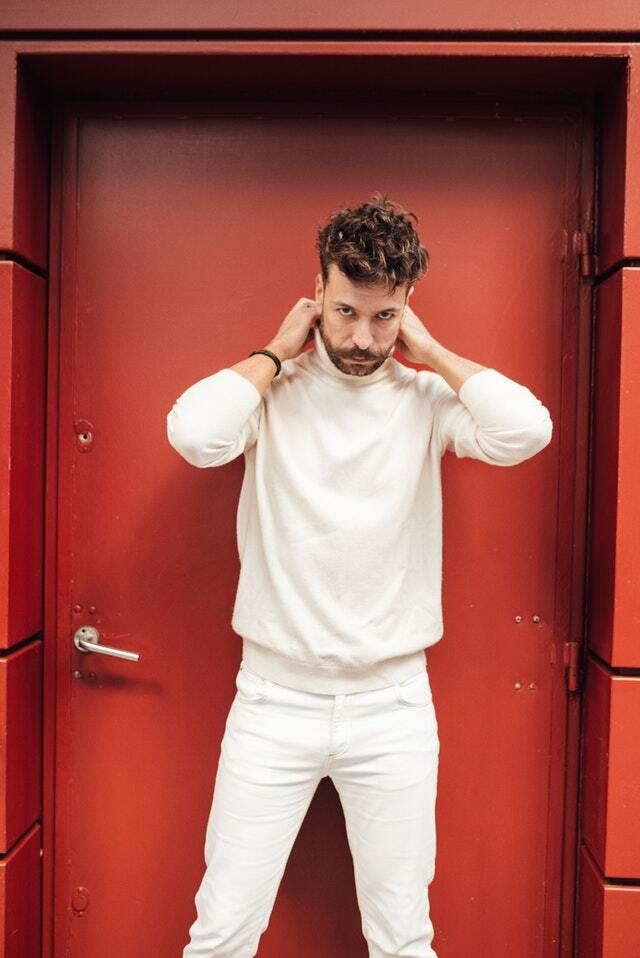 It's undeniable that white clothes make a very versatile base for all kinds of outfits for men. But an all-white look has a class of its own. It gives a neat and polished look and complements all skin tones. White ensemble elements will emanate purity and simplicity as well, showing your fair taste in fashion.
A very good thing about white outfits is that they can be pulled off using a variety of elements in every season. Whether you need a breezy outfit for the scorching summer heat or need to be toasty warm on colder days, pairing up white clothes will always work.
The trend of wearing all-white ensembles is raging these days, thanks to popular celebrities who show up in white outfits every now and then. We have seen handsome Hollywood men doing so, and we would like you to do the same by slaying the head-to-toe white look.
How to Wear All-White?
The color white is a safe option for all complexions. It actually accentuates your tan. White bottoms, such as jeans and chinos play their part in highlighting your height, giving you a slender look.
You don't need to stick with a bright white shade when putting together a look. Neutral shades of white like cream and off-white will give your creativity a kick as you can easily mix and match essentials. You can also go with accessories in muted colors if you wish to add a splash of color to the pristine white look.
Wearing white all year round is possible, given you choose the right fabrics. Materials like cotton, linen, denim, or khaki work well for the hot weather. Whereas tweed, corduroy, wool, flannel, and suede provide the much-needed warmth in winter.
Casual All White Outfits
Consider wearing a white outfit when you need to up your style game for cool, laid-back looks. Not only does an all white look work well for a summer outing, but it perfectly passes the style test in winters.
White Summer Outfits
White makes summertime comfortable by reflecting the sun's heat. For a breezy casual look, you can consider the following outfits, which are super stylish, comfortable, and easily put together.
Mandarin Collared Shirt with Jeans
Keep things simple and comfortable with a mandarin collared shirt in white along with regular fit white jeans. White low top sneakers would add some more style to this look.
A Comfy Henley and Shorts
Beat the summer heat with a lightweight henley shirt with chino shorts. You can round off this cool look with a snapback or a messy hairdo. Off-white leather loafers may do the trick for the footwear choice, or you can slip on a pair of comfortable boat shoes.
White Polo Shirt with Joggers
Another easy and breezy look can be achieved by donning a cream v- neck shirt with white joggers. If you swap the polo with a hooded sleeveless shirt, this outfit will be a perfect choice when hitting the gym.
All White Beach Outfit
Wearing white on the beach? Here is how you can do it too.
White Crewneck T-shirt and Denim Shorts
The simplest way to put together a picnic-ready look is to pair your denim shorts with a crew neck t-shirt. Layer the outfit with a white buttoned shirt to bring the style meter reading up. Complete the look with retro-style sunglasses and white tennis shoes.
Denim Shirt and Chinos in White
Try a classy combo of a white denim shirt and off white chinos for a look that takes no time to put together. You can dress up a bit by wearing brogue shoes with this outfit.
White On White Outfit
Let's bring to reason the all white look with some more outfit ideas.
White Collared Shirt, Sweatshirt and Chinos
Team up a white collared shirt and a cream crew neck sweatshirt with ivory chinos. This look can further be elevated with offwhite derby shoes and stylish shades.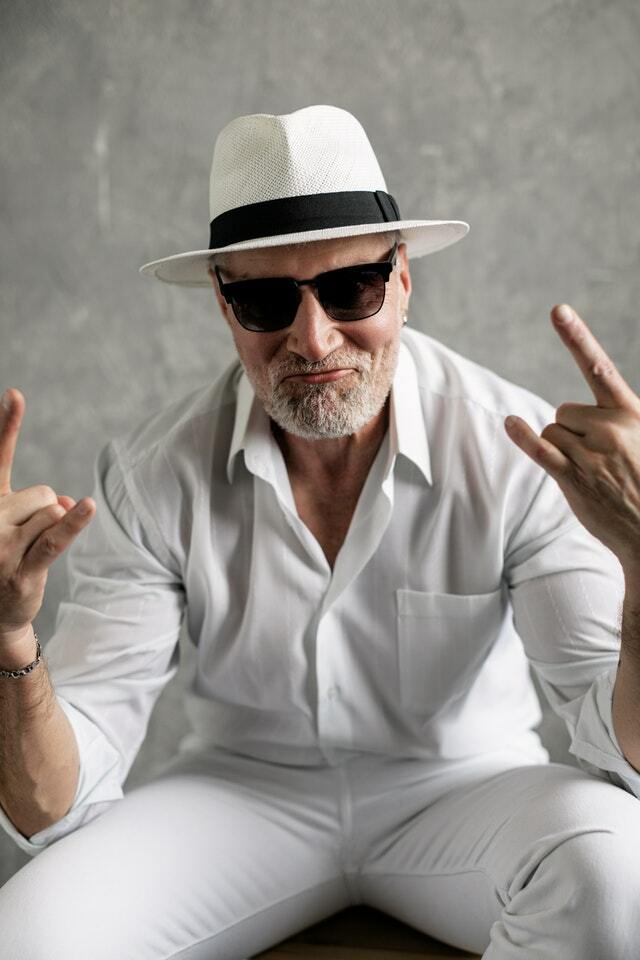 White V-neck T-shirt With Bomber Jacket
A winning street-style outfit can be built with a simple ivory V-neck shirt, leather bomber jacket, and white trousers.
Longline T-shirt, Shirt Jacket, Chinos
Longline t-shirts are trending these days. You can wear a stylish white long line shirt with chinos to create a dapper look. If you need to layer up a bit, use a shirt jacket.
White Hawaiian Shirt with White Trousers
Infuse a dash of nerd style into your outfit by pairing a white Hawaiian shirt with white flannel trousers. You can accessorize the look with suspenders and a pair of classy white loafers.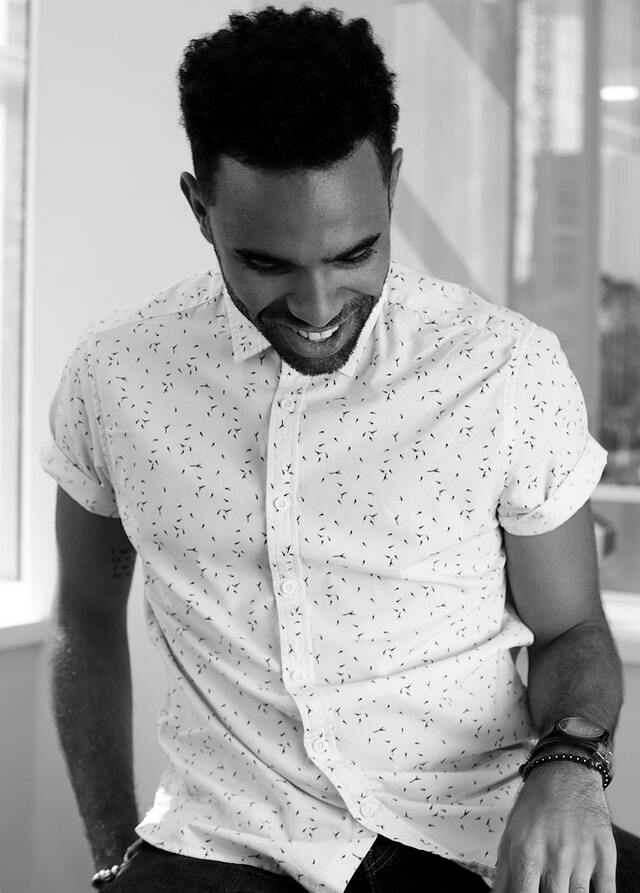 White and Black Outfits
White and black is a timeless combination, which can never go wrong. Here are some no-fail looks that you might want to recreate.
White T-shirt and Black Jeans with a Leather Jacket
A touch of rugged manliness can be exuded with this leather boy-style outfit. Wear a white t-shirt and ripped black jeans with a black biker jacket. Finish the look with style by putting on a pair of black Chelsea boots.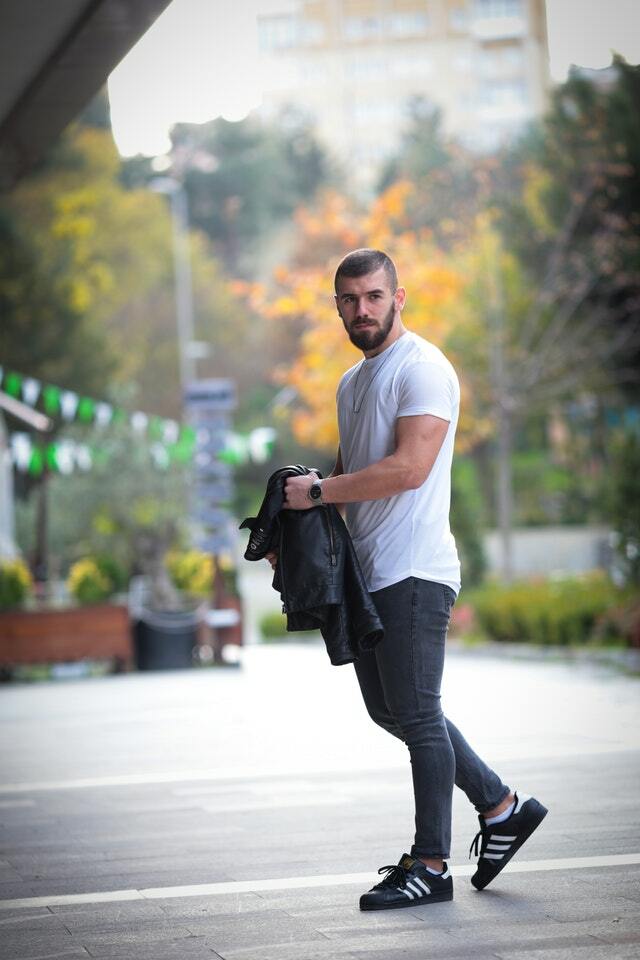 White Dress Shirt Black Jeans
You can never go wrong with a white dress shirt worn over jet black slim-fit jeans. Make sure you choose white and black low-top sneakers to jazz things up.
Black Polo White Jeans
Here is another outfit that will cater to your smart casual style. Pair a long-sleeved black polo shirt with white slim-fit jeans. Black and white converse shoes will go well with this simple yet fashionable look.
White Fall Outfits
Create some cozy winter looks that are none the lesser in terms of style.
White Hoodie and Joggers
Ever thought of a cozy outfit in porcelain white? Try this white pullover hoodie and joggers, along with a pair of white athletic shoes. This look is surely going to uplift your colder days. Accessories like beaded bracelets or a beanie will infuse some more style into this look.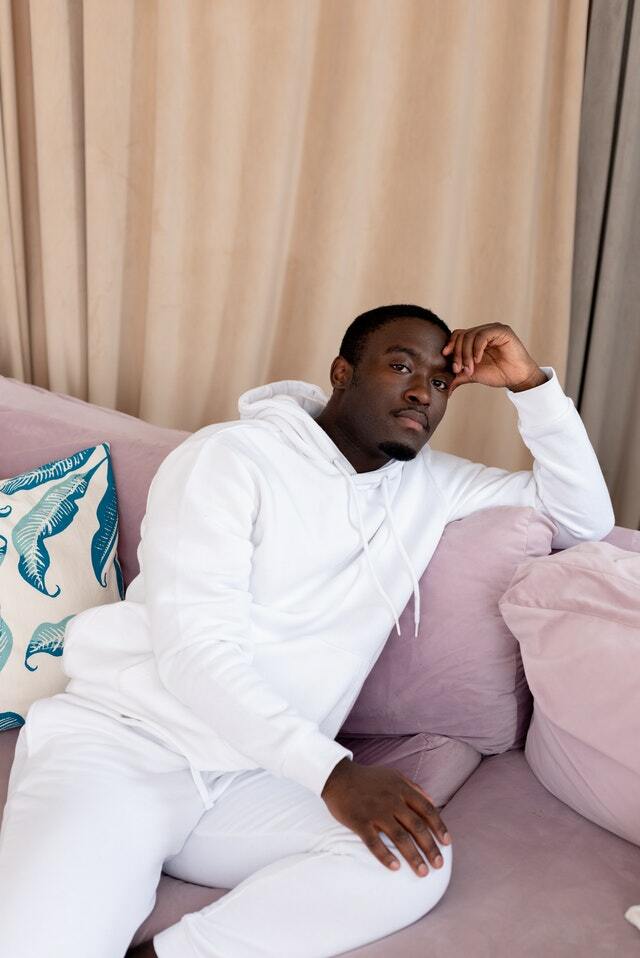 Baggy Short Sleeve Shirt and Ankle-Length Pants
Put together a Korean street style look by opting for a short-sleeved shirt tucked in ankle-length pants. Round off the look with white high socks, tennis shoes, and a watch.
White Button Down and Suede Jacket with Cargo Pants
There are several types of winter jackets for men that you can use to pull off the all-white look. Consider wearing a white button-down shirt and cargo pants layered with a cream suede jacket to add some warmth to your fall/winter look.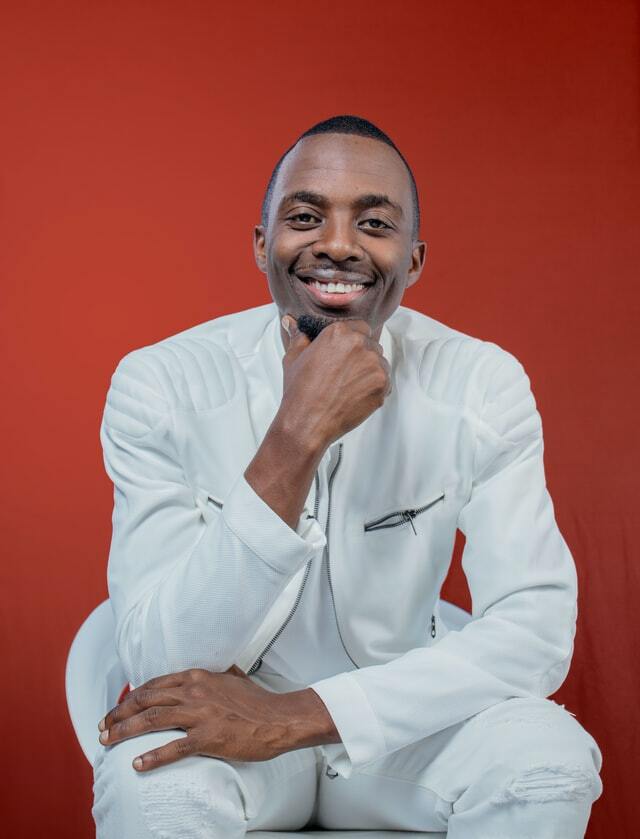 Turtleneck with Jeans
Another effortless look can be achieved by pairing an off-white turtleneck with jeans. When the weather turns a bit colder, use a lightweight layer, such as a shacket over the turtleneck.
All White Jeans Outfit
If you want to put your white jeans to best use, try on any of these dapper outfits.
Denim Jacket over Crew Neck T-shirt
A simple crew neck and white jeans outfit can be elevated with a white denim jacket. The style statement of a denim jacket outfit is unmatched, so you can definitely try this look on a date.
White Casual Shirt with Ripped Jeans
Slay the white jeans look by donning a slim-fit white casual shirt over it. Finish off the look with black and white converse sneakers.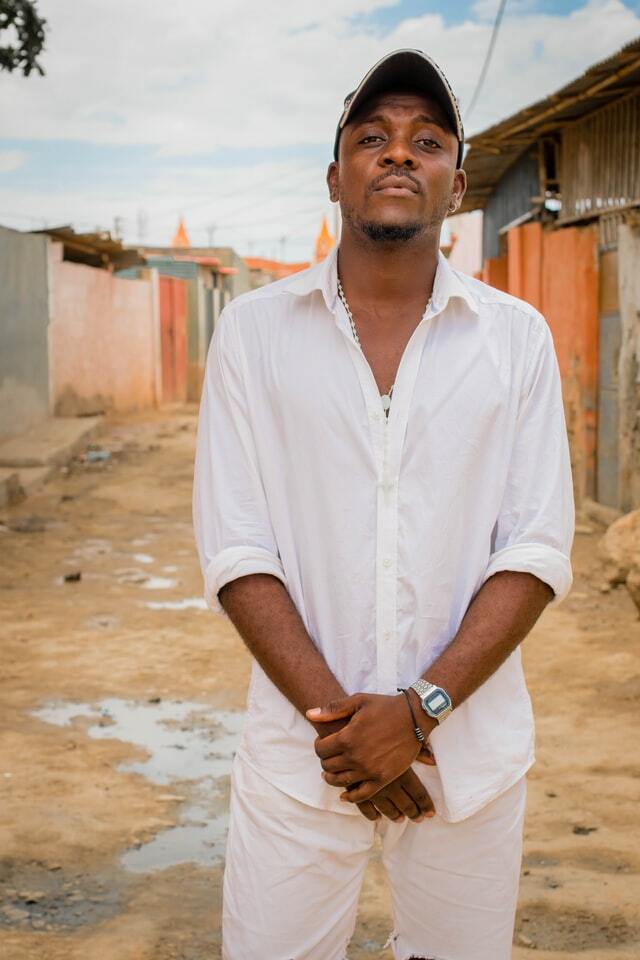 White Blazer Look
A true epitome of style, a white blazer can give you some of the best business casual looks. Wear it over a white dress shirt and jeans.
All White Men's Formal: Yay or Nay?
White is considered one of the most appropriate colors for corporate attire. An example of the same is a white button down shirt, without which no man's professional wardrobe can be complete. Here are a few outfit inspirations for an all white semi-formal look that you can try.
Off-White Double Breasted Blazer Look
An off white double breasted blazer can be the perfect choice for a semi-formal or resort look. You can build an entirely white outfit by teaming it up with off-white trousers and a white Oxford.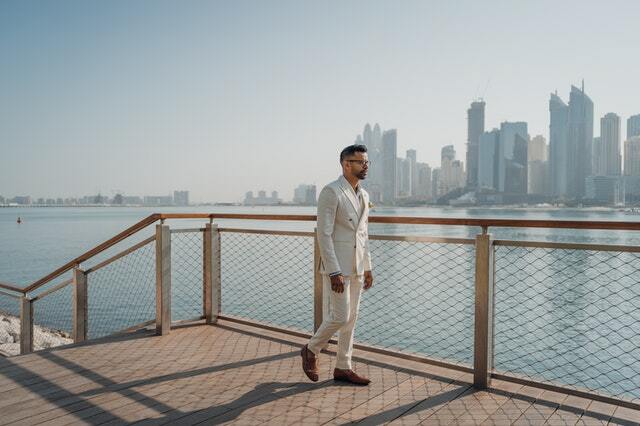 White Suit
Make everyone awed with a pristine white look at work. You can bring the style meter up by adding white derby shoes to the equation.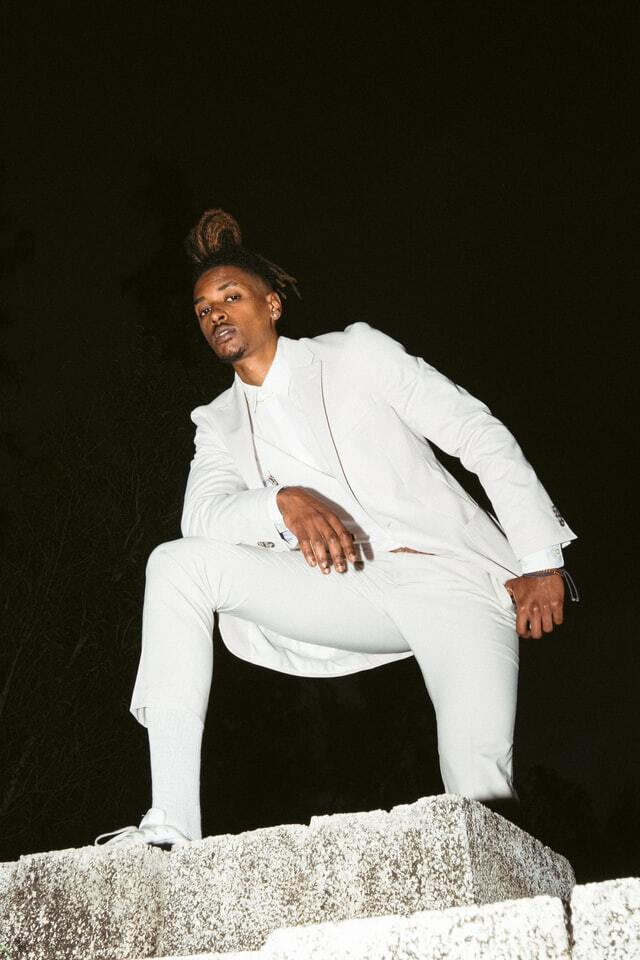 White Tuxedo
A white tuxedo is definitely a classy idea for a groom, and if you are about to get hitched, you can consider wearing a stylish white tuxedo to get appreciative nods from the guests.
All White Stylish Outfits Do's and Don'ts
All these white outfits are certainly the best picked ones, but you need to follow some rules to look refined.
The idea of keeping your white clothes spotless may be quite overwhelming, but don't let that hinder your style.
To avoid spoiling your white clothes with anything you are drinking, make sure your container has a lid and straw. Sit on clean surfaces, and avoid stepping on grass or dirt to keep your white shoes clean.
Make sure your clothes are well ironed, as wrinkles are very obvious on white clothing.
F.A.Q.s
What Looks Good with a White Shirt?
A well ironed, spotless white shirt is your style weapon that never misses its target. A classic pairing with a white shirt is black jeans, navy blue trousers, blazers in muted colors, or sweaters. You can also go with an all white look by pairing your versatile shirt with white jeans.
What Type of Shoes Can You Wear with All White Outfit for Men?
If you are looking for a completely white outfit, you have many footwear options such as high top or low top sneakers, loafers, or brogues. However, a better idea is to round off the looks with brown shoes and boots to break the monochrome look.
What Men Should Wear to an All White Party?
If the party invitation mentions an All-White theme, there are several choices for a man to dress up stylishly. White Silk and viscose shirts with off white chinos is smart casual outfit that can be styled with dark brown loafers and a white fedora.
Another idea for a party outfit is to pair a white oxford shirt and white jeans with a cream blazer. Leave a few top shirt buttons open and break the look with a brown leather belt and matching derby shoes.
Can You Wear White to a Wedding?
Some people consider wearing white to a wedding equal to upstaging the groom. However, if you keep your white semi formal look a bit subtle, it is quite appropriate. You can break the rule of wearing all the essentials in shades of white and opt for a colored dress shirt underneath your suit. Or, you can opt for a leather vest instead of a suit jacket.
A blue and white checked shirt with a cream vest and ivory pants is a nice outfit for a wedding guest.
What Color Belt Goes With a White Suit?
The safest option to wear with white pants is a brown belt. You have the flexibility of choosing the shade of brown, as long as it isn't very light.
What Color Shoes Go With a White Suit?
Brown shoes look good with all white outfits for men. Depending upon the level of formality, you can also go for black shoes. Wearing white shoes with a white outfit is also acceptable, but it is a bit harder to pull off than black or brown shoes which give a classic look.
Are White Jackets in Fashion?
White jackets are a versatile staple that can help you create many fashion forward looks. Besides the white, cream, or off-white blazer, there are many other options if you want to go for a white jacket. You can opt for denim jackets, tailored shackets, corduroy jackets, suede bomber jackets, and quilted jackets in shades of white. 
How to Keep Your White Clothes Clean?
White clothes look good only when they are spotless, and your first line of protection would be to avoid staining in the first place. It is better to be conscious of where you sit to avoid dirt stains. Also, be careful while drinking anything to avoid spoiling your clothes.
If staining occurs, try to treat the spot as soon as possible. Wash white clothes separately and use fabric stain remover for tough stains. Dry the clothes outdoors.
Conclusion
Looking at the outfit inspirations above, you must have realized how all white looks can be styled. It is definitely not lifeless, as the material and fit of your clothing can take your style game up a notch. Make sure not to make things more complicated and strive for comfort while creating an outfit.