Crop tops emerged on the fashion scene in the 90s. A crop top and jeans were one of the trendiest pairings back then. Fast forward to the current era, they are not just a trend that comes and goes as they are a wardrobe staple for women who love dressing chic. You can pair them with many types of jeans. Here we are with some fashion-forward ways to wear a crop top and jeans. 
Think about the versatility of crop tops, the array of styles in which they are available, and their ability to look good on any body type. They are compelling reasons to comprehend why these midriff revealing tops are hugely popular among all types of shirts for women. Even celebrities are often spotted wearing crop tops in stylish ways.
Crop Top Trends for 2023
If you want a bold, gorgeous appearance, you can effortlessly achieve it with crop tops. These tops have retained their position as much-loved clothing essentials by women for the year 2023 as well. Mostly, women love the comfort of wearing crop tops in hot weather. They go for crop tops to show off their toned midriff (as much as they want to reveal).
Apart from the comfort they provide, crop tops are available in numerous types. They can be minimalistic, such as a basic t-shirt, tank, turtleneck, or cropped sweatshirt. Or, different types of crop tops offer a subtle hint of dressiness, like the flounce sleeved top, twisted front top, or wrap top. Styles like a peasant crop top, layered top or halter neck top are a few among the assortment of styles that women love to wear. 
You need to assess your body shape before choosing a crop top. For an apple-shaped body, dark-colored crop tops with cutout designs near the neckline are a great pick. You can wear them with high-waisted jeans. A suitable crop top for a rectangle-shaped body can be a loose-fitting ribbed top that you can pair with mom jeans or skinny jeans to add some definition to your waist. 
The most popular colors for crop tops are pastels and neutrals. You can mix and match your own choice of colors with jeans to create trendy outfits.
What to Wear with Crop Tops?
Depending upon the style you are going for, pairing staples with crop tops is a breeze. There are so many different styles of jeans to wear with crop tops, and you can choose one that portrays your personal style in the best way.
While we solely focus on the combination of crop tops with jeans in this article, they are certainly not limited to denim. If you want more ideas on what to wear crop tops with, you can try pairing them with slacks, different types of skirts, faux leather pants, joggers, sweatpants, shorts, and cargo pants.
To build crop top outfits in different styles, try layering your cute tops with leather jackets, or denim jackets and vests. You can experiment with other types of chic outerwear, such as cardigans, bolero jackets, and shrugs.
Simple types of cropped tops are an excellent foundation piece for voguish outfits. Even the simplest of crop tops might be elevated with the right accessories. You can carry medium-sized cross-body bags or small chained purses with your crop top outfits.
Dangling jewelry and funky belts are also a nice way to bring a boho touch. Depending upon the type of jeans you are wearing, adorn your feet with strappy sandals, ballet flats, pumps, or ankle boots.
Whether you want to show your success at the gym, or just want the ultimate chic look, try the following denim and crop top combos.
White Crop Top and Jeans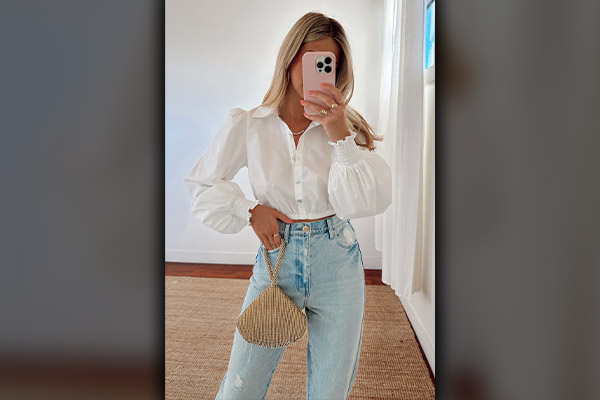 White crop tops are fairly easy to pair with any color of jeans. It looks equally good with grey and black as it does with shades of blue. For a basic casual chic look, wear a puff-sleeved elasticated blouse with red crop jeans. Add some funky vibes to this look with a multicolor silk scarf and boho-style earrings. Complete the look with black kitten heels and a black embroidered handbag. 
For a modern look, wear a white cotton lace-up crop top with jeans, preferably distressed jeans. White slip-on sneakers will look great with this outfit.
Another way to style a white shirt crop top is to build a sleek outfit with off-white jeans and an off-white blazer. Make sure the jeans are high-waisted so that only a slight portion of your waist is visible. Wear beige pumps with this outfit to add to the neatness. 
Mom Jeans and Crop Top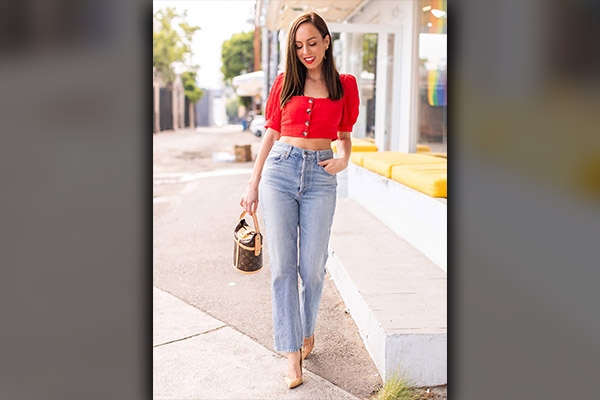 The figure-flattering mom jeans can be the perfect combo with a variety of crop tops. They are specifically great for women with a rectangle shaped body. For instance, a light and breezy cropped camisole in a bright color looks absolutely chic with navy blue mom jeans. Pair it with printed heels and a black shoulder bag.
To dress up in seriously chic attire, try an army green henley top with faded mom jeans. Layer the outfit with a black cropped biker jacket and finish on an edgy note with black combat boots. 
Another cool look fit for a beach trip is a yellow cropped tank top with blue mom jeans. Add a black and yellow printed kimono to the mix to create a fabulous ensemble. Funky flip-flops, a beaded necklace, and a straw hat will finish off the look perfectly. 
Bootcut Jeans and Crop Top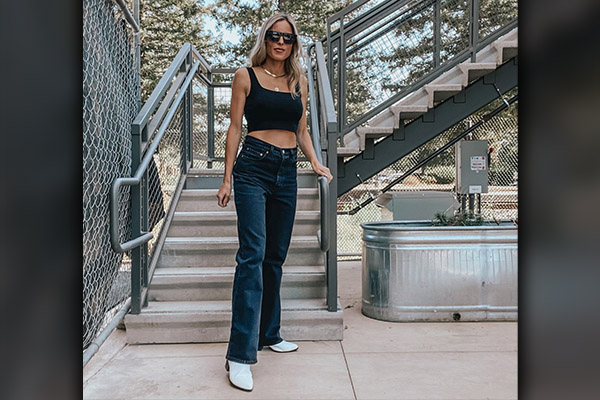 Bootcut jeans are trending high these days. You can pair a printed chiffon crop top with ruffled details with light blue bootcut jeans and black pumps for a stylish look. Or, opt for a pastel purple long-sleeved crop top and pair it with cream bootcut jeans for a chic summer look.
Denim crop tops look cute with bootcut jeans. The trendiest jeans crop style tops are halter neck tops, bustier crop tops, front-tied denim shirts, or a sleeveless button-front jeans crop top. You can wear a navy blue halter neck denim crop top with navy blue jeans. Or, build a classy double denim outfit with a teal-colored wrap top, a blue cropped denim jacket, and matching bootcut jeans. Enhance the appeal of this outfit with white platform heels and a white saddle bag. 
Ripped Jeans and Crop Top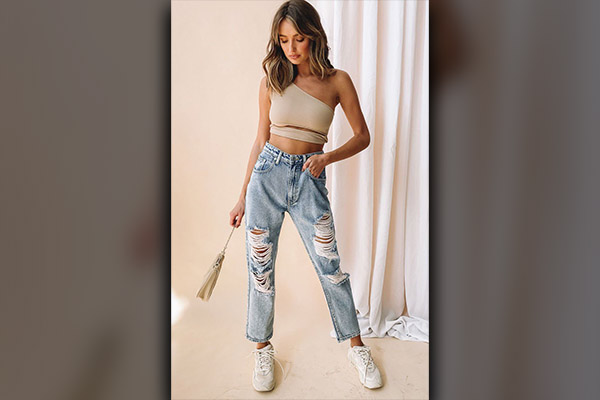 To bring up the style quotient of your regular torn or distressed jeans, pair it with a cropped hoodie in a contrasting color and finish the look with Converse sneakers. Or, you can team up a beige front tie top with blue ripped jeans. Wear beige pumps with this outfit, and don't forget to add some colorful jewelry to the mix for added charm. If you are wearing this combo on a pleasant spring day, layer it with a brown bomber jacket. 
Baggy Jeans and Crop Top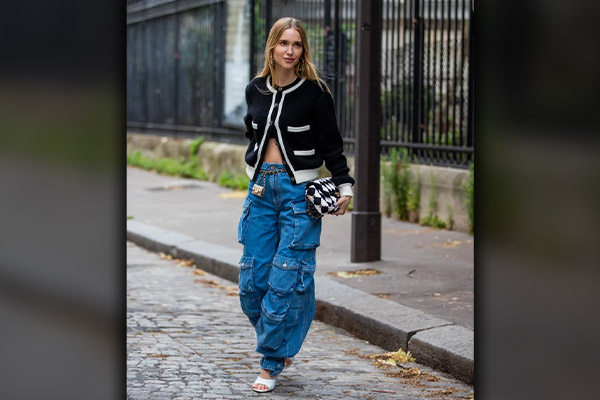 Whether you are running errands, or need to visit a friend, a casual pairing of a tan halter-neck top with faded baggy jeans is the perfect outfit. You can add some bling to the look with dangling earrings or a set of champagne-colored bangles. 
Another crop top looks to rock this summer is a black choker neck top with baggy jeans. Top it off with a grey shirt jacket to add tomboyish vibes. 
Button-down Crop Top and Jeans Outfit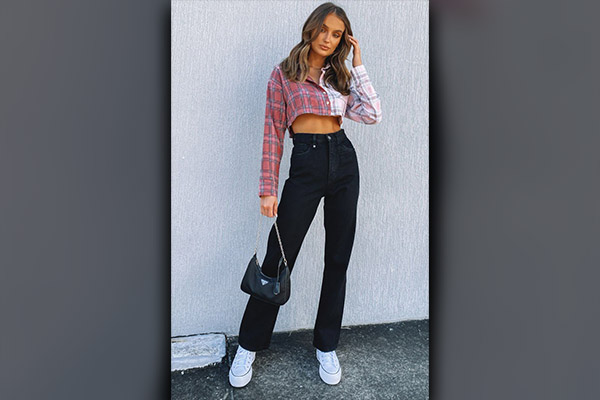 A very popular look dominating the streets this year is a loose button-down crop top with jeans. We suggest going for a basic look that is no less in terms of the chic factor. Pair a v-neck button-down too with white slim-fit jeans. This model off duty inspired ensemble can be further styled with a lightweight shrug. Or, you can wear a white and grey striped cropped button-down with pastel yellow crop jeans.
Another savvy combo is a lapel short-sleeved crop top with slim-fit ankle-length jeans. Pick a light brown shirt with darker colored stripes for a vintage-style look. Bring up the style of this look with black t-strap heels and cat-eye shades. 
High Waisted Jeans and Crop Tops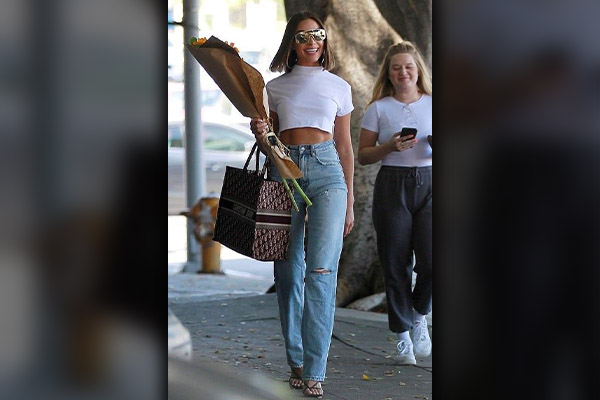 High waisted jeans have always been a no-brainer combo with all sorts of crop tops. With high-rise jeans, you show just the right amount of skin, besides enhancing the waistline beautifully. 
Almost every fashion-loving woman is nowadays sporting the off-shoulder white crop top with high-waisted blue jeans. You can kick up the wow factor of this look with a cream crochet bolero jacket and brown strappy heels.
You can also go for a red and white polka dot crop top with light blue high-rise jeans. Amp up the look further with a red fedora and red pumps. 
A black crisscross fitted top with beige denim is a chic off-duty combo even appropriate for a lunch date. Match black stilettos and a chained black shoulder bag with this ensemble. 
Low Rise Jeans and Crop Tops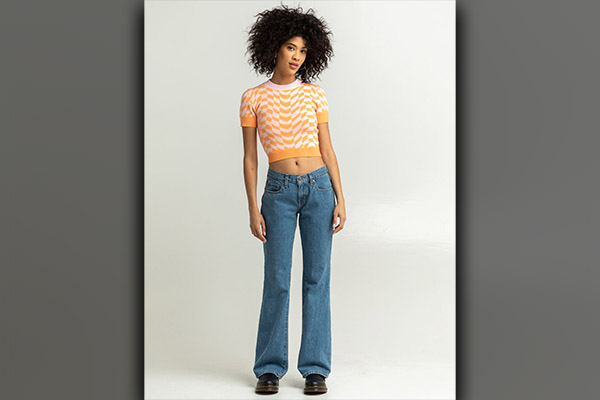 When you want to reveal those toned abs, wearing a pretty crop top and jeans in a low-rise style is the right way to do so. 
A coffee brown bell-sleeved top with acid-wash low-rise jeans is a winning combination. Elevate it with a funky belt, brown suede loafers, and a brown saddle bag. 
Team up a hot pink tassel off-shoulder crop top with low-rise bootcut jeans for a simple girl-next-door look. For footwear, you can go with denim ballet flats and accessorize the look with a statement necklace.
Skinny Jeans and Crop Top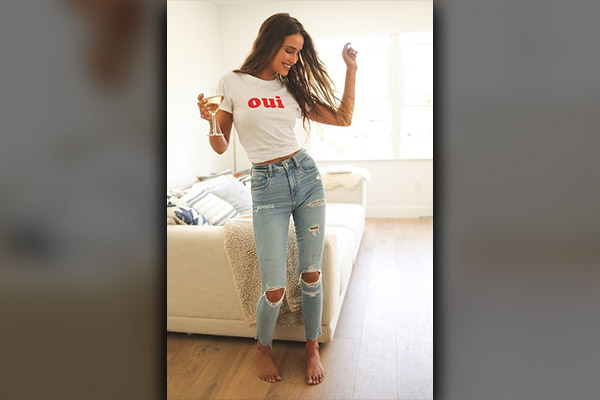 With the rise in popularity of baggy jeans, boyfriend jeans, and mom jeans, skinny jeans may have been pushed back in your closet. But with the crop tops, you can certainly put them to use as they are still in fashion for the chic style.
There are many types of crop tops that easily gel with skinny jeans. Put your fashion creativity on display with a knitted shirt crop top in a pastel yellow hue. Pair it with charcoal grey skinny jeans. Add suede ankle boots and a beanie to this savvy fall look.
You can also look awesome in an oversized sweatshirt and skinny jeans outfit. This laid-back look can be spruced up with chunky sneakers and hooped earrings. 
Go for an elegant look with a layered crop top in a light color with dark-washed skinny jeans. This top and jeans can be put together in seconds without digging for anything else in your wardrobe. Round off this look with a silk scarf and leopard print sandals. 
Crop Top Outfits For Cold Weather
The design of crop tops may be midriff revealing, but that doesn't mean that they can not be worn in winter. There are several types of crop tops that can be a foundation or a mid-layer for your warm outfits. 
A cropped pullover sweater with a zipped-up collar is a perfect winter wardrobe essential for those chic appearances. Wear it with slim-fit jeans, knee-high boots, and a black moto jacket. 
To look stylish on a chilly fall day, a beige turtleneck crop top along with black skinny jeans is the perfect ensemble. For an elegant touch and some added warmth, wear a tan trench coat or any classy fall jacket over this outfit. Complete the outfit with black ankle boots.
Fuse classic with contemporary style by wearing a cropped plaid pullover top with baggy jeans. This laid-back chic attire can be accessorized with beige gladiators.  
Cute Summer Outfits with Crop Tops and Denim Bottoms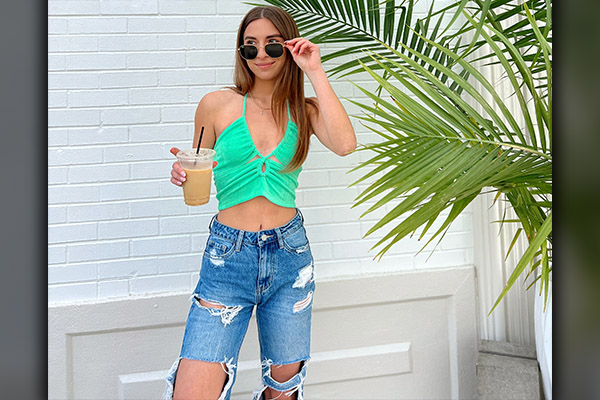 Your wardrobe shouldn't only have jeans in different varieties. It helps to branch out to other denim staples, such as denim shorts, skirts, and overalls. It adds different silhouettes to your look, giving you multiple outfits. Here are two incredible outfits that will make heads turn wherever you go. 
Combine a square neck puff-sleeved green top with a buttoned denim skirt. This terrific look can further be styled with brown laced-up heels and a leather handbag. 
Got cute denim shorts? Put them to use to build an incredibly chic outfit by pairing them with a fringed crop top. You will be awed by how cool this combo can look when you throw in a pair of nude pumps and some antique bracelets into the mix. 
FAQs – Crop Top And Jeans
How do you style a crop sleeveless top?
A sleeveless crop top is the ultimate summer staple which you can pair with girlfriend-style jeans, skinny jeans, or different types of skirts. The simple yet chic appeal of a sleeveless top elevates even the simplest trousers besides highlighting your curves. 
How do you style a crop top with jeans?
The crop top and jeans pairing is a classic one. There are countless ways to rock this look. For a casual look, pair a ribbed halter neck top with distressed jeans. If you want a swanky street-style look, go with a peasant top and mom jeans and elevate this look with big earrings, sunglasses, and black t-strap heels. 
Which type of jeans is best with a crop top?
Almost all types of jeans work well with the crop top. However, high-waisted jeans are particularly well suited to the cropped design as it gives a flattering illusion and a chic style. 
What pants should I wear with a crop top?
Apart from jeans, you can wear a crop top with slacks, cargo pants, palazzos, ankle pants, and flared pants. 
Can a 50-year-old woman wear a crop top?
Crop tops are usually categorized as teenage clothing for their cute look. However, older women are not by any means restricted to conservative styles. Many mature women do a remarkable job of maintaining themselves and love to wear youthful outfits. Brands are now coming up with a stylish range of staples like tops, jeans, and jackets for mature women.  If you wear neutral-colored crop tops with high-waisted trousers, you can look very elegant. Wear a sleek blazer or a long cardigan over your outfit for added style. 
Wrapping Up
Take your style to the next level with the cropped tops that are trending high lately. Crop tops and jeans are a casual yet fashionable combo, giving you a sensational look, while you stay relaxed. You can rock the crop top look by pairing them with different types of jeans and outerwear.