If you could add only one piece of clothing to your wardrobe this 2023, let it be a classic, timeless blazer. Blazers are the perfect addition that can amp up almost any outfit, from formal to casual, and instantly put a look together.
Moreover, teaming up the traditional Jackets or blazers with modern casual elements will give your conventional suit the exact modern twist it needs to look voguish and in style.
There are numerous ways to tailor a trendy blazer outfit; however, keeping the color combinations in mind is vital. We can always mix and match different blazer pants color combinations to make up something new.
In this blog, we'll discuss some dandy, aesthetic blazer pants color combinations that you can rock in 2023 on the fashion-forward streets around the globe. You can try these looks for corporate meetings, weddings, semi-formal events, and even parade them at parties.
So, here are some awesome blazer combinations for you to try:
What To Expect In This Article?
Navy Blazer with Khaki Pants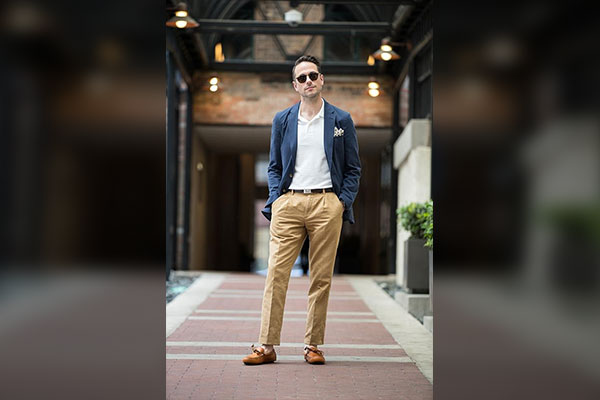 People try figuring out different blazer pants color combinations but if you do not want to mess up your look and know that nothing can go wrong then know that navy blue is the color for you.
If there's one color that is ideal for blazers, it's navy blue which works well with almost any other color; however, blue and khaki complement each other so wonderfully as they were designed specifically for each other.
Pair a white base shirt or a traditional beige waistcoat with simple, light-textured khaki pants, and throw on a conventional, sleek navy blue blazer to anchor the entire outfit. Complete your look with deep brown or black loafers or Oxford shoes, and wear a stylish watch and shades as a complementing accessory. 
A Navy blazer with khaki pants is the look to beat and will look perfect for a formal corporate meeting or a semi-formal business lunch.
Blue Blazer with White Trousers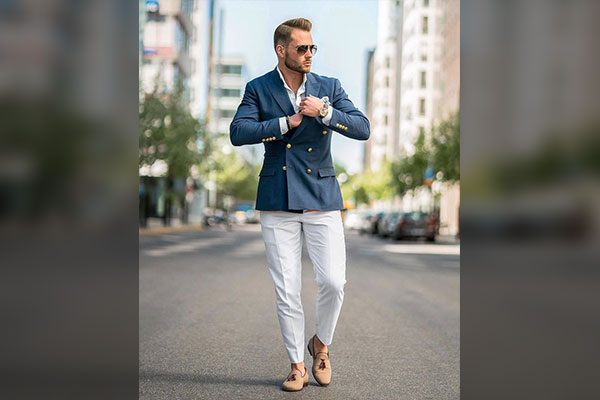 Why let only the Italians have fun with broken suit combinations when you can easily slay them? Well-tailored white trousers with a sophisticated blue blazer is a bold style choice but will pay off and be one of the most amazing blazer pants color combinations for ladies.
Pair a white button-down or a tonal waistcoat with a deep blue double-breasted blazer and classic white trousers to pull off an iconic sprezzatura. These blue blazer pants color combination is truly striking and nothing can go wrong with the pairing of these colors.
If it's colder weather, you could introduce a leather jacket to the mix or add some color through a vibrant scarf or pocket squares.
Finish off your look with black, dark brown, or oxblood shoes, and you'll achieve that sense of nonchalance without going overboard.
Green Blazers with White Pants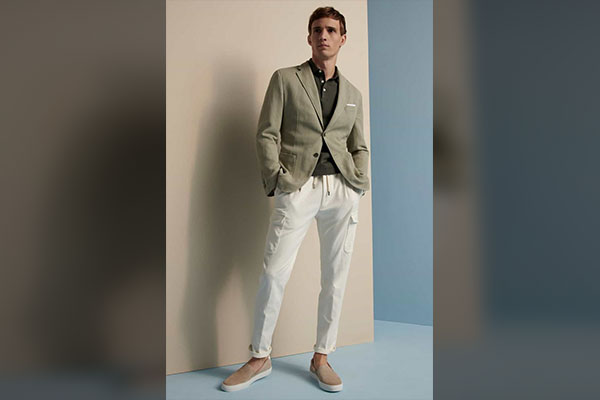 Want to slay summer/spring 2023 in style? This season has no better blazer combination than green and white, especially if it's an olive or forest green with the suitably textured material.
For this look, go for tactile fabrics like heavy cotton twill or tweed in olive or forest green, and pair it well with white or cream-colored pants. Needless to say, you can always go for a high waist or pleats for bonus style points and add more depth to your outfit.
Perk off the look with a beige leather or suede sport coat color combinations, or you could add some fun elements with olive and white sneakers for a more casual appearance. If you desire to stick to tradition, go for a pair of brown suede loafers, a foolproof option.
Burgundy Blazer with Grey Pants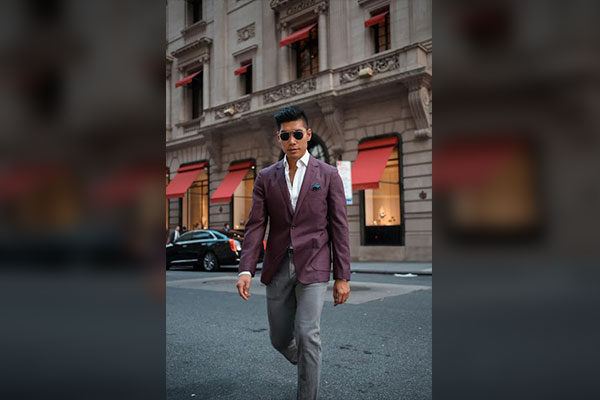 If you want to impact, then a statement-colored jacket is your best friend, especially when that color is as rich as burgundy. This jacket and pants color combinations would have a colorful top layer that is ideal for embracing exuberant vibrancy, making it one of the very best jacket and pants color combinations for parties and casual events.
Pair an iconic burgundy jacket with a classic, underrated grey pant that would complement the top without stealing the limelight. Instead of a button down with a tie, you could wear a high neck grey inner to add some fun and layer to your outfit.
On your feet, opt for classic black or dark brown dress shoes to put the whole look together, and finish off with a nice watch or even a metal chain if you're going a bit casual.
Black Blazer with Beige Pants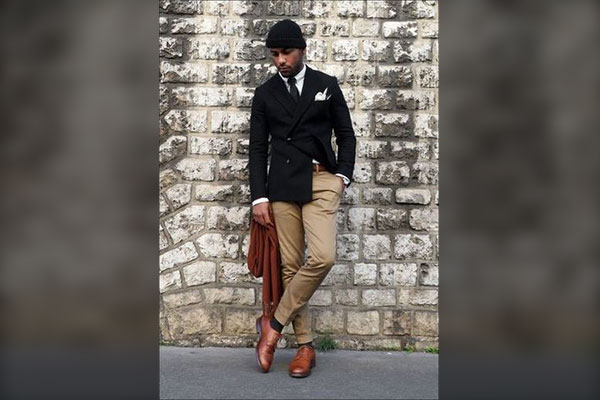 It is a formal, classic black blazer with matching pants bound to turn heads and make you the center of attention. A black and beige blazer and pants combo is a winner for any formal event and requires almost no effort and surely the best jacket and pants color combinations.
Just combine an off-white or light beige button-down with beige formal pants and complete the look with an ageless, black blazer. Then, of course, you could go open-collared for a more relaxed attire or add a little bow tie for a more refined look.
Finish the look with some sleek pair of black leather shoes, a classic shiny watch, and put on your favorite black shades if it's day time and you want to look more dashing.
Brown Blazers with Denim Jeans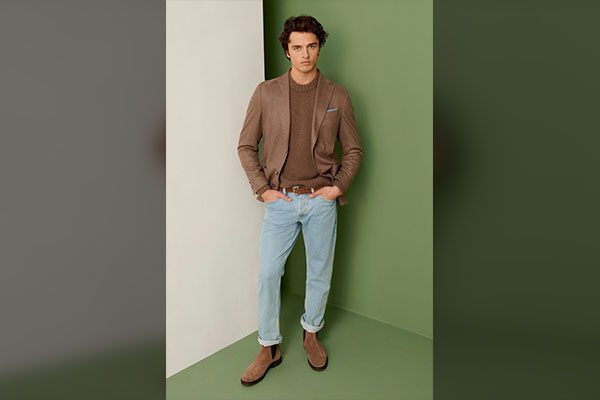 Another rocking separate suits combination that is an iconic mashup of formal and casual is a brown tweed blazer paired with washed jeans. While it is a fun and stylish trend to follow, this look has enough sophistication to qualify for semi-formal events.
Go for a well-fitted, crisp earthly brown blazer and combine it with light or dark-washed denim jeans for a more rustic casual look. You could layer this look with sweaters and scarves for a more vintage fall look or pair it with a candid white shirt for a more clean-cut style.
This blazer and jeans combo is a statement, so pair it well with matching shoes to complete the whole look and rock this outfit in style.
Grey Blazer with Black Pants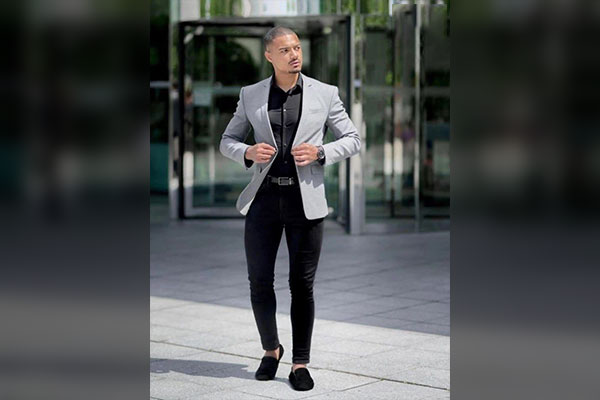 Grey and Black blazer color combinations is the classic love story every suit combination wants to show off, and it's still trending even in 2023. So go for these colors if you're willing to contemporary aesthetics and still make a statement wherever you go.
For this look, pair a deep black or a simple white button or roll neck with black pants, polish off the look with a textured grey blazer like those made from Donegal wools, or try putting on plaid or herringbones to add some excitement to a simple look.
Make sure the blazer is slim-fitted, and try charcoal or gunmetal grey if you want to appear dressier. Finish off the look with shiny black boots or shoes, a smartwatch, and a knit tie if you wish. This is surely the best blazer for black pants as it is trendy and these colors never go out of fashion, truly timeless!
Monochromes
You can opt for sport coat pants color combinations that are monochrome. Even suit separate combinations are great to follow and men really are all in it but they might get a bit complex, especially if you're a fan of traditional monochromatic blazers. However, one-colored suits are a great way to seal the deal and make an impression, especially for business events.
You could try these popular one colored jacket pants combinations, which are a foolproof outfit option for any occasion, pair them together with an appealing button down shirt and you are good to go:
Black
If you want to embrace those macho, masculine vibes and be the party's black panther and you are looking for a blazer color matching, who's stopping you? Pair a crisp black button-down shirt with a simple black blazer and formal black pants to tie the whole look together.
You can also opt for different shades of black while choosing the blazer and pants. The perfectly black jacket and pants color combinations would be the showstopper for you!
You could be innovative and roll up your sleeves or go for an open-collared shirt to add some modish elements to your outfit while keeping the elegance intact. If this is too black for you, pair your blazer with a white, blue, or even red shirt to add that contrasting element and depth to your look.
These are the best blazer color combinations you can use; some combinations are like a match made in heaven while the others are bold and out of the box at the same time. Finish off with black suedes, boots, or even loafers and rock any event in complete style!
White
Whoever thinks white is too bland or straightforward for a suit needs to rethink with this classic monochrome white blazer and pant combination. It's simple, classy, and everything you need to make a clean, robust impression.
If you pair it well it might actually be one of the best blazer colors. It makes you stand out, gives you confidence and it surely makes other men look up to how you dress. Guys, if you can pull off a white blazer, you can really be a fashion icon!
Grab your everyday white button-down, team it up with formal white pants and throw on a classic, slim-fitted white blazer to complete the look. You can always add a contrasting tie or pocket square to add some color to your outfit and still slay this monochrome appeal.
If you want to add some color via shoes, tie, or even an undershirt, then pair white with black, brown, or blue for that refined look perfect for any formal event.
Grey
Another signature monochrome suit form is a grey blazer and pants, a winning compromise between black and grey, perfect for formal and semi-formal events. These jacket pants color combinations are easy to pull off and even if you are in a hurry to dress up for an event do pick grey as your color!
Team up a light grey inner or vest with a checkered or structured grey blazer and complete the look with grey pants or slim tailored trousers. Do not be afraid to go for dark grey or charcoal sport coat and pants color combinations; they will add more depth to the look and make you stand out immediately.
You can trade the grey inner for a white or black one to add a bit of contrast, or go for a colored tie and shoes to add vibrance to your entire look.
Green
Nothing looks better than a deep green blazer color matching with a similar shade of green pants if you genuinely want to flaunt a vintage aesthetic and be a showstopper. Go for olive, forest green, dark green, or even pastel green to pull off this monochromatic look in style.
Pair a toned-down green or cream button-down with an olive blazer and formal plants for this outfit. You can also go for a beige roll neck and pair it with a forest green blazer and pants for a more rustic, vintage vibe that will be a winner for sure.
Complete the look with dark brown or black shoes, a statement watch, and wear a metal chain to embrace the casual modern elements.
Pastels
2023 is all about welcoming innovative ideas, trends, and colors to the men's wardrobe, which is why monochrome pastel suits are all the rage, and we're here for it. You can look equally dapper and dashing with a light-colored suit, and sometimes, even better.
Go for pastel lilac, lavender, or even teal blazers, pair it with similar colored pants and use a light inner to anchor the whole look. If you wish to add more diversion, go from printed inners or stick to a simple white one for a more refined look.
Next, add a metallic tie or a slightly darker pocket square to add some vibrance to the look, and you can easily rock this statement at weddings or prom.
FAQs – Blazer Pants Color Combinations
Where to wear a black blazer?
You can wear a black leather blazer formally or in a business casual way. Pair some striking black khaki pants and a white crisp shirt and you are ready to attend an office meeting, a dinner date or even a wedding. It depends on the event you are going to. 
What should I wear with a black blazer to work?
Work days do not have to be boring, even if you are wearing a blazer to work make sure that it appeals to other people. You can pair your black blazer with black dress pants or chinos, tuck in a contrasting button down shirt; it can be in the shades of blue, black or white. Put on Oxfords for a more formal look, or you are trying to keep it business casual then loafers are good to go with your look. 
What pants go good with a blazer?
To give yourself a casual look while wearing a blazer, dark blue denim jeans are going to work quite well. However if you want to make it more formal then dark colored dress pants, chinos or khaki pants should be your go to bottoms. These pants blazer color combinations will surely be an all rounder for you. 
Do blazers and pants have to match?
No, they do not have to match, because if they do, then ultimately your outfit would be called a 'suit'. It's acceptable to wear a distinct blazer and pair of pants, and it's so frequent that it has its own term 'separates'. When you dress up in separates your jacket and pants are both of a different color or style.
Which color of blazer is best?
If you know a bit about fashion and know how to dress up then you can clearly pull off any color at any time, you just need that styling up confidence. However, black, navy blue and gray are some of those colors which are highly versatile for any type of dress code. On the other hand shades of brown are more on the business casual and casual side. 
The Bottom Line
Now we know that you might pick out a shirt and know all the blazer pants color combinations that you can rock on with. It is like you can ultimately imagine yourself in those colors and you know for the fact that they are going to look fab. Whether you are going semi formal or business casual, do not forget to pick a blazer and pants in the most appealing colors.
Well not only for men but even there are different blazer pants color combinations for ladies which they can pull off in everyday casual to formal dressing style. They should have the right eye for it!
This was our fair share of some of the best blazer pants combinations you should try in 2023 since we're finally able to enjoy all those formal and casual functions and need something extra trendy to rock these events. So which one of these Blazer Pants Color Combinations will you add to your wardrobe?