Men have included white in their clothing forever. They mostly picked a white t-shirt outfit or an outfit with white pants, that seemed to be it. We feel like the white color has been taken for granted by men as they hadn't been making much out of the dazzling color.
Men add white to their clothes to look simple and look clean, however, now that trend has changed. Men have started opting for white for it to stand out in their look, and be bold. The bold looks include clothing like white blazer jackets. Men's white blazers give a striking look to any man who wears it just like the newly trending red pants.
When we link blazers with the color white there are multiple outfits that pop up in our mind and your thought about how to wear a white blazer men dies down. In fact, men who like to try out something new get quite excited by the thought of pairing up a white blazer with different outerwear.
No matter what the event is, white blazers make you look confident, and that ultimately makes you look good. However, most men are not quite sure about how to wear a white blazer the way it pops up their presence.
So, here we are with another blog about styling a white blazer. In this blog we are going to talk about how to wear a white blazer in the year 2023, so let us get on with it.
What to look for in a white blazer?
Before we head on to what to wear with white blazer male we should shed some light on what to look for in a white blazer as most people are unaware of it. You should know for the fact that a suit jacket and a blazer are two very different things, make sure that you do not mix up in that.
It should fit you well in the right places. The chest and the shoulders. It should be shaped according to your body.
So, when you pick a white blazer, the main thing that you want to check is how well it fits you. Such a blazer is found tailored with Neapolitan style and details like patch pockets and shoulder seam.
When should you be wearing white?
There is no right time to be wearing white, you just have to pair your white outerwear the right way. It is true that white blazer men might seem like it should work out with just some clothing pieces, but that is where you are wrong.
White is a diversified color and you can wear it almost anywhere, thus you can wear a white blazer with any sort of outfit. With that being said, we are sure that you are looking for some outfit inspiration that includes a white blazer. But before that you should know when you can actually wear a white blazer.
Sunny Weather In Summers
White is known to be a cool color that reflects the sunlight that gets to it, thus many people suggest others wear white during summers. When you wear white you will yourself notice that you are not feeling hot like usual.
Moreover, white-colored clothes compliment tan skin as it helps you contrast in a better way. Men go for white blazers in morning outdoor meetings mostly, in such a way they give off a cool appeal too.
For the men's white blazer outfit in summer, you can pair up denim jeans with a slim fit t-shirt and sneakers. Yes, that is all. Sober, classy and there is nothing that can go wrong with this outfit.
Cloudy Weather
All white outfits are not quite appreciated on cold or dark days. Thus you can always prefer off-white clothing instead. An off-white blazer with formal pants and a bit dark colored button-down shirt. It will always look the best. We guess that answers your question of how to wear a white jacket male in cloudy weather.
White Blazer Outfit Ideas
Men's white blazer jackets are the true fashion style for the modern world. However, men still do not feel like getting out of their comfort zone and wearing a white blazer, instead, they usually opt for leather blazer men.
It is thought that white blazers are bold and not everyone can pull it off. Well, you are wrong. We know that your question remains "what to wear with white jacket male" but do not worry as this mini style guide for you is going to tell you all. So, without a further ado let us give you some white blazer outfit ideas.
White Casual Blazer Outfit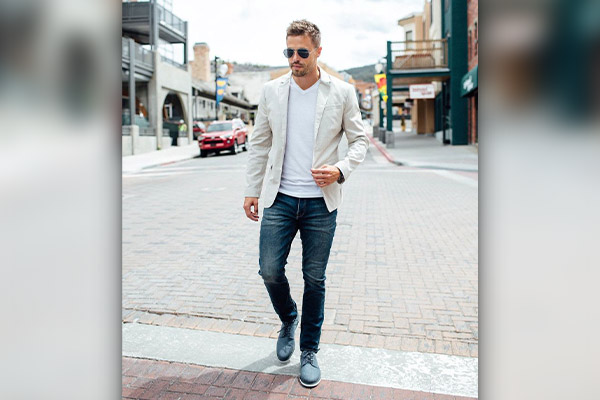 Casual outfits cannot be ignored as they are the sole reason for our everyday comfort. We have realized that most people think that white blazers are a fancy outfit. Let us tell you how you can style it in a casual manner.
Casual white blazer outfit men's can be paired in multiple ways but with your white blazer you can go for a round or V-necked t-shirt, make sure it is of subtle color.
Pair together grey jeans, it would look great if you tuck in your t-shirt in your jeans. Add a belt too. Put on sneakers with it and do not forget to add hand bands to your wrist. This outfit is going to be the utter comfort that will not tire you much too.
Formal White Blazer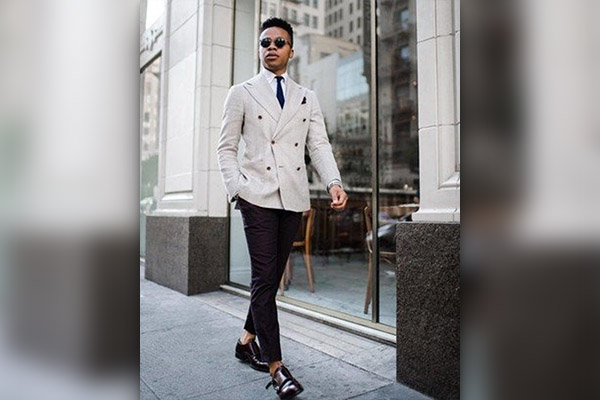 A white blazer can also be worn formally. You just have to pick the right pieces with the white blazer so that you can look chic if you are dressing up for a formal meeting.
While picking a white blazer shirt make sure that you pick the color very sensibly as you know that you are dressing up in a formal manner and you have to take care of some norms when you do so.
Go for a light colored button down shirt, shades of blue will look the best. Go for formal pants with it. Tuck in your shirt and wear a tie if you feel like it and wear your white blazer over the outfit. Pair your suit with loafers or oxfords, whatever suits them best.
Summer Blazer Outfit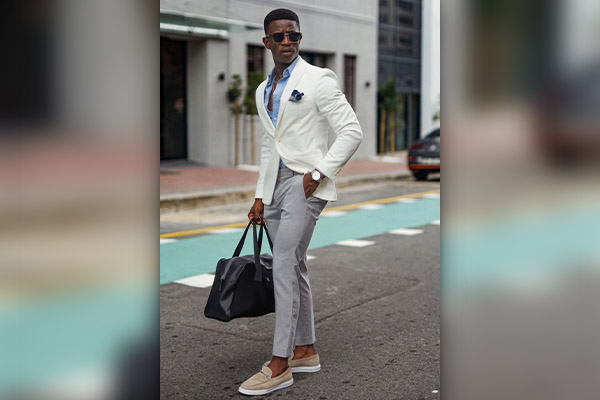 What do you think about a men's blazer with shorts? But how to wear a white blazer male with shorts? Gents, let us tell you that surely is one of the most epic summer outfit combos. You can always pick a white blazer and pair it with shorts, it is edgy yet a complete standout.
Take out your white blazer from your closet, you can pair it with a t-shirt or even a button-down shirt. With it, take out your shorts and wear loafers, canvas shoes, or sneakers with them. Such an outfit would be great for a summer day out with friends or for going to the movies, or even if you plan on going to a fashion show.
Off White Blazer Men Outfit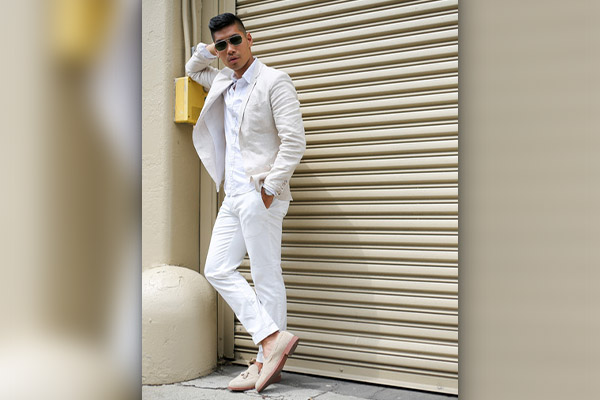 You know what is daring? Wearing a white blazer, well not just any white, we are talking about an off white blazer. If you are someone who likes to experiment then this style is definitely for you.
Pick out your off white blazer with off white khaki pants or chinos, tuck in a white crisp button down shirt in your pants and slide on white or fawn loafers with your outfit. We are well aware that this is a lot of white but if you are confident enough to own what you like to wear then you surely can pull this off. Guys, be a fashion inspiration by doing something out of the box.
FAQs – How To Wear A White Blazer
Do white blazers go with black pants?
For a white blazer style men, you can always opt to pair black pants. Monochromatic colors look great when they are paired any time and on any occasion. So, the answer is, yes. White blazers are going to look the very best when paired together. 
How does all-white clothing look?
If the clothing pieces are rightly picked then you are going to slay the al white clothing look. You can always go for a white blazer, as for the shirt for white blazer, pick a white button-down shirt or t-shirt and go for white jeans at the bottom. You can be daring enough and wear white shoes with the whole look. 
What to wear with a white blazer?
Men might loiter around their wardrobes and think about what to wear with a white blazer. You should know for a fact that white blazers can be treated as casual, business casual, or formal outerwear. There is no right or wrong with it.

Take out the clothing pieces you would like to pair and keep with it and see how they look. With casual wear, denim jeans, t-shirts, and sneakers are going to work well. If we are talking about formal, formal pants, button-down shirts and oxfords will look the best.  
Conclusion
White blazers might be a bold choice, but if you are someone who likes to follow the fashion trail then it might be the right outerwear for you. You can play around with the looks it can create and you can surely land on a look that would be a perfect fit for you.
In a jist of it, we have talked about how a different combination with white jacket can uplift the entire outfit and how you can pair a white blazer on multiple occasions.
We are sure that from this blog you now have an idea how to wear a white blazer. Take notes from us and obviously take inspiration from those around you; create your own fashion sense and put that in your outfit, we are sure that it is going to stand out! So let's get started and create looks that everyone will love.