The world of men's fashion is wild and unpredictable. On the one hand, there are some of the most meticulous suits with perfect fitting, colors, and accents. Each stitch on these suits has a reason behind its existence. On the other hand, it is a simple, plain white T-shirt. Someone unfamiliar will look at this comparison and think that the t-shirt is completely outmatched by the suits. That might be the case if not for the fact that plain white T-shirts are one of the most popular men's shirts in the whole wide world.
Men's White T-shirt in a Nutshell
Men's white T-shirts are not very remarkable. Or so, one would think. They are just a piece of white cloth stitched in the shape of a basic shirt. But this exact simplicity is the very reason behind their popularity. A man can just wear it over a pair of gray jeans or almost any other type of pants and call it a day. There are hardly any other pieces of men's clothing that are this easy to style.
However, white t-shirts would not be this renowned if the story ended here. White t-shirts are not just easy to style; they are also incredibly versatile. You can wear it over a pair of jeans for a basic casual outfit, or you can pair them with chinos or khaki pants and a suit jacket for a preppy smart casual outfit. A single white T-shirt can also work all year round, no matter the season.
Types of White T-shirts
As much as they feel like it, white t-shirts are not limited to one design. There are a lot of different types of white T-shirts available in the market. Here are a few of the most famous ones.
Basic Short-Sleeved White T-Shirt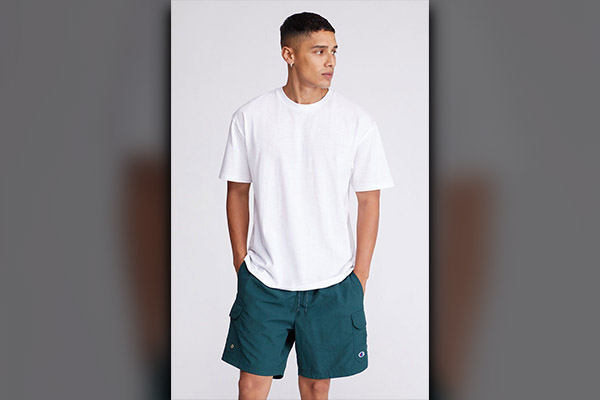 This is the design that comes to mind when white t-shirts are mentioned. They have a normal-sized round neck and short sleeves. They work with almost anything but look their best over jeans in the right fit.
Long Sleeve Crew Neck White T-shirts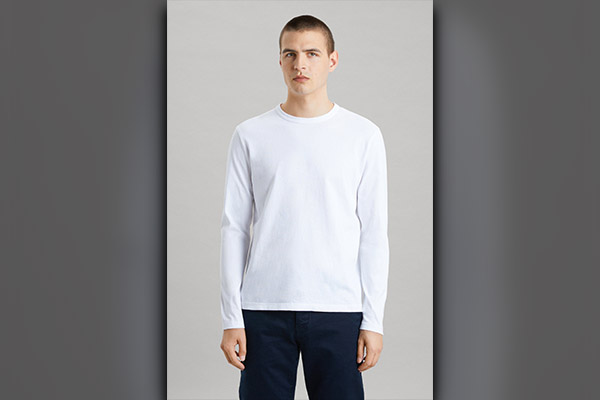 This has the same neck design as the basic white t-shirt but with longer sleeves. This might look like a minuscule change, but it is not. The basic white t-shirt is so, well, basic that even just changing the length of the sleeves completely alters its looks. These look great over jeans as well and are a great companion to a sleeveless denim jacket, leather vest & more.
V-neck White T-shirt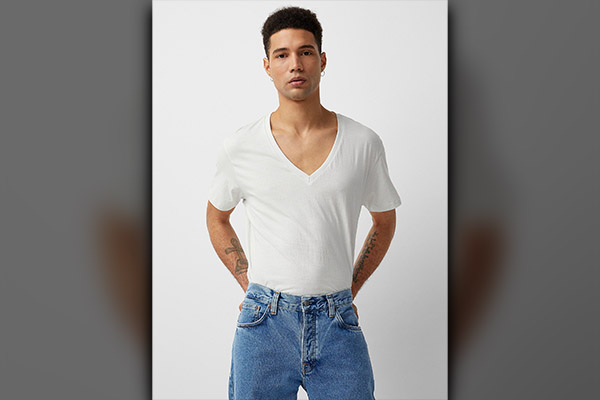 V-necks are also extremely similar to the basic white Ts, but their neck is shaped like the English alphabet V. This neck shape transforms how a white t-shirt looks on someone. A little exposure of collar bone combined with the downwards direction of the design makes you look taller as well. These are also available in both short and long-sleeved variants.
Polo Collar White T-shirt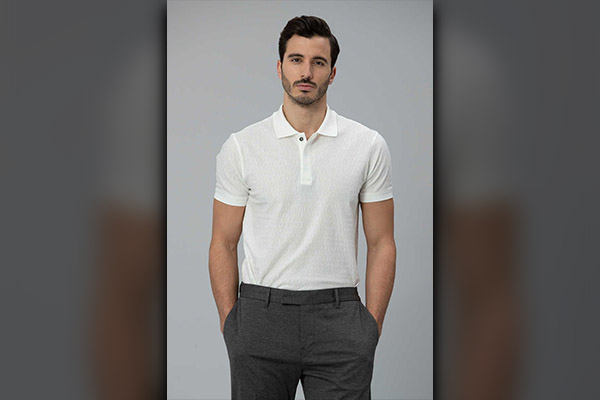 Polo collar white t-shirts are pretty distinctive in design. They are also one of the most different-looking shirts compared to the basic option. The collar gives this shirt a level of maturity and elegance, and the simple straight cut further accentuates it. This is why you can easily wear a polo shirt as business casual.
20 Ways to Wear a White T-Shirt
Now that we have a good understanding of what white t-shirts are, what they represent, and what their types are, we can focus on styling. The sheer versatility of these t-shirts means that they have hundreds of amazing outfits. But, for the sake of this guide, we've condensed them into 20 of the most important ones. You can understand these and then create your own ensembles based on the knowledge you gained.
Without further ado, let's get started.
Alongside Blue Jeans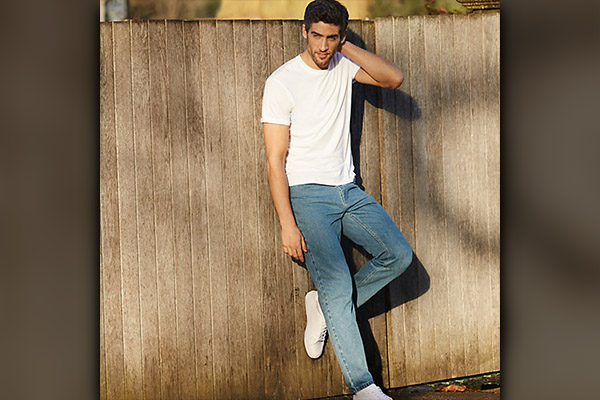 Blue jeans and white t-shirts go together like peanut butter and jelly. If you're unsure about your outfit for a day and need something quick and good-looking, look no further than the basic short-sleeved white t-shirt. This simple outfit will work in 99% of the casual situation you'll find yourself in.
Over a Pair of Khakis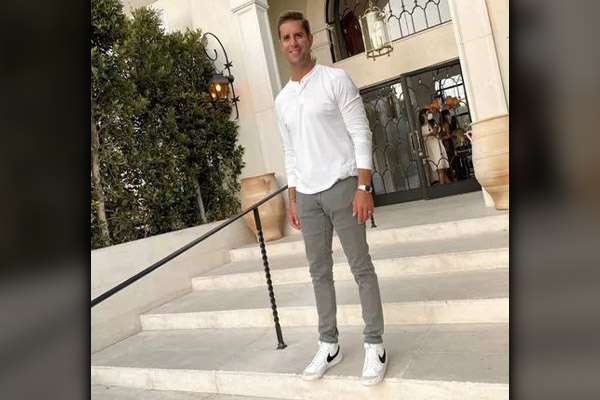 Looking for something lightweight and accessible for the office and don't want to deal with button-ups? A white polo collar t-shirt and a pair of khakis are the perfect choices for you. Finish the attire with a pair of leather loafers, and you'll look the sharpest in the office.
With Stylish Ripped Jeans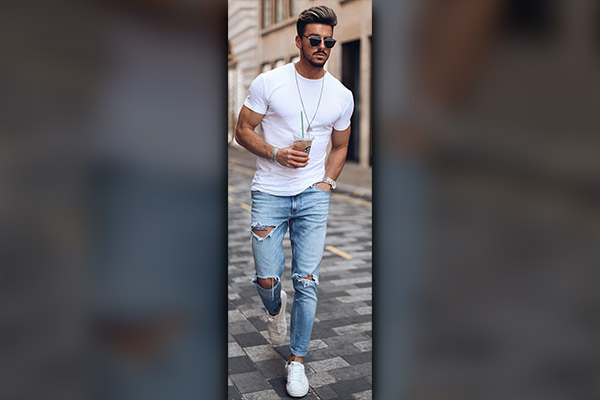 White t-shirts are not just for plain basic clothing. You can also create outfits that look and feel fancy while requiring minimal effort. One of these stylish outfits is a long-sleeved V-neck white t-shirt with a pair of ripped black jeans. You can add some color to this attire by wearing your favorite high-top sneakers.
Over Colorful Plaid Pants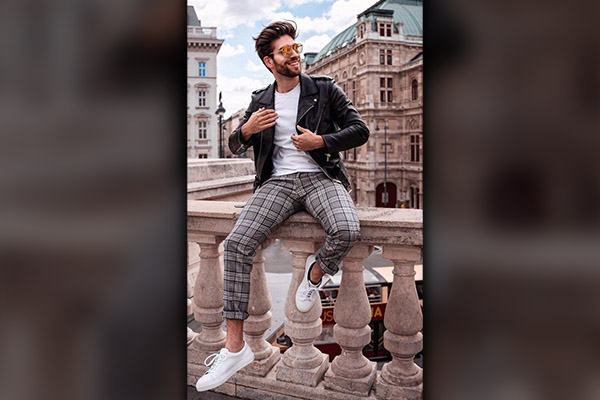 Plaid pants are a difficult item to pull off successfully. The color and pattern don't match well with some other colors and patterns. Figuring out what does and doesn't work takes a lot of time. So, why not ditch this hunt altogether, and pair your plaid pants with a basic white polo t-shirt. You'll look classy and stylish at the same time. This combo works with almost every type of plaid pants.
Under a Flannel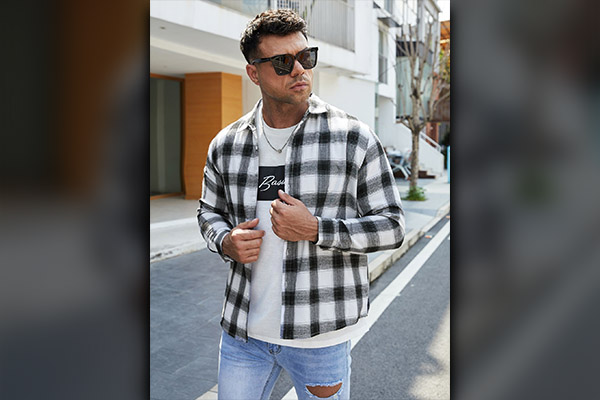 Wearing a white t-shirt on its own is fine, but you can look even more stylish by wearing it under a flannel shirt. The colors of the flannel will contrast against the plain white void of the t-shirt and create a perfect balance. The choice between round and V-neck is completely up to you as both work just fine.
Under a Denim Shirt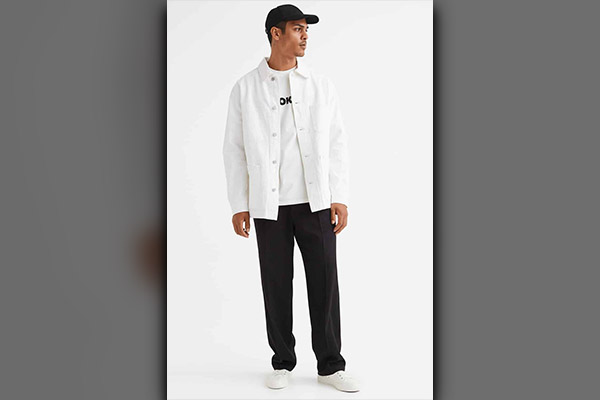 Denim shirts are fantastic shirts on their own. But their combination with a white basic t-shirt and pair of black jeans is one of the cleanest looking attires out there. Pair this combo with white sneakers, and you will resemble a model straight out of a men's fashion magazine. An alternative to this look is to swap out the jeans for tan pants and enjoy the fresh summer vibe.
Alongside a Blue Check Button-up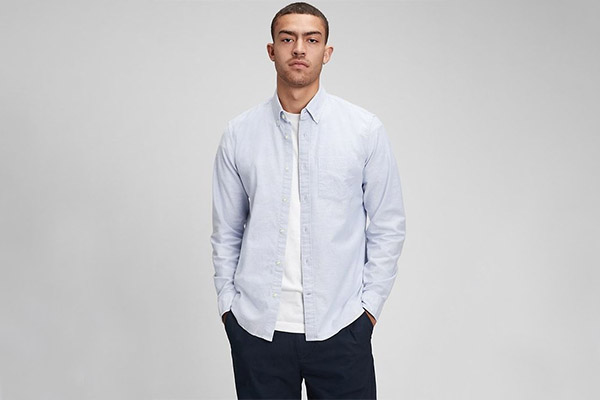 Checked shirts used to be extremely popular. They are still around but are not as common. You can take advantage of this craft, something that you won't see anyone else wearing on the street. All you have to do is wear a navy-blue check button-up over a white V-neck and a pair of light blue jeans. Brown leather shoes will complete the look.
Contrast with a Black Shirt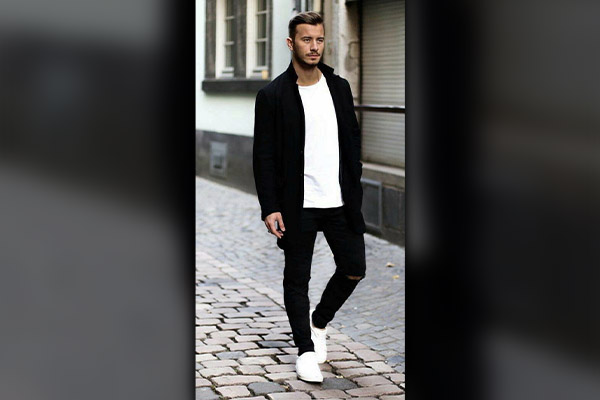 As mentioned earlier, white t-shirts don't stand out much on their own. But, the story changes completely when you contrast them with something like a black button-down. Now, this simple combination of white and black is extremely attention-grabbing. Pair this combo with either black or white pants for different looks. Or, you can just go in blue jeans.
Under a Shacket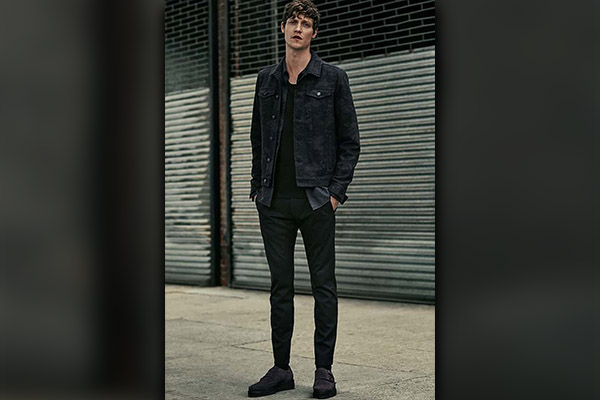 Shackets are another one of those difficult to master items. They look fantastic when they work with any outfit but terrible when they don't. There is also barely any middle ground between these two extremes. Luckily, one look that a shacket is flawless in is the classic hip-hop vibe alongside a pair of joggers. Wear the white t-shirt underneath the shacket to make this outfit pop, and you're done.
With a Windbreaker Jacket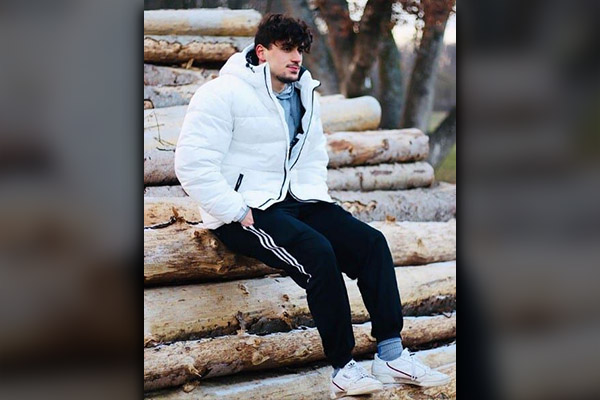 Windbreakers are a staple of men's winter fashion. Both full-sleeved and sleeveless windbreakers look snazzy with almost anything. However, there are a few items that work especially well with these fluffy jackets, and a white polo is one of them. A gray windbreaker jacket over a white polo and blue jeans are some of the sharpest looks you can pull off in winter while also staying pretty warm.
Paired with a Red Leather Jacket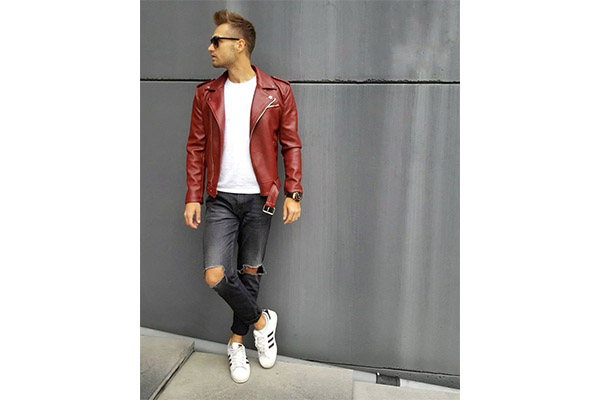 Red leather jackets and white V-necks are a combo that no one expects. Even if they know about it, they wouldn't think that it would work, let alone work so well. Having this pairing in your fashion arsenal will give you something very colorful for occasions that require something a bit extra.
Contrasting a Black Biker Jacket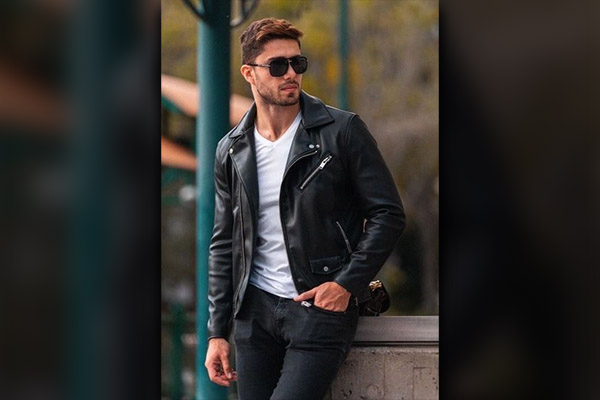 If you have an ounce of interest in modern urban clothing, then you already know this combo. Many types of leather jackets work flawlessly over the white t-shirt. But, none of them can match the sheer charisma of a black leather biker jacket over a white V-neck and ripped black jeans.
Matching a Navy Blue Blazer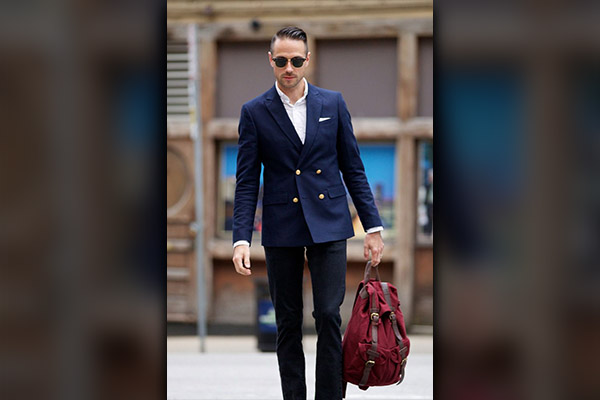 Blazers and white t-shirts have a special connection that is difficult to explain in words. However, once you notice how well all kinds of blazers match with basic white t-shirts, it is hard to deny that this connection doesn't exist. So, matching a white t-shirt with a navy-blue well-fitted blazer gives you one of the best smart-casual outfits ever.
Beneath a Plaid Blazer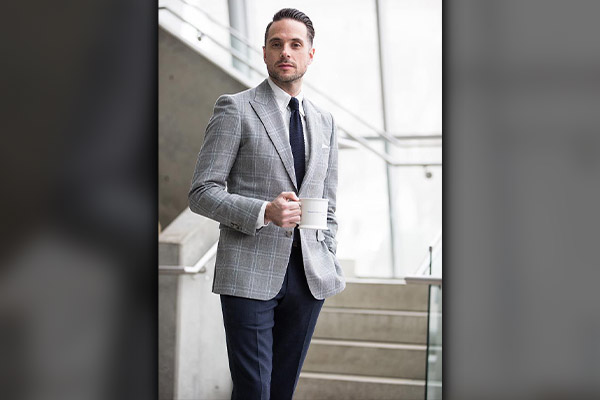 Looking for an outfit that looks clean while also being extremely cozy and warm? Look no further than a white t-shirt under a woolen plaid blazer. Accessorize with a newsboy cap to complete the classy look.
With a Shiny Leather Blazer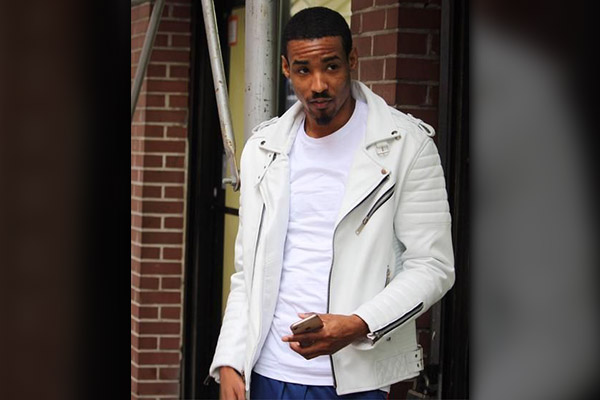 Wearing a white V-neck under a well-fitted black leather blazer gives off the same vibes as the black biker jacket. However, this blazer outfit feels a lot more structured. Even the glossy sheen of leather is balanced out by the pure white of the t-shirt.
Ultimate Style with Shawl Blazer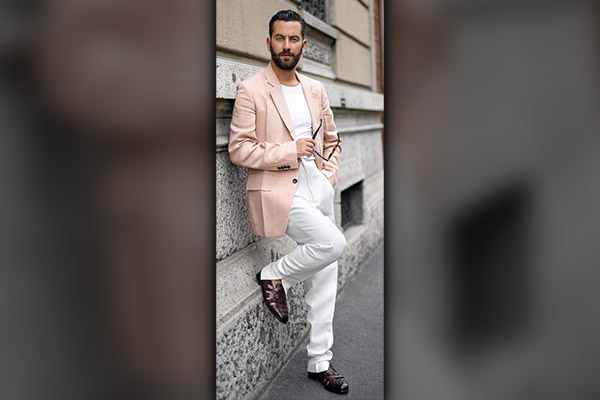 Layering and outfit neatness often go against each other. Even wearing a single layer can look cluttered. That's not the case with this combo of a black Shawl blazer and a basic white t-shirt. This ensemble looks as sleek and clean as it gets with blazers over t-shirts. You can rock this outfit to almost any party, and it will just work.
With White Jeans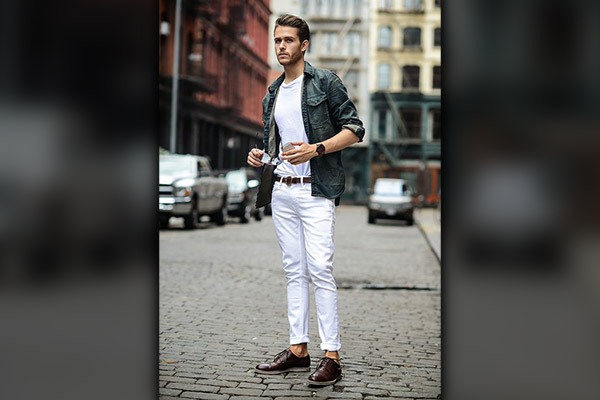 The simplest all-white outfit you can craft with a white t-shirt is with a pair of white jeans. It is also one of the most immaculate-looking ones. All this combo needs is a pair of white sneakers, and you're ready.
Under a White Blazer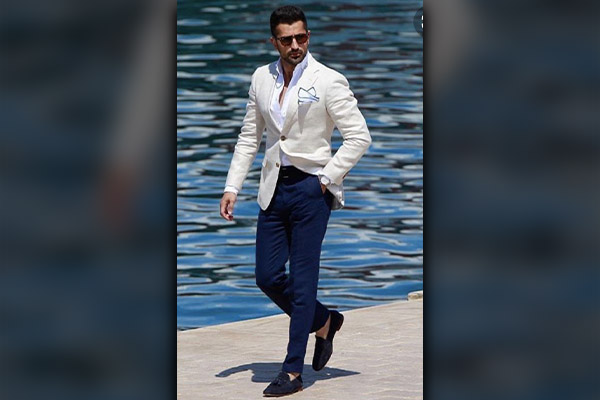 The white T-shirt and jeans outfit look great on its own. However, you can make it better by wearing a white blazer on top. Just make sure that the shade of white is similar, and you're good to go.
With White Chinos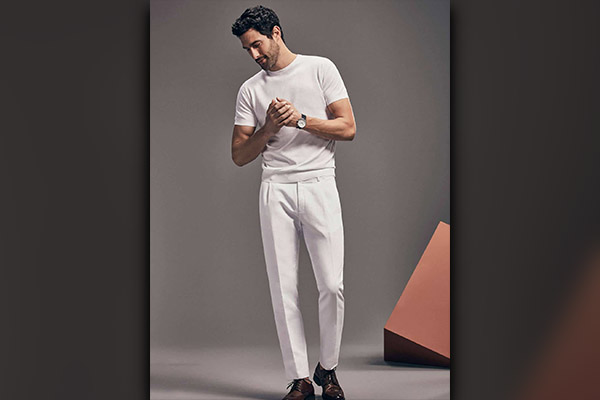 Looking for a simple but effective attire for golfing and other leisurely activities? Well, a pair of white chinos alongside a white polo is the best option for you. This outfit may be basic, but it exudes a level of confidence that is unmatched by anything else in this guide.
All-White with Accessories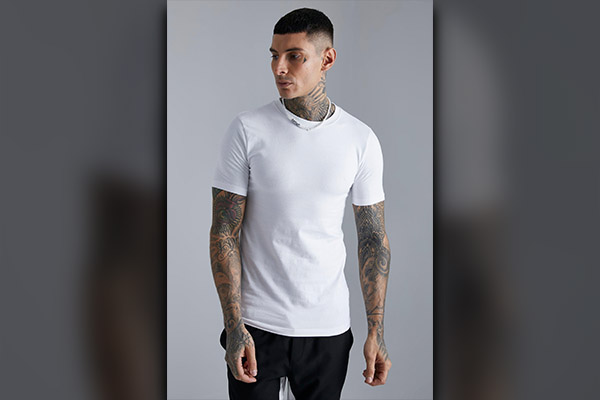 This is essentially the same outfit as the white V-neck over a pair of white jeans. However, you introduce some contrast into the mix with accessories like a black beanie or a black wristwatch.
Final Words
White T-shirts are, without a doubt, one of the most important must-haves for every man. They are so easy to style that you can craft a fantastic combo even when you're half asleep. But they are also diverse enough that you can wear white t-shirts only for a whole year and still have enough outfitting options to choose from. Understanding and mastering this basic item of men's clothing will take your fashion game to the next level.