As far as men's pants are concerned, tan is a relatively unknown color. Every day-to-day style guide is focused on black and blue jeans; brown if it's really in-depth. But, the world of men's fashion is not that limited. There are many types of pants with tons of wasted potential out there, and tan pants are one of them.
What To Expect In This Article?
Why Should You Consider Wearing Tan Pants?
So, what makes tan pants so great? And, why should you go out of your way to wear an uncommon color?
The first reason to consider wearing tan pants is simply that they look nifty, regardless of whether you're wearing them with a colorful flannel or a basic white t-shirt. The crazy thing is, they don't even require any extra time when compared to standard blue or black jeans and look just as snazzy.
Secondly, men's outfits with tan pants are not that common. You'd rarely see one even on the busiest streets. So, they are an easy shortcut to standing out from a crowd of people without resorting to something over-the-top and attention-grabbing.
Picking the Right Shade of Tan
Tan is not a single color. Instead, it refers to a family of similar hues. On the brighter side of things, we have cream colors; it's mostly white with a hint of brown. The other end of the spectrum is taupe which is mostly grey with a brown/tan undertone and a rugged aesthetic.
There are hundreds of tones between these two, depending on how meticulous you want to get. As far as pants are concerned, there are only two in-between shades you need to know about. First is the classic khaki, which can be described as a lighter shade of brown with a drop of yellow mixed in. The second is British khaki, which is just khaki but more saturated and vibrant.
So, which one is the best for pants? Honestly, all of them are pretty much equal. Any outfit that works well with one of these shades will look just as good as the others. The final decision is entirely dependent on your personal preference. You can also try to match the shade with the rest of your wardrobe, like your leather jacket, for example. So, pick the shade that you're most comfortable with, and start styling.
What Shirts Work Best with Tan Pants?
It might not look like it at first glance, but tan pants are surprisingly versatile. They work with almost every color under the sun, with very few exceptions. The design of the shirt isn't a large hurdle either. You can wear something completely basic like a black t-shirt, or you can go all the way and top your tan pants with a blue denim shirt. Additionally, uncommon colors like maroon and olive are just as viable. In fact, a maroon button-up with a pair of tan chinos looks exceptionally dapper.
How to Wear Tan Pants?
As mentioned earlier, tan pants are not very common. So, there is no preconceived notion regarding the right way to wear them.
This is extremely unfortunate, as there is no highly popular style that new adopters of tan pants can follow to begin their journeys. But you can look at the same situation from a positive angle. This lack of a default style also means a complete lack of societal expectations. If no one knows the "correct" way to wear tan pants, then there is no "wrong" way either. You can freely experiment, match unique colors, and wear whatever color of the jacket on top.
Outfits with Tan Jeans
Yes, you can wear tan pants whichever way you want, and it would be correct. However, there are a few tried and tested looks that work exceptionally well. Take a look at the best tan pants outfits.
Tan Pants for The Office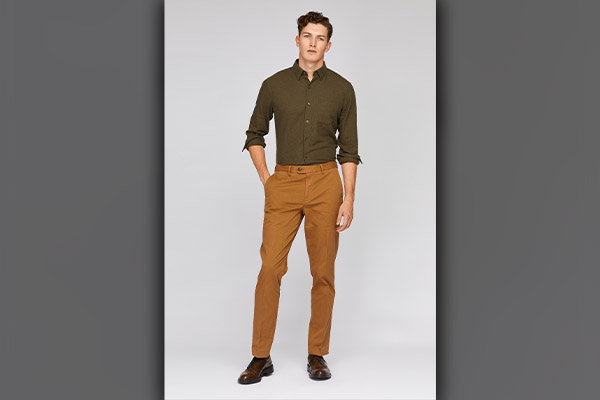 Tan pants, specifically, tan chinos are a great alternative to the classic grey or black office attire. They look just as professional while also allowing you to rock a completely new look.
Pair your favorite pair of tan pants with a light blue button-up and a navy blue tie, and you've got yourself a fantastic work outfit. If you want to look a bit more casual while retaining the well-put-together look, then a black polo shirt is the way to go.
Tan Pants with Sweaters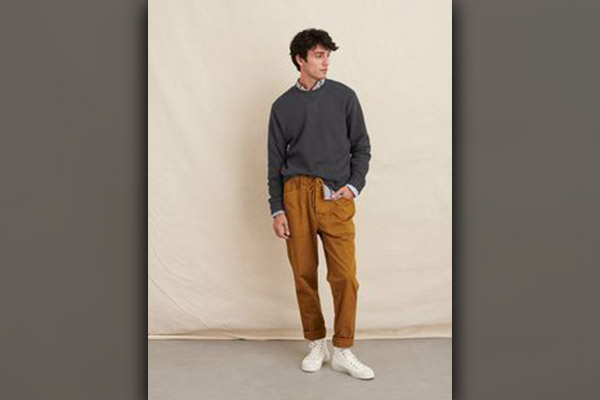 You can wear tan pants all year round, but winter is when they look their best. So, what better way to get into the fall spirit than a soft charcoal sweater. This look is extremely simple to pull off (just wear the sweater over any light-colored shirt), but it also looks as classy as it gets. Top the whole outfit with a matching flat cap, and you're ready to be on the front page of a fashion magazine.
Tan with Black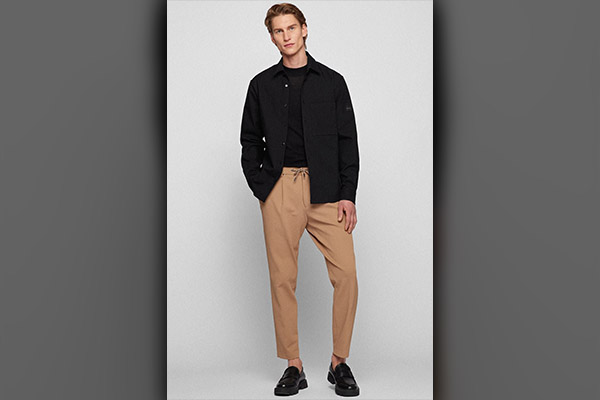 All-black outfits look fantastic no matter what. However, this does not mean that they cannot be improved upon. One way to make an all-black outfit look even better is by swapping out the black pants with tan chinos and keeping everything else the same. So, this outfit should consist of a black shirt, black jacket, black leather shoes, and tan pants.
The tan pants fill the role of an accent piece and make a simple outfit look artistic and well-thought-out.
Tan Pants with Loafers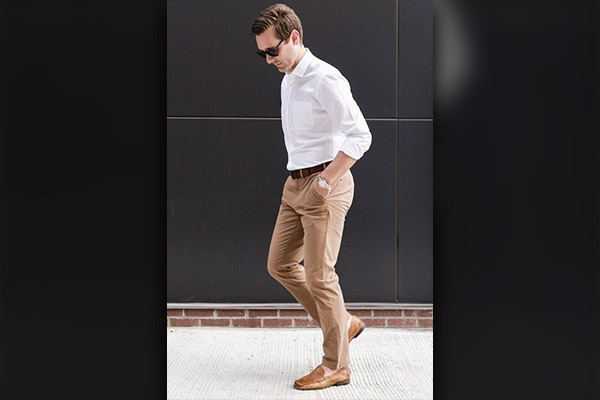 Choosing the top for your tan pants is one thing, but what about the footwear? Is there an option that works exceptionally well? It turns out there are; loafers. The sleek flat design of loafers matches flawlessly with the tame tan colors and simple design of tan chinos. Plus, you can choose different colors and materials of loafers based on what you're wearing on top. So, leather loafers for leather jacket outfits and so on.
Tan Pants with Leather Jackets
Leather jackets and tan pants are a criminally unknown matchup. It is so good that investing in a new leather jacket is completely worth it just so you can pair it with tan pants. This matchup should not be that special on paper. After all, it is just a pair of chinos with a leather jacket. However, this combination somehow surpasses any and all style expectations.
But not all tan pants and leather jacket combos are created equally. These are the five best types of leather jackets to pair with tan pants.
Ionic Tan Brown Leather Biker Jacket
First on our list is the Ionic Tan Brown Leather Biker Jacket. You might think that wearing a tan jacket on top of tan pants might be overdoing it. But, the vibrant British khaki tan of this particular jacket is unlike any tan pants you can find. It is definitely the center point of whatever outfit you decide to craft. As for the rest of the outfit, a light-colored T-shirt and low-top sneakers look the best.
Hans Tan Brown Leather Jacket
Next up, we have the Hans Tan Brown Leather Jacket, another tan option; this time in a lighter shade. If you're looking for an upper for work and professional settings, then this is the one. Its design is simple yet effective. The two front pockets add visual interest without looking out of place, and the metal zipper and buttons act as accent pieces.
The best way to style this particular jacket is with button-ups and polo shirts. An ideal example would be a pair of khakis, with a white button-up and this leather jacket. Don't forget the details like a brown leather belt, a black tie, and dark brown leather shoes.
Tomchi Tan Suede Leather Jacket
Four of the five jackets on this list are shiny with a semi-aniline or a burnished finish. This one, however, is suede. It is one of the most unique leather jacket finishes out there. Suede jackets tend to be lightweight and extremely breathable, perfect for hotter days of the year. Not to mention its distinct texture that is instantly recognizable.
Styling the Tomchi Tan Suede Leather Jacket is not that difficult either. You can either embrace its dark brown color and pair it with black shirts and matching black shoes. Alternatively, you can also take things in the other direction and pair them with cream khakis and light-colored shirts. A pair of white leather sneakers alongside a white button-up is also a well-polished choice, reserved for special occasions.
Dan Frost Tan Shearling Jacket
So, winter is coming soon, and you need something warm but stylish. Look no further than the Dan Frost Tan Shearling Jacket. It's a vibrant tan color with a shiny semi-aniline finish. The overall design is fairly standard and minimal, with no attention-grabbing features. What makes this jacket special and worthy of a place in your closet is its thick fur lining.
As for styling this jacket, sweatshirts, and t-shirts are your best friend. Hooded sweatshirts, in particular, are a perfect choice. They offer additional warmth while also increasing your style points.
Hunter Tan Brown Fur Leather Jacket
Last on our list is the Hunter Tan Brown Fur Leather Jacket, the best jacket for winter. The tan on this jacket is incredibly remarkable, thanks to its burnished finish. Additionally, with its fully fur-lined interior, and a coat-like design, this jacket will keep you warm no matter how low the temperature drops.
Styling this jacket is a bit awkward, as anything you wear underneath would go completely unnoticed. The jacket is the focal point; the way forward is to embrace this fact. Just top your tan pants with a plain shirt, keep the jacket's front closed, and you're done. Although, you can sneak in some personal flair by wearing leather tactical boots.
Final Words
Tan pants are an undiscovered treasure trove of brilliant outfit ideas, clean, professional looks, and relaxing casual ensembles. It is just a matter of time before people start noticing the true potential of tan pants.
So, why not become one of the early influencers? Get started right now, and enjoy the freedom of experimentation. Mix and match different shirts, shoes, and leather jackets until you find something you love. Who knows? The next big trend in men's fashion could be an outfit you crafted.