The fashion world is ever-evolving. Different styles are amalgamated to create something new entirely. 'Smart casual' has come into existence in the same way. Joined by the two fashion styles, 'casual wear' and 'smart (formal) wear, smart casual is the most talked-about fashion trend yet.
What To Expect In This Article?
What is Smart Casual?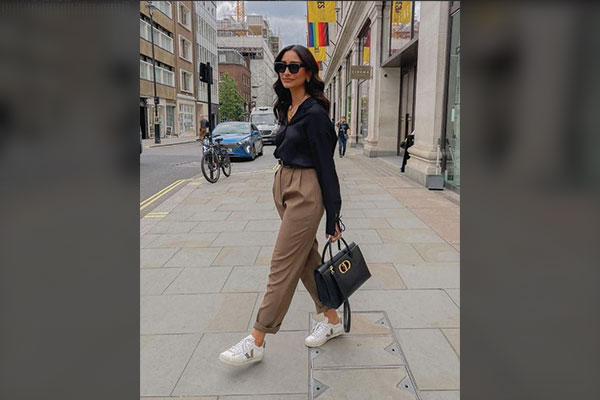 A smart casual is a refined form of everyday wear. It does not focus on expensive clothing or lavish designs, instead, it is a way of simultaneously looking both classy and relaxed. The overall look is supposed to look clean, confident, and crisp.
Smart Casual According to Occasions
Smart casual is an easy term to say but understanding how to implement it is quite the contrary. Most invitations set the dress code as smart casual, and this gets very confusing for the attendees.
The most important thing before you pick out an outfit for an occasion is to learn more about it.
Is it work-related or a family event?
Is it outdoors or indoors?
Is it during the day or night?
These questions will help narrow down the clothing options. In doing so, you will be able to imagine the event and yourself at it. For example, if it's a business event a pair of fitted trousers and a blazer would be a perfect fit.
Smart Casual Clothing Pieces
Designing a wardrobe is a never-ending affair. You will always make new additions, and sometimes, even deductions. The fruitful thing about smart casual clothing is that you can create multiple outfits just by investing in a few key pieces.
Down below, we have enlisted some clothing items that you may need to create a smart-casual look.
Jumpsuits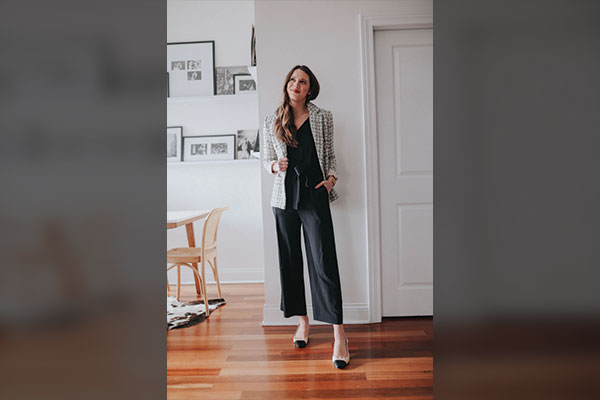 It may be surprising to hear, but jumpsuits are a beginner-friendly way to master smart casual attire. These one-piece creations are the easiest way to create an elegant/casual outfit. The material and design of the jumpsuit are of utmost importance.
You want to pick something that is made out of fabrics like chiffon, silk, or linen. Stay clear of denim, flashy, or tight-fitting styles. Wide-legged and off-shoulder jumpsuits are fabulous choices, top it off with a blazer and you have a complete look.
Shirts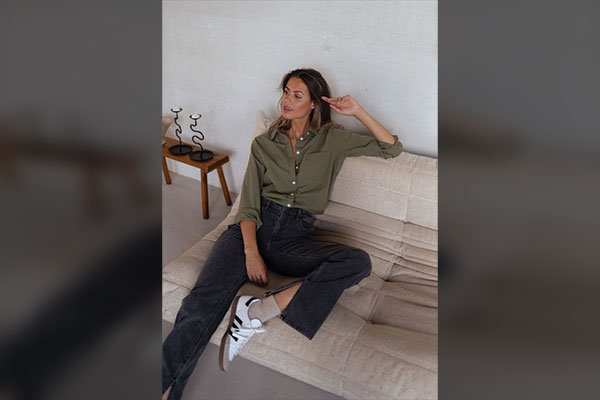 Button-down shirts are a connecting link between ' business casual' and 'smart casual'. It is common to get confused between the two. Business casual is more about structure and basics. The idea is to create a minimalistic look without taking any risks. Smart casual on the other hand is about reinvention. Adding a touch of allure by adding a hint of color here and there or opting for skirts/shorts instead of pants.
A white button-down when paired with black jeans is a basic look. If you pair the same shirt with a beige midi skirt, trench coat, and matching heels, it becomes a more sophisticated look. Get the gist?
Similarly, a collared shirt under a sweatshirt, paired with loose-fit trousers and high heels is an excellent option for work events in the fall time.
Blazers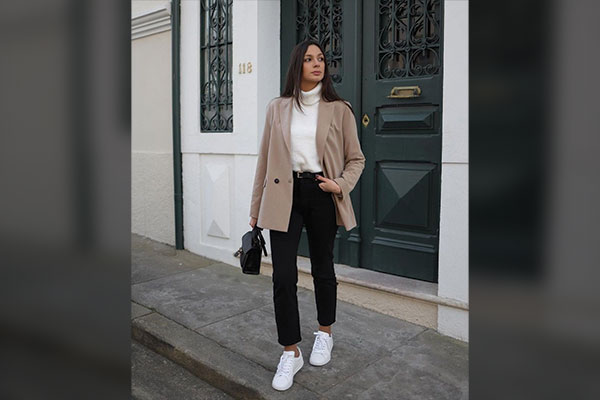 This clothing item is an absolute MUST when it comes to smart casual. A blazer is the personification of sophistication. It can take any casual look to 'smart casual'. When picking a blazer you have to keep certain things in mind.
It should be high-quality
The fabric should speak for itself
Minimalistic hardware
Prints should be muted and graceful
A blazer is something that will make or break your outfit. It is best to invest in ones that you can get the most wear out of. The number of outfits you can create with a blazer is endless.
A dark-gray blazer, paired with a light gray hoodie, dark blue, bell bottom jeans, and black heels is a comfortable option.
Alternatively, a ribbed tank-top, paired with a matching blazer and wide-legged trousers creates a quintessential smart casual look.
Leather blazers pair beautifully with dresses, jumpsuits, and even skirts. The form of the blazer against flowy clothing pieces creates an eye-catching dynamic. 
Turtle Necks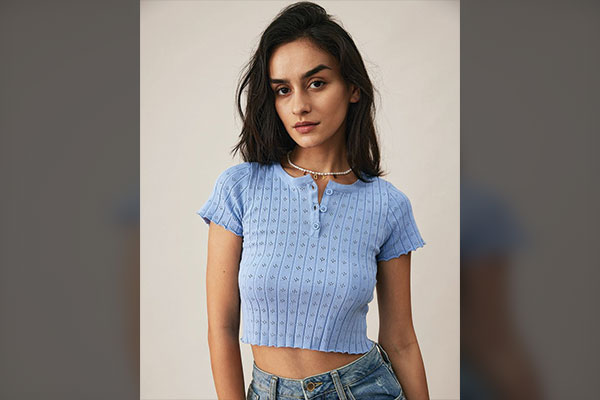 A turtleneck, if worn with the proper accessories can make for a swoon-worthy look. A brown, sleeveless turtleneck, a black pleated skirt, stockings, and t-strap heels create the perfect look for an exhibition.
When you pair a chunky, black, knitted turtleneck over a black slip dress/ black silk skirt with knee-high boots you get a look that is bound to turn heads. It isn't a basic black outfit, instead, it has a bunch of different elements and textures that make the look all the more fashionable.
Trench Coats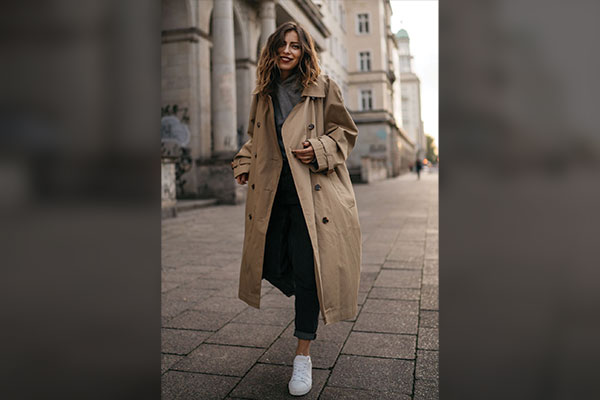 If smart casual seems a bit too complicated, why not start small? Layering clothes is the easiest way to fake sophistication and the result is gorgeous. Leather trench coats pair well with dresses, shirts, skirts, and jeans.  
For a smart chic look, try pairing a striped shirt with a trench coat and leather jeans. Add on heels to elevate the outfit (both literally and metaphorically).
Nobody does smart casual better than celebrities. With their meetings during the day and parties at night, their outfits are excellent for inspiration. A camel trench coat, matching tank, and black fitted pants create an elite look.
Add a splash of color to a basic outfit by pairing a red turtleneck against a black knee-length skirt. Add sheer stockings, black boots, and a gray trench coat to pull the look together.
Dresses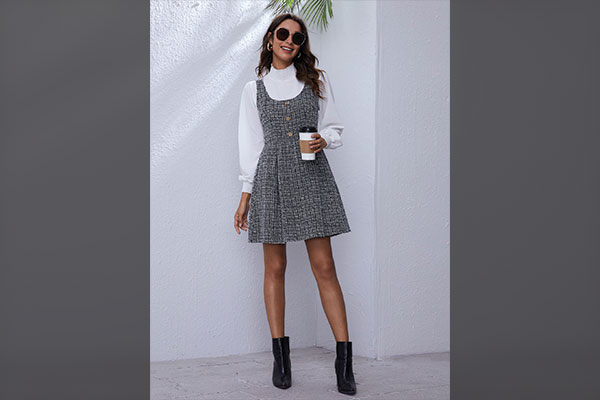 There are no substitutions for dresses. The way a single fabric drapes the whole body, only to be interrupted by accessories is nothing less than art.
For a modern, smart casual look, you want to steer clear of anything too loud or revealing. Stick to colors that are neutral and prints that don't overpower your entire look.
High neck and halter neck dresses with hemlines, just above the ankle, are perfect for day weddings. If you opt for a more flowery print then you must keep the accessories at a bare minimum. Finish off the look with minimalistic heels.
FAQ's
What is an upscale casual outfit?
An upscale casual outfit is a polished but relaxed look. The clothing pieces should fit well, but be comfortable at the same time. The overall idea is to create a sophisticated look by using some everyday clothing items. 
 Are mules business casual? 
Yes, mules can be included in business casual style. Other shoe types are oxfords, loafers, boots, and heels. 
What to wear to a business casual dinner?
A button-down shirt with well-fitting pants paired with a blazer and high heels. The look is crisp, clean, and sophisticated. 
Are heels business casual?
Yes, heels are business casual. They can also be worn with formal, casual, and other fashion styles. 
What is elegant casual?
An elegant casual is an upscale form of casual clothing. Clothing pieces like sweaters, blazers, and dresses form the essentials of this style of fashion. 
Conclusion
Smart casual is a dress code that you will see appearing time after time. This guide will help you create a wardrobe that carries all the elements of smart casual fashion.