There is no better color than green to rock these bottoms if you're over the classic black, white, and blue pants. However, pair your trendy green pants with something equally remarkable, and you're going to flaunt an outfit that's a show-stopper. 
From chinos and khaki pants to trousers and joggers, there are various pants options that you can pair with different shirts. Still, not everything goes well with everything, so we've come up with a list that pairs different types of green pants with matching shirts and accessories.
Colors aren't as simple as we think. They have different shades that complement different patterns, colors, and designs. So, for example, dark green pants might not pair well with a dark blue blazer. Lucky for you, we've made styling a piece of cake by telling you how to style green pants in the most acceptable ways.
Here's a list of what to wear with green pants according to various shades and styles:
Olive Green Pants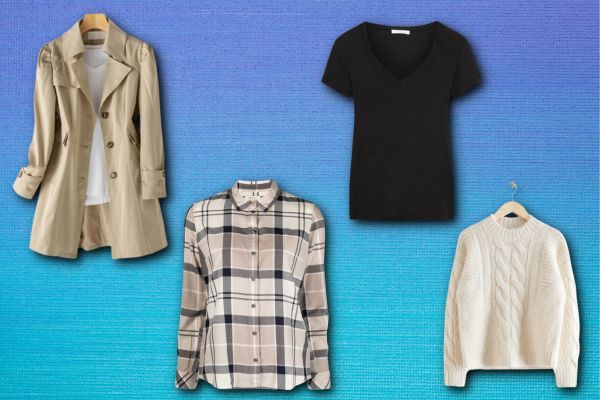 There is something about olive green pants that makes them classy and superior to the rest. You can easily trade them for black pants for any formal occasion or flaunt some joggers and a nice tee to a party with friends.
Whatever the occasion is, it is helpful to know what olive green pants should be paired with, what color shirt goes with olive green pants, and what accessories pair well with this shade of green.
Here are some popular olive green outfit ideas for you to scroll through, so pair your olive green pants with:
Black T-Shirts
We've talked about trading black for olive, but what happens when you pair the two? You get to wear a dapper outfit that's easy-going yet well thought out and will be a statement. Pair your olive khakis or trousers with a simple black t-shirt, and black or white shoes, and put on a metal chain for a bright, casual look. 
White Sweaters
There's no better combination than white and green, mainly because the soft delicacy of white brings out the sharp boldness of olive green, which goes so well together. So flaunt a chic look by sporting a white knit sweater with olive green jeans or chinos, and wear some plain white sneakers to finish off a trendy yet laid-back winter look.
Neutral Patterned Shirts
To complement the boldness of olive green, you need something that doesn't have too much going around, so we recommend a vertically striped shirt with neutral colors like beige for an eye-candy look. Juxtaposing a bit of movement of the shirt with the solid foundation of olive is an excellent idea if you don't want to go all out yet make a mark in the room.
Overcoats
Want to wear olive pants for a more formal look that'd be both fun and sophisticated? We got you. Pair your hipster olive pants with a classic double-creased long wool coat to flaunt a look that has the perfect sense of modernity. You could even pair your pants with a crisp black blazer and finish off with classic suede boots to complete a sleek, refined look.
Dark Green Pants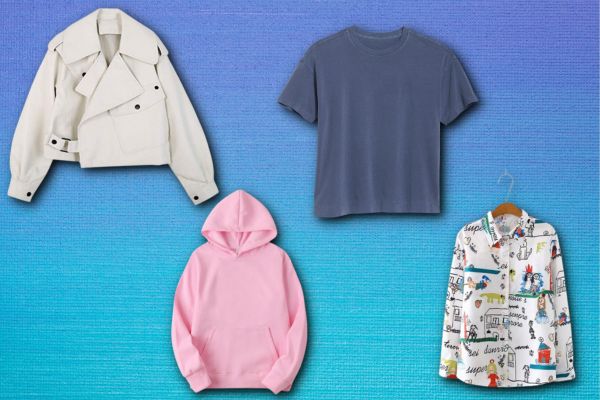 A rich dark green shade is a favorite for many, primarily because of its solid foundation and bold aesthetic, which is why next in line are some cool outfits that you can plan if you own some bold dark green pants.
We'll answer your questions, make styling this charming ensemble a hustle-free task, and tell you everything from what color shirts go with dark green pants to what kind of fabric to slay.
So pair your stylish dark green pants with:
Crew-Neck T-Shirts
Combine a simple white, charcoal, or brown crew-neck t-shirt and dark green pants for an off-duty casual yet not dull style. Instead of plain shirts, you could go with ones with a small logo or some design that's not too much to elevate the look further. Introduce matching leather low-top sneakers in the mix to amp up the casual style, and add more depth to your attire.
Jackets
You'd be surprised to know how easy it is to revive a simple dark green pant and turn it into a dandy, robust outfit by just introducing jackets. You could wear a simple white tee, throw on a dark brown suede jacket, or stick to monochromes with a green leather jacket to pull off a casually macho ensemble. Round off your look by wearing a pair of dark leather loafers or stick to classic sneakers if you want. 
Printed Shirts
Want to wear something fun, exciting, and different from the boring ensembles? Then go for something flashy by rocking a cool, long-sleeved printed shirt with dark green pants to style the ultimate casual outfit. For more something on the intelligent side, add a pair of white canvas low-top sneakers, wear them to a party or casual drinks, and everyone will love it.
Hoodies and Sweatshirts
Go for an impromptu run to a grocery store in style by pairing a simple grey hoodie or sweatshirt with your dark green pants for a casually stylish ensemble. Then, effortlessly perk off your look with a pair of matching sneakers, glasses, or an elegant cap for a relaxed dress with a modernized spin. 
Mint Green Pants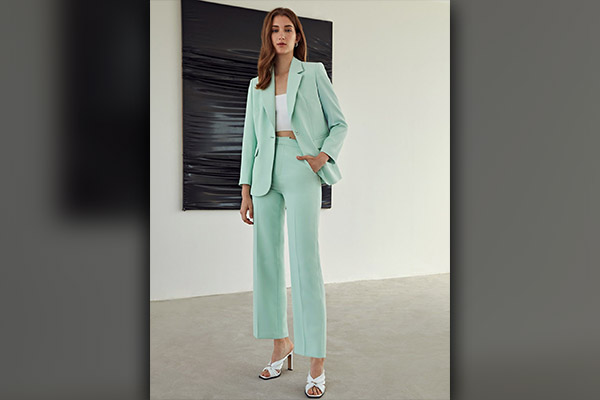 Pastels are a new rage, and what's more relaxed and comfy than some stylish mint green pants? In fact, with this shade of green, you can slay all kinds of looks from casual, smart casual to semi-formal and even formal ones.
Mint green color blends well with any other light color, especially when that color is white. So you can pair your straight pants with a simple button-down shirt and compete for the look with a crisp, sharp white blazer to add a more refined touch. Finish the look with sleek white formal shoes and a smartwatch to give that boss vibes.
Neon Green Pants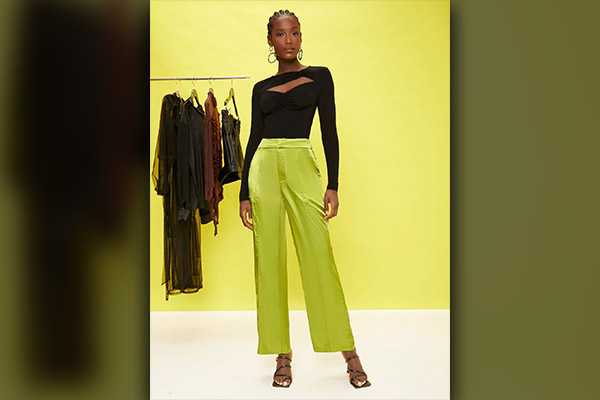 Turn your wardrobe saturation level with some eye-popping neon green pants, amp up your Instagram feed with a steady stream of acidic brights, and slay everything from bright green suiting to a more toned-down attire. 
You could slay a monochrome neon green suit if you're feeling bold and brave, or tone it down by pairing your neon green pants with a well-tailored beige top. Pair these with matching shoes and accessories to energetically overhaul your look with minimal effort.
Sage or Jade Green Pants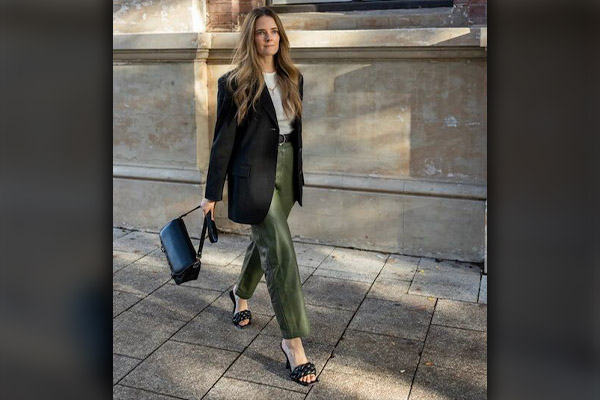 Both sage and jade green pants pair well with pastels, like dirty pink or mustard yellow, and deeper tones like navy blue, black, or grey. For a relaxed yet elegant ensemble, you could pair these pants with a navy button-up shirt, white dress sneakers, a crisp white Oxford shirt, and dark brown loafers.
Accessories
You might not even consider rhythm, but accessories can make or break your outfit, which ish why it's imperative to pair your green pants with the right ones. Here are some popular supplements that go well with any shade of green and will help you pull together a spectacular outfit:
Chelsea Boots
Black Fedoras
Metal Chains
Simple Scarfs
Dark Sunglasses
Of course, you could add more items to the list according to your style and preference, but these were some classics that can never go wrong.
FAQs
What color shirt goes with green pants and brown shoes? 
Pair your green pants and brown shoes with a white, beige, or darker green colored shirt. 
Can I wear blue shoes with green pants?
Yes, you can, but it's essential to keep the shades in mind. For example, you can wear navy blue shoes with sage green pants and a navy blue top.
What can I wear with green pants?
You can wear t-shirts, overcoats, jackets, hoodies, printed shirts, and many other matching apparels with green pants.
What goes well with olive chinos?
Pair your olive chinos with a matching overcoat for a refined look or a simple shirt for a more laid-back attire. 
What colors go best with brown?
The complementary colors for brown are pastel shades of blue, green, yellow, pink, and grey. 
The bottom line
Anything and everything goes well with a pair of trendy green pants as long as you style them well, focus on the details and incorporate the right shades. So try on these modern looks that we've selected for you, or add your innovation to the list and stand out!