A jumpsuit outfit is a mainstay in your wardrobe this summer. A perfect alternative to dresses, a jumpsuit is the most versatile and chic garment that you can count on for both casual and formal settings. Whether you're in the mood to dress up or feel the need to keep things light, comfortable and casual, a jumpsuit is exactly what you need to embrace.
Styling a jumpsuit is like a chill breeze, you don't need to worry about pairing the right accessories or finding the right outerwear. There are so many jumpsuit outfit ideas that are easy to recreate – fabulous for every body shape, size and color. Jumpsuits don't require you to put yourself out of your comfort zone to look fabulous.
Thus, consider this article as a full-fledged fan of this effortlessly cool garment. We're going to touch upon the basics, like how you can style a jumpsuit, and discuss the things that you must stipulate before buying a jumpsuit.
How to Style a Jumpsuit?
There are so many different styles of jumpsuits; wide leg, printed, tapered etc. Styling a jumpsuit isn't rocket science. You simply need to understand how you can accentuate this all-in-one piece along with the need of the hour.
Thus, understanding your own body type is key to determining the type of silhouette and cut that would suit you. At the same time, it can dictate what accessories you should add to further enhance your look. We have compiled a list of valuable suggestions. Keep them in mind the next time you decide to wear a jumpsuit.
Find the Perfect Fit
The rule of thumb is to find a jumpsuit that isn't too tight or too loose on you. The idea is to wear a jumpsuit that halters the upper half of the body, giving you a cinched waist and a loose, wide-legged look at the bottom. The cut should be proportioned according to your body otherwise it could fall flat.
Add Dimension to Your Look
With so many ways to style a jumpsuit, it comes as no surprise that you can also pair your jumpsuit with a shirt underneath, treating it like a denim romper. In case you were wondering what to wear with a sleeveless jumpsuit, you have your answer now. But is that all? Of course not.
When we talk about adding dimension to the look, we simply think of ways you can accentuate your look so that the garment complements your body type even more. Considering a jumpsuit is nothing but an adult and more fashionable version of a onesie, it's best to give it a flair by adding a chunky belt following the color-blocking technique. For instance, you could wear a nude or brown jumpsuit and add a white chunky belt on the waist – giving it a much-cinched look.
Layer the Jumpsuit
Layering a jumpsuit is more or less the idea that helps bring dimension to your otherwise bland look. For example, if you add a black leather jacket to a brown georgette jumpsuit, you will look chic and ultra-modern. When you layer a jumpsuit, you essentially transform the look from basic to contemporary and cosmopolitan.
Now if you're wondering what jacket to wear with a jumpsuit, you have countless options. From a biker leather jacket to a trench coat and cropped denim jackets and even a bolero, you have a lot of room to play with and experiment.
Choose Solid Colors
Choosing the color of a jumpsuit is the easiest thing to do. You can never go wrong with solid tones that can be accessorized without making you look overdone or tacky. With printed jumpsuits, it's best to tone down the accessories. You can never go wrong if you choose a black jumpsuit with a jacket – hands down an everyday staple.
Similarly, you can look funky and eccentric by choosing neon yellow, pink, green, and blue as well – as long as they are worn in solidity. If you're wearing a printed jumpsuit, you should ideally add a jacket in a solid tone to balance the canvas.
Opt for Heels
It goes without saying that jumpsuits are the most versatile outfits that you can own. You can wear a jumpsuit with a variety of heels, like stilettos, kitten, platform, block, mule, pump, Cuban, etc. At the same time, you can also opt for sneakers, loafers, oxford, and even high tops for a sharp put-together look. But if one really had to choose one specific footwear, it can't be argued that heels are the best option when it comes to wearing a jumpsuit.
What to Wear with a Jumpsuit?
Jumpsuits are casual, semi-formal and sometimes can even be worn as a wedding outfit. Depending on the material and color, you can decide how to style it and what to wear with it, in terms of accessories. We have shortlisted some jumpsuit outfit ideas for you.
Casual Jumpsuits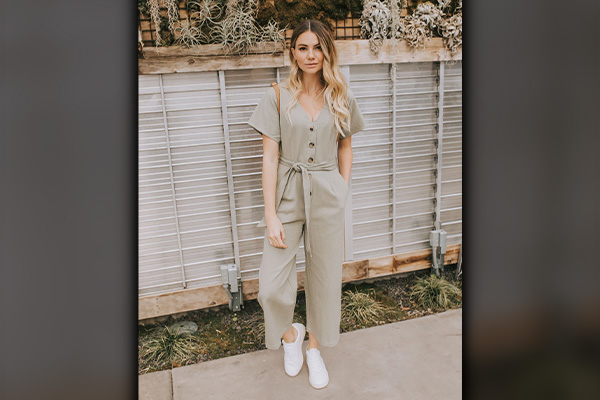 Opt for a casual jumpsuit with a leather jacket. It could be an all-black look with a dash of white. Hence, there's nothing more casual, comfortable, and chic than a linen black jumpsuit with a black biker leather jacket and white sneakers.
Formal Jumpsuits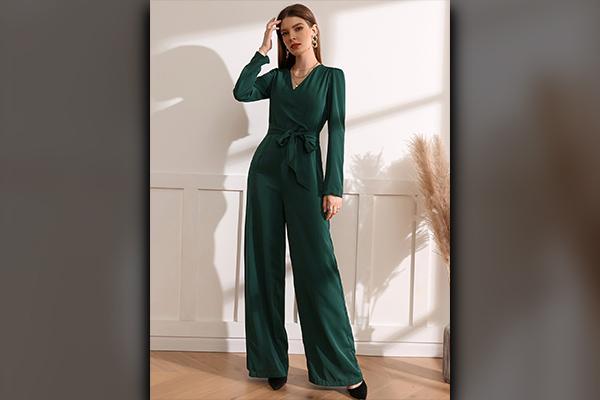 Wondering how to accessorize a black jumpsuit for the evening? How about you go for a plunge neckline jumpsuit and a long silver neck chain with heels.
Business Casual Jumpsuits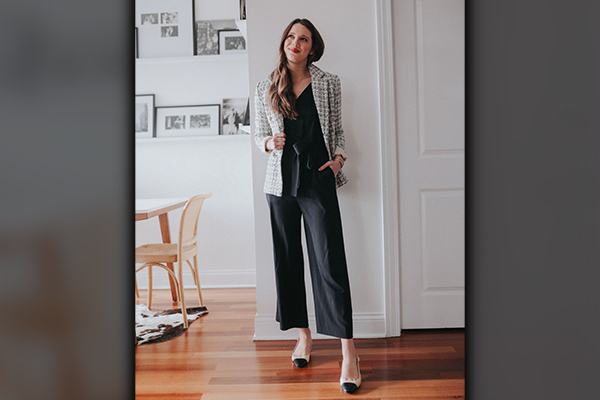 You can't go wrong with a jumpsuit and blazer outfit. This look is sharp, cosmopolitan, and extremely chic. Thus, opt for a brown jumpsuit with a leopard print coat or a tan sports jacket.
Summer Jumpsuits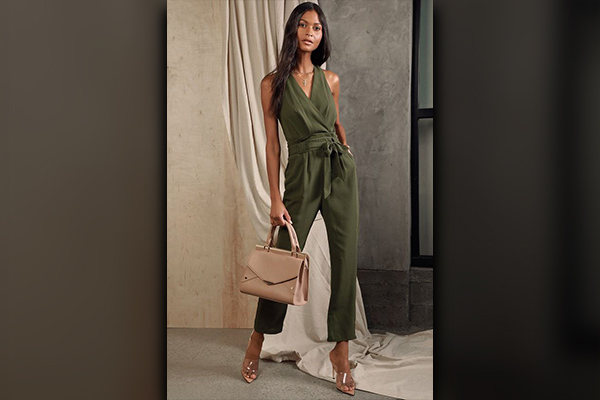 Choose printed linen summer jumpsuits for a day out at the beach with flip slops or sandals. Add a pair of sunglasses and a stylish straw hat to add more dimension to your look.
Winter Jumpsuits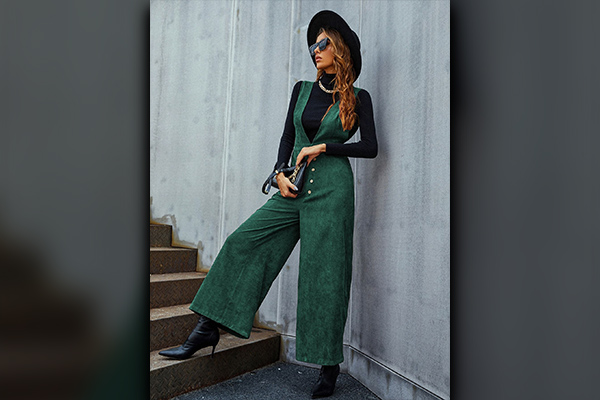 If you are wondering how to wear a jumpsuit with a jacket in winter, you've come to the right place. The magic is all in the layering – wear a black turtleneck with a silk maroon jumpsuit. Complete the look with a trench coat or an oversized leather jacket in either light brown or black.
Can you wear a trench coat over a jumpsuit?
Yes, jumpsuits look effortlessly stylish with trench coats.
Can you wear a denim jacket over a jumpsuit?
Of course, denim goes all the way if you're trying to put together a casual outfit with a jumpsuit. 
How about a duffle coat over a jumpsuit?
All kinds of coats look warm and sophisticated with jumpsuits, including a duffle coat. 
In Conclusion
Jumpsuits are versatile, stylish, and extremely comfortable. You can create hundreds of looks with one jumpsuit and wear them on a variety of occasions. Pair a jumpsuit with leather jackets, turtlenecks and even oversized sweaters. The key to wearing jumpsuits is to keep the outfit minimalistic and layered.