Elegance, a poised feminine look, and oh-so-easy wearability—that's exactly what a dress effortlessly delivers. Dresses are an easy wardrobe workhorse that doesn't ever go out of style and requires minimal efforts to get a graceful put-together appearance.
Dresses can be dressed up or down by playing with accessories and outerwear. Throw on a leather bomber jacket for a stylish off-duty look, or wear a blazer, and there you have a nice office look. Add a simple accessory like a wave pendant with a little black dress, perfect for a romantic dinner with the love of your life.
Simply said, you can't go wrong with dresses, but the biggest fashion question you're inevitably going to run into is what shoes work best with outfits involving dresses. While heels are the obvious and the most popular choice, heels aren't for everyone, and for a lot of women, they can be uncomfortable.
So, what shoes can you wear with dresses besides heels? From sneakers to flat gladiator sandals, there are plenty of footwear options that will look chic, polished, and stylish with your dresses.
Ahead we've rounded up five footwear options to wear with dresses that are perfectly ready for your office outfits or for after hours and don't require you to teeter on your heels.
What To Expect In This Article?
Fun & Casual: Sneakers with Dresses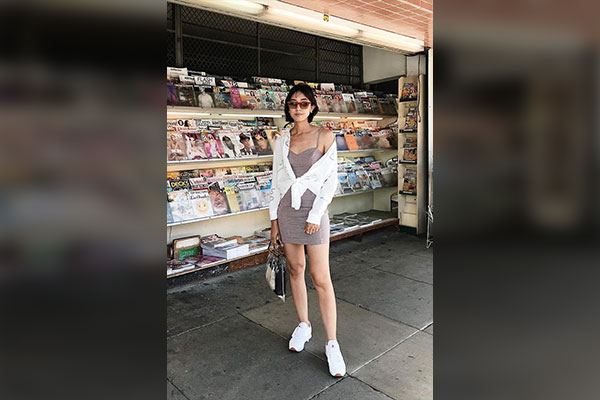 If you're ready to make the leap from heels to something more casual, sneakers are a great way for that, along with adding a new fun element to your outfit. Sneakers easily integrate into a wide variety of styles —from streetwear to normcore aesthetics, so getting some extra pairs will never be a bad decision.
Pairing your dresses with kicks doesn't look as polished as it will with heels, but we see the appeal. It's something you can do on the weekends when you have no concerns about formality.
Also, you don't have to worry about looking quirky– it's Hollywood celebrities approved. Even if you mildly follow celebrity fashion trends, sneakers with dresses is a combo you will spot every now and then when a celeb decides to take a stroll in the neighborhood.
From high school girls to Hollywood celebrities, women are already sporting sneakers with dresses everywhere. Now is the time for you to jump on the bandwagon when you think of trying on shoes with no heels with dresses.
Outfit Ideas:
Take out your black sweater dress and pair it with white lace-up sneakers for a chic black and white outfit for fall. Also, you can style a slip dress or long linen maxi with low-top canvas sneakers for a breezy, fun summer outfit.
Classy & Comfortable: Oxford Shoes with Dresses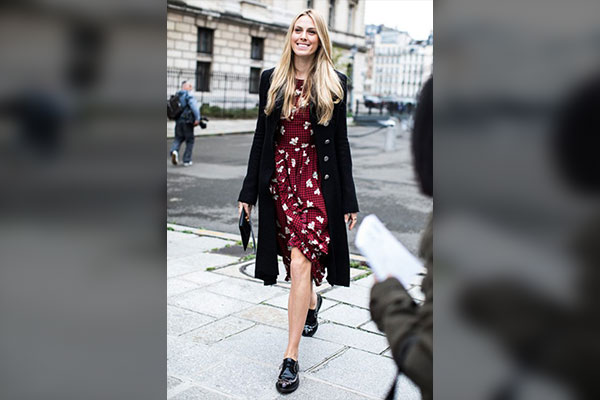 Sometimes you just want to dress up in your best dresses and be stylish, but comfort is a must, so heels are clearly not an option. And if there is one comfortable shoe to wear with dresses that say "classy and stylish," it's an oxford.
This style has been around for years and is still going strong thanks to its versatility, comfort, and timeless design. Although they were primarily made for men over the years, they have entered the women's fashion world, and many feminine interpretations are now readily available.
Oxford shoes will pair perfectly with all of your favorite dresses and will easily come in handy when you are looking for formal shoes that aren't heels. While this fusion might look out of place for formal evening events, it's classy enough to wear to an interview, as close-toe shoes are recommended for such scenarios.
Outfit Ideas:
Pick a fitted full sleeve knee-length dress in a solid dark color like black or gray and team it up with oxford shoes in neutral colors. For a twist, you can go for perforated oxford shoes. To make this combination on the casual side, opt for a short off-shoulder dress and go for glossy oxford shoes.
Trendy & Practical: Boots with Dresses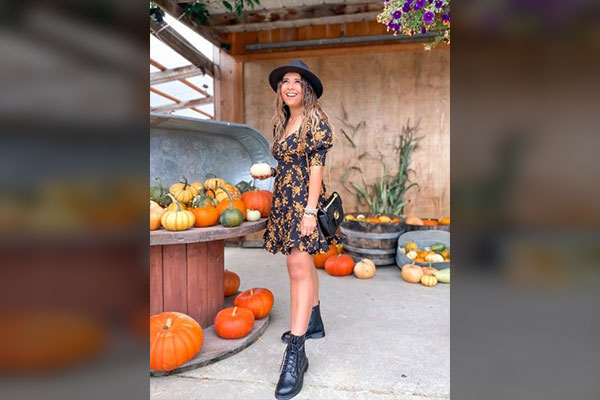 Regardless of the season, there's just one staple pair of shoes that so many women can't get enough of: Boots. And we can get on board — they're super comfortable, and they give your every going-out outfit an instant modish update too.
Coming back to the question of what shoes to wear with dresses besides heels – consider boots. They're always an easy runner-up and excellent alternatives to high heels. Most boots have a thick sole, offering you a height increase of an inch or two. And you don't have to compromise on comfort too.
When wearing dresses with boots, there are no hard and fast rules, but considering a few things will make your combinations a hit.
Firstly go for boots that correspond with the length of the dress. For longer dresses like a maxi dress, pair your outfit with ankle boots. For a mini dress or shorter dresses like a babydoll dress, style your look with knee-high boots. Ideally, you must show some skin between the dress hemline and boot collar.
Secondly, wear boots that match the overall style of your dress. An elegant party dress will look weird with chunky boots, or a long dress will certainly not vibe very well with knee-high boots– unless there is a slit in it that reveals your legs.
Outfit Ideas:
For a summer outfit, wear your Paraire dress in floral or abstract print with ankle-length Chelsea boots — perfect for the upcoming warmer months. For a complete look, add in some dainty jewelry like a delicate pendant or small pretty earrings. This go-to summer outfit is suited for brunch, outdoor dinners, and even long walks.
Well, we have a suggestion for winter too when all you think about is what to wear in the snow. Probably dresses are something you think of the last, but with a woolen twist and addition of boots, you can.
Get yourself a knitted button-front wool dress in the bold red shade and wear it with your regular snow boots (sleek one preferred).To protect yourself from the elements, add tight black tights and a cute beanie to the ensemble.
Breezy & Sexy: Gladiator Sandals with Dresses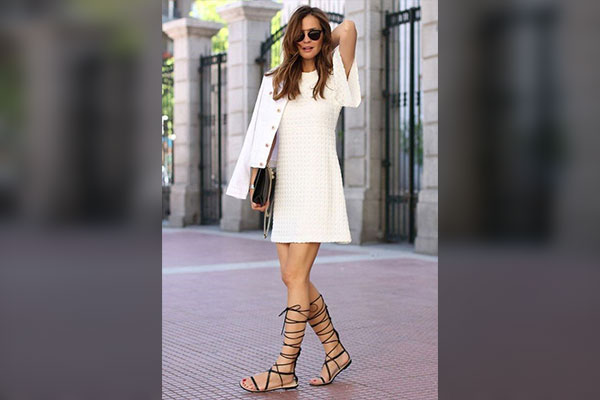 When you wear flat shoes with a dress – think sandals, the look has summer written all over it. But here we are talking about not your regular chunky sandals or strappy ones but a more artful version, i.e., Gladiator sandals.
If you're a boot wearer and you want to wear something more summer appropriate to wear with your dresses but don't want to be seen in a typical sandal or flip flop, this is the shoe for you. These attention-grabbing shoes, with their roots in Roman times, have picked up immense popularity these days.
The signature criss-cross straps will keep your feet exposed and offer breathability, making it perfect for summers. And the aesthetic of a gladiator sandal can easily take the center-stage in your outfits. In true style form, we're recommending at least one pair of gladiators to your wardrobe (especially yes, if you don't love the heels)
Outfit Ideas:
Gladiator-style sandals look superb with short dresses. Mid-height sandals that tie above the ankle accentuate your legs in a really flattering way.
You can wear them with a simple shift dress in yellow with purple sandals for a chic summer look with a pop of color. The pretty purple gladiator sandals are enough on their own to lift the entire set. Complete the look with some bangles or rings
For a laid-back take on the glamor, go for a little black dress and ankle-length gladiator sandals. Add some dainty jewelry, and leave the hair untied for maximum impact.
Fancy & Comfy: Pointy Flats with Dresses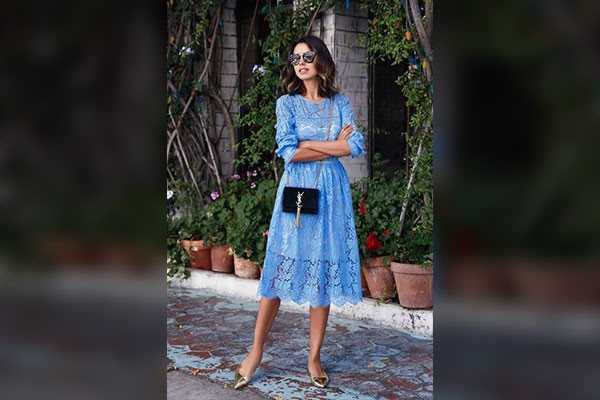 No matter what your footwear choices are, a pair of easy-to-wear flats can be a lifesaver when you are just not in the mood for stilettos. High-heels aren't the only way to add a touch of glamor to your dresses— pointy flats can do the job, too.
We've been eyeing the pointy toe flat trend for a while now and love how it adds sophistication to your dresses. They are like pumps with no heels and guarantee that going for comfort isn't an excuse to sacrifice style. The pointed toe provides structure and elegance, but the flat sole means this look is also incredibly comfortable.
The pointed-toe flats in fabrics like velvet or leather in a matte finish are excellent ways to frame a short dress or a fashion-forward romper. On the other hand, flats in a patent finish offer a polished look to your longer shirt dresses and wrap dresses. This combination is ideal for an important work event that calls for a semi-formal outfit.
Outfit Ideas:
Flat shoes typically work really well with shorter dresses. If you are wearing pointy flats with longer dresses, make sure they are A-line that cinches in the waist and flares at the bottom.
Bring the mini-shift dress out of your closet, probably in a daring maroon shade. Pair it with a pointy-toe silver-colored flat for a very charming red outfit. Pick the flats that have some sort of cute embellishments, such as a brooch. Complete your look with clustered earrings and a red satin clutch.
FAQ
What Shoes To Wear With Long Sundresses?
Women love sundresses for their easy wearability, and they are so effortless to style. You can wear heels with sundresses, but it might reduce the comfort factor of the entire outfit. So if you are looking for shoes that look like heels but aren't, you can go for a pair of booties. Alternatively, classic white sneakers, colorful flats, and tan sandals are other great options.
What Are Some Heels Shoes To Wear With Black Dress?
For formal occasions, reach for your high-heel shoes like classic nude or black stilettos. Or grab your sneakers for a casual sporty-girl appearance. If you are searching for fancy shoes that aren't heels for a black dress, shiny black loafers or oxford shoes with gold tassels is an experimental choice that looks lovely.
What Heels To Wear With White Dress?
There is no better way to say this, but white goes with every color. For a striking sexy look, wear a white dress with super high red heels or to be on the safest side, pair it with low heeled dress shoes like pumps in black. However, nude and neutral-colored mid heels are a popular choice to team with a white dress and are suitable for every occasion– formal, semi-formal, or casual.
What Shoes To Wear With A Short Black Dress?
When choosing the right footwear to pair with your favorite little black dress, it's important to think about the mood, silhouette, and material of the dress itself. If you're going for a minimalist casual vibe, a pair of comfortable slip-on sneakers are a no-brainer. For office wear, pointed-toe flats & pumps, brogues, and loafers are some good footwear styles. For more formal occasions, stiletto pumps and multi-strap heels are some of our favorite shoes to wear with a short black dress.
Are There Any Stilettos With No Heels?
No matter how much you covet, the no-heel stiletto is an oxymoron, and no such thing exists. You can find stilettos in varying lengths but with no heel, certainly not possible. If you are looking for something comfier with heels, we have a solution: a pair of stunning booties or kitten heels that will perfectly carry your style while keeping your feet happy. 
Wrapping Up
There's nothing better than putting on a dress and walking out the door. It's an elegant, effortless look, and you don't have to worry about creating combinations. But when it comes to picking footwear, it doesn't come easy.
Wearing heels with dresses is a common practice among women with a passion for style. However, at times you want to wear flats or just don't want to wear heels with dresses. Today we gave you a little footwear inspiration and a way to mix comfort and chic with a few shoe styles that are not heels. What's your go-to? Let us know in the comments your take on what shoes to wear with dresses besides heels.