One of the "worst fear comes true" moment for any style conscious woman is to get called out for wearing inappropriate shoes. The struggle to decide the most suitable footwear with your outfit is real. A query that often leaves women confused is what color shoes go with a yellow dress?
In an attempt to make the mix and match game a breeze for you, we have compiled this blog. The next time you decide to wear that beautiful yellow dress of yours, any of the below mentioned ideas conforming to the 2021 fashion trends will make you the center of attention wherever you go. Read on to know what color footwear to choose and many other tips on accessorizing your yellow outfit.
Choosing Shoes for Yellow Dresses?
How many times have you picked up a yellow dress to wear and put it back immediately, thinking no shoes of yours would go with it? While on one side, your shoe closet is filled to the brim with a variety of shoes, the confusion is still there whenever you dress up in a nice yellow dress. To nail a color like yellow, the first thing you need is the confidence and flair for adventure to shun all the apprehensions.
Before deciding the footwear, one of the first things to consider is the type of yellow dress you are wearing. Shoe choices largely depend upon whether a dress is in a solid shade of yellow, dual color, or printed. Also, the length of the dress matters as mini and midi dresses can be rocked with bold color contrast. In comparison, neutral colors are more appropriate with long dresses.
If wearing a printed dress, observe the secondary colors in the dress. The best way to ensure proper accessorizing is to wear shoes, bags, and jewelry in one of the secondary colors in the dress. For the colder months, create a coherent look by matching your fall jackets with your boots over yellow maxi dresses.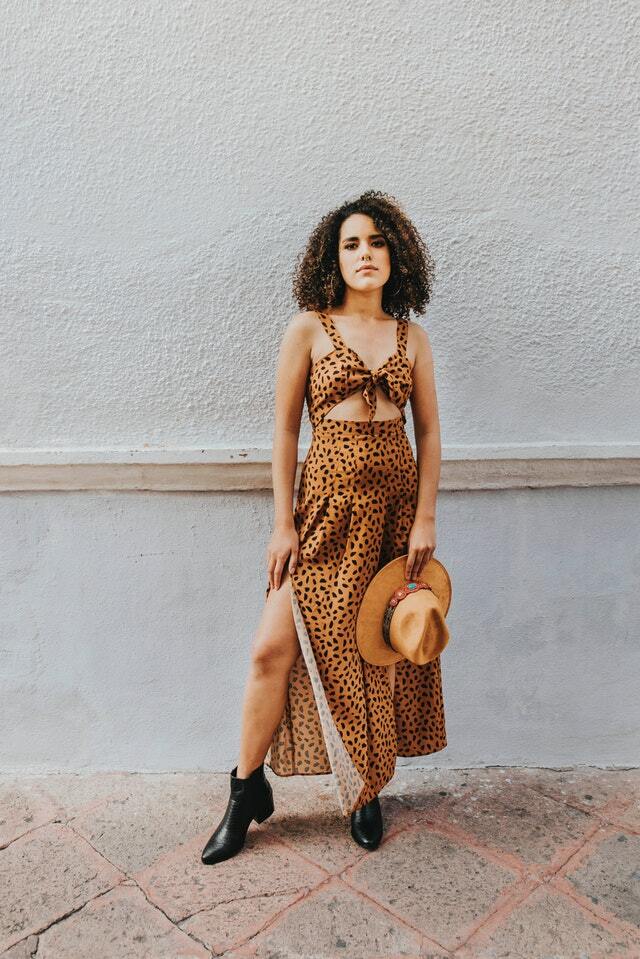 What Colors Go With Yellow Dress?
The beauty of yellow lies in its vibrant feel and quality to go with tons of other colors. Ace designers highly recommend accentuating yellow outfits by pairing them with pink, red, brown, teal, green, and white accessories. Shoes, belts, leather bags, and jewelry in neutral and bold colors will coordinate nicely with a yellow dress.
The choice of color also depends on the kind of style you want to portray. Choose classy neutrals like black, navy, taupe, grey, khaki, or beige for a subtle style. Go for royal blue, red, and sea green for a zesty look. Softer shades of yellow are much easier to coordinate with other colors in comparison to brighter shades of yellow.
Not only for footwear, keep these colors in mind when choosing your outerwear as well. Leather jackets, shrugs, and bolero jackets in contrasting colors give a vibrant touch to your yellow dresses.
Choosing the colors of the outfit and accessories according to your skin tone is also a wise way to ensure an overall well suited look. Women with warmer skin tones should try pairing green, golden, brown, red accessories with their yellow outfits. While those with a cool skin tone should choose something on the notes of icy blue, emerald, or lavender.
What Color Shoes Match a Yellow Dress?
As the color yellow expresses energy and happiness, yellow dresses make a powerful style statement. Choosing the right shoes with a yellow dress is like putting the lid on your style perfectly, giving you a chic and awe inspiring look.
From ballet flats, stilettos, and t-straps to ankle boots and thigh high boots, the choice of footwear is abundant. But what color should they be in order to elevate the look of the vivid yellow dress? Here are some ideas that you can try if you have dresses in different shades of yellow like mustard, lemon, amber, or canary.
Yellow Pencil Dress with Black Sandals
A cheeky yellow pencil dress can be worn with black sandals is a no fail way to portray your energetic persona. Many women's shoes coordinate well with a pencil dress, but strapped heels make it a perfect cocktail attire. Also, the color black is highly versatile, making it even easier to pair other accessories such as a purse, jewelry or belts.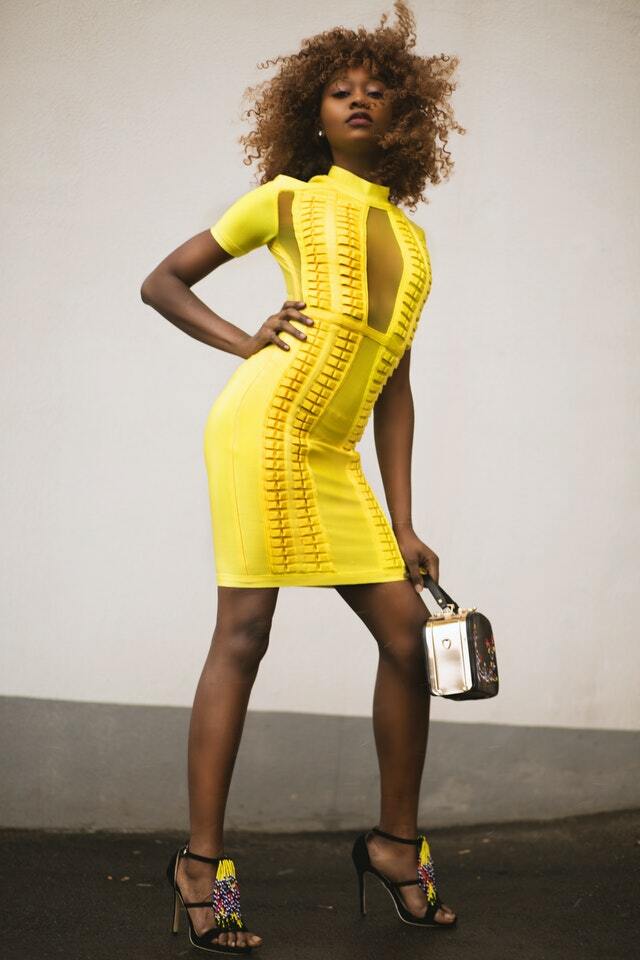 Flared Yellow Dress with Red Heels
The fiery combination of red and yellow creates a fashion forward look that is hard to ignore. You can pair a flared yellow dress with red ankle strap heels. The contrasting footwear helps your outfit score high on the style meter and gives you accessorizing flexibility. Even without a touch of red on your dress, you will be able to match the accessories with your red shoes.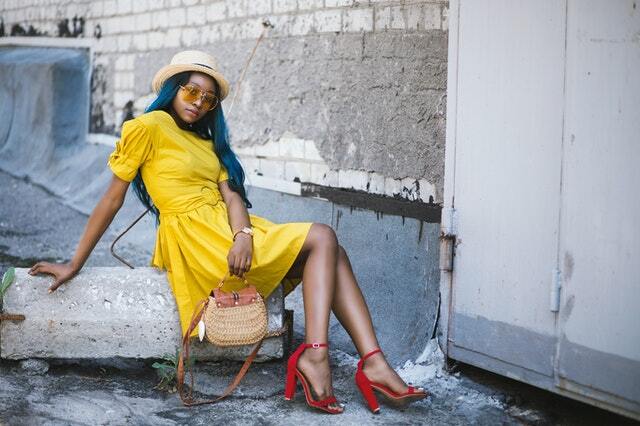 Ochre Satin Dress with Ice Blue Stilettos
The party ready look is created with a shiny ochre yellow dress that can be paired with ice blue stilettos. The outfit is a perfect example of looking sassy even with a minimalist style.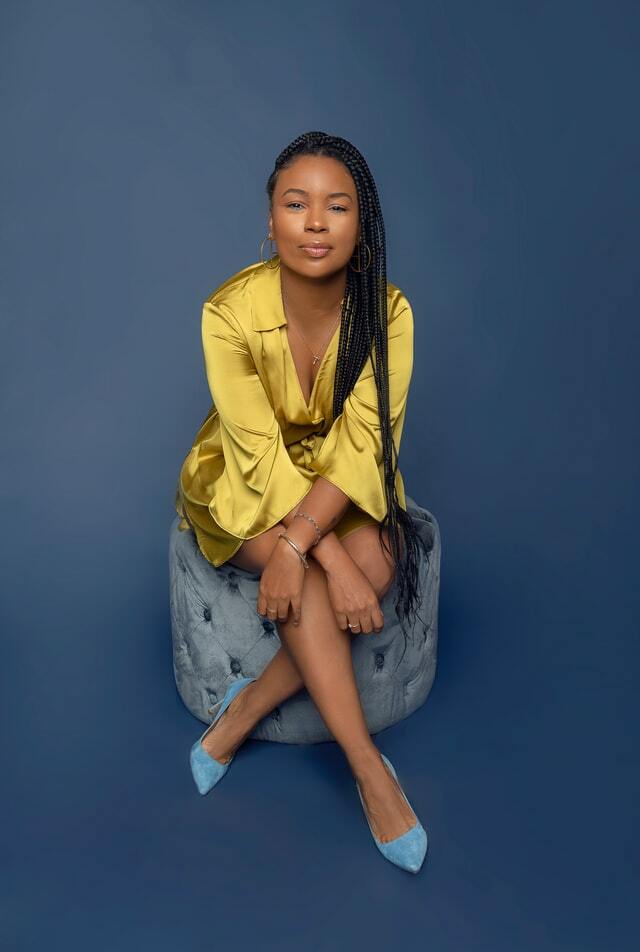 Floral Yellow Dress with Green Laced Boots
Got a yellow dress with an intricate floral print? Pick any of the secondary colors from the dress, like green, and don laced boots in that color for a bold and stylish look. It isn't necessary to match the bag with your boots. A red waist bag is the perfect accent to the look.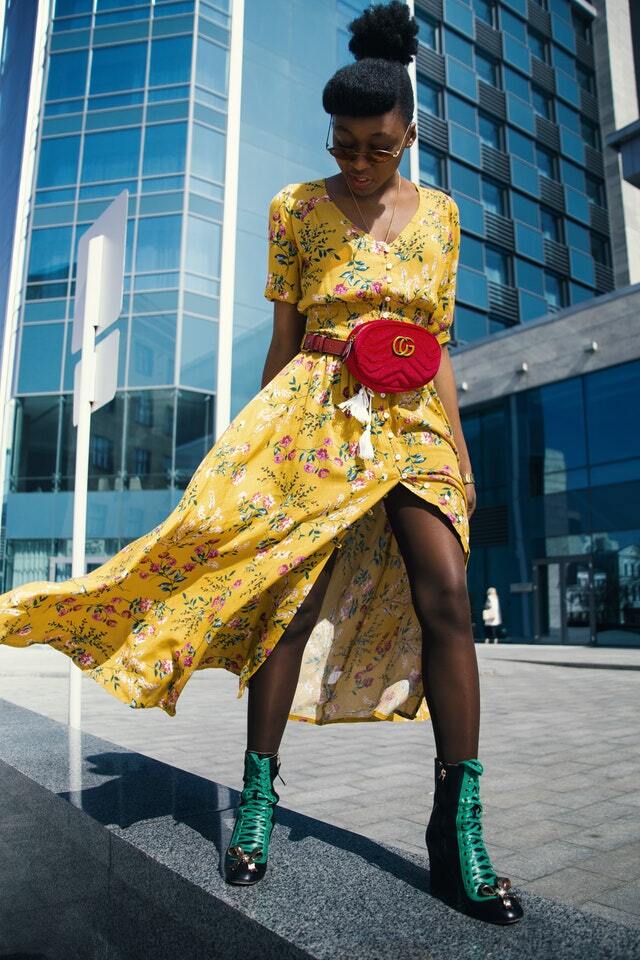 Yellow Mini Dress with Grey Sneakers
Taking inspiration from the female tennis stars, you can create a cute outfit with a yellow mini dress and minimalist grey sneakers. The look is perfect for casual outings where you can stay relaxed without compromising on contemporary fashion standards.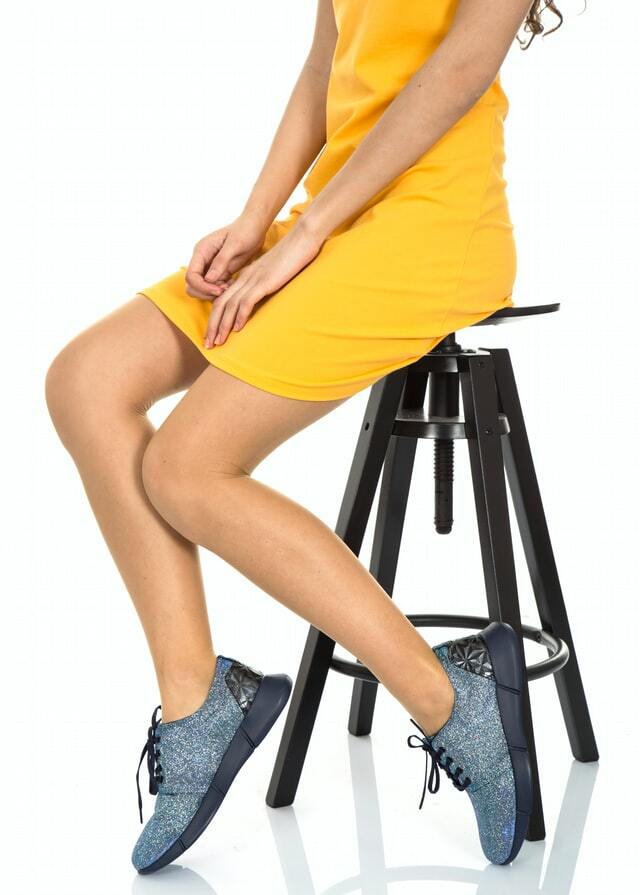 Mustard Dress with Brown Timberland Boots
Mustard is the subtle shade of yellow, which not many women agree to try. However, if you know what shoes to wear with a mustard dress, you win half the battle. Here is a nice outfit idea where the girl wears a simple mustard dress with brown boots.
You can also swap the boots for golden heels for an elegant look that is fit for a party.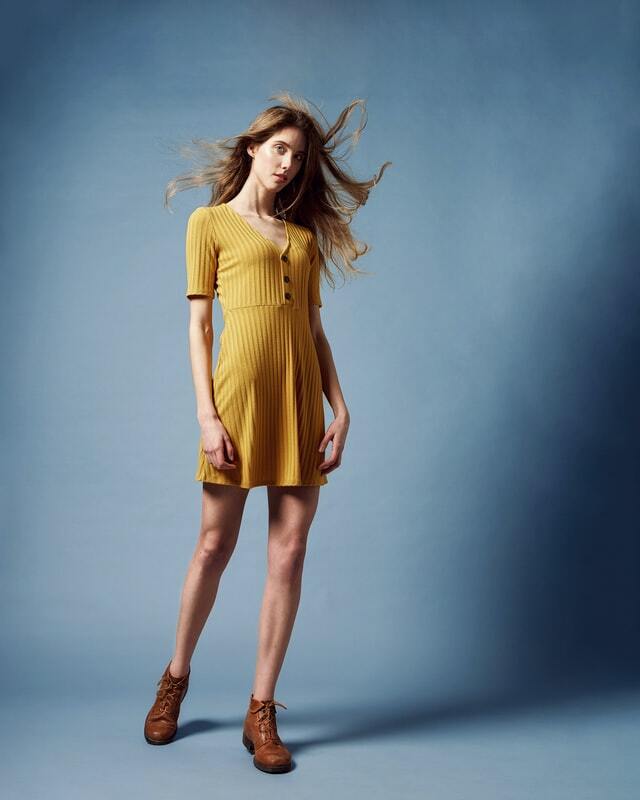 Mustard Shoes with Yellow Dress
A very fashionable way to select shoes with a yellow dress is contrasting different shades of yellow. Mustard shoes on a vibrant yellow dress always work well. The fusion of varying shades also blends the mood of your outfit.
Printed Blouson Dress with Black Heels
The safest pairing option with a printed yellow blouson dress is to pair it with black pumps or heels. The neutral color of the shoes will pull the whole look together. There is no specific rule for these outfits, but you can match your belt with your heels.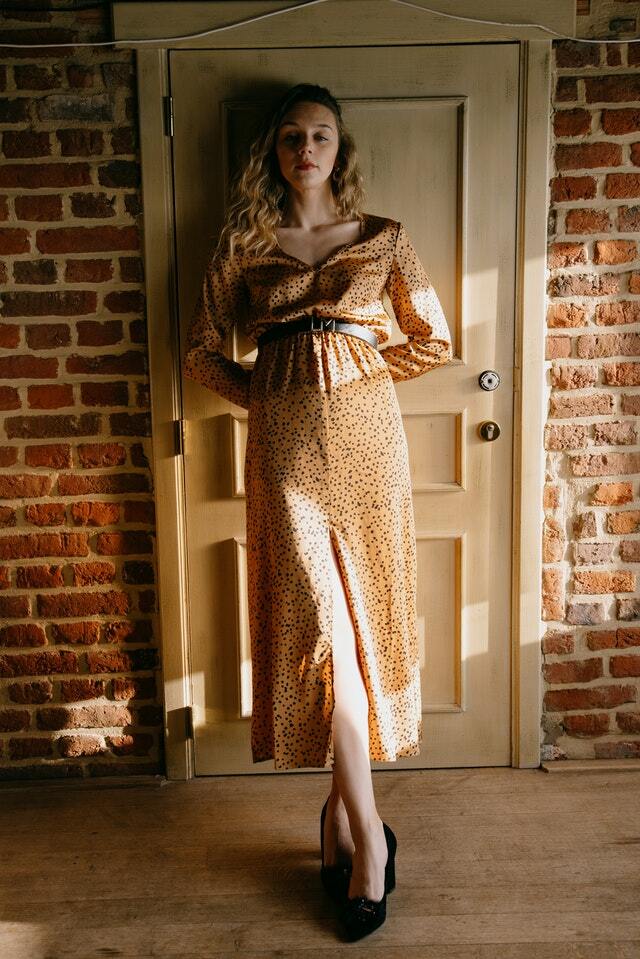 Yellow Dress with Royal Blue Pumps
Royal blue complements all shades of yellow effortlessly. It is the top favorite choice of women. Choose a nice royal blue shoulder bag and pumps in a matching shade of blue to elevate a yellow dress.
Yellow Printed Dress With Matching Heels
Yellow heels on a yellow dress are your answer when all other options seem too mainstream and boring. Pair yellow heels with a printed short dress. But don't match your bag with the yellow heels. Try a brown bag or a nude clutch to go with this look.
Yellow Dress with Grey Ankle Boots
Want a classy fall outfit suggestion? Opt for a full sleeved mustard dress and pair it with grey ankle boots. Retro style sunglasses are good enough to complete this chic look.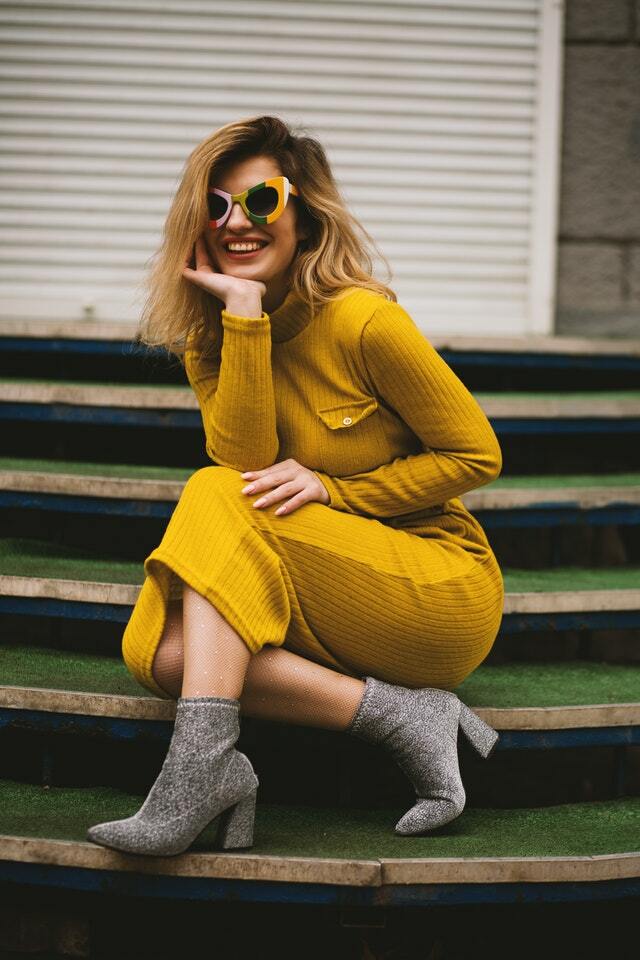 Yellow Dress with Beige Shoes
Fashion enthusiasts always swear by the neutrals. Colors like beige make for an eye pleasing outfit. Subtle combination with all colors, including yellow. When in doubt, just grab a pair of beige pumps with your yellow dress to make an elegant style statement.
To wear a yellow dress for a wedding, opt for a tuscany bodycon dress and pair them with beige or nude heels.
Yellow Dress With White Sandals
White sandals give a very bright look when paired with a white dress. It is the simplest way to add happy vibes to your outfit. Plus, you can use a cute white bag and other white accessories to complement this sunny day appropriate look.
How to Accessorize a Yellow Dress?
Accessories contribute a lot to expressing your personal style. Deciding what color shoes to wear with a yellow dress is just a fraction of the process of creating a stylish ensemble. The final puzzle pieces are your accessories which can both make or break a look.
The color combos suggested for footwear applies to accessories like bags, jewelry, watches, shades and hats.
A simple way to pull off the yellow dress look is to match your bag with your shoes. It creates a consistent look and adds to the appeal if you have chosen a vibrant color for contrast.
You can also match your jewelry with your shoes. Jewelry with only a hint of the color of your shoes is also acceptable.
The best color jewelry that goes with a yellow dress is silver, golden, black, or antique style jewelry. But, statement necklaces in vivid hues and chunky earrings are also a great way to add boho vibes to your look.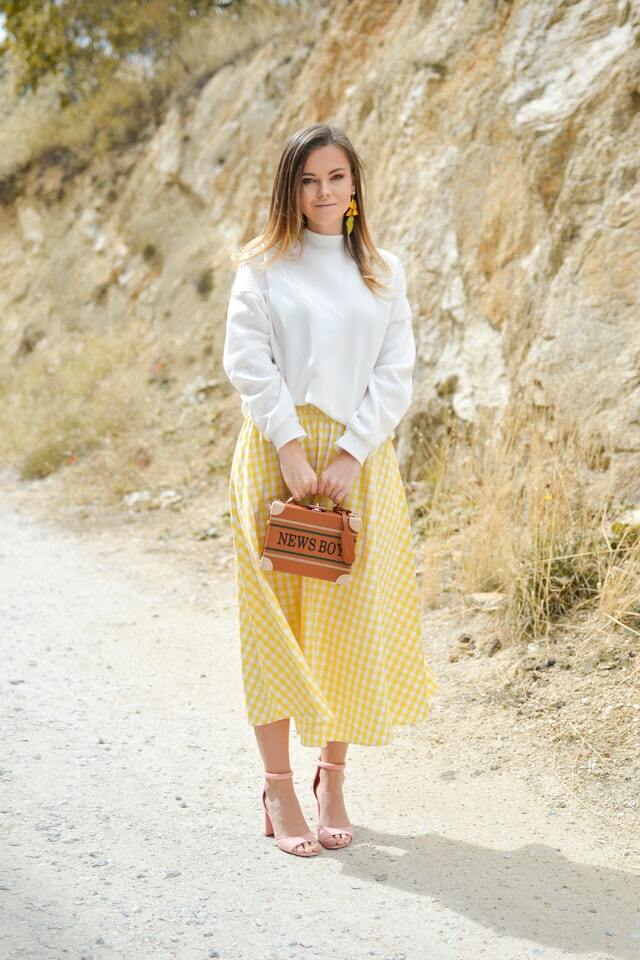 Layered Yellow Dress Outfit yIdeas
Adding statement pieces to a simple yellow dress takes the whole look up a notch. Wearing trend motorcycle jackets, shimmery cardigans, shrugs, or any other outer layer gives you an opportunity to increase the visual appeal besides staying warm. Also, deciding what shoes to wear becomes easier as you can wear matching shoes and outerwear with a yellow dress. 
Try the following ways to nail the yellow dress look with flair.
Yellow Dress with Leather Jacket
A petite leather jacket in brown is the best layering option with a yellow printed maxi dress. Match the shoes with your jacket by opting for brown platform heels. Check your enchanting look in the mirror and add final accessories like a watch or shades to amp it up.
Yellow Dress with Denim Jacket
Layer a beautiful yellow sundress with a denim jacket. Denim jackets are known to give a very stylish feel to an outfit and are the perfect layer for the spring season. If you have chosen a black denim jacket, you can go with matching shoes. With a blue or grey denim jacket, you can try wearing embroidered flip flops, which are highly trendy for spring and summer.
Yellow Dress with Trench Coat
No woman's winter wardrobe can be complete without a stylish leather trench coat. To layer your yellow dress, you can go for a grey trench coat and grey ankle boots. Finish off the winter look with style by wearing a grey beanie and leaving your hair untied.
Lemon Yellow Skirt with Tops
A yellow skirt paired with different tops and shirts also gives the silhouette of a dress. You can opt for a printed skirt with yellow elements or a plain, printed skirt with a white top. Sneakers in white or grey are a highly suitable option for this comfortable look.
FAQs
What Color is the Best Combination with Yellow?
Neutral hues like beige, brown, golden, tan, black, and white are the best combination with yellow. If you want to express the fun side of your personality, experiment with vivid colors like fuchsia, orange, blue, carnation, lavender or plum.
What Color Shoes to Wear with Navy and Yellow Dress?
With a navy blue and yellow dress, you can opt for white pointed toe heels for some zesty vibes. Don't forget to match your bag with the shoes.
Should You Match Your Bag and Shoes with a Yellow Dress?
Matching your shoes and bag is not a fashion rule. However, doing so will create a harmonious look that is required for an overall appeal of an outfit. On occasions where you want to impress someone, try not to mix more than two entirely different colors as that can create a messy look with a yellow dress.
Do Neutral Colored Shoes Go with Anything?
Yes. Shoes in shades like black, grey, white, and beige look appropriate with any color. They make a visually appealing contrast and give the wearer the flexibility of matching various accessories that are mostly available in a closet. Besides that, neutral colors give a very subtle, sophisticated look.
Can You Wear Yellow Shoes with a Yellow Dress?
Wearing yellow footwear over a yellow dress is not a fashion faux pas. In fact, it is a very stylish way to put together a lively monochrome outfit.
Can You Match Your Shoes With Your Jacket on a Yellow Dress?
When wearing any jacket, such as a cropped leather jacket over your dress, try to match it with your shoes to tie the whole look together. It is not necessary to match both the jacket and shoes in the exact same shade, but try to stay as close as possible.
Conclusion
When picking shoes for your yellow dress, decipher the kind of look you will portray. Different occasions call for different styling options, plus the footwear choice is also dependent on the size, shade, and design of the dress. Keep factors like these in mind to make sure your shoe choice with the yellow dress is liked by everyone.