Shoes are the soul of an outfit and an invaluable part of any men's wardrobe. Owning a variety of different shoes — ranging from loafers and sneakers to boots and everything in between — is essential for creating well-rounded, diverse looks.
On the other hand, a leather jacket is one of the most versatile pieces in a man's closet and can work with almost any outfit in any season, every day. It's a classic piece that never goes out of style and can be used as a blank canvas for styling. But did you know there is something common between the two?
Leather jackets and shoes are a crucial component of a men's capsule wardrobe. You can mix and match the two and roll out a variety of different looks. However not only are there many different types of leather jackets but there are also endless possible combinations of shoes you could wear with them. This is where the trouble begins.
You can have the best-fitting leather jacket but if your shoes don't complement your outfit, it's as if you're wearing a neon sign that says "This outfit isn't working for me". In short, the right pair of shoes can give your outfit the edge you're looking for – but wearing the wrong ones can completely ruin your style.
So what shoes with leather jackets should you be wearing? Keep reading to discover some great combinations, outfit ideas, and style tips.
What To Expect In This Article?
Boots & Leather Jackets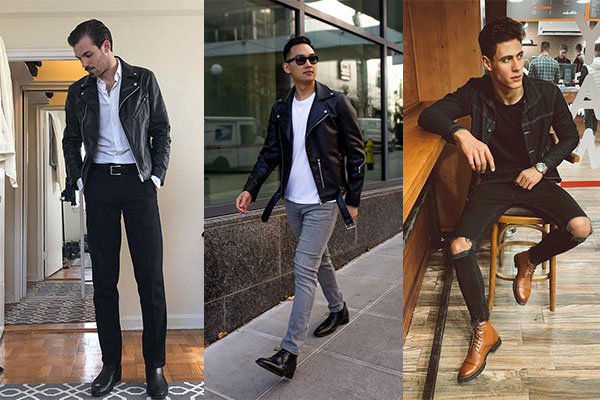 A leather jacket and leather boots combo is surely a match made in heaven. There is no denying the fact that a great leather jacket is an integral part of a well-dressed man's wardrobe, and when that jacket is paired with a stylish pair of boots, you'll always be sure to look the part. There is a wide range of types of boots available, and the number of colors that they come in is not in short supply either. So, how do you ensure the right selection to pair up with your leather jacket?
Choose a pair of boots that complements your leather jacket if they do not match exactly. If you really want to add some sophistication to your look, choose a pair of boots and your leather jacket in the same color scheme. The rules are not very stringent when matching the boots with the leather jacket. You can be creative and experimental. However, to bring the whole look together, try matching the belt with the boots.
Outfit Ideas:
If you're looking to keep your look casual, but also on-trend, pick a classic leather jacket and black skinny jeans with a white turtleneck. Chukka boots can be the secret that can turn this simple outfit into something very eye-catching that fits the box of street-style aesthetics. For a festive or a dressier occasion, wear a simple black leather jacket with a black chino and a white button-up shirt. Conclude the ensemble with a pair of black chelsea boots.
Loafers & Leather Jackets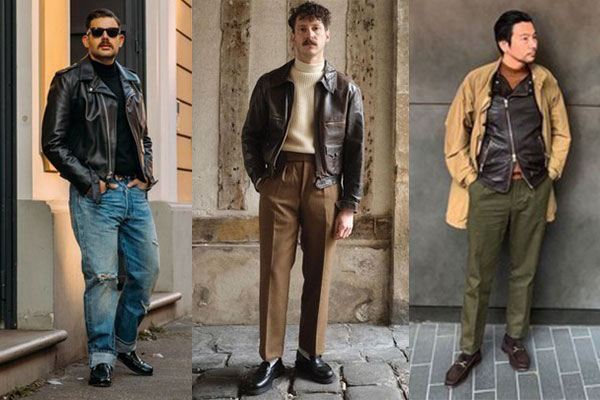 Men have been wearing loafers for decades due to their immense practicality and ease of wear. Providing the comfort of instant wearing by not being tight high topped, and coming in a variety of styles, they are suitable for almost any situation and setting. Unless you are going for very formal attire. In that case, they don't look very impressive as they come within the boundaries of casual shoes.
The leather jacket is a casual piece of outerwear. Therefore it pairs well with loafers and you don't have to compromise on comfort. So to take your leather jacket-shoe combination game to the next level, bring a pair of leather loafers into the outfit. Comfy and sophisticated, they are the perfect shoes for wearing when your feet need a break from the boots.
Loafers lend themselves well to a variety of bottoms. From skinny-fit jeans to flared trousers to chinos, you can wear them with an array of bottoms to inject a dose of smartness into the ensemble.
Outfit Ideas
For achieving a rugged look take out a brown leather jacket and wear it over a charcoal turtleneck with white skinny jeans. Round off this outfit with some classic brown leather loafers. Another outfit in which you can tone down the ruggedness a lil bit is by switching the skinny jeans with linen dress pants and adding a striped woolen scarf to the mix.
Sneakers & Leather Jackets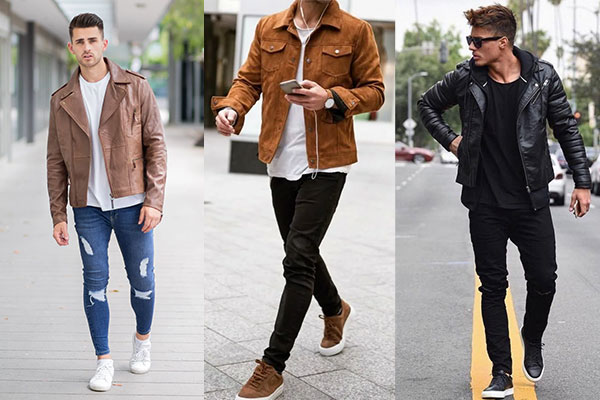 Sneakers are all the rage these days. These trendy sports shoes are now becoming a staple in every man's closet who has a fondness for a laid-back aesthetic. The right sneakers can make a simple outfit pop – and a leather jacket is no exception. While you can pull off many different types of shoes with a leather jacket, a pair of leather sneakers can take a leather jacket from basic to badass in seconds.
It's best to use your leather jacket & sneaker combination for less dressy events and not offices. Because of the way they're constructed, sneakers are considered casual wear. Similarly, a leather jacket can be a stylish addition to the outfit but it is also not generally suited for formal situations. Therefore this is a combo that works great for more casual settings, family dinners, concerts, or fun road trips but looks out of place in a formal event.
Outfit Ideas:
Put on a black leather bomber jacket and black jeans for an easy style that clocks in at the halfway point between effortless and well done. Shoes should be relaxed yet stylish: black leather sneakers will perfectly finish the ensemble. This is the easiest all-black sneakers and leather jacket outfit that you can assemble without spending hours skimming in your closet.
Slip-Ons & Leather Jackets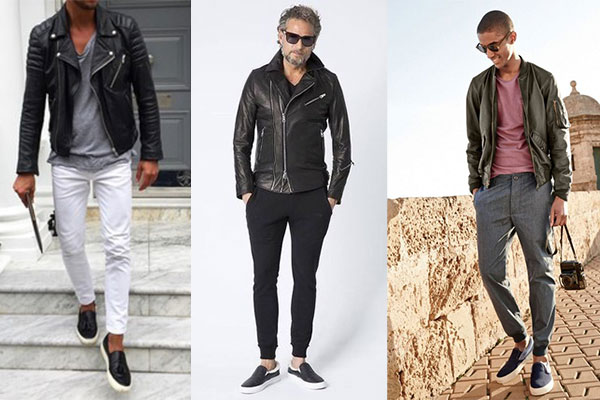 Slip-ons are versatile, practical, and comfortable — they're the perfect shoes for a quick shopping trip or a walk in the neighborhood. Pair them with a leather jacket for an unexpected juxtaposition of luxury and utility. The casual nature of these shoes makes them a great match for a leather jacket, allowing you to make style moves that are both low-key and practical.
These versatile shoes work well with denim, chinos, or shorts, so you're free to compose any casual look that comes to mind. Just make sure to keep it sophisticated with a solid colored slip-on with a clean design.
Outfit Ideas:
A leather bomber jacket and black chinos both a staple in men's capsule wardrobe work beautifully together for a quintessential casual getup. The former offers warmth and structure, while the latter provides an element of relaxed style. Put on a pair of canvas navy slip-ons to tie the whole outfit together in one shot.
Sandals & Leather Jackets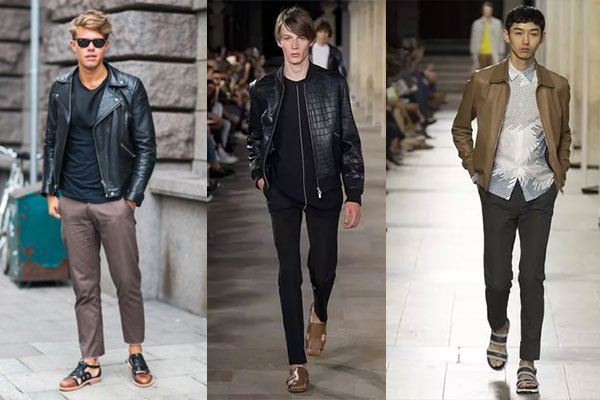 There are tons of conventional ways of wearing leather jackets to make you look suave and stylish. But sandals with leather jackets are not a very mainstream combination. It is relatively a new trend that is slowly making its way into men's fashion.
Sandals with leather jackets have already paved their way into the fashion runways as sandals have the potential to change a leather jacket outfit in an unprecedented way.— will give a very relaxed vibe to your getup. If you want to ace the sandals with a leather jacket look and to be on the safe side, the best way is to pick a leather sandal.
Outfit Ideas:
Layer a brown bomber jacket on top of a white shirt with black chinos. For a more relaxed twist wear it with sandals. A pair of black leather sandals with a minimal design would be a suitable choice here. This look is a bold move, but if you pull it off well, then you've got an outfit that speaks volumes about your fashion sense.
FAQ:
Should your shoes match your leather jacket?
There is no rule that your shoes should match your leather jacket. Your shoes and jacket should complement each other and do not have to match exactly. As long as the color of the shoes and leather jacket is from the same family, you are good to go. 
Is it ok to combine a Black leather jacket and brown boots in an outfit?
Yes, you can wear black leather and brown boots together. A black leather jacket is a versatile piece of clothing and if you want to add a bit of flair and originality to your outfit, you don't have to pair it with your typical black shoes. Add a punch of color to a black leather jacket outfit with brown boots.
Can I wear socks with loafers?
There are many contradictory opinions about it. Most people think socks with loafers are a style crime that should be avoided at all costs while a few recommend otherwise. In general, loafers look better without socks. However, if you still want to wear them, the best trick is to wear no-show socks with them. They disappear into your shoe seamlessly, and you can eliminate the common sock-and-loafer mistake forever.
Wrapping Up
A leather jacket is edgy. It's rugged, it's timeless, and radiates style. But wearing the right pair of shoes with a leather jacket will make a significant difference in your overall look. There are a plethora of combinations that you could wear with your leather jacket, but it would be impossible to list them all.
That said, we have discussed a few shoes that are absolutely perfect when paired with a leather jacket. The ideal scenario would be to own a pair of each in neutral colors like gray, brown, black, and white and never worry about wearing the wrong shoes ever again.