Both casual and formal events are easy to understand. We are sure that you can wear any sassy outfit and people can give it an award for the best formal outfit in 2023 and the same goes for casual wear. Casual allows you to dress comfortably without any regard for exactly what you're wearing, while formal clothes have a strict dress code that you have to follow.
Semi-formal, however, is a completely different beast altogether. How can an outfit be formal but informal at the same time? Is the dress code strict, or are you free to choose your dress exactly how you want it to be? These and many similar questions can cause extreme stress, particularly when it is your first semi-formal event.
In such fast-forward fashion there really is a bar set up for every year. Thus we are very sure that women might be concerned about the semi-formal outfits for ladies 2023. Ladies, take out your jumpsuits and your cute short dresses and maybe some separates which you might be wanting to wear. 
However, semi-formal outfits for ladies might be a bit confusing to put up as you are not very sure what outerwear might be suitable, and such a short intro might not be suitable. So, If you've found yourself in a similar predicament, don't worry.
This guide is here to answer all of your questions, as well as give you outfit suggestions for different semi-formal events.
What is Semi-Formal for Women?
Ladies are highly confused when it comes to dressing for a semi-formal event and then they just stand in front of the cupboard thinking, "what is semi-formal for women?".
Girls, just like any other dress code, semi-formal is not as simple as "this item of clothing is okay, and this one is not." There are a lot of nuances and trends that come together to create the modern semi-formal dress code.
That being said, semi-formal can be defined as fancy dresses that finish at knee height. This is, honestly, all you have to know to get started with this dress code and work toward crafting semi-formal outfits that are unique to you.
Also, modern semi-formal are also starting to embrace things like cropped leather jackets. Though, this trend is fairly new and experimental.
Semi-formal is further divided into two groups, the day looks and the evening looks. Let's take a look at these two different facets in detail and what outfits work for each.
Semi-Formal Day Looks
Daytime semi-formal is clearly identifiable thanks to its fresh and colorful appearance. Floral prints are fairly common, and all pink clothes dominate the events. So while choosing a semi-formal dress for women for a daytime event, you can always pick out a knee-length floral dress with a splash of color, and pair your pumps or kitty heels with your look. Accessorize a bit, pick out a contrasting clutch and you are good to go. 
Work Events and More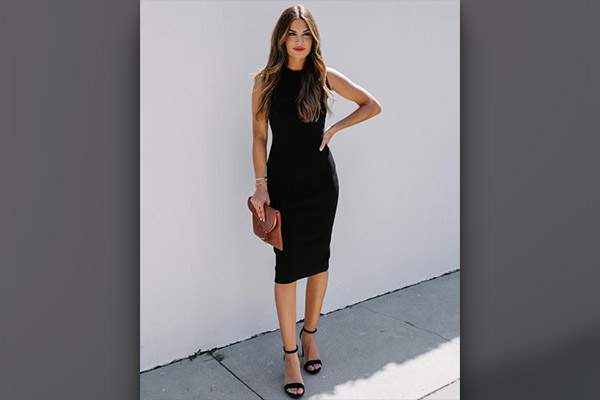 We just said that daytime semi-formal is very colorful and fresh, but that is not the case with work events. A lot of work events still fall within the regular office dress code, so wearing vibrant colors and extravagant patterns might not be an option at all.
Luckily, even a simple black and white dress can look gorgeous with the right design. Most ladies just wear a classic black bodycon dress with a colorful handbag as the accent piece. Though, a white halter dress and a black A-line are both fantastic options to choose from.
Brunch or Social Events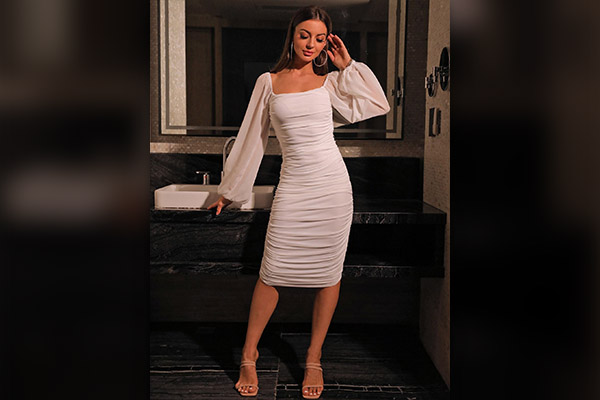 Brunch and social events, on the other hand, are exactly how daytime semi-casual should be. It gives a lot more freedom in colors and patterns. A great example of such an event is a white bodycon dress with a couple of colorful horizontal stripes, paired with white high-heeled shoes and a gleaming pearl handbag.
You can also go the completely opposite route with different types of shirt dresses in contrasting tones. Or, you can stay minimal but vibrant with a bright blue pouf dress. This one is also one of the most elegant and awe-inspiring outfits you can wear to a semi-formal brunch. Be sure to pair it with brown leather strappy high-heels.
Morning Wedding Guest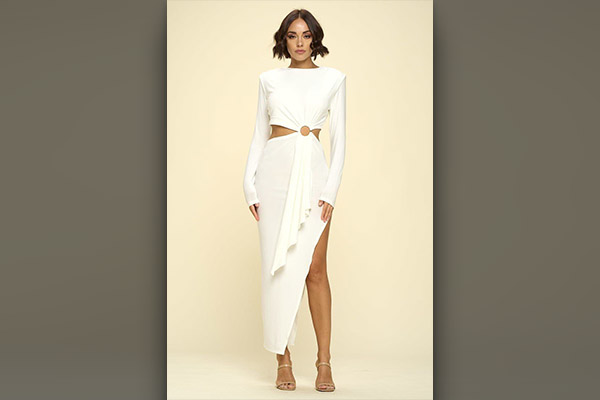 Weddings are a celebration of happiness and two people's undying love. So, your outfit should reflect that sentiment. A great place to start is with a pink floral blouson dress. It is simple yet exceptionally effective. This outfit is also great if you don't want to stand out at the event.
That said, if you do want to attract some attention and stand out as one of the most well-dressed ladies at the event, then look no further than a tight-fit short cocktail dress. Its vibrance and shape will make you the star of the event.
Evening Looks for Semi-Formal Dos 
If we had to explain evening semi-formal in one word, that word would be "Glamorous." Evening and semi-formal nighttime outfits exude a level of confidence and class unique to them. You will see a lot of pitch-black in semi-formal evening events as with the design of dress carrying the show.
There are also a few dresses that are semi-formal without a doubt but can also pass as fancy street style with ease. Girls, a semi-formal black dress can be your thing for the evening, pick out a fit and flare design knee-length dress. Tie your hair in a ponytail and add hoops to your ears. 
Cocktails for Starters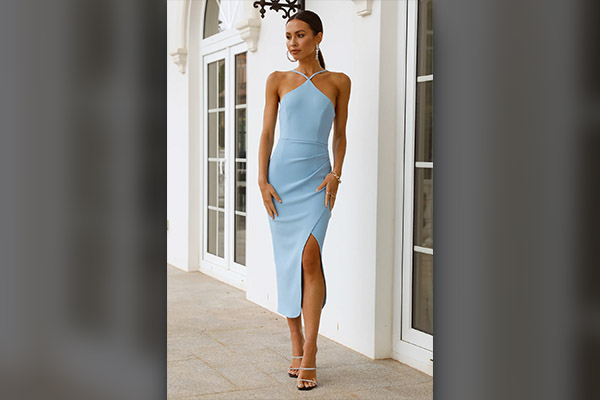 Cocktail semi-formal outfits are the very definition of luxe and luxury. They consist of shiny materials that glisten under the sunset, vibrant colors that pull all of the attention toward them, and designs that cannot be classified into one category.
So, a fantastic cocktail semi-formal outfit would be a bright blue dress with the design of a halter dress and the fitting of a pouf. Accompany this dress with black velvet pumps and a black leather handbag. The dress itself is fairly minimalistic, so your focus should be on details like jewelry and your makeup.
Dinner at Eight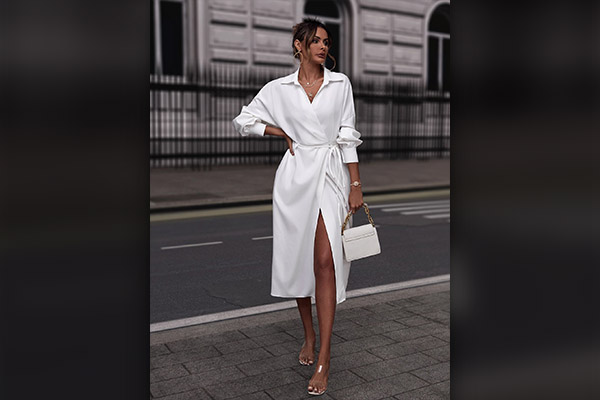 Semi-formal dinners are usually after the sun has set completely. So, wearing very dark clothes at these events is not advisable. In fact, one of the best semi-formal outfits you can rock is a pure white wrap dress. You won't find any other outfit that comes even close to the panache of this minimalistic dress.
However, wearing pure white for a dining event is certainly stressful. The tiniest smudge becomes extremely prominent on an all-white dress. So, a better idea might be to wear a colorful dress with stripes and floral patterns.
Lastly, hedge heels are the best footwear for these events, thanks to their improved maneuverability. So if you are going to dinner at eight then sun semi-formal women dresses are not going to disrupt your night. 
Semi-Formal Socials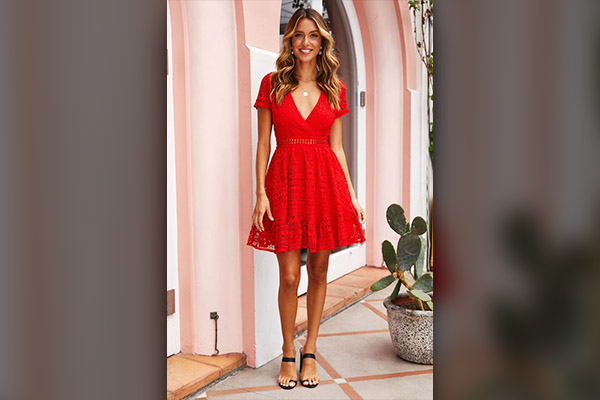 Evening semi-formal social events offer, arguably, the most customizability. You have so many choices in colors, patterns, designs of dress, and footwear. So, the best way to dress for a semi-formal social event is to wear what represents you as a person.
If you like vibrant colors, how about a bright red sundress? Fan of comfortable clothing? A cozy pink tent dress is the right way for you. Confident in your body shape? Look no further than a figure-flattering short ball gown.
What should you not wear to a semi-formal event?
You girls should know about the type of outfits that you can wear to a semi-formal event, however, there are some outfits and clothing pieces that you should avoid wearing when you go to a semi-formal event. 
Avoid adding casual basics like denim jeans and sneakers to the semi-formal look and also do now wear long gowns to a semi-formal event, in fact, cocktail dresses are a better pick. You should know how to keep a balance between casual and formal.  
FAQs – Semi-Formal Outfits For Ladies
Can I wear a maxi dress at a semi-formal event?
No, you cannot. Full-length maxi dresses are strongly associated with formal black-tie events. Semi-formal dresses are usually knee-high and sometimes higher. So, wearing a full maxi to a semi-formal event would not look good.
What are the best shoes for semi-formal events?
There are a lot of different types of shoes that work just fine with semi-formal events. But sandal heels and pumps are two of the best ones. They work in almost every type of semi-formal event and are compatible with almost every design of the dress.
Can I wear a denim jacket as part of a semi-formal outfit?
You can wear a denim jacket over your semi-formal dress, and it will look gorgeous. But the resulting outfit will not be considered semi-formal. As a side note, you can also wear leather trench coats or a women's leather jacket over colorful semi-formal dresses for a unique smart elevated casual outfit.
Can I wear a jumpsuit to a semi-formal event?
Yes, dressy jumpsuits and rompers can be worn at semi-formal events. Though, these outfits are more suited towards semi-formal weddings and work events rather than cocktail and dinner events.
Can I wear black to a semi-formal wedding?
Yes, you can. But, make sure that black is a popular choice for this event, and you would not be standing out from the crowd while wearing it. So do not think that black semi-formal dresses are going to be the spark for you; you might have your vibe but everyone dressing up in the same color ends all the excitement.

For a semi-formal wedding, you can even wear an off-shoulder dress with an intricate print and a textured bodice. Pair mid heels and you are ready to stand out in the lovely wedding. 
Should I match my semi-formal dress with my husband's?
Yes, you should. In fact, matching your dress with your husband looks extremely fabulous. However, do not go overboard and wear clothes with the exact same pattern or color. The closest you should get is a different shade of the same color or matching accent elements (black dresses are an exception to this).
Do high-heeled boots look good with semi-formal outfits?
The semi-formal dress 2023 fashion guide does have some hindrances when it comes to high-heeled boots. The answer here would be yes, and no. High-heeled boots look perfect with pouf and sundresses at social and dinner events. But they look completely out of place in cocktail and work events.
What do girls wear for semi-formal?
For semi-formal wear, women can opt for different dresses which are not on the fancier side. On the other hand, jumpsuits might be your thing. For work, you can take out dress pants and tuck in a button-down shirt, pair your kitty heels with it, pick up a tote bag, and there you have a semi-formal look. 
Are leggings semi-formal?
No, leggings are not part of any semi-formal wear. Even if you get fancy, expensive leggings still they cannot be considered in such a category. So, avoid wearing them to any semi-formal event, in fact just wear them casually. 
Can a 70-year-old woman wear leggings?
There is no limit or age to wear leggings, so yes, a 70-year-old woman can wear leggings. In short, fashion should not be hindered according to age, if someone can pull it off, wear it!
Final Words
Ladies, we are hoping that you got some help from the guide because we are sure that most of the girls here might have the idea for formal outfits for ladies 2023 but they might be stuck while dressing up semi-formally. 
Getting an invitation to a semi-formal event can feel daunting when you don't have any prior experience. Luckily, all you have to do is take things one step at a time. Understand the event and its specific dress code, add some personal flair to your outfit, and you're good to go. You should have the confidence to dress semi-formal and own what you wear. 
We are sure that semi-formal Outfits For ladies are not difficult to put up as we already have put up some ideas in front of you. Mix and match, pick out the best, dress up, get that makeup to glow on your face, and ta-da you are party ready!