The fact that women look more attractive in red is certainly not a myth. Various psychological studies actually prove the fact. If that isn't a good enough reason to dress up in red clothes, then maybe you could read this blog till the end to get the inspiration. We have compiled a guide on some glamorous red outfit ideas which any woman can definitely pull off.
Red is the color of the festive season. But besides creating some cute holiday looks with this color, you can get dressed in red all year round and look absolutely stunning. Wearing red will exhibit your bold and glamorous aura like no other color could do. 
Why a Red Outfit?
For long, red is associated with feelings of love, passion, and romance besides exuding an irresistible appeal. The color signifies energy and power, giving off domineering vibes. Whenever you want to show your confident persona, all you need is to wear red.
Red color clothing and accessories let you make the ultimate style statement wherever you go, leaving a lasting impression on the onlookers. The trend forecast for the year also shows that red color will be in fashion all year round. But beware, you can sometimes go wrong pulling off a red outfit. 
To elevate your look, its important to use the right shade of red in the right way. Choosing appropriate elements is necessary as even a small accessory like red ear studs would catch everyone's attention. On the other hand, an over the top red outfit may be a big fashion blunder. So whether you want to add the color to your personal style essentials, or want occasional ravishing looks with red clothes, here is how to do it.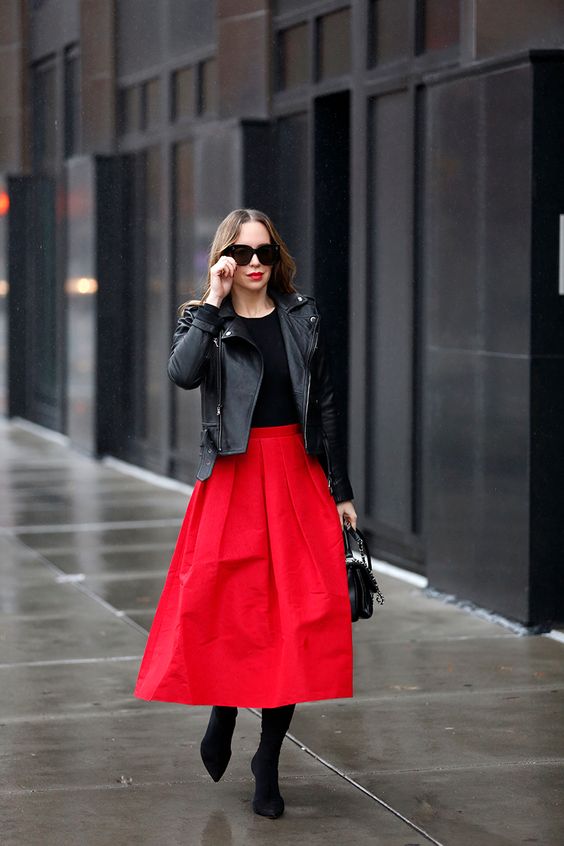 Ways to Wear Red
Red, being a favorite of the fashion savvy women, is a color that can be worn in several ways. Adding the magnificent hue in your outfit can be as dazzling as wearing it head to toe, or as minimal as carrying a small shimmery clutch in red. Do not forget the power of hair accessories and makeup when trying to infuse red into your look.
Start or End with the Lip
Feeling hesitant to try the red lipstick? The basic makeup look with the splendid red lipstick is definitely a game changer in terms of grabbing everyone's attention. The red lip look is perfect for elevating neutral colored outfits, like a beige sweater dress, or an offwhite halterneck pencil dress. However, you need to check the shade that suits your skin tone. 
You can also try matching your lipstick with the red shade of your outfit for a neat, coordinated look. Choose the identical shade of lipstick as your red dress to look irresistibly stylish and elegant. The bold red lip goes well with subtle eye makeup, so go for mocha, taupe or dull golden eye.
Red Tops from A to Z
Different types of tops, shirts, and blouses in red add depth to your outfit. You can pair these wardrobe basics simply with jeans, trousers, and various types of skirts in different colors. Along with basic red t-shirts for everyday looks with a hint of passion, you can keep some figure flattering blouses and collared shirts in red. We advise you to upgrade your wardrobe with these trending tops in alluring shades of red.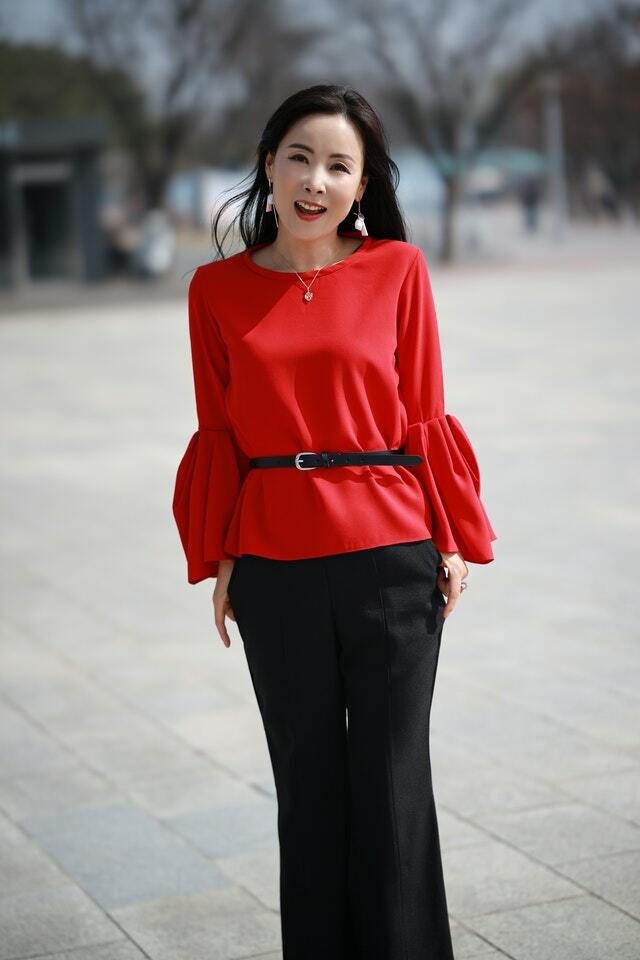 Top with flounce sleeves
Off shoulder ruffled blouse
Cropped top
Fitted red t-shirt
Turtleneck
Deep red collared shirt
Tube top
Red and black plaid shirt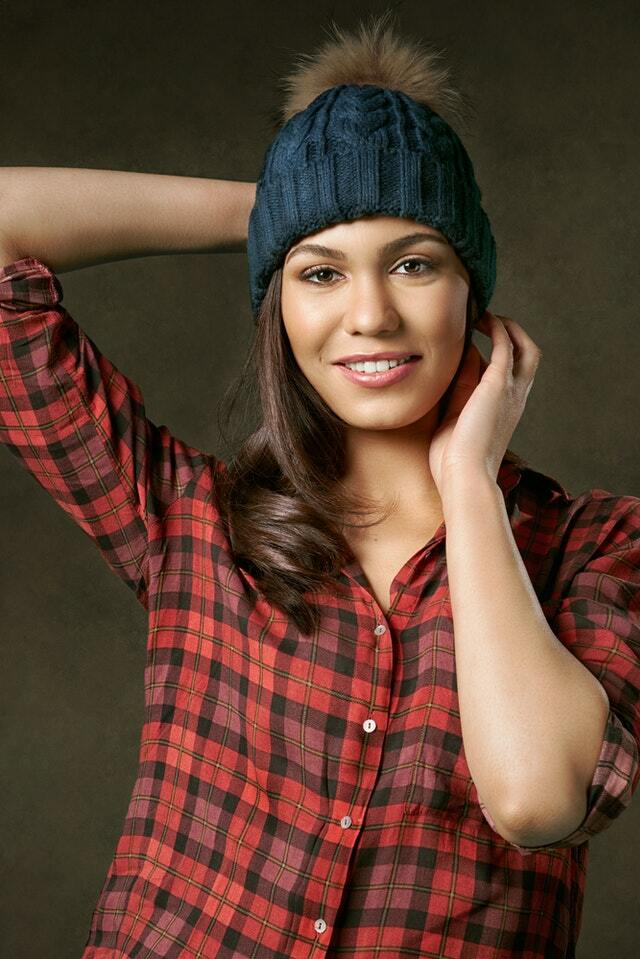 Pair these tops simply with black jeans, a leather skirt, or a flared midi skirt for some easily put together looks. 
The Lower Half and Red
Red pants and skirts are bold and sassy. Pair them with printed tops, colorful shirts, or black or white shirts, and you will surely turn heads wherever you go. Here is what to keep in your wardrobe to make the red bottom wear game strong.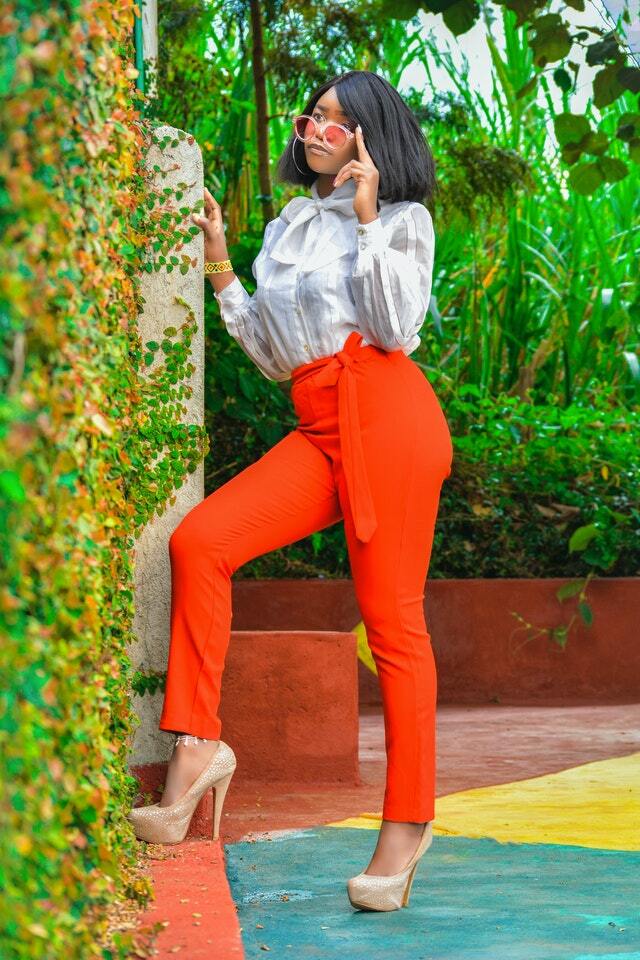 Fitted capri pants in red
Wide legged trousers
Red tights
Red maxi skirt
Plaid mini pleated skirt
Midi pencil skirt
All Red from Head to Toe
A complete red outfit is easy to pull off if you use complementing hues of red and clothing essentials that give you a flattering silhouette. The head to toe red look signals self confidence. It shows the world that your fashion sense is daring, and you have no qualms to show it off.
You can team up a red turtleneck and red wide legged pants with a red trench coat and red heels for an eye pleasing all-red look.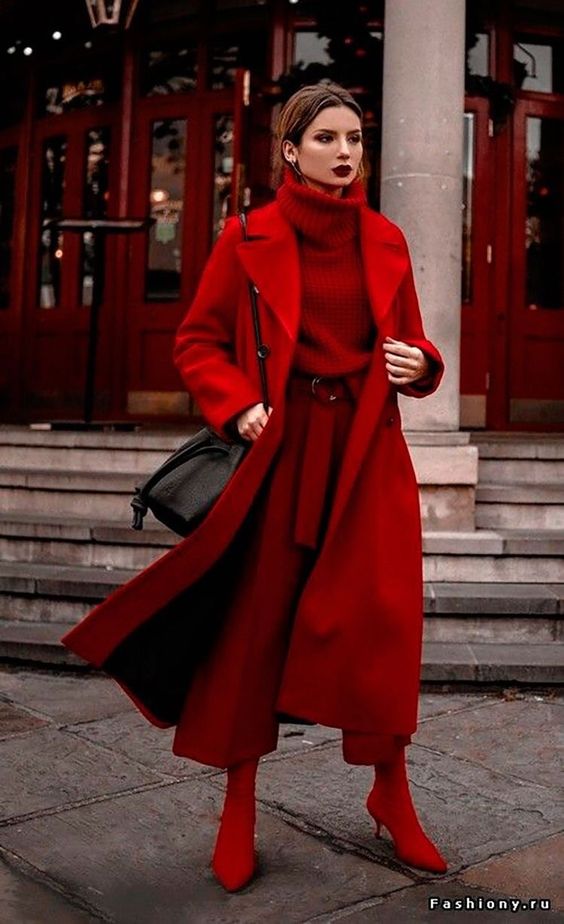 Dresses
One of the easiest ways to ace an all-red look is to go for any type of dress in red color. A scarlet maxi dress paired with red pumps will look splendid at a formal event. Or, you can up the glamor quotient by ditching the maxi for a stunning crimson pencil dress and pairing it with red knee high boots. Add a cropped leather jacket in red color for a street style look. 
A long red blouson dress with red suede ankle boots is a great outfit idea for a party.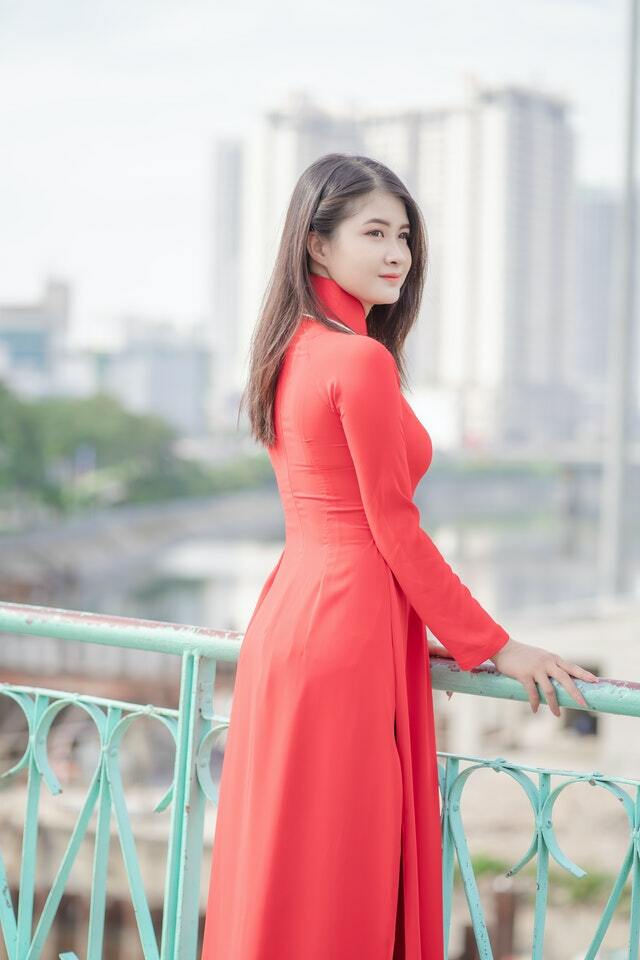 Jumpsuits
The easiest trick to get attention is to opt for a classy jumpsuit in a deep shade of red like mahogany or ruby. Add a black belt to break the color, and add a pair of glamorous t-strap heels to channel your inner diva with style. Layer an elegant faux fur bomber jacket in a lighter red shade if you need to warm up. 
Red Outerwear
A red coat, jacket, cardigan, or even a casual shrug is a nice way to add an appealing touch to your outfit. Red is a warm color, so outerwear in red is the perfect addition to your fall and winter wardrobe. 
Coats
When in doubt, take out that fabulous long coat in red and don it over a black turtleneck and faux leather pants outfit for a chic look. When going for coats in longer lengths, you can select trench coats, princess coats, duffle coats for formal looks, or a lightweight duster coat for casual looks. 
Another highly appealing look is that of a red blazer. Whether your blazer is in a dark garnet shade or a vivid candy red shade, it is sure going to be the head turner. Wear the blazer over a white top and bootcut jeans for a captivating smart casual look.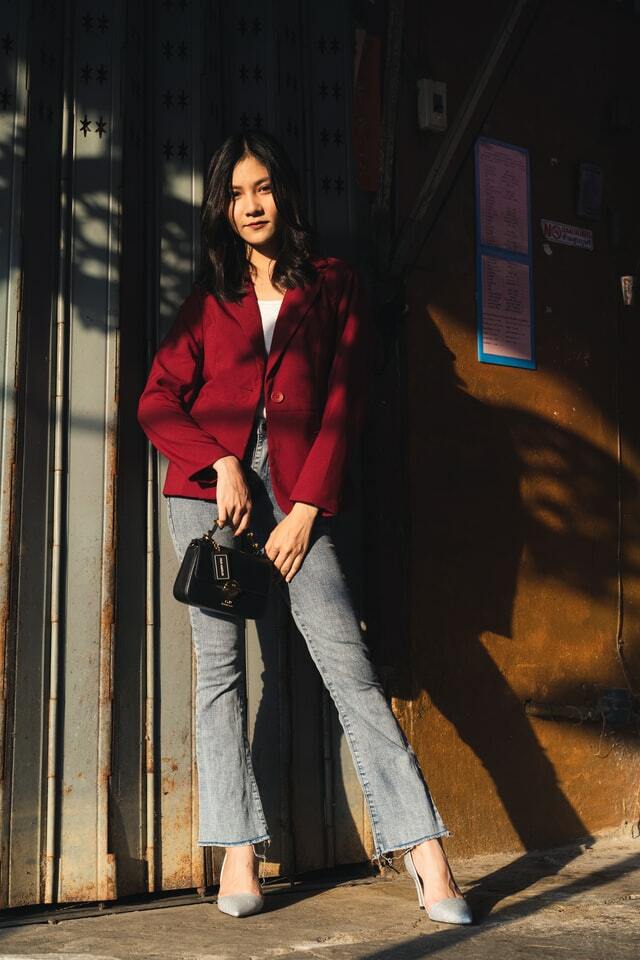 Jackets
Play bold by donning a ravishing red jacket with your outfit to bring up the style meter reading. Red jackets can be paired along with printed dresses and jumpsuits, black outfits, and white t-shirt and jeans outfits. 
You can either go for the splendid moto jacket in red color or try a red fleece jacket for a subtle warm look. 
Another chic jacket to give you those fabulous casual looks is a red denim jacket. 
Cardigan
A red cardigan is a must have for those morning-to-night transition looks in the changing weather. Go for a cropped cardigan in a dark shade of red to wear on dresses and a long one in a rust shade to layer a black jeans outfit. 
Red Accessories
Whether your outfit is red or not, a hint of the hue via accessorizing is a smart way to add a chic element. Here is a list of accessories that you may want to add to your wardrobe for sassy looks.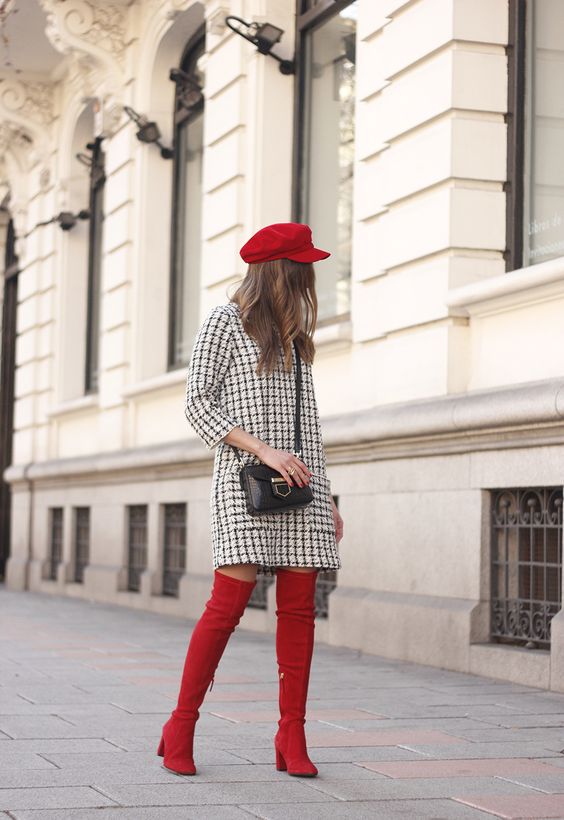 Knee high or thigh high boots
Stilletos
Pumps
Red jelly shoes
Red tote bag
Deep red clutch for evening
Shoulder bag
Beanie
Baseball cap for those sporty casual looks
Red jewelry, such as earrings, pendants, and statement rings.
Tones of Red
The right tone of red is definitely the one that goes well with your skin tone. Generally, bluish toned red shades, such as garnet, ruby, wine, or currant, are for cool skin tones.
While the yellow toned reds, like candy, rust, orange red, or scarlet better suit women who have a warm skin tone.
The trending shades of red in the coming year are:
Ruby red
Apple red
Brick red
Cherry
Mahogany
Coral
Crimson red
What Goes with Red
When it comes to making an eye pleasing contrast, red lends itself to a variety of colors. Besides the most popular red and black look, red also looks good with shades of pink.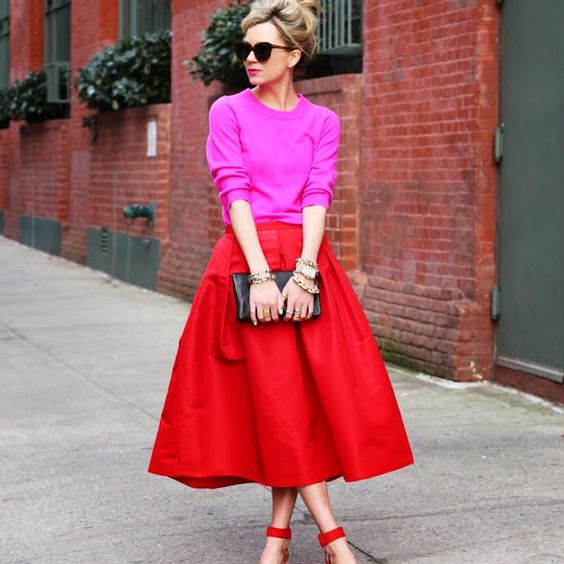 You can pair white and red in different ways as it is a winning combo. Either pair white jeans with red tops or red jackets, or carry red accessories with a white outfit, like a red shoulder bag and red rhinestone studs. Or, just wear a crisp white blazer over a red mini dress and heels. 
To add some color to black and white outfits, you can add red outerwear or red shoes to the mix.
Other fantastic color combos are red with yellow, blue, green, orange, and grey.
Red and Metallics
Metallic hues like silver golden, and champagne can look even more enticing when you add red to the mix in subtle ways. Dont go over the top, but red heels with a golden sequined dress and red pants with a silver top are a few ways to nail the metallic look with red.
Red and Prints
The wide variety of prints available these days calls for efficient pairing. Using red tops with printed skirts and pants is a good idea to ensure your style is on point. Or, you can swap the garment choice and wear printed tops with red pants or skirts. Here are the trending prints and clothing ideas to go for.
Plaid shirts, jackets, and skirts. Especially for the ongoing holidays.
Floral print skirts, ruffled tops, and scarves.
Geometric prints for a bold statement.
Polkadots printed wide pants and blouses.
Snake print tops and slit skirts.
Leopard print full sleeved tops.
Aztec print scarves and sweaters.
Striped pants, pencil skirts, and blouses.
FAQs
Can You Wear Red over Forty?
It is totally ok for mature women to wear red. Being a certain age doesn't mean you can not rock appealing colors and just stick to the neutrals. For instance, wearing a red leather jacket if you are forty plus is definitely doable with a midi dress and kitten heels.
Does Red Go with Purple?
Red and purple is a tricky contrast to pull off, but it is worth trying for a captivating look. You can pair a violet pencil skirt with a coral ruffled blouse and carry silver accessories with the outfit.
What Does it Mean to Wear Red?
As red signifies power, dominance, passion, and romance, wearing red would put you in the spotlight as an authoritative person who takes charge of her style matters. It will give you an irresistible appeal which certainly draws attention.
How Can I Wear Red and Look Subtle?
If you are not looking for a bold look with red, tone down and go for less vivid shades like coral, rose, and burgundy. Accessories in these subtle hues will also give you a look that won't draw much attention.
Does Red Make You Look Fat?
No. darker shades of red like wine, garnet, or carmine actually make you look slimmer. But if you wish to wear a brighter red as a plus size lady, go for flattering silhouettes like a blouson dress, a maxi skirt, or palazzos.
Does Red Make You Look Taller?
To give an illusion of an elongated body, you can try wearing high waisted pants in dark shades of red and long red coats. The fusion of dark colors with an appropriate silhouette is the key to looking taller.
How to Finish off a Red Ensemble?
Use trendy accessories like statement necklaces, gold jewelry, blingy clutches, and a glam makeup look with red evening wear outfits and formal dresses. For casual red ensembles, you can round off the looks with brown or black footwear, white sneakers, beanies, scarves, and chic handbags. 
Conclusion
Red clothing and accessories can be a brilliant way to elevate your style. By following our tips on wearing red outfits with style, you can definitely nail the look with confidence. Assess your skin tone and body type before buying red clothes to make sure they will look good on you. Also, never underestimate the power of accessories as they can make or break your look.