When you want to show the world how sassy you can be, there is nothing better than the moto jacket to take charge of your style. The classy jacket, which also goes with the name of motorcycle or biker jacket is a wardrobe mainstay, providing style and function simultaneously.
Let's give you a deeper insight into what is a moto jacket and what are some no-fail ways to style it.
Introduction to Moto Jackets
The leather motorcycle jacket is a staple that takes a simple and boring outfit to a voguish one in a jiffy. If you think that the motorcycle jacket fashion is something that got trending lately, you are in for a bit of a surprise. This decade actually marks a century since the first motorcycle jacket was made in 1928!
Read on to know the right moto jacket definition, its brief historical account, design variations, and styling in general.
History of Motorcycle Jackets
The history of the biker jacket can be traced back to the early 1900s. Ever since it originated in 1928 as the Schott Perfecto, the moto jacket continued to be a trend in almost all eras of fashion for both men and women. It became extremely popular after Marlon Brando wore it in his film The Wild One, based on a motorcycle gang.
Later, in the 1960s, designer Yves Saint Laurent rolled out his collection for the runway which featured the leather jacket with cropped sleeves. This marked the official inclusion of motorcycle jacket fashion in womenswear. The stylish jacket continued well into the present day's fashion landscape, letting fashion savvy women create edgy looks.
Besides the contemporary street style, biker jackets are integral for the motocross style. The motocross jacket fashion is a huge craze these days. Fashion enthusiasts and celebrities are quite obsessed with the bold color heavily padded leather moto jackets, leather pants, and moto boots.
Design of the Moto Jacket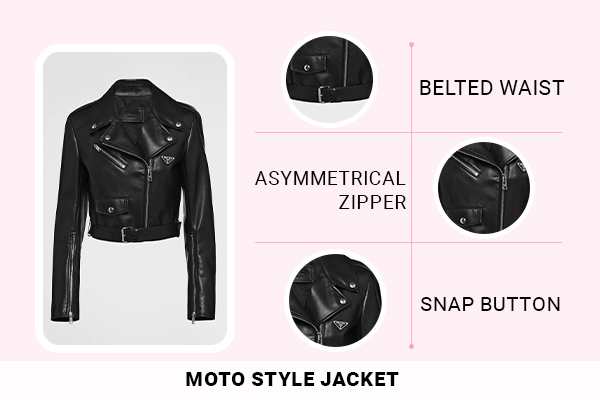 When considering different types of a leather jacket, you must have an idea about what is a moto style jacket. Typically, the moto or the biker jacket features a belted waist and an asymmetrical zipper in the front. The lapels are notch style, with a snap button found on the edges of the lapels.
The lining of the moto jackets may be shearling, polyester, satin, or nylon. If your moto jacket has inner pockets, it's a plus to keep your essentials hidden and safe. basic
When it comes to pockets, they are usually four with two being asymmetrical and one horizontal. One pocket is either flapped with a snap closure. You may find details such as shoulder epaulets and zipped sleeves. The unique design and ideal fit of the moto style jacket is the reason why it is so popular.
The Versatility of the Moto Jacket
Some clothing staples are timeless. Not only do they stay in fashion but also help you stay confident about your style game with their stylish design and splendidness. The moto jacket is one of them. If you find yourself contemplating over how to style a motorcycle jacket, brush off the worries. Even simply wearing it on a basic outfit like a dress or jeans and a t-shirt instantly elevates the look.
While searching for outfit ideas with the best leather jackets for women, you will see how the moto jacket dominates the other styles. They come in an array of colors and styles, such as regular, or petite leather jackets. Don't be surprised to spot biker jackets in a variety of styles in all colors and sizes.
Moto Jackets vs Café Racers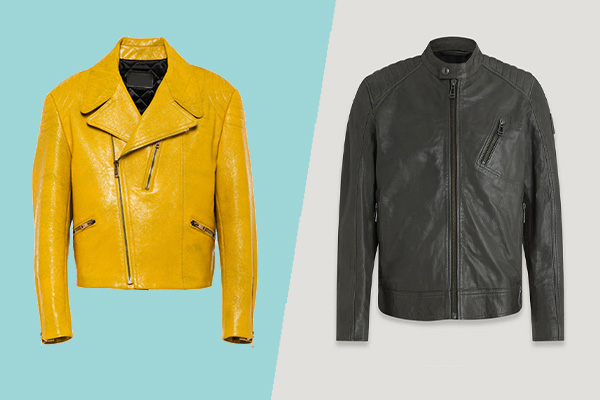 Many women don't know much about the various types of leather jackets, let alone what is a moto jacket. Below we are stating differentiating factors between motorcycle jacket styles to help them spot the right one while buying the best motorcycle jacket for women.
Among the several styles of jackets, the moto jacket and cafe racers are the most common. Now one may get confused with the name and confuse the motorcycle and biker jacket with the racer jacket. Below are the distinctive features of both jackets through which you can tell them apart.
Motorcycle Jacket
Shirt collar with notch style lapels with metallic snaps on the peaks to hold the wide lapels back.
The moto style jacket has an asymmetrical, zipped front closure.
2, 3, or 4 pockets may be present among which one is a flapped pocket with snap closure. The rest may be vertical, diagonal, or horizontal with zip closure.
Sleeves may have vertical zippers which add a visual appeal and functionality.
Cafe Racer Jacket
This motorcycle jacket style has a mandarin (band) collar without lapels. The collar is often secured with snap buttons which serves the function of wind protection during bike racing.
Vertical zippered closure
One or two horizontal zipped pockets on the upper side of the jacket.
Sleeves with a snap buckle closure for added wind protection.
Leather Moto Jackets vs Suede Moto Jackets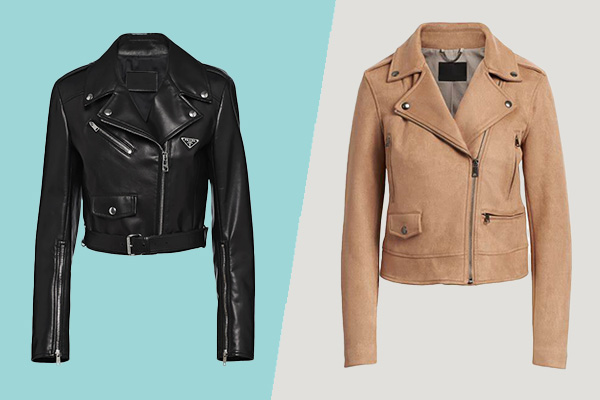 Is a tough leather moto jacket a better choice for you or a classy suede one?
At times when you wrap your head around a particular style of a jacket, deciding the material becomes perplexing. If you need to pick between leather and suede, there are some factors that need to be considered to help you decide.
Made from the bottom-most skin layer of an animal, suede has a napped finish which differs from the shiny, smooth leather finish.
Suede is more porous than leather. As a result, a suede moto jacket will be less waterproof.
As compared to leather, suede easily gets stained.
The durability of leather moto jackets is much higher than suede jackets. Suede jackets, however, do not develop cracks over time like leather.
Suede moto jackets are more versatile than leather moto jackets. It is one of the best jackets to pick up for layering a fall or spring look when the weather is moderately cold.
Suede may be a bit more feminine than leather due to its soft finish, making it a good choice for styling a variety of outfits for women.
If you own a suede jacket, you need to care for it by keeping it away from moisture, and occasionally using a suede brush on it.
How to Style a Moto Jacket
As we conclude the introduction about what is a moto jacket, it's time to learn its styling options. When it comes to styling the uber-chic moto jacket, there are multiple ways to do it. Creating a flawless look from head to toe is important as the jacket will immensely increase your appeal.
Firstly, opt for a nice moto jacket that fits you right. An ill-fitting moto jacket will ruin your look and give a baggy, slouch appearance. Also, try to pick colors for moto jackets that go with a variety of your outfits, like black, dark brown, or cream. Doing so will ease accessorizing of the outfit as well.
However, there is no rule to the color choice in motorcycle jacket fashion and you can opt for any color that you desire. Blue and red moto jackets are immensely popular among fashion savvy women.
5 Ways to Wear a Moto Jacket
A motorcycle jacket works well with t-shirts, blouses, skirts, jeans, capris, and dresses of all kinds. There can be a lot of ways to do it, but here are the five best outfit ideas from us to nail the moto jacket look.
The Appealing All Black Look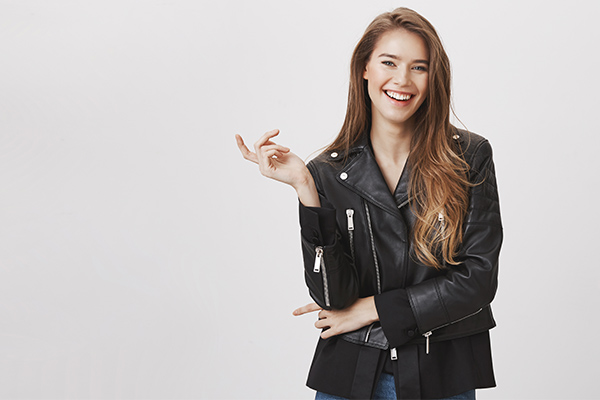 You can never fail to impress in an all-black outfit. And what could be better than a moto jacket to use for a stylish all-black look?
Team up a black low-neck blouse with high-waisted black jeans. Put on the Alison black leather biker jacket to bring up the appeal in an instant. Round off this black jeans outfit with a pair of black ankle boots, stylish shades, and a loose curls hairstyle. You can wear a delicate necklace for that added charm in the overall look.
The Cute Girl Next Door Look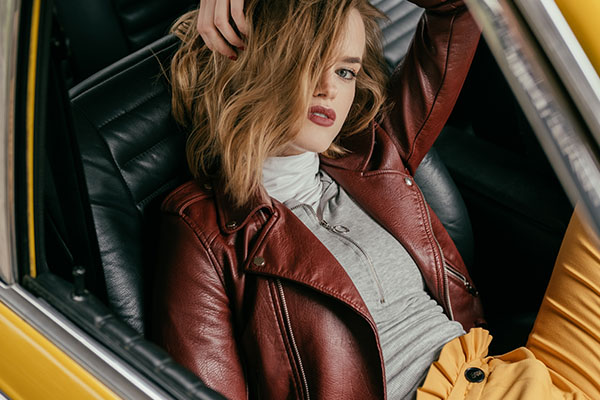 A very basic short dress in a neutral color like grey can be transformed into a chic outfit by adding a classy Flashback maroon leather biker jacket. A pair of beige pumps and a black shoulder bag will add to the simple look. 
The Ultra Feminine Look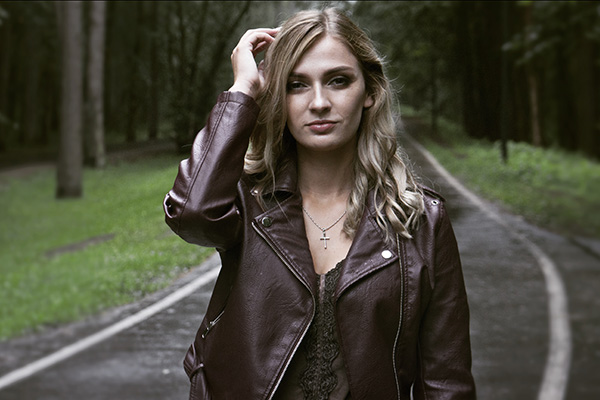 The versatility of the moto jacket is proven by the fact that it even looks great with a midi dress. To pull off the look nicely, go with the Carolyn quilted vintage brown biker jacket along with a floral dress. Put on a sleek pair of knee-high boots and add some bling accessories like stud earrings and a statement necklace to elevate your moto style jacket even further. 
The Street Stunner Look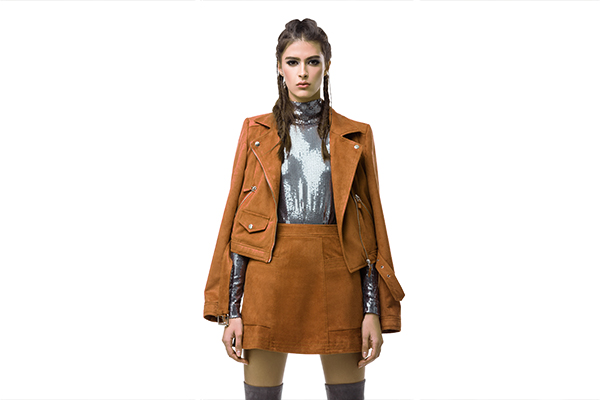 The biker jacket and street style go hand in hand. The Alison brown suede biker jacket looks great when paired with a cream pencil dress. Create some spellbinding vibes with straightened hair and a black tote bag. 
The Captivating Diva Look
For a look that blows away the onlookers, opt for slim-fit ripped blue jeans and a white tank top. A black moto style cropped leather jacket will elevate the look, and you can round it off with black t-strap heels and some statement rings. Go for a glam makeup look with this outfit.
Bonus Tips: Selecting the Perfect Moto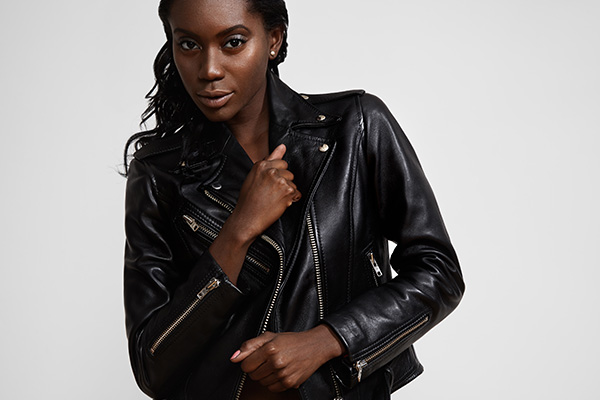 To nail the motorcycle jacket fashion, you need to select the right motorcycle jacket for your wardrobe. Let's move on to some tips that will help you make the right decision.
Moto Jacket Material
If you are planning to make a sensible investment, go for a full-grain cowhide leather moto style jacket as it will last you a lifetime. It even becomes better as time passes by developing a beautiful patina, so you will be able to rock your vintage jacket. Apart from cowhide, you can also go for other types of leather like goatskin, and sheepskin.
You can choose a jacket with a suede finish if jackets with a napped finish appeal to you. Suede is also durable, but lesser in comparison to full-grain leather.
When buying a moto style jacket, make sure its lining is made with a durable material like nylon, polyester, or satin. If you are buying a motorcycle jacket style to wear in winter, go for a fur lining.
Color
Different colored jackets suit personalities of different kinds. You can go for a black jacket if you have a sophisticated, versatile personality, also because it is one of the highly popular moto jacket trends. Or, go for a brown moto jacket style one if you are down to earth and friendly. For women with a refined persona, pink, and white jackets work well. You can also go a bit over the edge and opt for green, red, burgundy, or blue motorcycle jackets to create splendid outfits.
Cut and Fit
Always buy a moto jacket style that fits you right. A moto jacket shouldn't be baggy or else it will feel as if you have borrowed the jacket from someone, or completely lack style sense. An ill-fitting jacket may also make you uncomfortable which in turn decreases your confidence.
Length
Depending upon the kind of looks you want to create, you can go for cropped or regular-sized moto jacket style. Cropped ones are definitely a good choice for petite frames, while tall or plus-size women can opt for a jacket that ends below their waist.
Detailing
Your choice of the jacket may also depend upon the detailing like inner and outer pockets, front zippers, snapped buckles on collars, cuffs and waist, and epaulets. Different styles of moto jackets have different numbers and designs of pockets.
FAQs – What Is A Moto Jacket
How Should a Moto Jacket Fit on a Woman?
The best motorcycle jacket is the one that fits you snugly while letting you stay comfortable. Its fit never hinders movement. This is the reason why getting a made to measure or bespoke jacket is the best option for women. 
How Do You Style a Suede Moto Jacket?
A suede moto jacket can be styled in multiple ways. You can wear it over a white top and pleated skirt, or layer it over a tube top and palazzo. You can also try a maxi dress and a cropped suede moto jacket look. As suede is not as heavy as leather, you can use it to create classy fall and spring outfits.
Will Moto Jackets Go Out of Style?
Moto jackets have passed the test of time and are trending even after a century. Due to its stylish cut and versatility, the moto jacket will always remain in fashion, so investing in a good quality one is a sensible choice.
Conclusion
Summarizing our tell-all on what is a moto jacket, we can say that it is a cornerstone wardrobe essential. It has its place in women's fashion and dominated the arena in comparison to other fabric jackets. To get on board with your sleek biker jacket, buy a jacket that goes with a variety of your wardrobe.