A motorcycle jacket is an essential part of a man's wardrobe. Whether or not you consider yourself to be outgoing and adventurous, you need to invest in the best motorcycle jacket. But where do you get the best motorcycle jackets from? How do you decide the color and how much variety can you expect from the spectrum of motorcycle jackets? So many questions, let's counter them all.
The Jacket Maker is known for aboding a wide assortment of best leather motorcycle jackets that meet the quality criteria from every angle. All of the men's motorcycle jackets are constructed with full grain leather; adding durability and strength to the outerwear for a longer life. 
What To Expect In This Article?
Motorcycle Jackets Vs Other Types of Jackets
If you are relatively new to the world of leather jacket, you must first understand the difference between biker and bomber jackets because that would tremendously help you in understanding the importance of their design and construction; for buying the best leather jacket you can in your first attempt.
What do you expect from men's motorcycle riding jackets? If it's a café racer, you expect the statement banded collar. From a double rider jacket, you want a large notch collar, sometimes with shoulder epaulets. In addition, for tighter grip and fitting, you also expect zipper closure and cuffs There are actually several more differences between a double rider and café racer jacket, but the collar style is the most crucial and dominant one.
The Jacket Maker Is A One-Stop Solution For The Best Motorcycle Riding Jackets for Men
The Jacket Maker focuses on bringing to you fashionable riding jackets for men. Instead of focusing on the protection of the jackets, The Jacket Maker has produced a collection that is fashionable, androgynous and uber cool. Let's face it, you can either elevate the aesthetics of an outerwear or create an average-looking jacket that ensures safety.
A motorcycle jacket brand that directs its effort in creating men's riding jackets that will be the highlight of their next road trip and other glorious days to remember. The best moto jackets are modeled according to the contemporary fashion trends and they come in various designs and finishes.
Motorcycle riding jackets made from suede could be worn on semi-formal occasions meanwhile a distressed leather biker jacket would suit your adventures and casual trips.
Buy men's riding jackets from The Jacket as you will find several versatile pieces that are available at a much lower cost than the usual market price; and it's made possible by cutting down the price of the middlemen, instead of compromising on the quality of material and craftsmanship.
The Best Leather Motorcycle Jackets for Men 2023
Whether you are looking for a fall motorcycle jacket to buy this season or you want to explore and experiment with your style with the best adventurous motorcycle jackets, this list has something for you. Made from sheepskin, cowhide, goatskin leather and much more, here are the best motorbike jackets that you should consider buying today!
Allaric Alley Mocha Suede Biker Jacket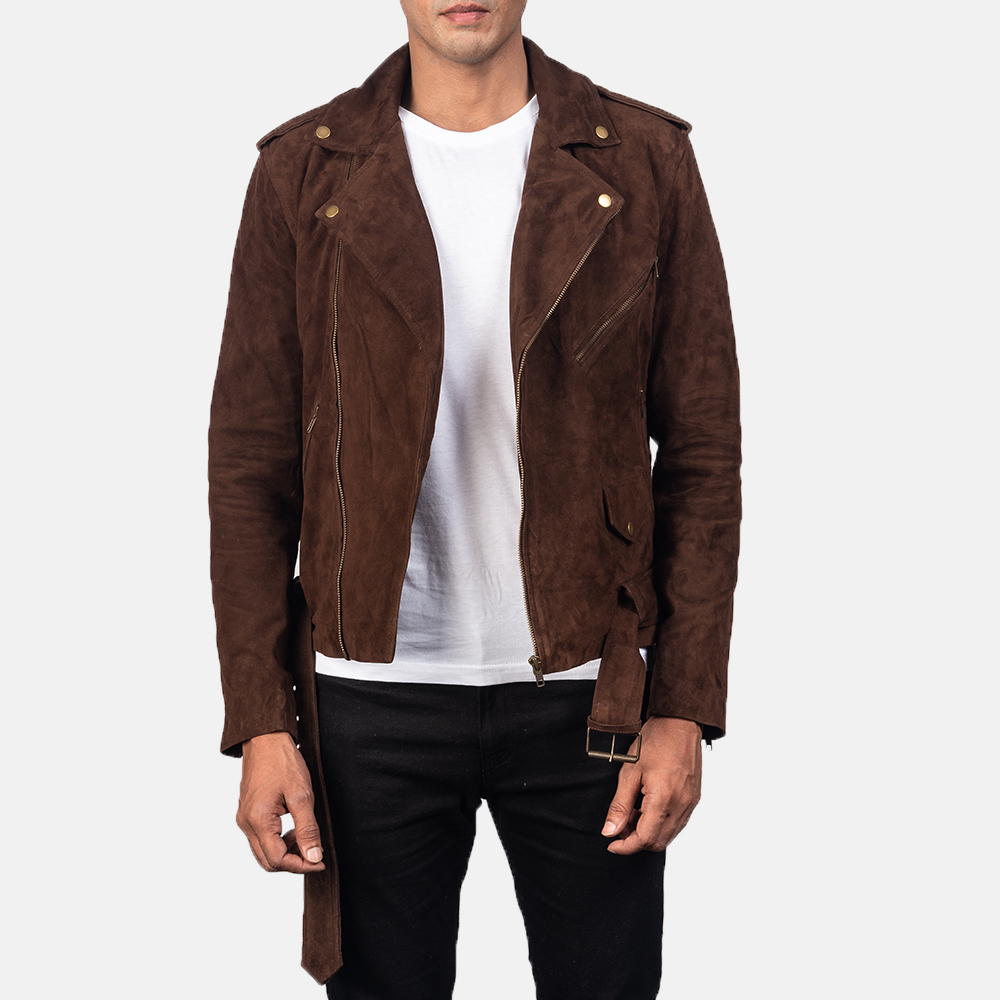 An elegant suede biker number, this biker jacket is made from real goatskin leather and completed with a suede finish. The quilted viscose lining adds a layer of comfort to the outerwear.
You want to buy this fashionable mocha suede biker jacket because of the highly aesthetic design; zipper and waist belt closure combined with a notch collar elevate the look of the jacket. Although you can find this leather jacket in other shades of brown, the mocha tone is uniquely understated and brings a sense of warmth and balance to your outfits.
Allaric Alley Distressed Brown Leather Biker Jacket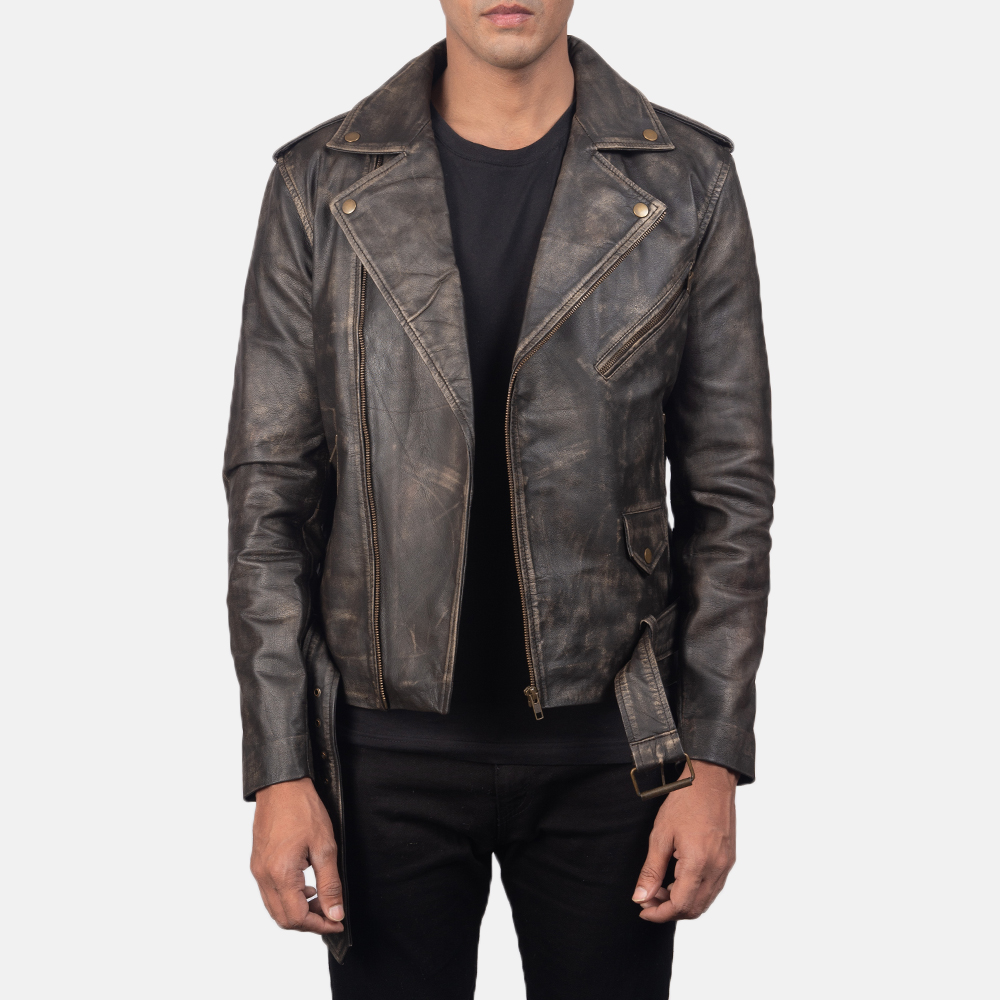 If you want to create a look that is rugged (stating you are ready to get down and dirty with no holds barred) this is the leather number that should be in your cart. The distressed finish is achieved by default all thanks to the use of a rub-off finish on goatskin leather.
Extremely durable and long-lasting, this motorcycle jacket is made from full grain leather It has a flamboyant style; zipper closure with a waist belt for tightening or loosening the jacket for a more relaxed but fit look. Completed with a notch collar and a zipper cuff style, this distressed brown leather biker jacket is a must have.
Allaric Alley Black Leather Biker Jacket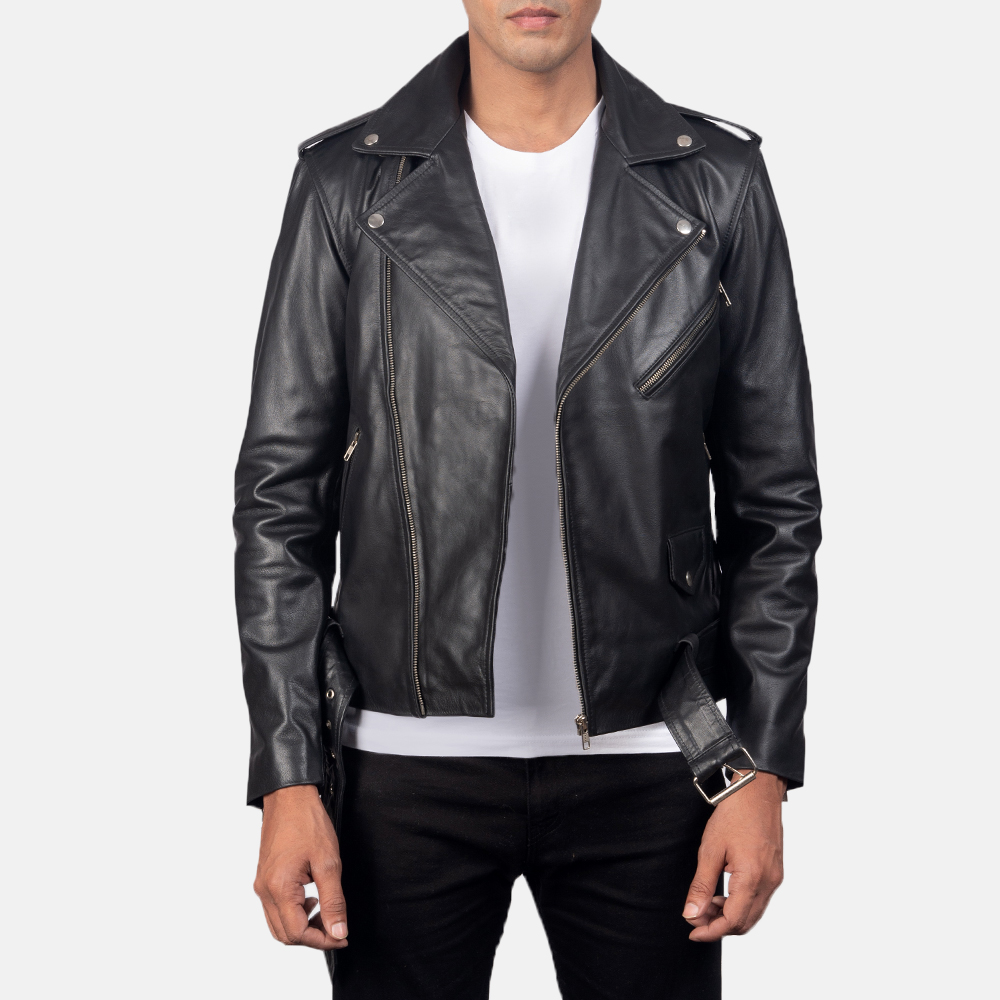 If you are going for a timeless, contemporary look, get yourself a black leather biker jacket. Meticulously constructed with full-grain cowhide leather and completed with semi-aniline finish, this black leather outerwear is absolutely stunning to look at.
You will find the usual zipper closure that is elevated with the waist belt and notch collar. The jacket is installed with massive storage as there are three external and two internal pockets. The jacket is fused with quilted viscose lining that makes it supremely breathable and comfortable at the same time.
Noah Brown Leather Biker Jacket
Made from real sheepskin leather, this motorcycle jacket is for men with suave and a natural swagger. A classy leather jacket with quilted viscose lining, functioning as a comfort extension. This brown motorcycle jacket has a semi-aniline finish that gives it gloss without losing the matte appearance.
There is a notch collar that is completed with zipper closure and cuff style to give you a motorbike jacket that is uber cool; becoming the ultimate choice for laidback men with an elevated style.
Armand Green Suede Biker Jacket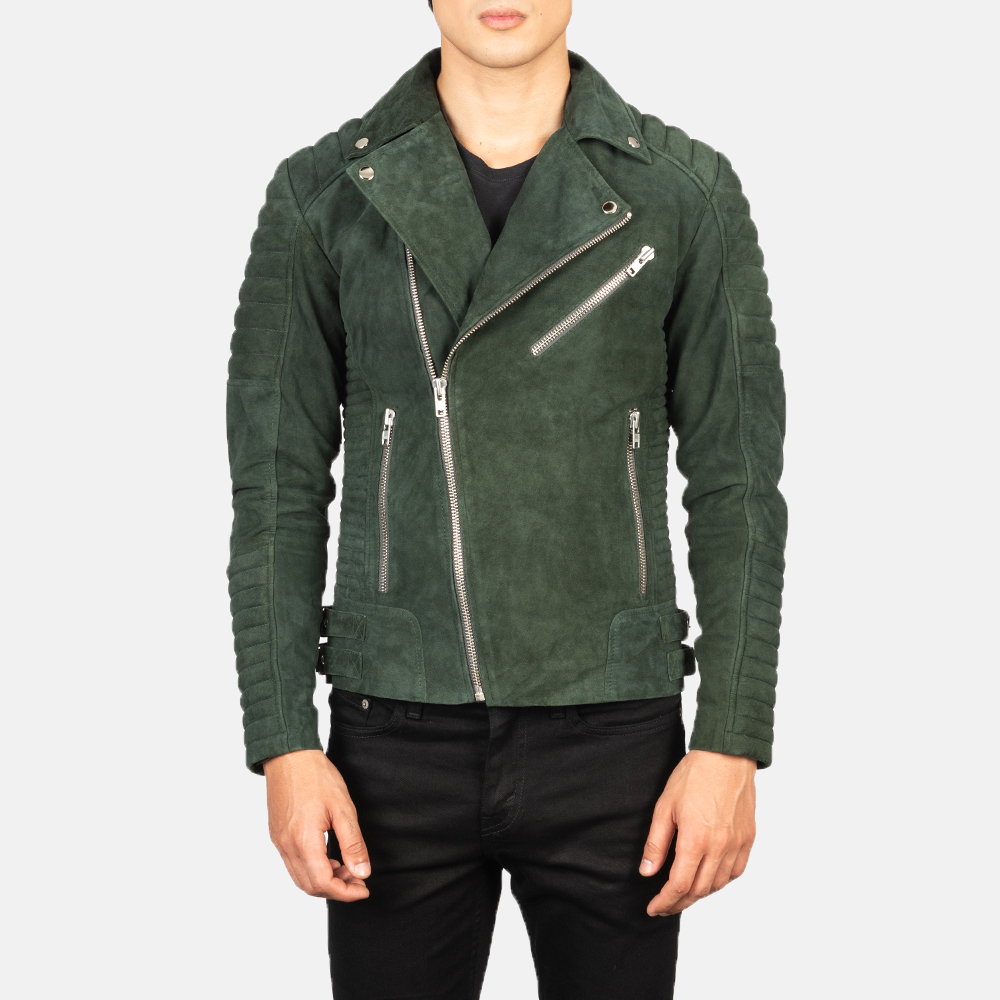 The Armand green suede is a contemporary model that is perfect for anybody looking for a flamboyant but a decent leather jacket. Supremely durable, this riding jacket is made from full grain goatskin leather and completed with a suede finish.
The notch collar style is further elevated with the inculcation of accordion side panels and waist adjustment straps. The comfort is given importance as the jacket is given quilted viscose lining along with zipper closure and cuff style.
Alberto Shearling Brown Leather Jacket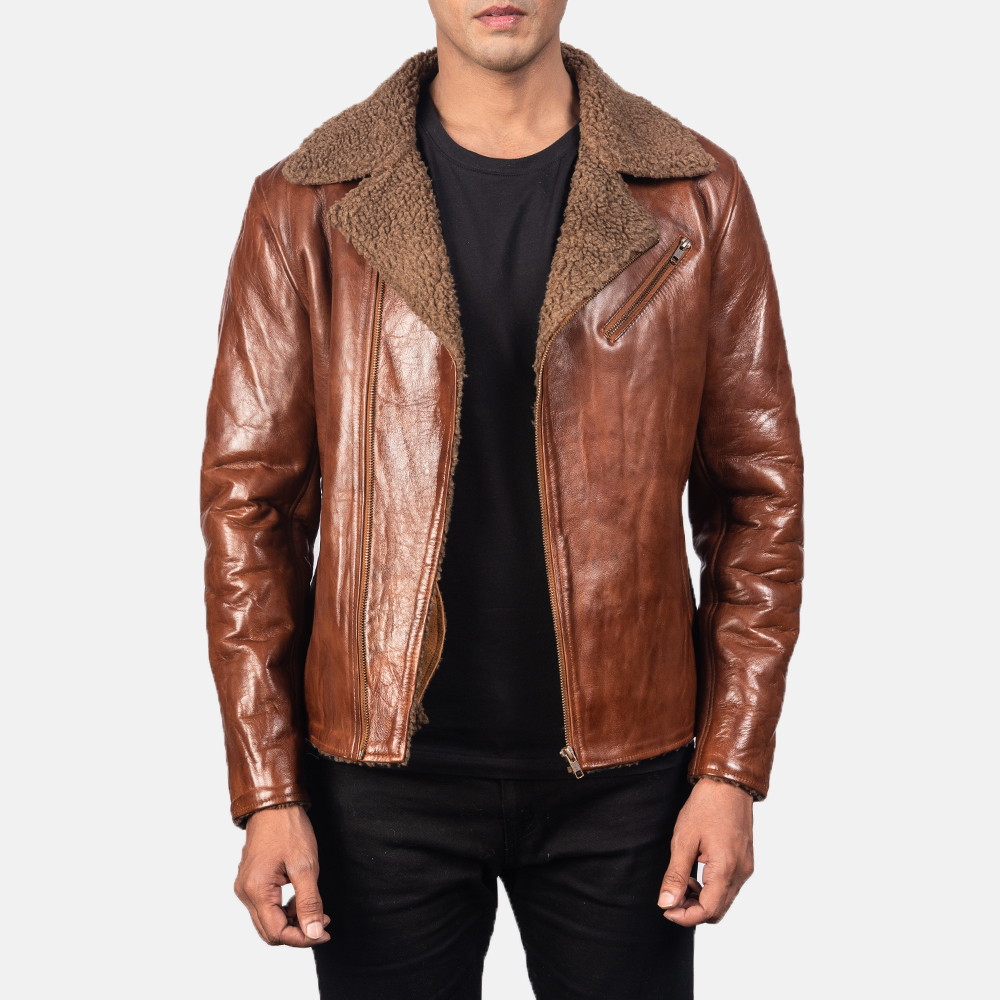 A timeless motorcycle jacket that is made from sheepskin leather. The matte appearance of this leather outerwear is given a balanced glossy look by the application of semi-aniline finish. It is fully lined with faux fur to give you a jacket that feels like a warm hug.
There's enough storage installed for you to carry around the basics; three external pockets. The brown color gives you a slight worn out look that is really fashionable and trendy in 2023. Make sure you add this classy and functional leather motorcycle jacket to your cart.
Vincent Brown Leather Biker Jacket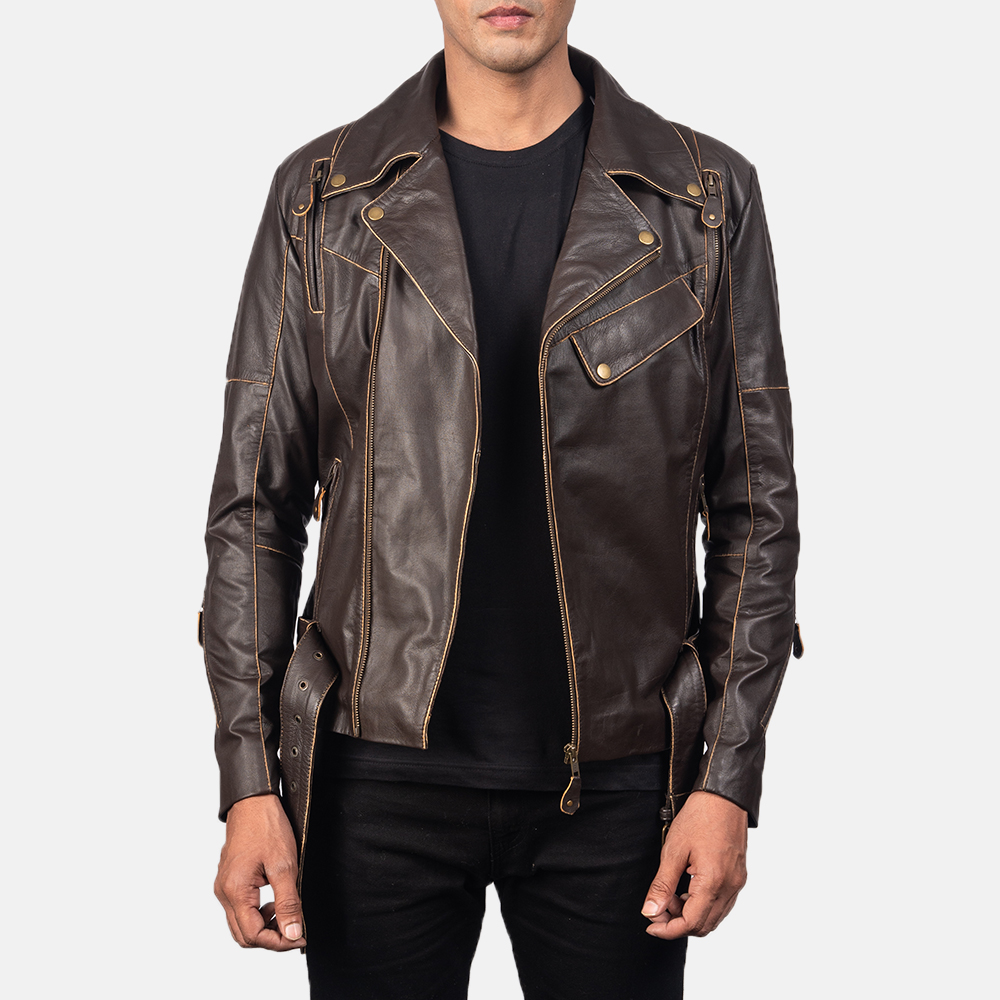 The classy combination of goatskin leather and rub-off finish is reintegrated in this brown leather biker jacket. It has a dusty, worn out appeal that is creating a buzz in the fashion world in 2023. You will especially love the functionalities that are enhanced by the features and design of this jacket.
You have the staple notch collar with zipper closure. The most unique feature of this leather outerwear is the construction of six air vents – giving the wearer ample room to move around and breathe.
Furton Brown Leather Biker Jacket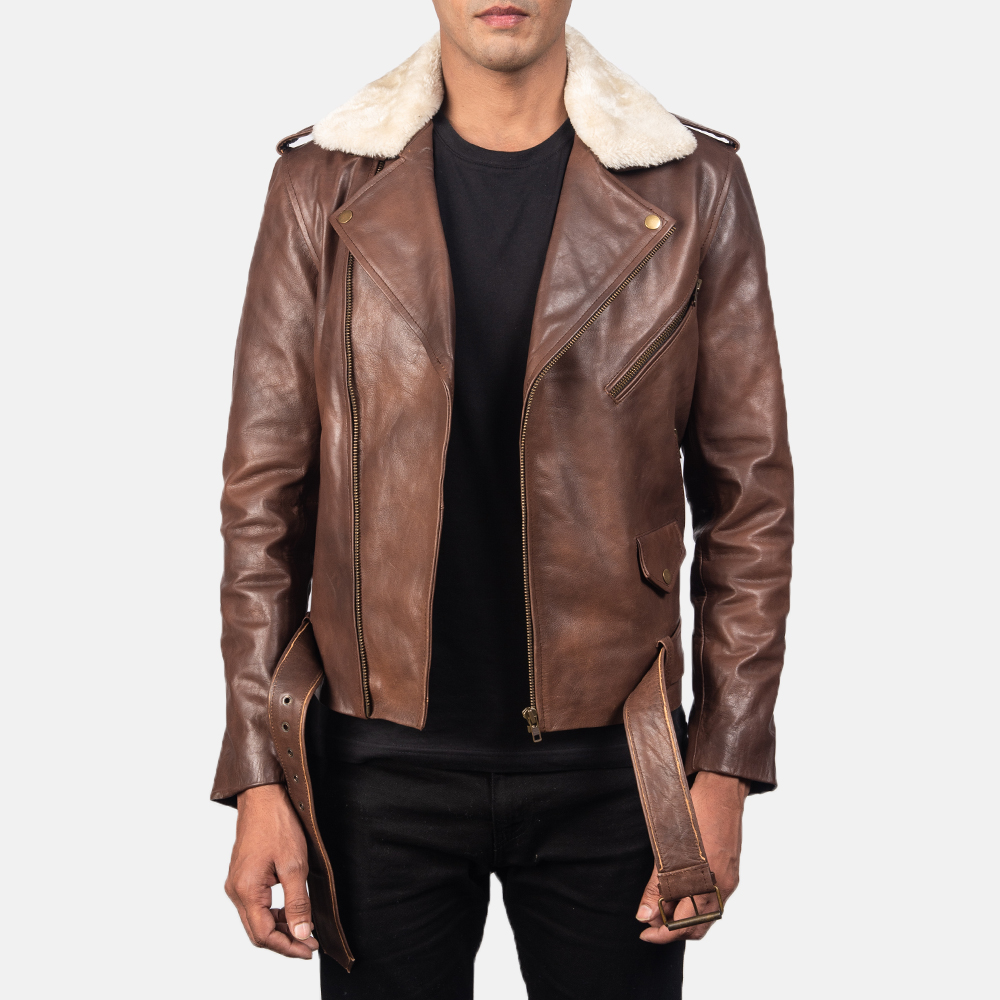 Available in four different colors, this brown leather biker jacket is made from cowhide leather and is completed with pull-up finish. The combination of pull up finish with cowhide is supreme by all standards; giving you a glossy jacket that is durable and doesn't lose its edge so easily.
The notch collar is installed with removable fur and there's a zipper with a waist belt. There are five pockets in total giving you ample space and storage.
Furton Distressed Black Leather Biker Jacket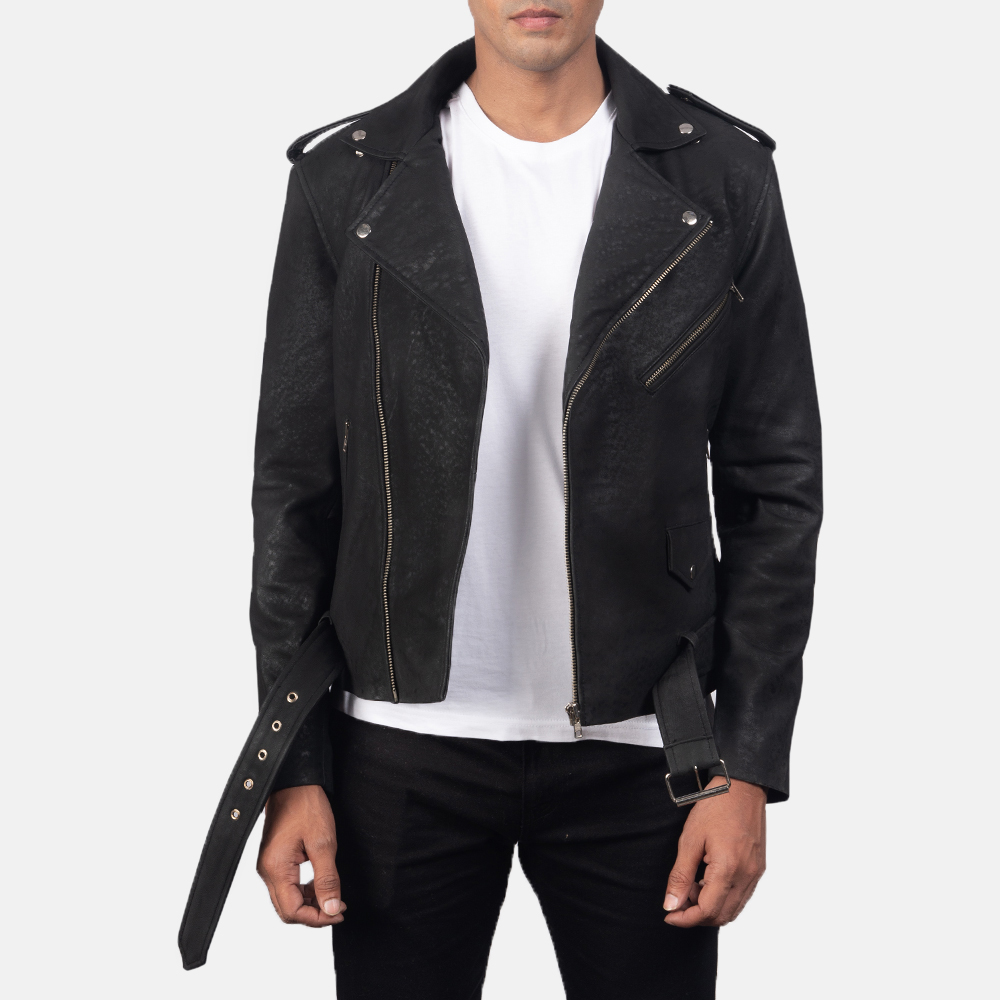 An uber cool, understated leather outerwear that is going to be a stunning addition to your wardrobe. Opt for this sheepskin leather jacket that is completed with a semi-aniline finish. You can wear this flamboyant style that is highly functional and trendy.
There is a notch collar with removable fur in the same color; adding dimension to an otherwise dull theme. There is zipper closure and waist belt to adjust according to your measurements..
Vincent Black Leather Biker Jacket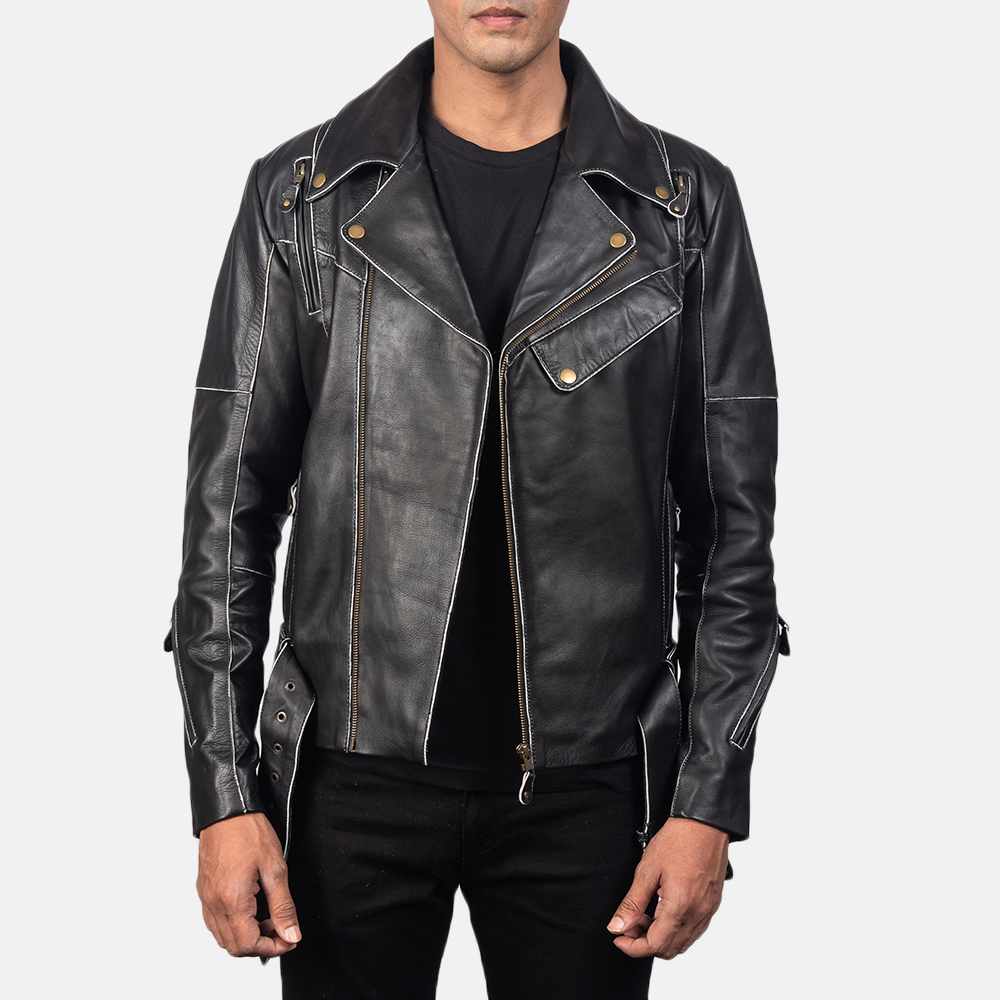 If you are looking for the best moto jackets, you just can't afford to miss this black leather biker jacket. It has a zipper closure and cuff style that is pretty standard for any biker outerwear. However, this one comes with six air vents for added breathability and comfort.
Constructed meticulously with cowhide leather, this distressed black number has quilted viscose lining, too.
Danny Quilted Black Leather Biker Jacket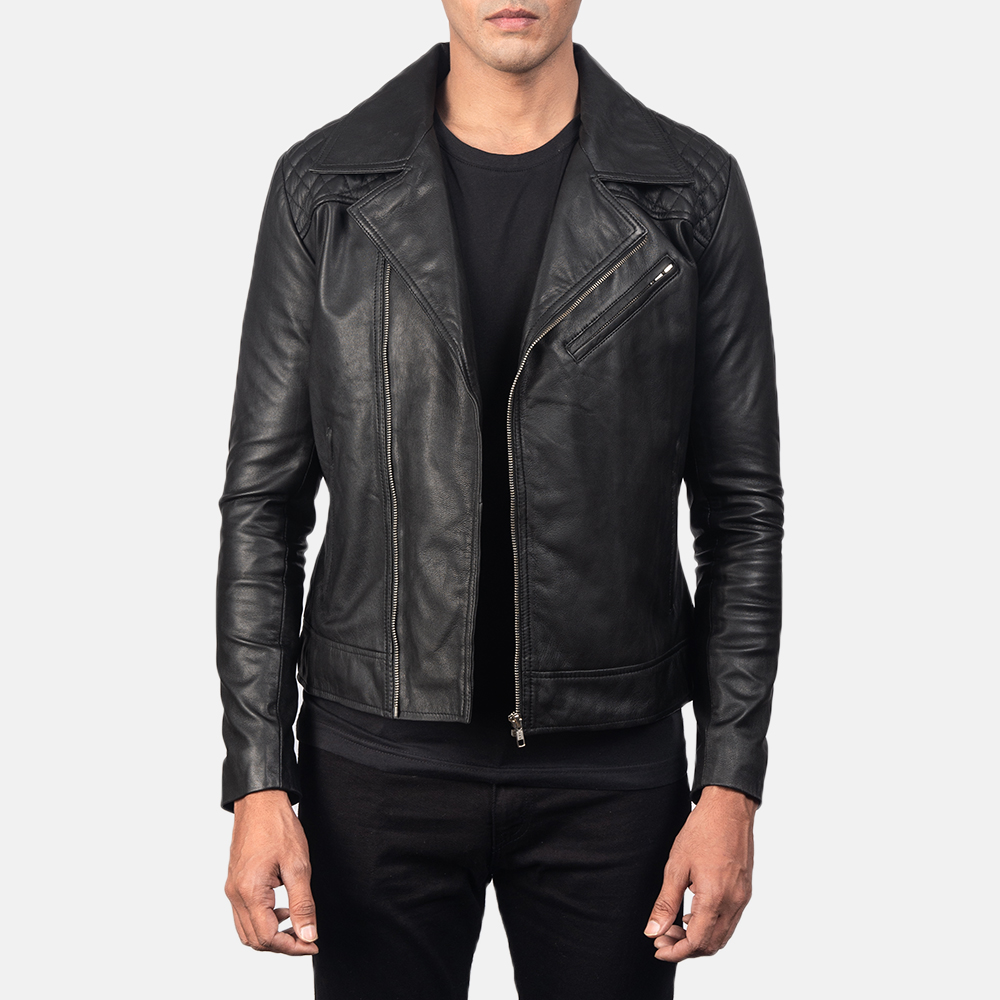 Do you know that motorcycle jackets as men's gifts are the ultimate surprise you can give? Gift your boyfriend, brother or even a friend with this goatskin semi-aniline leather motorcycle jacket. It's got a unique texture that is pleasing to the eye and supple in touch.
Instilled with quilted viscose lining, this one has all the trademarks of a motorcycle jacket; notch collar, zipper closure and zipper cuffs.
Conclusion
We, at The Jacket Maker, produce leather jackets that are designed keeping in mind the necessity of functionality and aesthetics. We have motorcycle jackets for men that are highly fashionable and up with the modern trends.
You can even check out the list of our best motorcycle jackets for women. Don't put this task for tomorrow and add your favorite motorcycle jacket for men from the aforementioned list in your purchase cart!