Leather jackets are aesthetically pleasing and are classic outerwear pieces that have been used since early times. There are many types of Leather Jackets, including the softest of the lot i.e. suede jackets. Fusing the softness of suede with the rugged look of a moto biker jacket, you get the suede moto biker jackets that is a perfect balance of the two.
However, before you jump on styling a jacket, you should pick the type of suede jacket that suits your personality. The Jacket Maker offers a great variety of suede moto jackets that you can choose from and add to your wardrobe. Read on further for all the mod men's suede jackets we have in store for you all. 
1. Armand Mocha Suede Moto Biker Jacket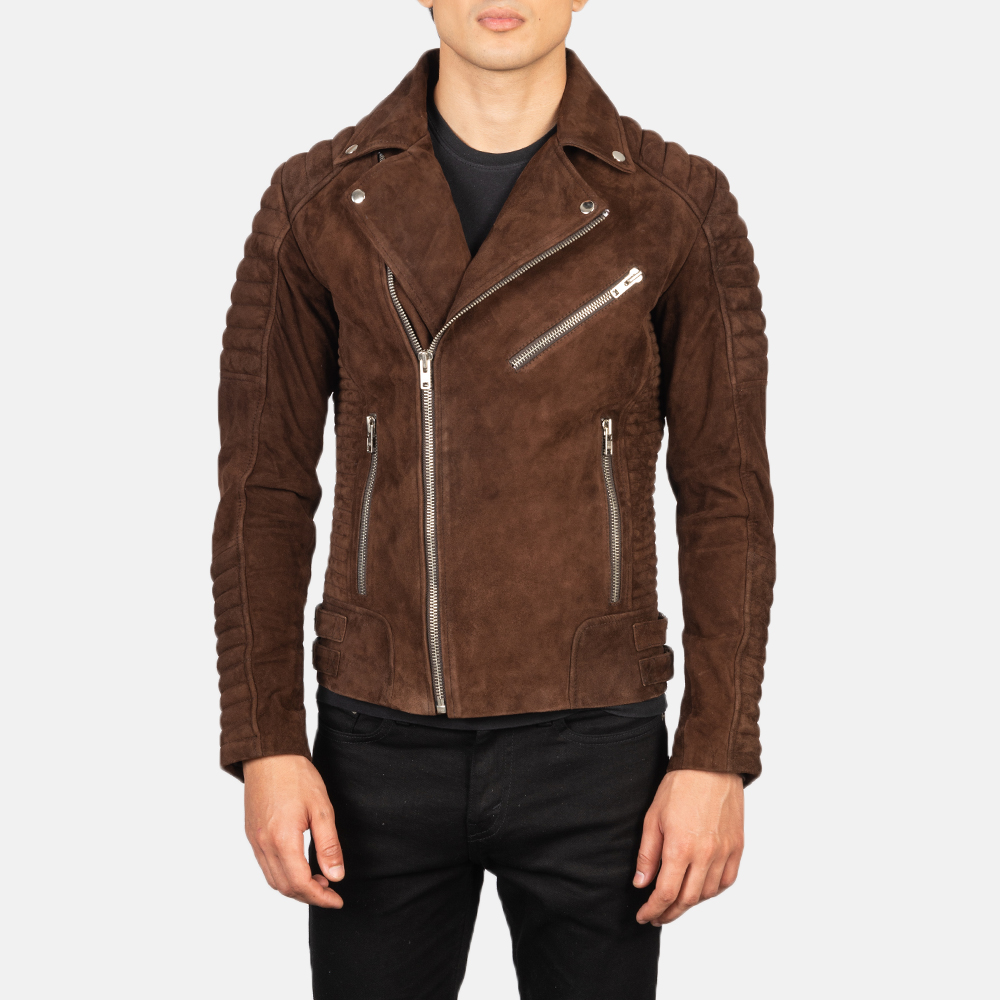 The Armand Mocha is a suede moto biker jacket that gives an edgy look to the wearer. It is made out of real leather, and goatskin and is given a suede finish. This brown suede moto jacket comes in a pointed notch collar and straight sleeves. This beauty also consists of three outer pockets that enhance its look further. If you are choosing this jacket, it surely is going to change the dimension of your whole look.   
2. Charcoal Black Suede Moto Biker Jacket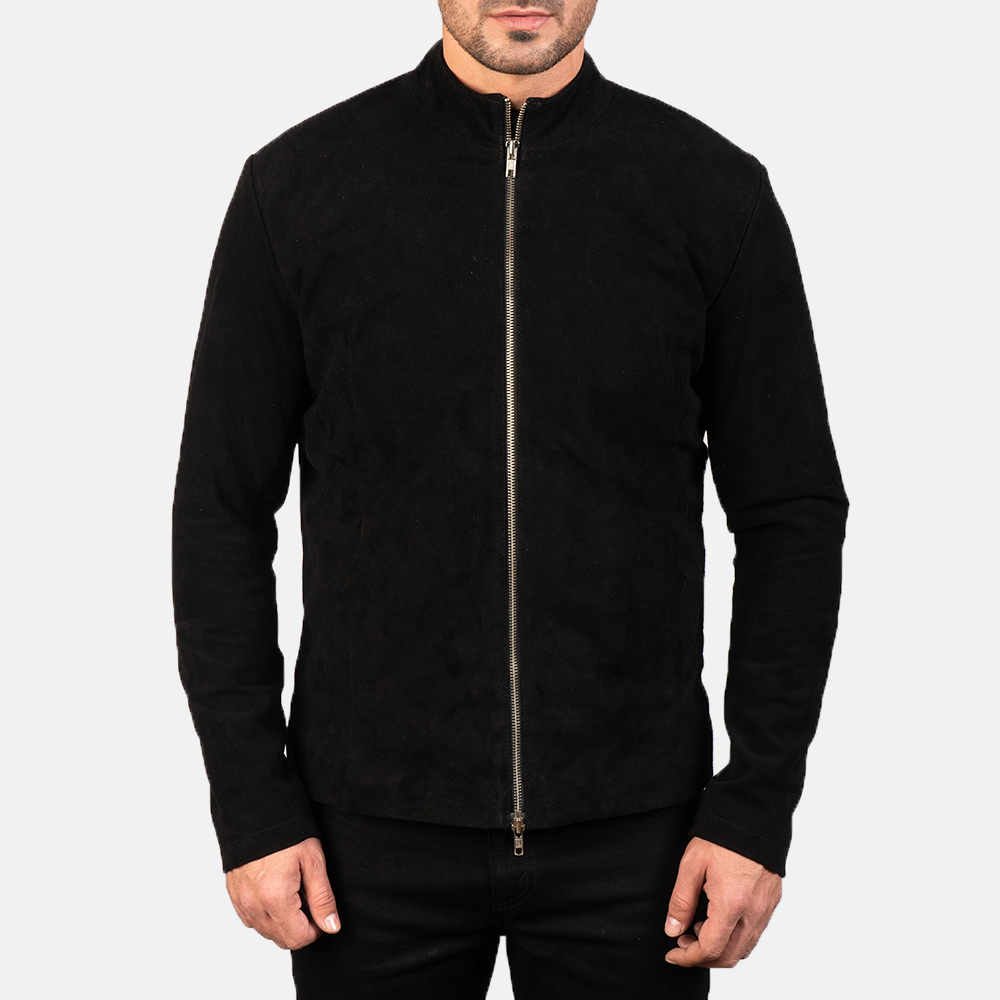 This Charcoal Black Suede Biker Jacket is simply classic and is in the shade that everybody craves to buy. It is made out of real leather, a goatskin that has a suede finish. It has a mandarin collar with a dual puller zipper. The whole look of this black suede moto jacket is enough to attract people as it is really classy. If you are picking a suede jacket outfit Armanda Mocha is going to be the right pick.   
3. Allaric Alley Mocha Suede Moto Biker Jacket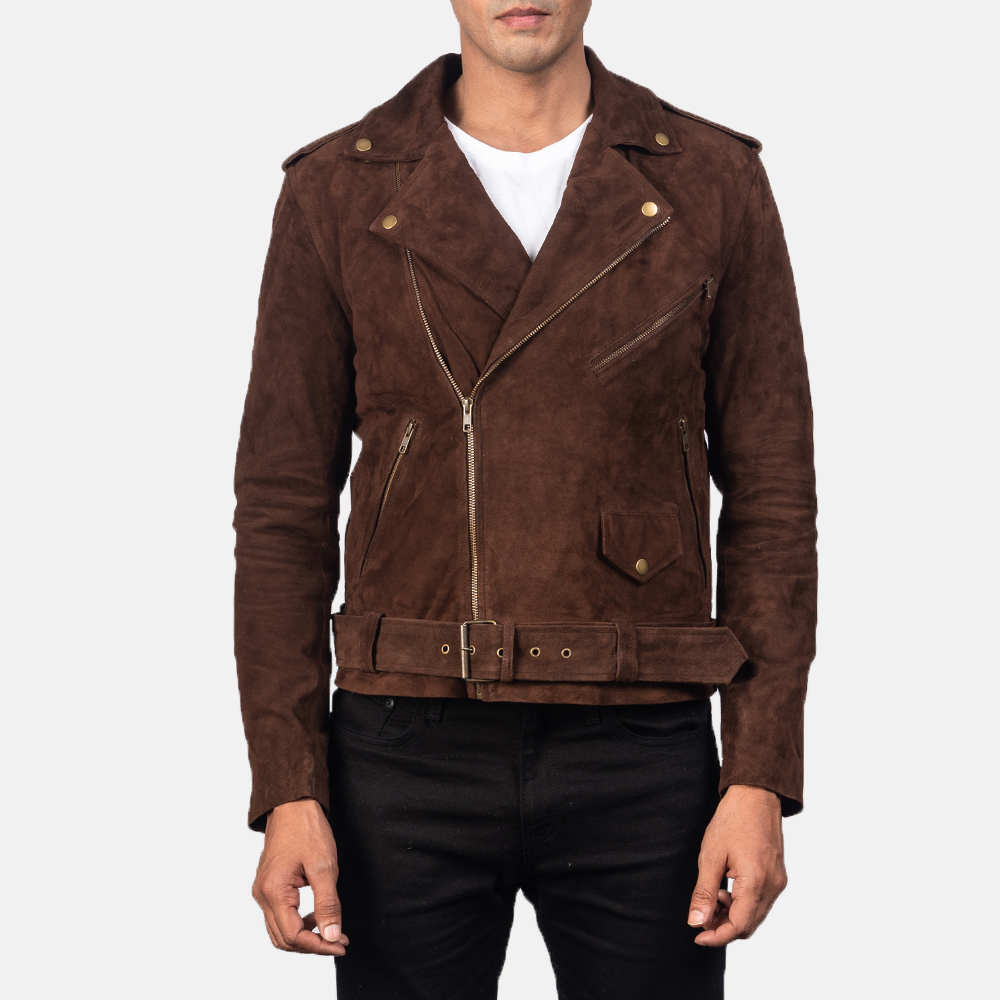 The Allaric Alley Mocha Suede Biker Jacket is a detailed jacket that is loved by men who are looking for something rugged. With the matte suede surface, the Allaric Alley Mocha has a zipper with a waist belt and a studded, pointed notch collar. The three pockets on the sides of the jacket make this suede moto biker jacket more attractive. It is perfect to be worn with any outfit.      
4. Damian Grey Suede Moto Biker Jacket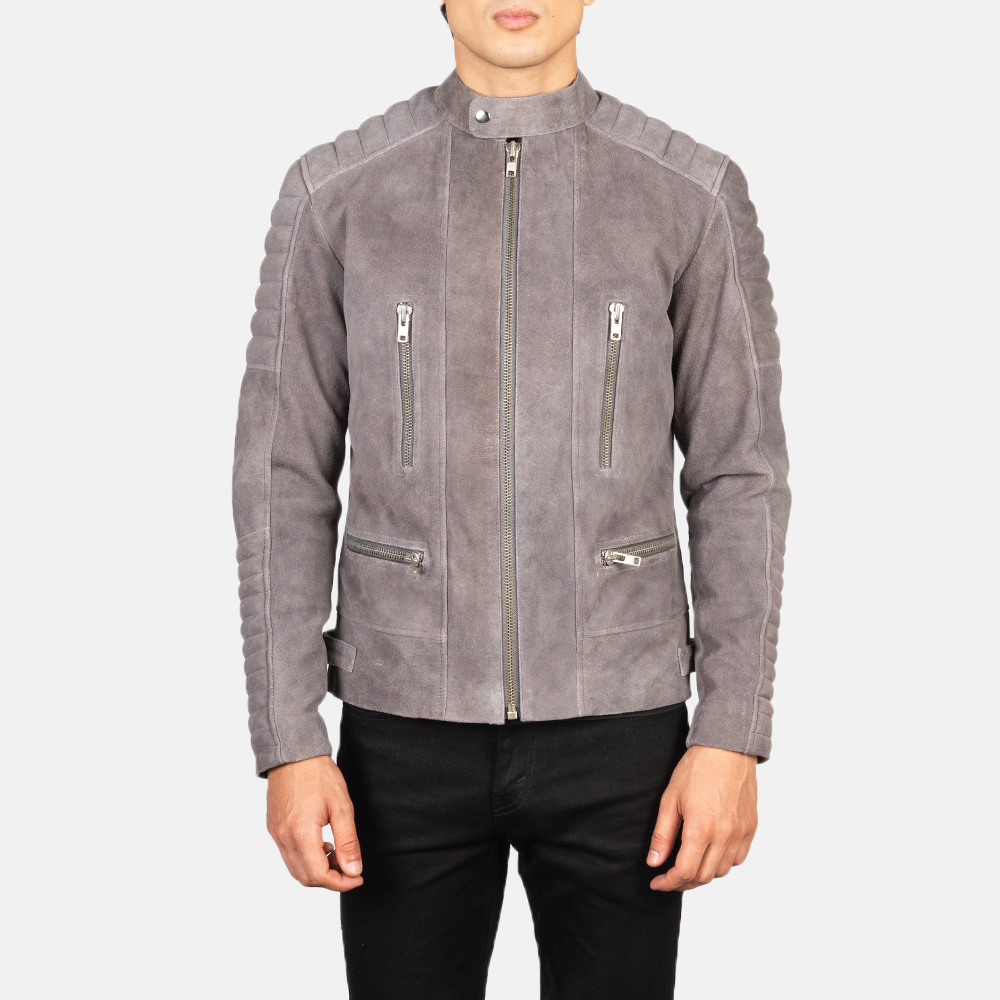 The Damian Grey Suede Biker Jacket, by its name, tells us about the tame grey look it has. Made out and finished in suede leather, it is extremely modern and trendy due to its color and cut. This grey suede jacket for men has four outside pockets and a band collar with a snap button. The Damian Grey suede is great for a night party as both the color and the style stand out pretty well.    
5. Blain Mocha Suede Moto Biker Jacket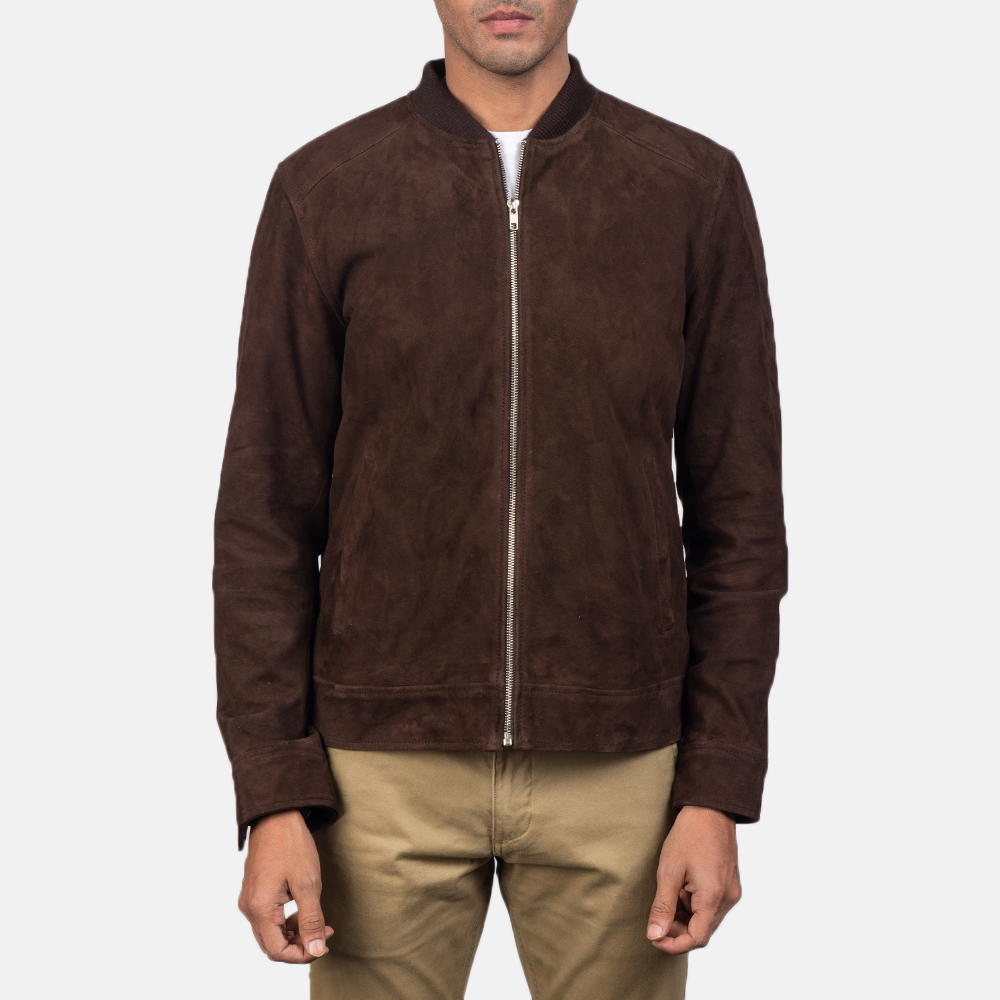 The Blain Mocha is an imitation of your usual bomber jacket which has been taken up to the very next level. Made out of fine suede bearing the perfect fitting, the Blain Mocha can be worn any time. Even if you are going out for running daily errands, you can still wear it with your casual outfit. It has the usual knit rib collar and unique snap button cuffs which distinguishes this suede bomber jacket from the others.
6. Fernando Quilted Green Suede Moto Biker Jacket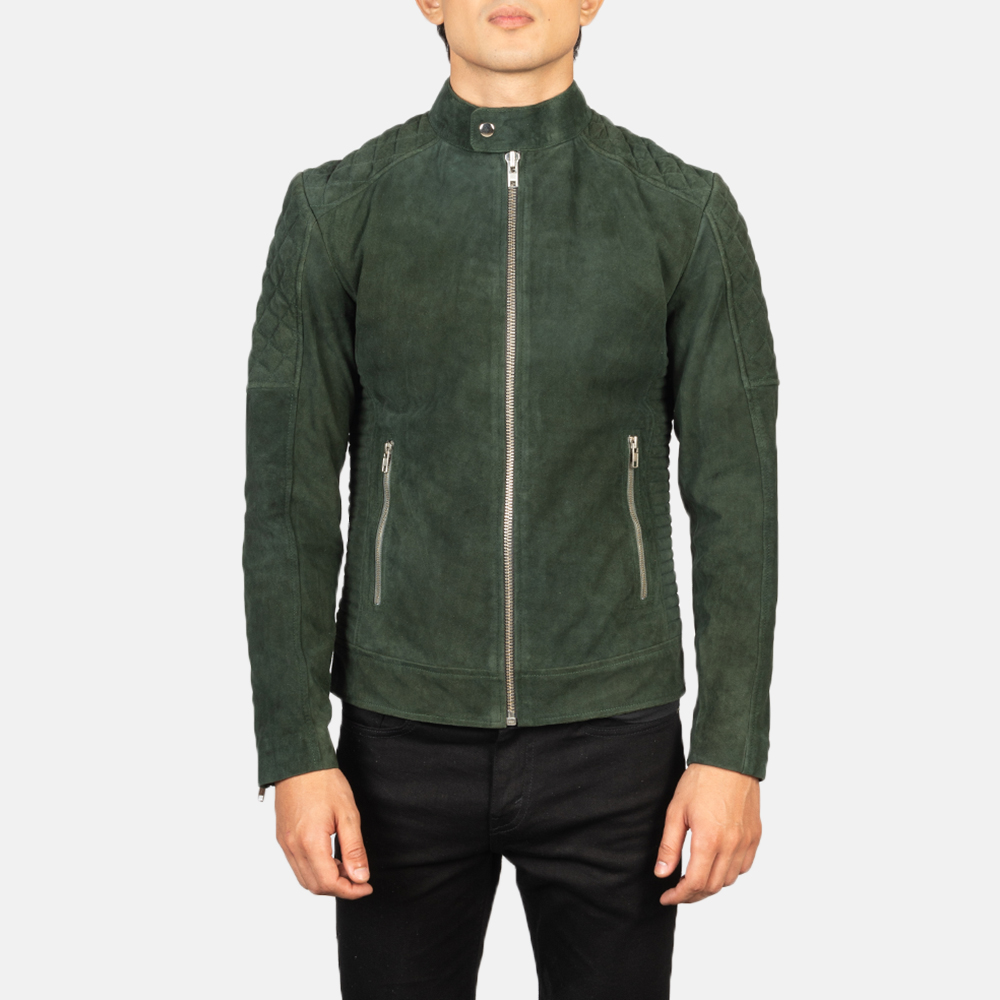 This Fernando Quilted Green Suede Biker Jacket is a twist to a classic biker jacket. The real suede leather does give it uniqueness. On the other hand, it is not just about the smart, sleek cut, it is also about the unique color. This green suede cannot be seen worn by people usually, thus it is surely going to help you stand out of the crowd. A band snap collar and distinctive zipper style cuffs give the Fernando Green a dapper look on its own. You can style it over a single-colored outfit, preferably black for it to be highlighted on a broader scale.
7. Furton Mocha Suede Moto Biker Jacket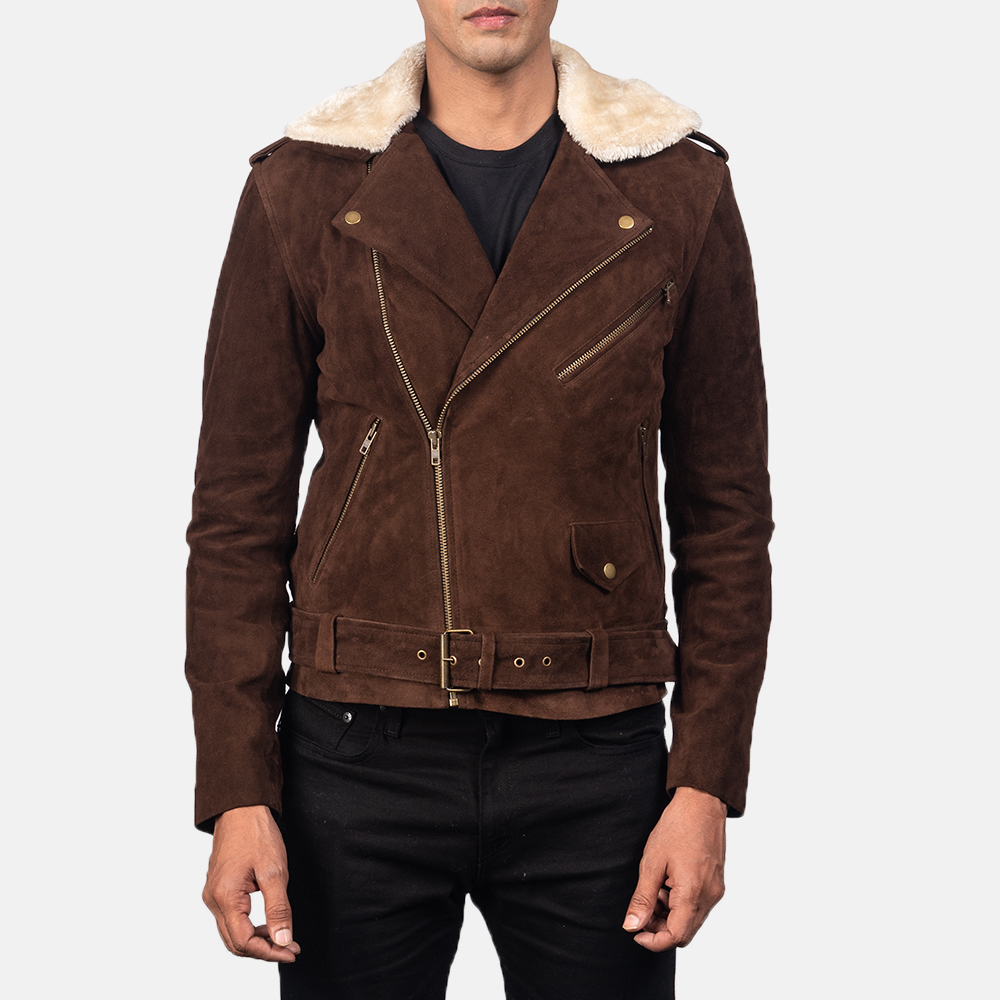 The Furton Mocha Suede Biker Jacket is carved out of real leather and then given a suede finish. It is a sleek cut that fits exactly the way you want, with the zipper and the waist belt given. However, most people are attracted to its type of collar. The Furton Mocha has a notched collar that comes with removable fur. This suede leather jacket is perfect outerwear in winter when you want to look your best but are not willing to layer a lot up. Furton Mocha is going to make you look classy and keep you warm at the same time.  
8. Faisor Mocha Suede Moto Biker Jacket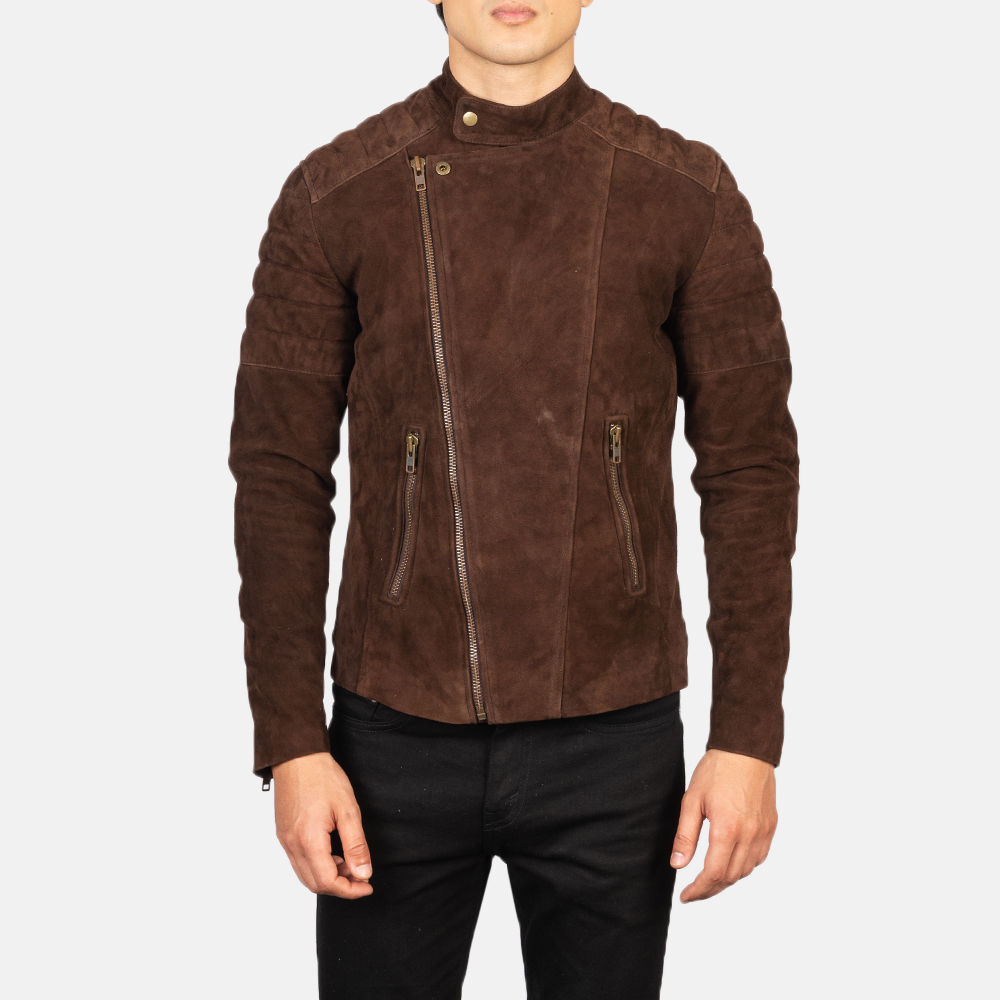 The Faisor Mocha Suede Biker Jacket tends to maintain the class of men's outerwear as it has an eccentric look to it. With the zipper closure and a collar with a band and snap buttons, by closing the front your look completely changes. On the other hand, if you unzip and undo your snap buttons you are going to have a completely different outfit representation. It really means that you can dress this masterpiece in many different ways. 
9. Armand Green Suede Moto Biker Jacket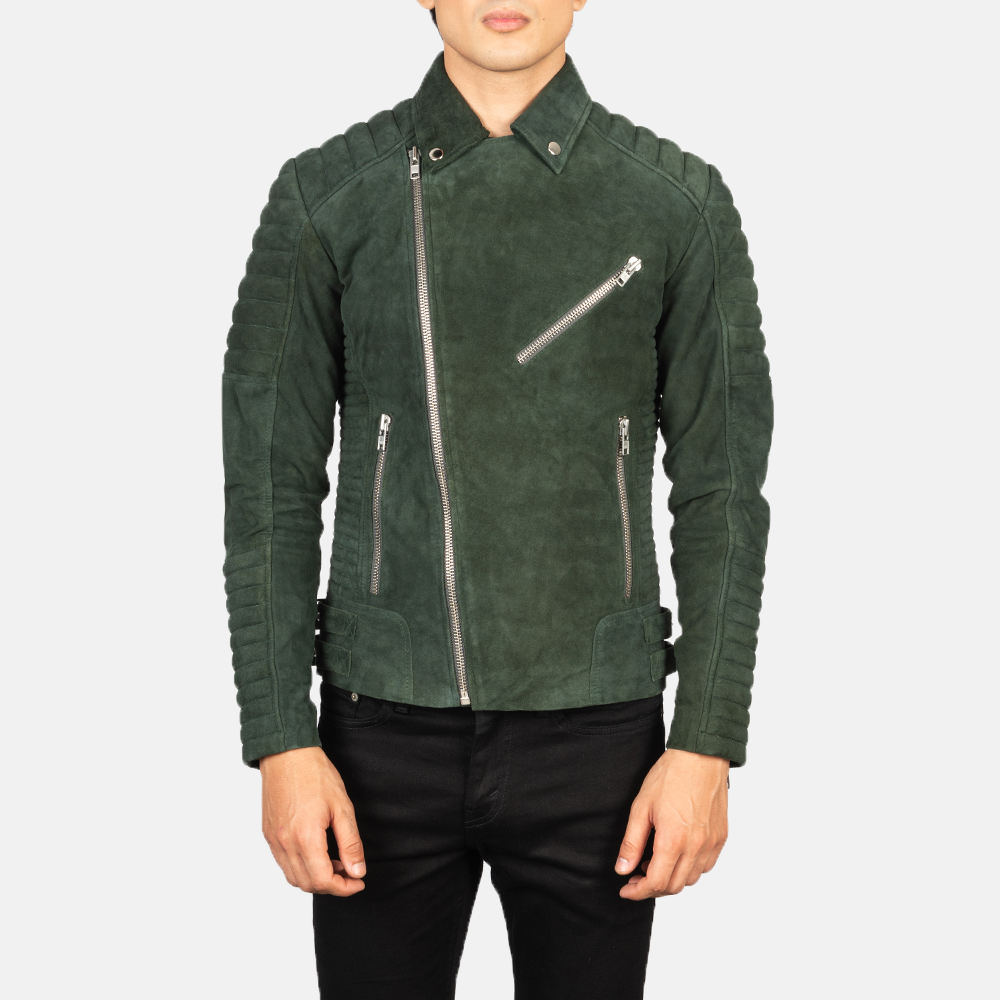 With suede moto jackets comes the very stylish, Armand Green Suede Biker Jacket, it surely imitates the closure look of the Faisor Mocha Suede Biker Jacket. However, the sleeves are designed differently with the quilted polyester lining. The green color in the suede leather jacket makes it stand out and it really looks suave. This green suede biker jacket is amazing for a night out with friends, and if you are a fashionista, why not wear it on a red carpet maybe?  
10. Damian Mocha Suede Moto Biker Jacket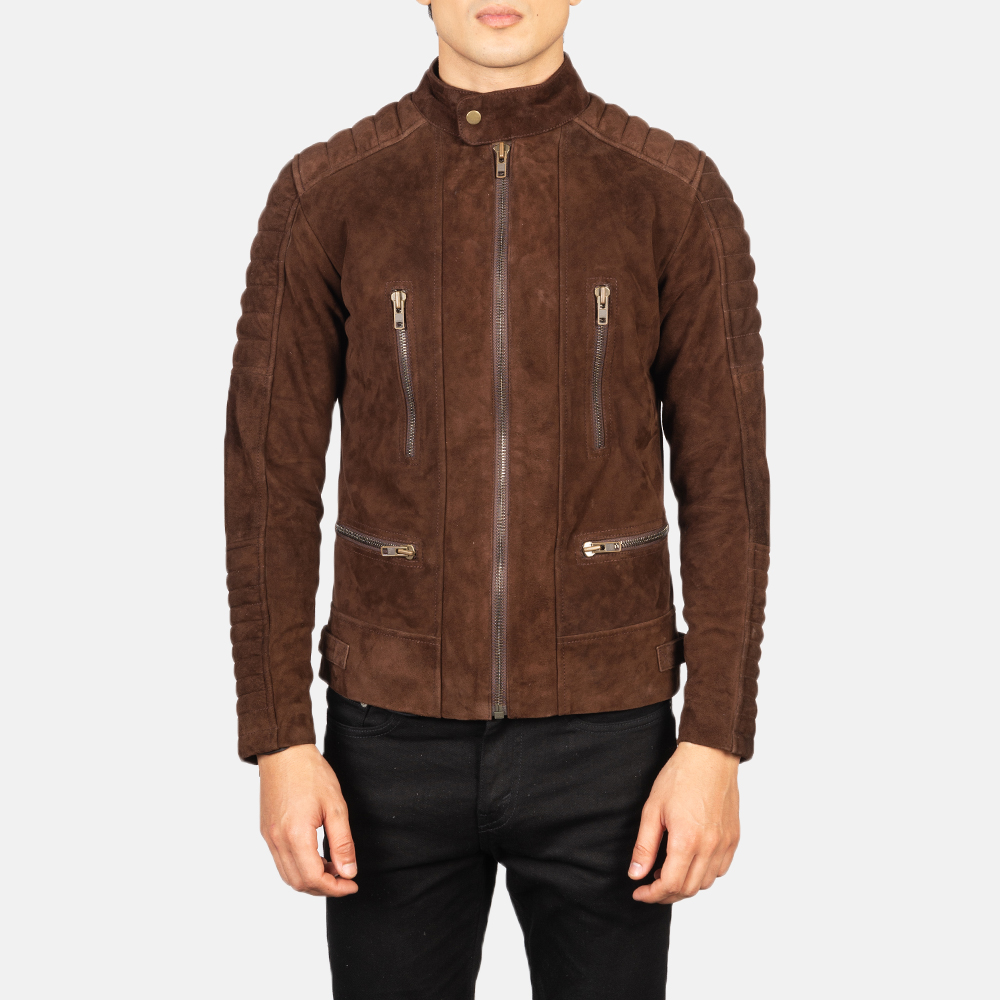 Another addition to the moto jacket suede list is the Damian Mocha Suede Biker Jacket. Made out of real leather and finished off with suede gives it a quintessential look. It is true that it is like the usual suede biker jackets, but what sets it apart is the Mocha color it owns. The outside pockets on either side of the jacket really make the jackets stand out too.     
11. Charcoal Navy Blue Suede Moto Biker Jacket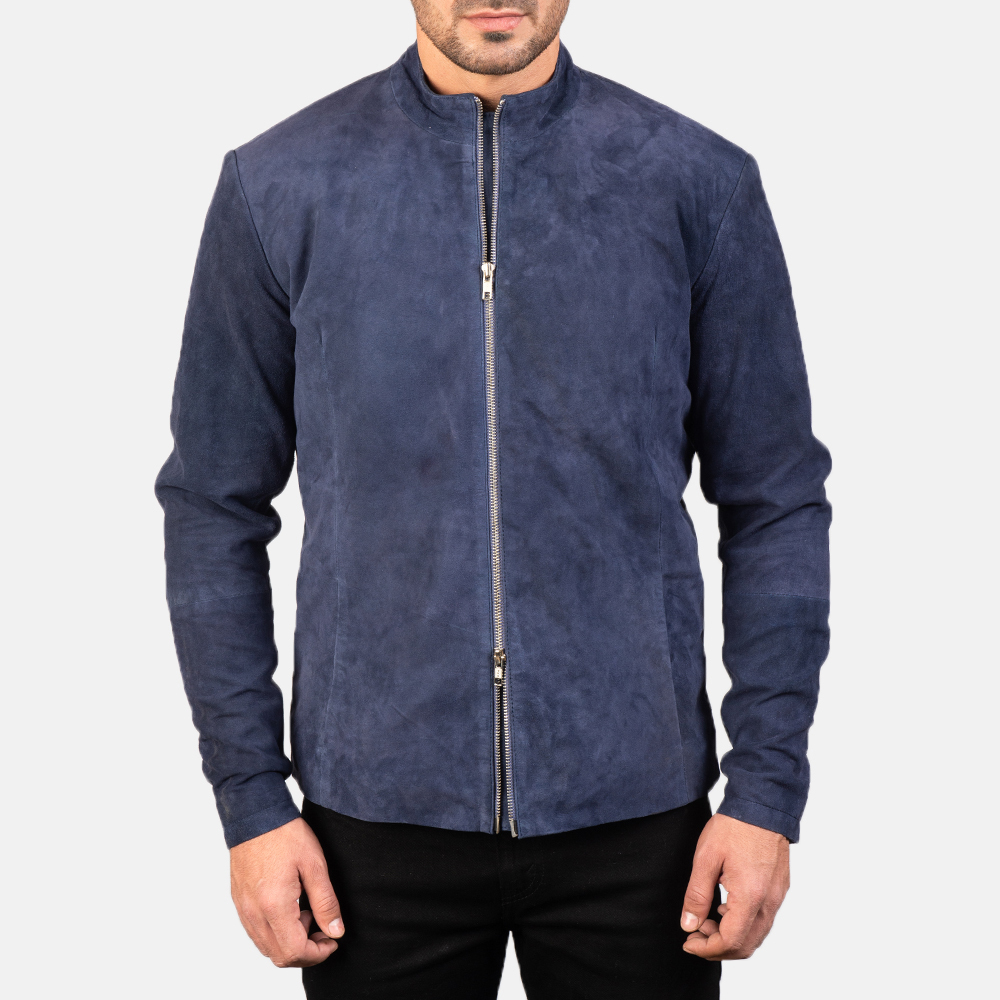 The Charcoal Navy Blue Suede Biker Jacket is loved by all due to to its intriguing color. Even though it has the same look and cut like the usual bomber jacket but the color sets it apart and makes people stand out. It is made out of leather and finished with suede. It has a zipper with a dual puller and a mandarin collar. It is the perfect outerwear to be worn at night parties as it is classy and makes you look like a stud.
Concluding Best Suede Moto Jackets
Well, this blog was all about the best suede moto jackets that one could possibly own. You can find all of these and more amazing styles on The Jacket Maker ranging from simplistic black suede biker jackets to suede biker jackets in vibrant colors with an opportunity to customize these ready-to-wear jackets as per your liking.
We bring you custom leather jackets with the widest range of customization options to give these jackets a personalized touch and whole another personality.
Alternatively, you can get your own suede moto jackets custom built from the ground up with each design element, color, leather, style, and everything in between and beyond to fill that suede spot in your closet with a piece that's uniquely yours.