Suede jackets are a timeless piece of fashion history worn by greats like Elvis Presley to Jakob Dylan. Leather outerwear aficionados all over the world have been wearing them since they became popular in the 1960s. But suede jackets are having a major moment this year and were an integral part of every popular fall-winter collection.
When it comes to styling, you can wear this versatile piece with many of your closet items—from denim and sweatpants to chinos and shorts. You can even dress it up with a great pair of dress pants. However, with all the varying fashion trends, it can become overwhelming how to wear it and what to wear it with.
If that sounds like you, consider this article a cheat sheet for how to wear a suede jacket and not look basic. We have curated some fantastic suede jacket outfits and ideas that will help you flaunt your suede outerwear in the most stylish way.
Suede Jackets- A Gem For Transitional Weather
Suede jackets are an excellent choice for transitioning from winter to spring. Many people tend to avoid traditional leather jackets in favor of lightweight pieces that aren't as heavy and warm. This is where the best suede jacket comes to the rescue. It can bridge the gap between seasons for you. Known for its light weightiness, softness, and napped finish, this is a great alternative option that is both functional and visually pleasing. Here's how to pull it off in style!
Deviate From The Classic Suede Hues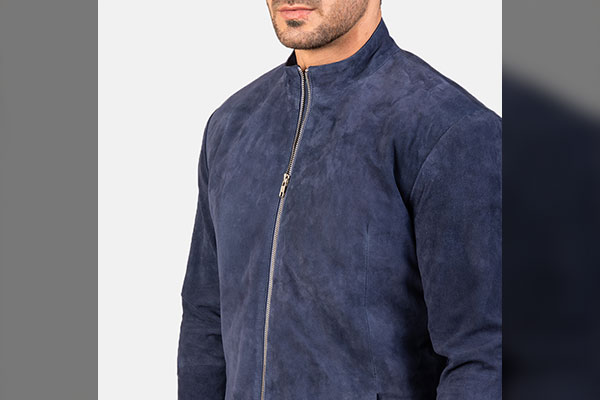 Imagine a suede jacket. What color is it? If you're picturing dark brown or tan, come out of your comfort zone and shake up your style a bit. Unconventional hues are the perfect way to force yourself out of the sartorial stalemate that winter has been forcing upon you for months now.
Today, suede jackets come in an assortment of colors. Think of it: pastels, bright hues, ombre finishes; the list goes on. There are hundreds of shades to choose from, and each one can be made to look truly unique by combining it with different colors and pieces.
For a suede jacket outfit that stands out just right and doesn't look too offbeat, you can get a suede jacket in navy blue color. Wear it over a light gray crew neck sweater in the spring, or you can opt for a cable knit one in peak winter to keep yourself warm.
To stay stylish and take this get up in the dressier direction, conclude it with beige dress pants and black leather Chelsea boots.
Go For A Tonal Outfit With A Classic Suede Jacket
Suede can be found in a variety of colors these days, including orange, olive green, pink, which will instantly add a pop of boldness to your outfit. However, if you love suede jacket outfits and want to don them every now, then sticking to the most classic shades like dark brown, tan, and mocha is probably a more rational choice.
Suede jackets in classic colors complement a variety of different shoes, pants, and more. Thus giving you more flexibility to include them frequently in your casual rotation. But this doesn't mean you can not think out of the box.
Why not combine it with an athleisure wardrobe staple, i.e., sweatpants in brown or tan color, to create a tonal outfit that's practical and stylish. For layering, you can team it with a hoodie in similar shades or simply wear a brown t-shirt.
Finish off this ensemble with brown low-top sneakers. This is an ultimate monochromatic brown suede jacket outfit men can add to their wardrobe for comfort and amping up their style game.
Enrich White Ensembles With A Dark Brown Suede Jacket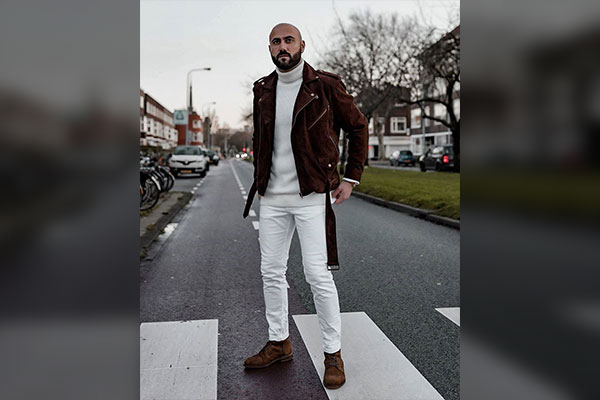 An all-white theme brings a sense of purity and cleanliness to your ensemble. It is generally considered to be a summer/spring thing, but you can definitely pull it off in the winters, too, with a slight twist. Introduce a suede jacket in a neutral color to the equation to freshen up your outfit.
A dark brown suede biker jacket, when paired with crisp white jeans, will look really awesome. To make this outfit more winterish, wear a knitted turtleneck in an off-white shade, or if you intend to rock this style in spring, a white crew-neck t-shirt will work pretty well too.
The choice of footwear here is crucial. For a sleek urban feel, round off this look with a pair of dark brown suede leather boots. Alternatively, you can achieve a pretty dope off-duty look by incorporating beige-colored slip-on sneakers.
Craft A Trendy Summer Outfit Fusing Suede Jackets & Shorts
From work to the weekend, suede jackets are versatile and can go from day to night with ease. They're one of the most functional fall and winter wardrobe items, but can you wear a suede jacket in summer?
Suede is thinner and less warm than any of the other leather types. So a suede jacket is undoubtedly one of those pieces that you don't have to put away with your winter clothes when the colder months end. But the summer is a time to dress with lightness and breeziness, and suede is still leather.
The key to getting it right and making a suede jacket seasonally appropriate is to pair it with items like shorts made from lighter weight fabrics like cotton, linen, or seersucker. In addition to this, you can opt for a suede jacket in lighter colors like nudes and pastels.
For a casual eye-catching outfit ideal for a summer road trip or an evening get-together, wear beige cotton chino shorts with a floral button-down shirt. The glue that holds this ensemble together will be a gray suede shirt jacket and tan canvas slip-on shoes.
Pair Suede Jackets With Plaid Pants For A Fun Feel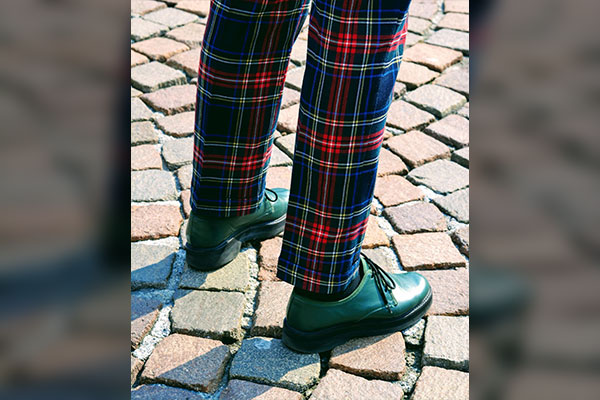 Plaid pants are an instant upgrade to your casualwear rotation and the perfect way to introduce a little bit of texture and color into your outfits. If all you have is denim in your bottom collection, this is something you need in your life.
From chinos to corduroys to denim, no matter what style of pants you prefer, there's a plaid option out there for you. As long as you know how to pair it with the right pieces like suede jackets, you will never make a style mistake.
You can use plaid pants and suede jackets to create both casual and formal outfits. Suiting up for work? Wear a dress shirt on a suede jacket with fewer details with sleek plaid pants. For a dressier aesthetic, finish this outfit with a pair of suede Chelsea boots.
The suede jacket & plaid pants combo works exceptionally well for a relaxed outing with friends or a punk rock party too. Pair your favorite tee with wide-leg plaid pants and a suede bomber jacket. Enhance the casualness and fun element of this ensemble by putting on a pair of sneakers.
FAQ's
What happens when a suede jacket gets wet?
Suede is a porous material and quickly absorbs water. When it becomes wet, it will surely get noticeable marks. Many claims that exposure to water can cause its color to fade, distort its texture and make it stiff. So a good rule of thumb is to keep a suede jacket away from water and wear something else in rainy conditions. It's just not worth the hassle of having to clean a suede jacket afterward.
When can you wear a suede leather jacket?
The suede jacket is one of the most versatile pieces of outerwear you can buy. They're supple, classy and stylish and you can wear them every season. Layer it up in peak winter for added warmth, and wear it over a cotton t-shirt in summer. Just avoid wearing it during the rainy season. This material is not water-resistant, so when caught in a downpour, your suede jacket is going to be soaked through.
Can you waterproof suede jacket?
Suede is a delicate material that requires a little more attention to keep it looking its best. A suede-specific waterproofing spray is an effective way to give your jacket a protective shell.
This will help repel stains, dirt, and build-up while also protecting your piece from absorbing moisture.
Ending Note:
From the boardroom to the bar, suede jackets have been a staple of well-dressed men for decades. It is a tried-and-true classic that never fails to look stylish. Whether you're pairing it with shorts, chinos, or dress pants, this versatile piece can be worn with just about anything. You just need to find out what fits your personal style. To get started, try our styling and suede jacket outfit ideas to step up your fashion game.