When we get tired of dressing up in those old usual boring casual outfits, that's when the jumpsuit comes out for a rescue. Like every other jumpsuit lover, the question of how to wear a jumpsuit casually often pop-ups in our minds. So to answer this question, we have curated this outfit guide to help you be a pro at dressing up in a jumpsuit.
The jumpsuit having high body coverage and loose-fitting; was initially made to facilitate parachuters in their quest to jump from high altitudes. Which later on entered the fashion world and became a raging trend in no time.
We may not jump from planes, but we can pull off a chic jumpsuit outfit with the proper styling. So, let's dig into this jumpsuit guide without wasting any more time.
What To Expect In This Article?
How To Dress up Jumpsuit?
Styling a jumpsuit can be overwhelming with so many styles and variations available. If you are a first-timer, it is recommended to go with basic black or white jumpsuit. However, you can also experiment with different colors and patterns to suit your style. Whether it's down shoulder or halter neck, you can style them all with a few statement jewelry pieces and a stylish pair of sunglasses to pull off a cute look.
Moreover, adding a contrasting blazer or jacket to your jumpsuit outfit is another way to add dimension to your look. Lastly, wearing a suitable pair of heels or sneakers is all you need to complete your outfit styling.
What Jacket To Wear With Jumpsuit?
A jumpsuit is a wardrobe staple that can be styled all year round, regardless of the weather. Although a jumpsuit goes along well with most adornments, a jacket will always be the most complementing accessory for a jumpsuit.
Whether it's a lunch date or a casual summer evening, this clothing combination will have your back in any fashion emergency.
If you want to create a sophisticated workwear look, a nice blazer jacket styled with a jumpsuit will serve the purpose well. While on the other hand, Wear a denim jacket with your favorite black jumpsuit for a trendy casual look. Moreover, you can also style it with a leather jacket to create a vogue fall outfit.
What Shoes To Wear With Jumpsuit
As there are tons of options available, a single type of shoe cannot go along with all kinds of jumpsuits. Therefore, let the occasion and the weather decide on what shoes will complement best with your jumpsuit outfit. However, we have assembled a few options that you can wear to create a fun jumpsuit look. So keep scrolling to know more.
Heels
A jumpsuit with heels is the most adorable combination one can ever pull off. You can style your jumpsuit with an ankle strap or pointed-toe heels for a formal workwear look. If you plan to wear a jumpsuit at a party, go with platform stilettos and be the star of the evening. Adding some patterns and prints to your plain jumpsuit outfit by wearing plaid heels is an excellent idea to elevate your look.
Sneakers
If you prioritize comfort and want to look stylish, sneakers are your shoes. A pair of platform sneakers are a wardrobe essential for every woman who loves to slay in jumpsuits all year round. Whether it is a wide-leg jumpsuit or a fitted one, a pair of sneakers can be your on-the-go shoes for every outfit.
Slides
Whether it's the girl next door or the women on the street, who does not love to adorn their outfit with slides? But, because of some styling limitations, it does not go along well with most types of clothing. Thankfully jumpsuit is not one of them. So, no matter if it's a beach holiday outfit or a casual dress for a trip to the grocery store, you can style your comfy slides with a jumpsuit to pull off a casual summer look in no time.
Chunky Ankle Boots
If you love wearing jumpsuits in winter but is uncertain about how to style jumpsuit. Do not worry; the quick trick is to pull out your usual chunky ankle boots and pair them with your favorite winter jumpsuit to create an effortless vogue look. Wearing chunky ankle boots is the easiest way to add instant sophistication and class to your existing jumpsuit outfit.
Jumpsuit Outfit Ideas
Workwear Outfit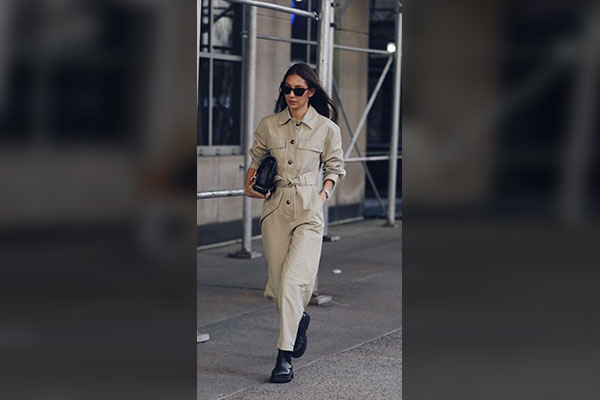 The business casual jumpsuits are the ultimate choice for women to pull off an elegant and comfortable professional attire. Wear your basic black, white, or tan jumpsuit and style them with a work blazer or long coat, some suitable accessories, and footwear for a formal business casual look.
Jumpsuit Dress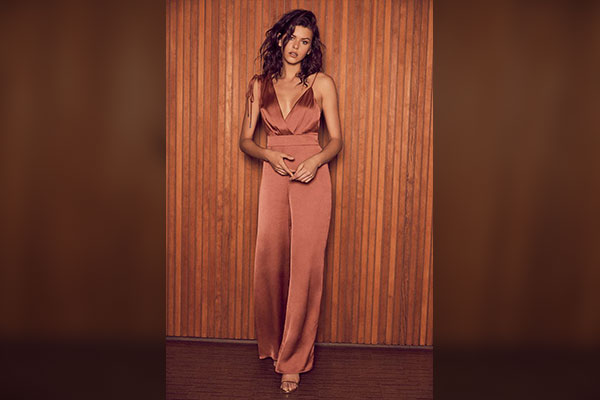 If you are looking for a perfect alternative to your mini dress outfit that is equally comfortable and stylish, try wearing jumpsuit shorts. The jumpsuit shorts is a jumpsuit that looks like a dress with short legs. You can style them with a pair of sneakers and a few accessories for a trendy casual look.
Sleeveless Jumpsuit Look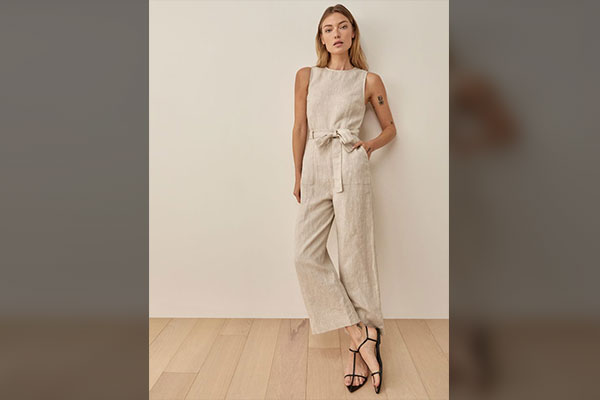 A sleeveless jumpsuit will always be the perfect summer outfit out of all jumpsuit styles. However, if you are an amateur in jumpsuit styling, you must be wondering what to wear over a sleeveless jumpsuit. The answer is simple wear it with a denim jacket, blazer, long coat, or cardigan for sophisticated and elegant casual attire.
Romper Outfit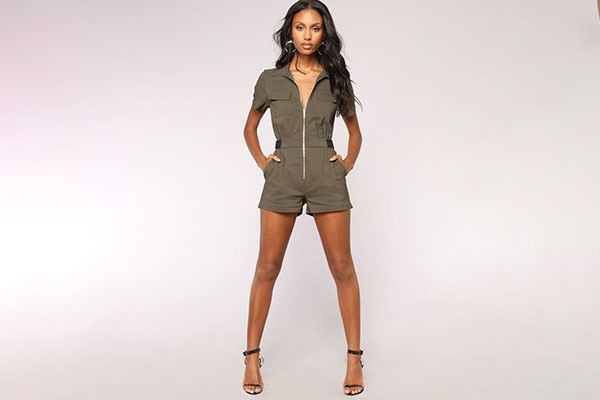 Romper jumpsuit is another vogue style you can adopt for an adorable casual look. Wearing a romper with a shirt underneath is a fashionable way to style a classic romper outfit. Apart from romper shorts, large rompers are also a popular fashion with so many styling ideas. So, You can easily pull off a unique casual look by styling with large romper ideas.
T-shirt With Jumpsuit 
A t-shirt and a jumpsuit are a match made in heaven. If you ever get in doubt about how to wear your jumpsuit without getting into complicated styling tricks, just pull out the usual t-shirt from your wardrobe and wear it under your sleeveless jumpsuit. A T-shirt under a jumpsuit is an effortlessly chic combination to create a fun, casual look. Lastly, complete this look with a pair of platform sneakers.
Winter Outfit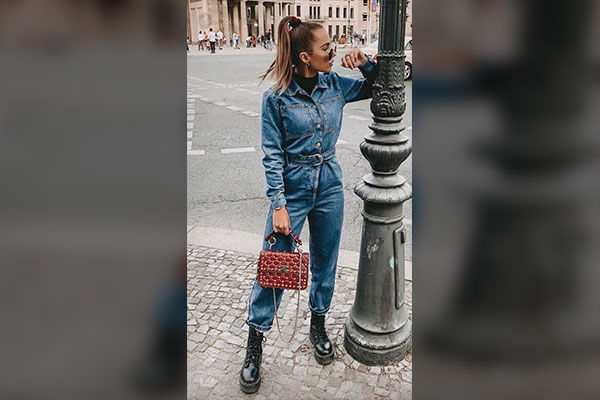 Looking for ideas for wearing jumpsuits in winter. Here is the trick; Layer the jumpsuit with your favorite blazers and jacket to create an incredible winter look. In addition, you can also style a jumpsuit with a long coat or cardigan outfit and suede ankle boots to slay those freezingly cold days in style.
FAQs
How to wear a wide-leg jumpsuit casually?
A wide-leg jumpsuit can be styled in various chic ways to create a decent casual look. For instance, you can wear the sleeveless wide leg jumpsuit as it is or style it by wearing a t-shirt underneath.
Moreover, you can also wear a denim jacket or a classy blazer over your jumpsuit to give it some dimension. Lastly, complete your adorable casual look by wearing a few accessories, a handbag, and a stylish pair of heels, and you are ready to conquer the world with your fashion game in check.
How to wear a black jumpsuit casually?
A black jumpsuit is a classic outfit to wear at a business casual or formal event. Wear your basic black jumpsuit with a denim jacket and style them with sneakers or flats for a laid-back casual look. However, If you are looking for a more summery outfit, a sleeveless black jumpsuit with a pair of statement stud earrings and sandals will also work well.
Are jumpsuits in style in 2023?
Jumpsuits, the trendy fashion of the nineties, have now made a comeback with more strength and are the most sought-after fashion for spring 2023. Therefore, if you are into comfortable clothes and look equally chic, then jumpsuits are the outfits for you. So, wear them to any casual or formal event without thinking twice. 
How do you accessorize a black jumpsuit for casual evenings? 
The right accessories can elevate your outfit beyond measure. For example, you can style your black jumpsuit with some dazzling earrings, a statement necklace, or embellished hairpins for a casual event. Moreover, a vintage waist belt and a cute scarf can also be styled with your black jumpsuit for a laid-back casual look.
How can you get a casual look from a formal-looking jumpsuit? 
You can easily use your formal jumpsuits to pull off a casual look by styling them with the right type of accessories. For example, you can wear a formal jumpsuit with some light accessories and flats or sneakers for a relaxed everyday look. Moreover, adding a layer with a denim jacket and carrying a small cross-body bag would be a cherry on top.
Conclusion
A jumpsuit is undoubtedly a versatile outfit you can style in all the four-season to pull off some incredibly vogue looks. With our comprehensive outfit guide, you can give some real fashion goals by properly styling a jumpsuit under the given guidelines. So, be the fashion diva and style yourself fashionably throughout the year.