There are lots of ways to get inspiration for your day-to-day fashion. You can create something original that is unique to you and goes against the entire women's fashion system. Or you can follow the latest trends and try to emulate their style in a way that makes sense for you. Both of these methods are quite effective at providing you with a good-looking wardrobe for the most part.
The only major issue with these methods of fashion is that they require impractical amounts of free time dedicated to styling. Even if you have the time, the financial cost involved in following most trends or creating original stuff can be quite steep. So, what is your best option here? Well, you can go back to the basics of fashion and let the wardrobe staples guide your fashion journey forward.
What To Expect In This Article?
What Defines the Basic Wardrobe Essentials?
In short, the basic wardrobe staples are clothing items that are timeless and expected to be in modern women's wardrobes. However, just because they're basic doesn't mean they are bland or uninteresting. Each one of these items has a proven portfolio of fantastic outfits.
More important is the fact that almost all women's wardrobe staples are compatible with almost all of the other closet essentials. The leather motorcycle jackets, for example, look just as gorgeous on t-shirts and jeans as they do on dresses. The only exceptions to this rule are items that are never meant to be together in the first place, like jeans and a dress. No doubt, there are exceptions.
Wardrobe Staples you Need to Build a Capsule Closet
Now that you have a better understanding of what wardrobe staples are, it's time to build a capsule wardrobe. These items might be few in number, but their outfitting potential is outstanding. Plus, they offer plenty of opportunities for fun and creative outfit assembling in addition to the slew of essential outfits to choose from.
Here's everything you need to fill out the capsule wardrobe checklist.
Leather Jackets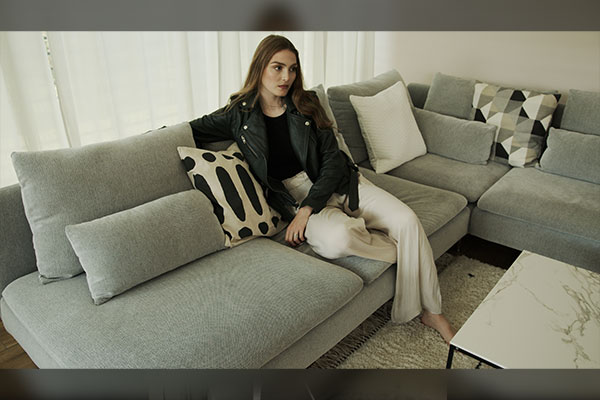 Starting with outerwear, we have the coveted leather jacket. These jackets offer near-universal compatibility with everything else on this list or women's fashion in general. Does your outfit look a bit uninspired? Rocking a leather jacket on top will resolve the issue with ease. Not to mention their warmth and wind resistance in winter.
The best part about leather jackets is their variety in style and colors. There are so many to choose from, and the large majority of them are worthy of being on this list of capsule wardrobe-essentials. That said, motorcycle jackets are a standout even among the already excellent leather outerwear. Also, their matchup with leather pants is underrated and brings some much sheen to your wardrobe.
Blazers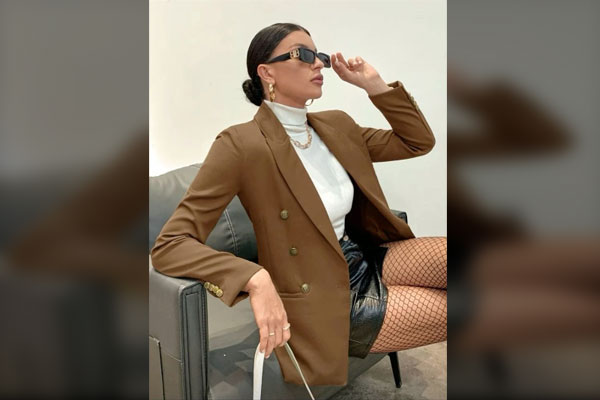 Next up, we have a piece of outerwear that walks the line between casual and professional – the blazer. You can wear it atop a white button-up and black pencil skirt to work. Or you can rock the same blazer with a tank-top and a pair of cropped jeans to a weekend friends' hangout. The ability of blazers to fit right in with multiple styles in vastly different scenarios is what makes them a part of the wardrobe staples and an essential part of your capsule wardrobe.
If you are a bit more interested in the casual side of blazer style and want to spice things up a bit, then look into oversized blazers. They have similar compatibility to regular-fit blazers but with the added attention-grabbing benefits of an unconventional shape.
Sweaters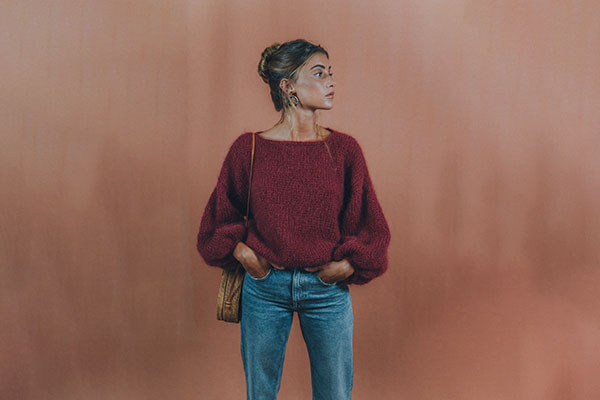 Sweaters strike the perfect balance between lightweight construction and cozy warmth, making them the ideal choice for the transitional seasons like late fall and early spring. Having at least a couple of sweaters in your capsule closet will ensure that you have an outer layer for days that are too cold for regular tops and shirts but too warm for full-on winter coats and jackets.
The ideal choice for these two sweaters would be a sweater vest and an oversized knitted sweater. The sweater vest will act as a superb addition to your existing outfit, while the oversized sweater will let you craft entire outfits around it.
Denim Jackets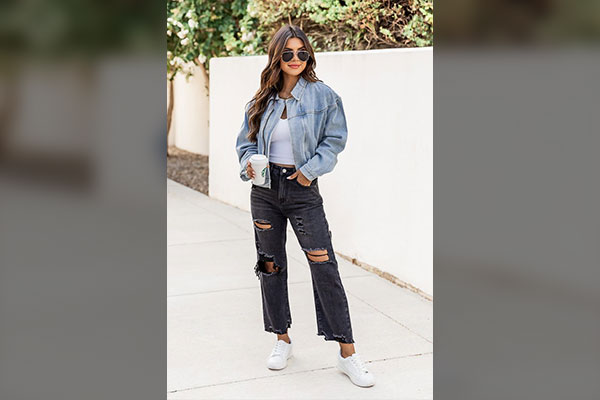 Denim jackets are one of the classic wardrobe staples and the last piece of outerwear you need for a complete capsule wardrobe. It is not as versatile as the leather jacket or lightweight as the sweater vest. However, the compatibility of denim jackets with jeans is unmatched by anything else. Almost every outfit with jeans can be made better by throwing on a matching denim jacket. They are also the gateway to the wonderful denim on denim outfits.
As for what color of denim jacket to choose – blue is your safest option. It is iconic and instantly recognizable while also having the widest compatibility. Black is a close second and looks just as pretty in most outfits. Other unconventional colors like white, pink, or green would be valid choices if not for their time-consuming outfitting requirements and hit-and-miss compatibility.
White T-shirts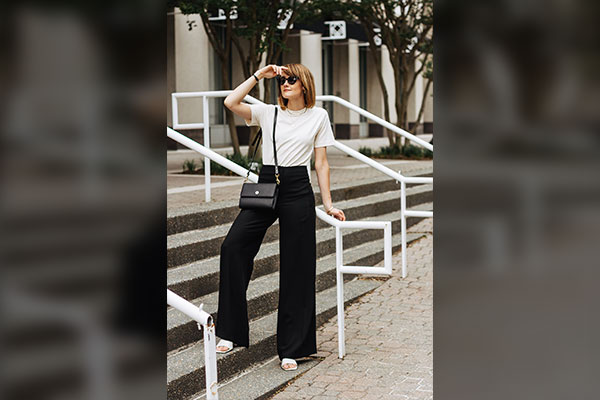 Moving a layer down on wardrobe staples, we have the classic white crew neck t-shirt. They require almost zero effort to outfit and work just fine with everything in every scenario. You might think that the plain design and color of these t-shirts will get bland pretty quickly, but it does not. In fact, these t-shirts stay fresh way longer than other more complex tops.
Their simplicity helps them blend in with the rest of the outfit and not draw any attention to themselves, making them the default choice. Plus, they act as the perfect neutral area between a stylized pair of pants and a fancy piece of outerwear.
Crop Tops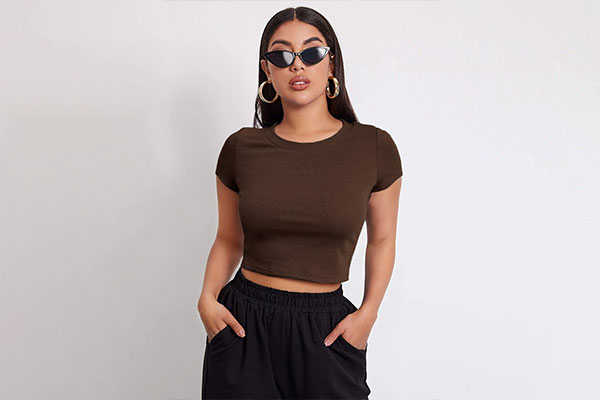 Crop tops are where style takes priority over convenience. Don't take it the wrong way, crop tops are still extremely versatile, and crop tops and jeans outfits work flawlessly in most scenarios. It's just that there are so many unique designs and colors of crop tops that you have to make an active decision on which one to keep in your capsule wardrobe. The real issue here is that each one of these options is equally stylish and capable of starring in amazing outfits.
Tube tops, for example, are unmatched in their ideal blend of sexy and concealing design. They are also a near-perfect match for the oversized blazers we mentioned earlier. On the other hand, we have flared crop tops that are a part of the summer wardrobe staples. Their matchup with white shorts and summer hats makes even the hottest summers stylish and fashionable. Then there are other types of crop tops like those made of lace, sweatshirts or even fringe.
The choice between these types is up to you. Just make sure that you have at least two distinct crop tops with light, pastel or muted colors. Vibrant colors and patterns look great on their own, but their compatibility with the rest of the wardrobe staples is a bit unpredictable.
Button-ups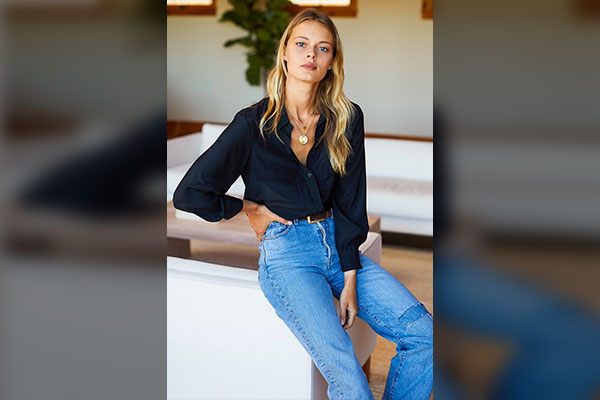 A couple of basic white button-ups are all you need to navigate your way through workplace fashion. They fit right in with most professional clothing like suit jackets, pencil skirts and blazers. Plus, they let you mix up your outfit with fun ties.
Even if you don't have an office job, button-ups are still a must-have part of the wardrobe staples. Their combo with basic jeans and cropped trousers makes preppy outfits that look sharp while also requiring minimal effort to put together.
Jeans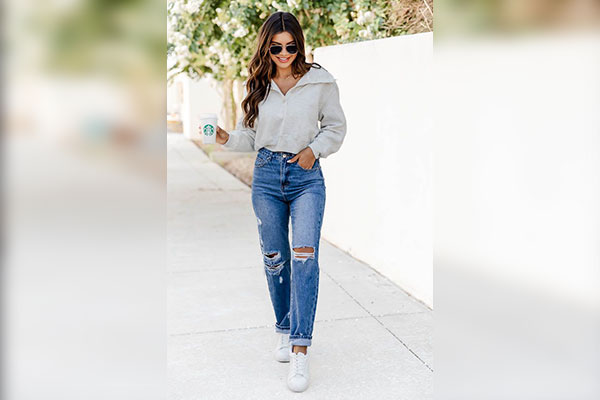 If we had to pick one item to exemplify wardrobe staples, it would be jeans. They are the most popular pair of pants in the world and for a good reason. You can wear a pair of basic blue jeans under any shirt, top, and jacket you can think of, and they will look just as good. In fact, every piece of outerwear and top/shirt we mentioned above is 100% compatible with jeans. Jeans are even the best match for some of them.
The real reason to include jeans in your wardrobe closet, however, is that they are as timeless as it gets. They were in style decades ago, they are in style now, and they will stay in style in the future. So, make sure that your capsule wardrobe is topped up with at least two to three distinct pairs of jeans. You can also pick other colors like black and gray as well.
Skirts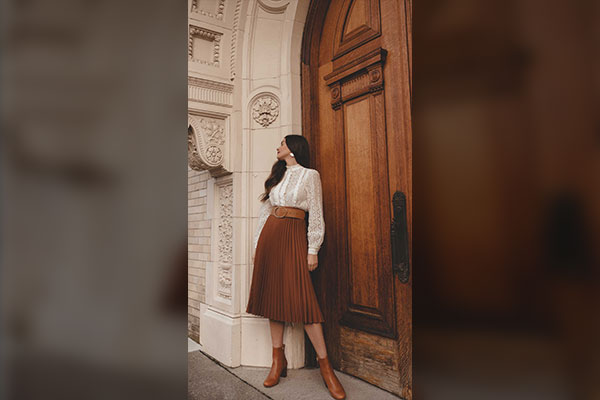 Skirts are for days when it's hot outside, and you do not want a bunch of heavy fabric tightly surrounding your legs. Plus, the humongous variety in shapes, colors and patterns ensures that there is a right skirt for everyone. But, most of these options are not a part of the wardrobe staples and might not be a good idea for a capsule closet. The must-haves of the skirt world include a black leather skirt, a light-brown or cream pleated maxi skirt, and a colorful knee-high A-line skirt. Owning at least one of them will help you add tones of variety to your daily-driver outfits.
F.A.Qs
What makes something a part of wardrobe staples?
The first is that the clothing item needs to be timeless. Secondly, it has to be compatible with the majority of the other wardrobe staples.
How many items should wardrobe staples consist of?
The bare minimum must-haves for wardrobe staples include:
– Plain t-shirts
– Button-ups
– Crop tops
– Jeans
– Shorts
– Skirts
– Leather jacket
– Blazer
– Low-top sneakers
– Pumps
What should every 40-year-old woman own?
Women over 40 should own all of the must-have wardrobe staples, as well as a high-quality handbag, power shoes for walking in comfort, and at least one gorgeous formal dress.
What should you not wear after 50?
Most women's fashion stays the same regardless of age. The only items you should actively avoid after 50 are skin-tight and oversized clothing.
What is a good tip for beginners regarding wardrobe staples?
There is no need for you to have all of the wardrobe staples in your closet before you can start wearing them. Begin your journey with as few items as you have to.
Final Words
For most women, fashion is much more about just looking good. It is a way to express their individuality and stylistic creativity. However, most women also don't have the time to not only find the right items but also craft them in captivating outfits. This is where the wardrobe staples come into the picture. This list is filled with proven greats of women's fashion. Their unmatched compatibility with each other means that assembling a chic outfit is as simple as putting a few of these times together. In addition, their timeless nature allows you to invest in high-quality clothes that will always stay in style.