The world of men's fashion is populated by hundreds of fantastic options for just about anything. There is something for every man in every situation. However, even among this vast lineup of great items of clothing, there are a few that are the undisputed kings of their realm.
For jackets, it is the leather jacket; for pants, it is jeans, and for shirts, nothing holds more comfort and class in the same package as the coveted turtleneck. 
Turtlenecks are also extremely iconic and instantly recognizable. Even the simplest turtleneck outfits for men can become the center of attention at any party.
What To Expect In This Article?
Versatility of Turtlenecks
There is a lot to love about turtlenecks. Their warmth, coziness, refreshing vibe, and classy looks are all attributes that further cement turtlenecks as a must-have for everyone. Or, to put it simply, men wearing turtlenecks just look handsome.
However, the factor that takes this already great shirt to a whole new level is its versatility. You can wear it with literally anything, and it will most likely look impressive. Not to mention the act that you can wear a form of turtleneck all year round, regardless of the weather.
This versatility extends even beyond outfits and bleeds into scenarios. Pair a black turtleneck with a pair of blue jeans and a leather jacket, and you've got a date outfit. Wear the same turtleneck under a two-piece suit, and you have the perfect outfit for the next business meeting. Swap out the suit for a pair of black jeans and a denim jacket, and you're ready to party.
Turtleneck Outfits for Men
Now that you have a better understanding of men's fashion with turtlenecks, it is time to unleash their max potential. Here are ten of the best turtleneck outfits even crafted. You can take inspiration from them and mix in your own style to craft something unique, or you can just cozy them one-to-one if your goal is to just look dapper. Let's get started.
All White All Day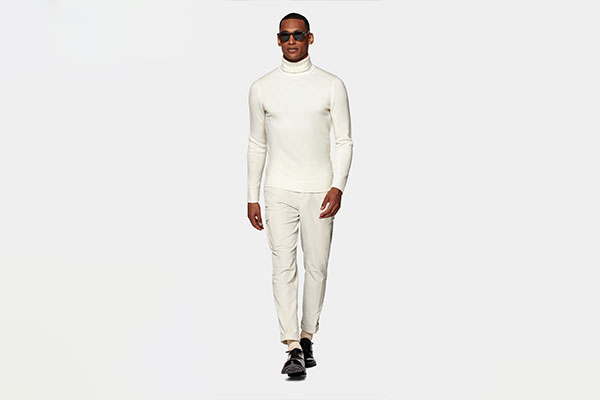 Starting our list is one of the most minimalistic outfits you can wear while still staying warm and comfy. All you need for this one is a pair of white pants, a pair of white high-top sneakers, and of course, a white turtleneck. You can leave the turtleneck on top of the jeans and look sharp. Or, you can add a white blazer into the mix and take this simple-looking outfit to the next level.
Brown Suede Blue Jeans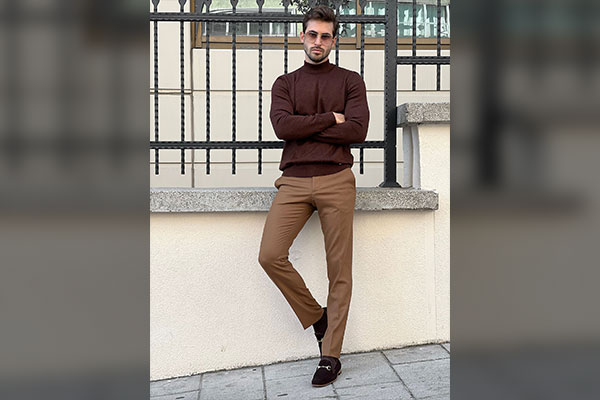 Turtlenecks and jeans are a match made in heaven; there is no denying that. So, what happens when you take a black turtleneck, tuck it into a pair of blue jeans, and top it all off with another icon of men's fashion; a suede leather jacket?
You get an outfit that is capable of looking great on a trip to the nearest grocery store while also being the perfect outfit for a date in the romantic fall season. Additionally, you can wear brown suede boots that match your jacket to make the outfit feel complete.
Office Formal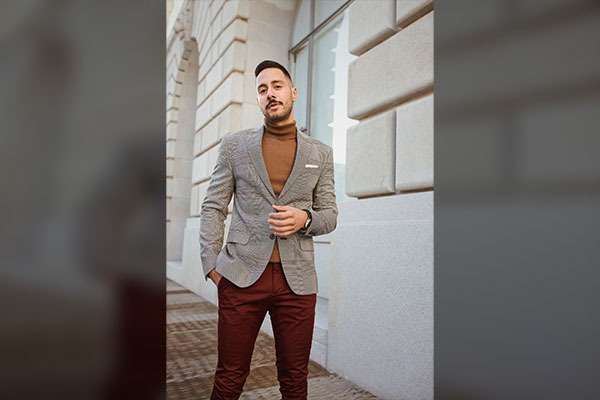 So, you have to go to work, but you don't want to wear anything other than a turtleneck. Can you fit a turtleneck in a formal dress code? In most workplaces, yes, you can. Just swap out the shirt from your black two-piece suit with a black turtleneck, and you're done.
Wearing a well-fitted black suit with a black turtleneck and a pair of shiny black dress shoes also exudes a level of confidence that is difficult to recreate with anything else.
Urban Biker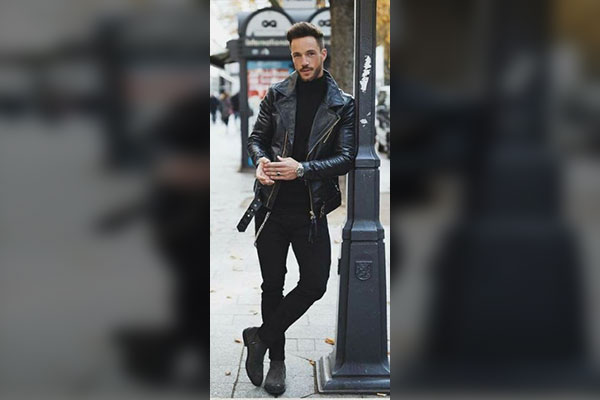 There used to be a time when biker style was the peak of men's fashion. Black leather jackets with spikes and chains were the norm, and mullet was a popular haircut. However, things have and for the better, since you can now pair the same biker jacket (minus the spikes and the chains) with a black turtleneck to create a really unique urban outfit.
This modern combination of sophisticated urban style and free-spirited biker style is a sight to behold and a blessing for anyone that wants to learn how to wear a turtleneck for men, the right way.
Warm Winter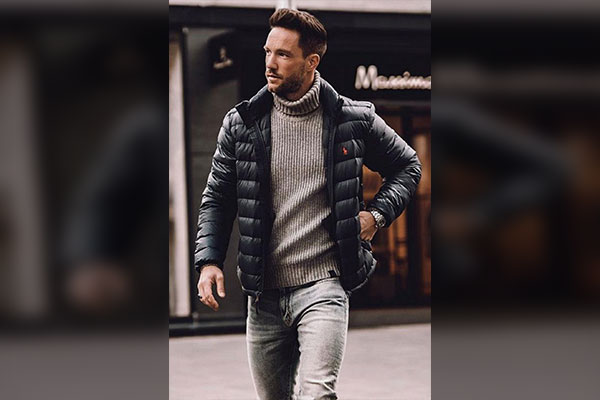 It is hard to believe, but something as good-looking as a turtleneck is also one of the warmest shirts you can own. It is cozy and snug in a way that not many others are.
However, this coziness gets taken to the next level when you combine it with a furry winter coat. This, combined with a pair of black jeans and black tactical boots, make you the default champion of men's winter fashion.
Plus, the unique neck shape of a turtleneck helps keep the heat inside, further warming your body. You can also pair your turtleneck with turtleneck jackets for a unique combo style.
Sleek Fall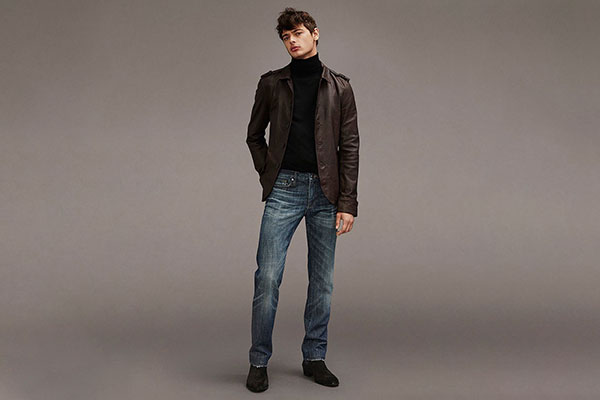 Fall is the transition between summer and winter. It is cold enough to require some type of a jacket to wear with your turtleneck but not cold enough to warrant a full-blown winter coat. Many see this season as a downside since they can't wear their summer clothes, but they also can't rock their proper winter wear.
However, this season is also an opportunity to look sleek and stylish. All you need is a pair of gray chinos, a black turtleneck, and a gray sleeveless puffer jacket. This jacket will protect your abdomen from the cold winds, while the sleeveless design combined with a fitted turtleneck creates an outfit straight out of a fashion magazine.
Savvy Businessman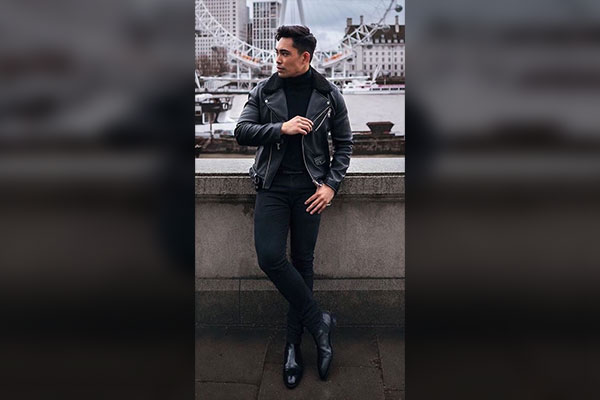 This look is very similar to the office formal, but with one key difference, this one is not about following the office dress code. Instead, this look is all about creating a very empowering vibe around you with the help of your clothes. The start of the show here is a plain black blazer. It might not look much on its own.
But this simple blazer becomes the centerpiece of a sharp and dapper outfit as soon as you pair it with gray chinos, a pair of black leather shoes, and a black turtleneck. Accessorize with a vintage analog watch, a pair of black aviators, and a leather messenger bag, and you look like you mean business.
Summer Style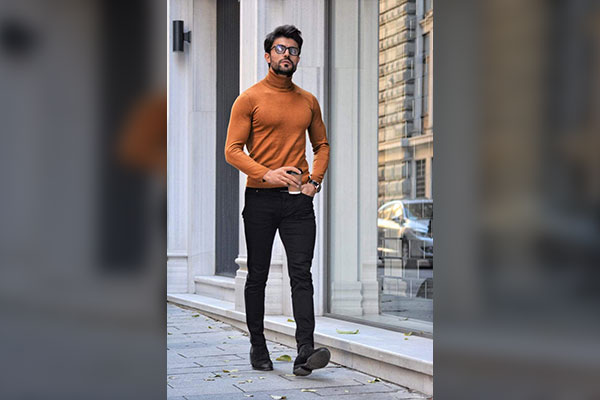 Summer and men's turtlenecks is not a connection that many people have ever thought about. But this contextual contrast is what makes this particular outfit so memorable. What you need to succeed turtleneck men's style is a pair of light gray shorts, a lightweight white turtleneck, and a fedora or trilby to complete the summer look.
If you want even more of the summer festivity, you can wear a Hawaiian shirt on top of the turtles as well as a pair of flip-flops. Just keep the front of the Hawaiian shirt open, and you're ready for the beach.
20th Century Class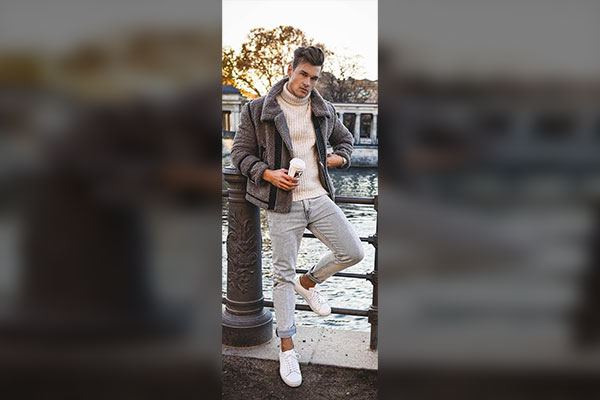 Are you looking to recreate the absolute class of the previous century but with a modern twist? Well, look no further than a pair of dark black jeans, a gray turtleneck, and a charcoal peacoat. Top the whole thing off with a classic flat cap, and you'd look like modern-day royalty.
There are many iterations of this outfit as well, like an all-black version, one with everything white except the peacoat, and so on. So, if you're interested in this style but don't have these exact colors to rock, don't worry. Just experiment with what you have, and you will find something that suits you.
Athletic Casual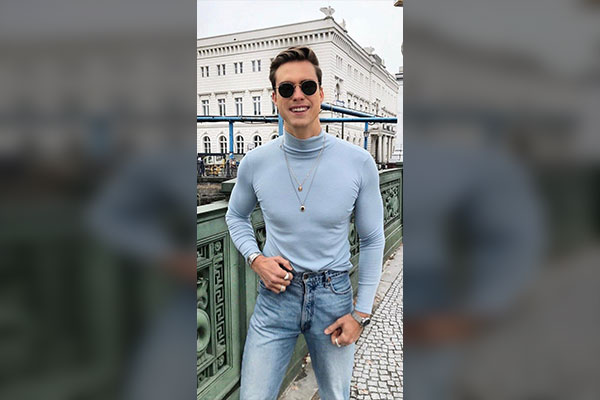 When we say turtlenecks work with anything, we really mean it, and sweatpants are no exception. Black sweatpants combined with a black turtleneck and black sports shoes will form the perfect blend of athletics and fashion.
You can even swap out the turtleneck for a light-colored one, and this outfit retains its vibe. Accessories like sports watches and a pair of black headphones around your neck will also take this look to the next level.
Don't Forget to Experiment
Hopefully, you will find an outfit that speaks to you on a personal level within these ten examples of the best. If you did, then congrats. You are now on your way to embracing turtlenecks in every aspect of your fashion life.
On the other hand, if you didn't find anything particularly interesting within this list, then don't get discouraged. Buy a basic black or white turtleneck and start experimenting with the clothes and outfits you already own. It won't be long before you have a list of fantastic turtleneck outfits of your own.
FAQs – Turtleneck Outfits Men
How do men wear turtlenecks? 
Men wear turtlenecks as either the main upper part of their outfit or as the base layer in many multi-layered ensembles. Thanks to the versatility of turtlenecks, they can be worn on everything from blue jeans to burgundy pants and under everything from puffer jackets to trench coats.
What pants go with turtlenecks? 
Turtlenecks work flawlessly with almost every type of pants. However, the jeans and chinos are an especially good match for them.
Can you wear a turtleneck with a cardigan?
Yes, you can wear a turtleneck under a cardigan, but only if both of them are under another layer, like a blazer or a winter jacket.
Are turtlenecks smart? 
Yes, they are. In fact, many consider turtlenecks to be the smart option for many situations. Their ability to blend in with the clothes around them and look in place at every event is what gives turtlenecks this status.
Is turtleneck formal or casual?  
A turtleneck can be both casual and formal, It all depends on what you're wearing around the turtleneck. For example, a two-piece suit would be considered formal, while a pair of jeans and a leather jacket are part of a casual men's turtleneck outfit.
Is a turtleneck with a blazer professional? 
Yes, it is. If paired with the right colors and textures, a turtleneck and blazer combo can be worn in most professional settings without any issues. This pair is even more effective in winter.
How to style a turtleneck for men?
The quickest way of crafting fantastic turtleneck outfits is to layer them with jackets and pair with attention grabbing pants. So the outfit for a cream turtleneck would include a brown biker jacket and distressed gray jeans.
Can I wear my leather turtleneck in summer?
Sadly, you cannot. Leather is a fairly warm material and all-season leather men's turtlenecks are not really a thing. That said, you can find some thin, lightweight leather options that are usable in spring and fall.
Final Words
Owning just one turtleneck can open so many new outfitting possibilities and styling opportunities for you. However, rocking a turtleneck without a coherent fashion plan won't get you anywhere. Sure, you will enjoy some stunning outfits, but none of them will have the turtleneck umph to them.
Luckily, unlocking the true potential of turtlenecks is as difficult as it may look at first. You just have to take inspiration from the right guides and then sprinkle your own fashion choices on top. Doing so will result in turtleneck outfits for men that are both fantastic looking and decidedly yours.