From James Dean wearing his in "Rebel Without a Cause" to the present-day fashion runways, black leather jackets are seen everywhere. It is consistently a must-have for both men and women. Whether you wear one with a pair of jeans and combat boots or a silk blouse and heels, there's no denying it: the black leather jacket is a timeless wardrobe staple.
Black Leather Jacket – A True Investment Piece
In the cosmos of men's fashion, they're considered an investment piece that can be worn with pretty much anything, which makes it one of the best wardrobe additions you can own. This piece of clothing will never disappoint you and will always bring an air of sophistication and edge to any look. It is also versatile in that it can be dressed up or down depending on your needs.
Being a bit more casual than a traditional blazer, men's black leather jacket is easy to coordinate with and is flattering on every body type. Wear it with a white crew-neck t-shirt, gray ripped jeans, and white canvas low-top sneakers for a modish urban look. For a more smart-casual appearance, pair it with a black shirt and Chelsea boots. 
The combinations are endless, but not every one of them is worth trying. In this blog post, we will share a few ideas on what to wear with it and create some awe-inspiring black leather jacket looks.
Why Choose A Black Leather Jacket?
Let's be honest. A high-quality leather jacket will cost you a few hundred bucks, and you are indeed not going to own a lot of them. So whether you are a fan of British fashion, an emo teen, or simply want to look stylish when the temperature drops, a black leather jacket will fit right in. 
1. Can Be Worn In Any Setting
A black leather jacket is a style cornerstone that can be worn throughout the year in myriad different scenarios. When it comes to putting together a casual, off-duty look, it's one item that can be worn way more than you think.
2. Black Goes With Everything
When talking about color combinations, black goes with almost everything, which makes it easy to match. You can easily pair a black leather jacket with your closet essentials like jeans, denim shirts, and t-shirts to bring out a new look.
3. They Are Practical
Black leather jackets also serve as an excellent alternative to other light-colored jackets. Not only do black jackets conceal blemishes and stains, but they are also easily cleaned. The extra heat absorbed by the black color is also great for colder climates.
Check Out Our Black Leather Jackets
Black Leather Jacket Combinations- Tips, Outfits, Ideas!
1. Brown Pants and Black Leather Jacket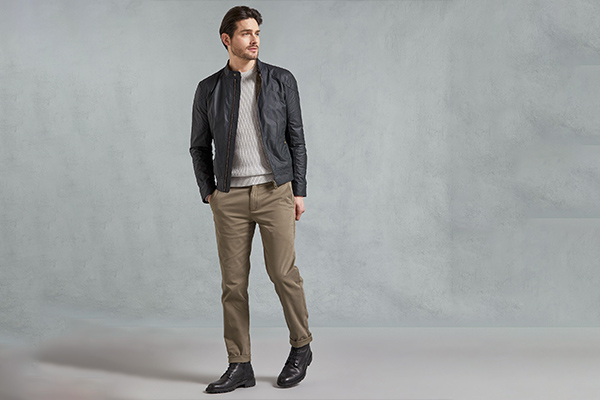 There is a common misconception that black and brown can not be combined in an outfit. The combination will certainly not alert the fashion police if you don't bring any bright or bold colors into the look. Black leather jackets work perfectly with brown bottoms such as chinos, wool dress pants, or even cargo pants.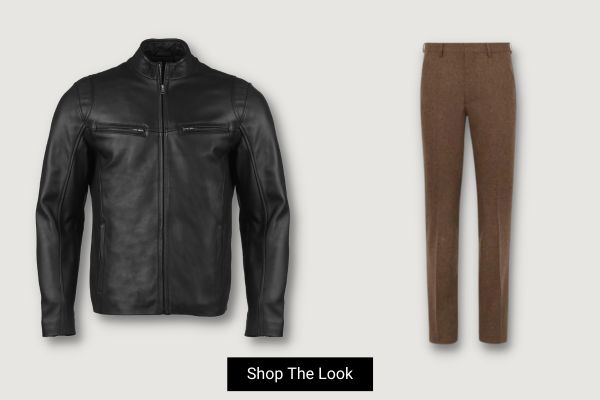 ​Wearing a black leather biker jacket and brown pants is an awesome idea for those who want to embrace a casual look. The classic appeal of black leather jackets pairs well with the laid-back vibe of brown pants. If you are aiming for a more rugged look, wear dark brown cargo pants with navy denim over a black leather biker jacket. Complete the look with suede leather boots. 
Silver foxes can opt for brown chinos and a light blue chambray long sleeve shirt over a black leather jacket to create one of the many possible awesome black leather jacket looks. Round off this outfit with white and navy low-top sneakers.
2. Dress Shirt With Black Leather Jacket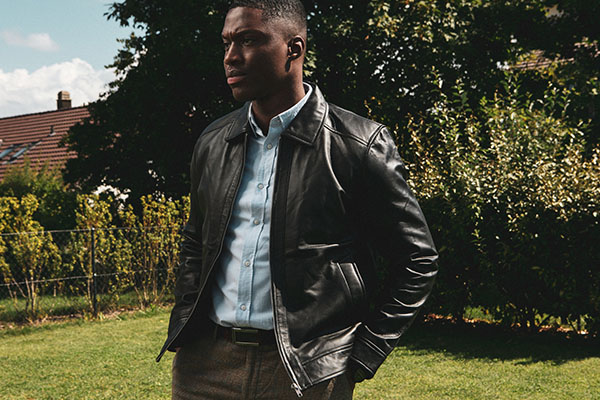 Every man needs something to spruce up his formal look when the occasion calls for it. Sometimes a suit isn't appropriate but you need a nice, tailored look that conveys professionalism. A dress shirt and a black leather jacket are a super-easy way to introduce some casual flair into your dressy wardrobe.
A dress shirt worn under a black biker leather jacket with solid dress pants or plaid chinos is a great way to separate yourself from the rest of the pack — and channel elegance. This is a black leather jacket outfit men can put together in minutes. To add a twist and take this look on a dressier side, introduce a pair of oxford shoes.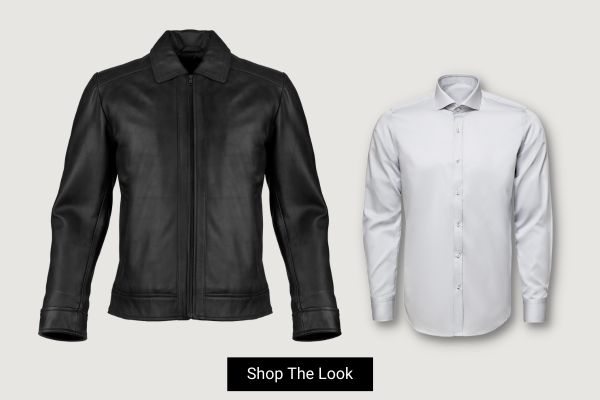 You can also be a little creative with your dress shirts and black leather jackets and roll out a casual look with them. Pair a fitted black dress shirt with your favorite blue skinny-fit jeans. Just don't tuck in your shirt. Complete this ensemble with chelsea boots and you're good to go. 
3. Hoodie With Black Leather Jacket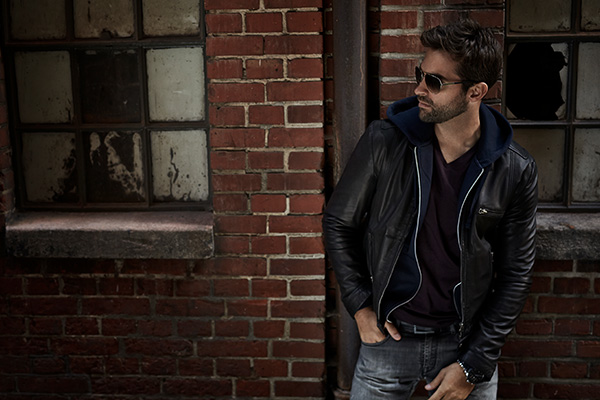 The signature of any great ensemble, layers are key when it comes to styling up for winter. Make your outfits warmer and smarter with a hoodie and black leather jacket combo. The combination of the two items can generate some really amazing stylish black leather jacket looks that are extremely practical too.
But this can go wrong easily with this combination if you pick a very thick hoodie or a jacket that is too narrow. One of the easiest ways to rock this layer-on-layer look is to pick a classic black biker jacket and a pullover hoodie in the right fit. Also when you are in a mood to don an all-black outfit, complete this look with black jeans and a black pullover hoodie. Add black leather Chelsea boots to bring it all together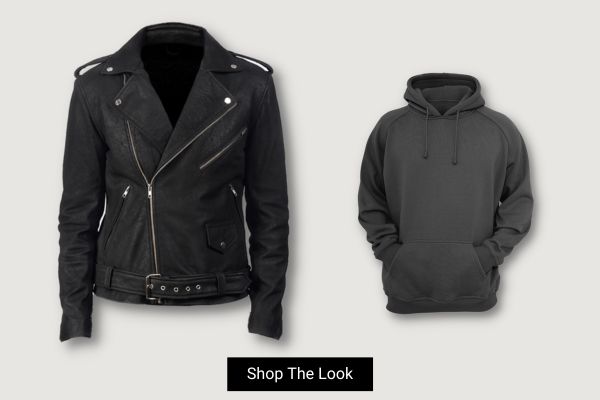 People not fond of the heaviness on the neck that comes from the hood can go for a similar item i.e, sweatshirts. A black leather jacket will look equally good on a sweatshirt. However, to fulfill the functionality gap that comes with the absence of a hood, you can introduce a short beanie into the outfit.
4. Crew Neck Sweater With Black Leather Jacket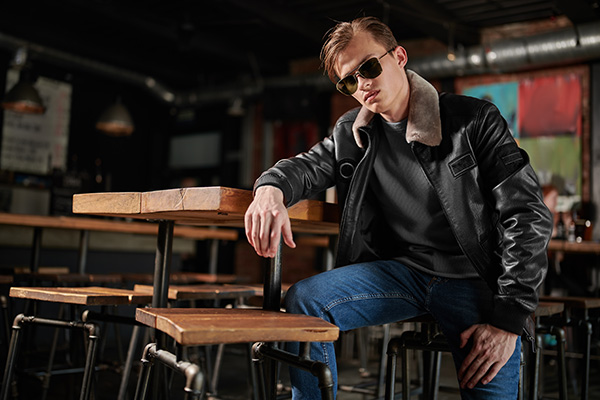 The perfect winter look is essential for any fashion fanatic. You need to find a way to manage your outerwear so it fits the weather, your style, and your mood. No matter how cold it gets, a black leather jacket and a sweater worn together will keep you warm — and looking classy as ever.
Sweater and black leather jackets are both essential wardrobe staples that look great on their own, but they also look even better together. However, it's best not to wear a leather jacket over a thicker sweater like a cable-knit sweater. It will bunch up and look bulky, so find something a little thin instead. Crew neck sweaters are a perfect option here to keep you warm and stylish.
A crew neck sweater in neutral colors fits best in a black leather jacket men's outfit. Take out your beige crew-neck sweater and pair it with your regular black denim. Wear a black leather bomber jacket over it and round of the ensemble with dark brown Chelsea boots. 
5. T-Shirt With Black Leather Jacket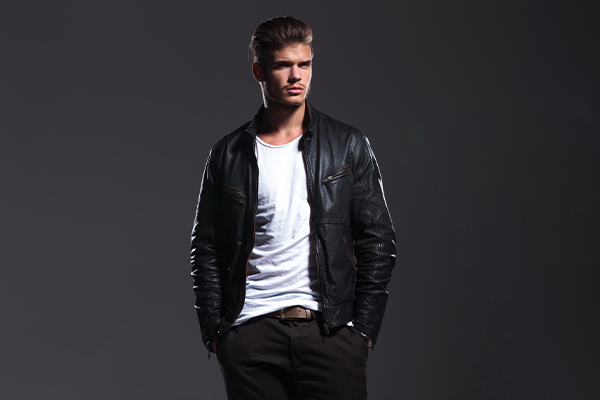 T-shirts are one of the basic clothing items that can be found in almost every man's closet. It's quite tricky to bring a sense of style with something as basic as a t-shirt. However, pairing a black leather jacket with a V-neck or crew neck can elevate the ratings of the outfit on the style meter.
A black leather bomber jacket over a simple white t-shirt is the most minimal leather jacket men's outfit that will never go out of style. As far as the pants are concerned, you can either pick your basic blue denim or go the extra mile with charcoal jeans. Bring a pair of white leather low-top sneakers to the mix to make it street-style friendly.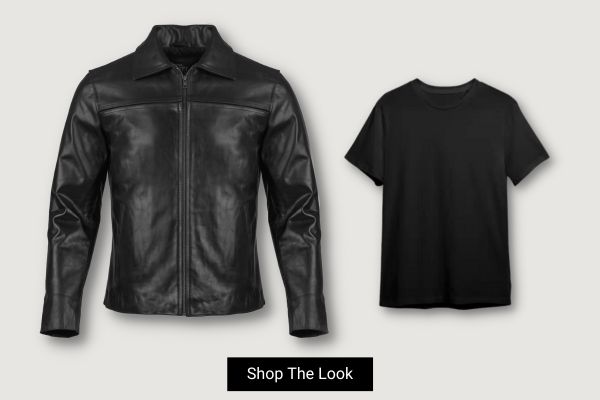 If you are a leather jacket enthusiast who loves different black leather jacket styles you can easily wear a T-Shirt + Black Leather Jacket combo regardless of the season. In a casual setting, you can even wear denim shorts to balance the heat of your black leather jacket.
FAQ:
Which leather jacket is best black or brown?
There is no such thing as a "best" when it comes to fashion. But there is a hierarchy of value and practicality. The black and brown leather jackets are both essential in the arsenal of any well-dressed man. Both are versatile enough to be worn with any outfit, day or night.
Can I wear a leather jacket with formal wear?
A leather jacket is generally considered a casual piece of outerwear — but you can wear it with your dressier outfits too. Keeping in mind the degree of formality required. The more formal the event the less likely a leather jacket will fit in. The rule of thumb is to pick a simple leather jacket with little to no details like studs or flashy embroidery. The simpler the jacket, the more it will not conflict with the structured nature of formal wear or even semi-formal wear and will not break the flow of your look.
Can you wear brown shoes with a black leather jacket?
Black leather jackets are incredibly versatile and the sky's the limit when experimenting with footwear. Therefore you can definitely wear brown shoes with them. It will bring balance to the ensemble and inject richness into it. Brown, beige, tan are some of the best shades that will go wonderfully well with a black leather jacket.
Conclusion:
The black leather jacket is the undeniable king of the style world. No longer the preserve of rockstars and bikers, they are a must-have for stylish men. From jeans to slacks, a t-shirt to sweater , a black leather jacket can help liven up the outfit. We have mentioned just a few ways to pull it off. But the versatility of a black leather jacket gives you maximum freedom to style it in countless new ways. Explore, experiment, and elevate your looks.