The British are known for many things. Their interesting history, intense love of tea, and near-universal distaste for rainy weather are all well-known around the world. These traits, however, don't hold a candle to the monolith that is British Men's Fashion. Modern-day tailoring was basically invented in the UK, and it really shows. You can go back a century and still find outfits that are amazing, even by today's standards of British men's style are never hindered.
With that being said, we are here with a blog where we are going to talk about British men's clothing. Pick out the tips that you find interesting and then add them to your final lookbook!
What To Expect In This Article?
What makes UK fashion so great?
While there are tens of thousands of men's outfits out there in the world, British fashion has an appeal of its own. The sophisticated vibe radiating from the outfit of an average London citizen is a sight to behold. The often-multilayered attire demands an unmatched level of respect and authority. To say that a British outfit makes you look like a gentleman would be an understatement. If you want something modern yet cultured, then British Men's Fashion is the right place to look. If you are looking for how to dress British man then the following blog is just for you.
British outfits that you should try
So, you want to try out some local British outfits and dress like a native Londoner. What are your options? Start thinking about how to dress like a British person.
Here is a small list of some of the best men's attire the UK has to offer.
Suits, Suits all the way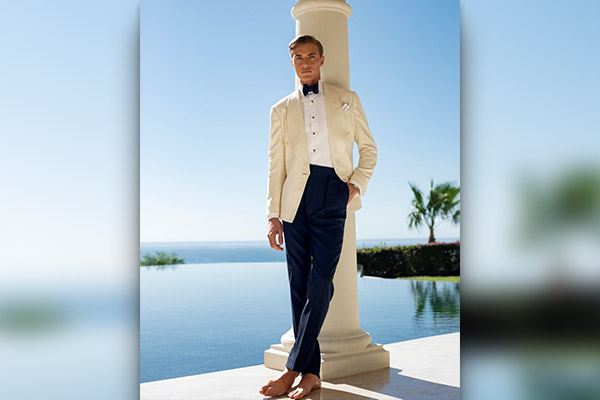 For the British fashion men's nothing says gentleman more than a well-fitted suit, and the British folk knows that. Even in the 1950s, British men's fashion was filled with suits of all shapes and sizes. There is a reason why this is the unofficial official outfit of the entire world. So, wearing a nicely tailored suit will make you fit right in with the street folk of London.
There are also tons and tons of options available. So many, in fact, that you can wear a new suit every single day for an entire year and still have many options left.
You should try to go for a classic Savile Row suit or even a seersucker suit. The genuine thing might cost you a bit more than usual, but it is indeed worth it. You can go for a typical grey/black suit with a colorful tie and socks (the traditional British way), or you can craft an all-black outfit for an understated but stylish look. Shiny leather shoes are also an excellent addition to any suit.
English Hipster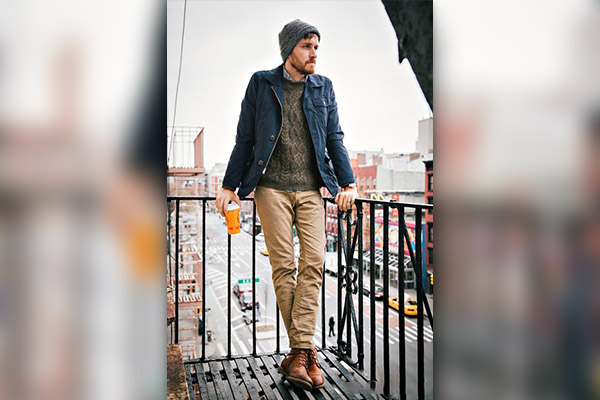 Of course, not everyone wears a suit in London at all times. There was a time when suits were reserved for the elite, but not everybody liked them. There was a group of people that really disliked suits and called them snobbish. A new kind of fashion emerged from these groups, which later got coined the "English hipster."
The British style men's style consists of narrow pants with rolled-up cuffs, oxford shirts, and classic brogue shoes with oddly white soles. This combo works sparingly well and is as comfortable as it is good-looking. The outfit walks the thin line between taking a lot of time to get ready and looking like you just woke up. In it, you'll look reasonably well-dressed without putting in a great deal of effort. You can even pass this dress as smart casual by adding a black blazer over it.
The authentic way to enjoy this outfit, however, is to pair it with some optional accessories. These accessories not only make the ensemble unique to you; they also add a lot of charm to otherwise an ordinary outfit. Something like a woolen newsboy cap is a must-have to perfect this outfit and that would be all for the hipster British men style.
Classic British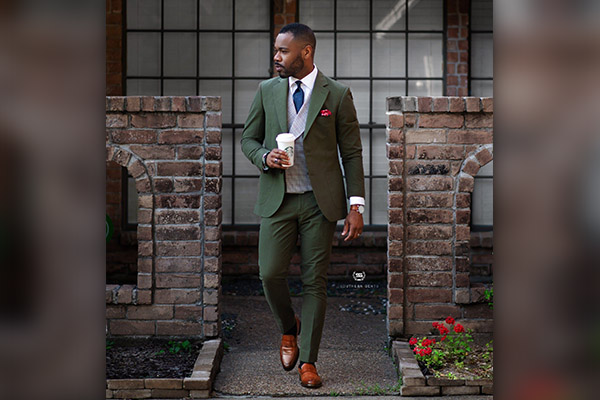 Classic English style men's clothing never got out of the fashion lookbook even when it was worn years and years back. If, on the other hand, you want to go old school and wear some staple clothing out of 20th-century Englishmen fashion, then that option is available too. If you look around London streets, you'll quickly realize that you're not alone in this desire for the classics.
You can achieve this look by donning a tweed jacket or a classic peacoat alongside your light grey flannel and some brown leather shoes. This, obviously, is only one example of what a traditional British outfit looks like, but it gives a pretty good idea of what to expect. One thing that you'll notice immediately after wearing it is the fact that it is soft and shockingly comfortable.
The colors on these outfits are not absent, yet they aren't that vibrant either. The types of pants are also up to your choice. Flannels are tried and tested, but there are many modern and classic options available to you as well.
UK Streetwear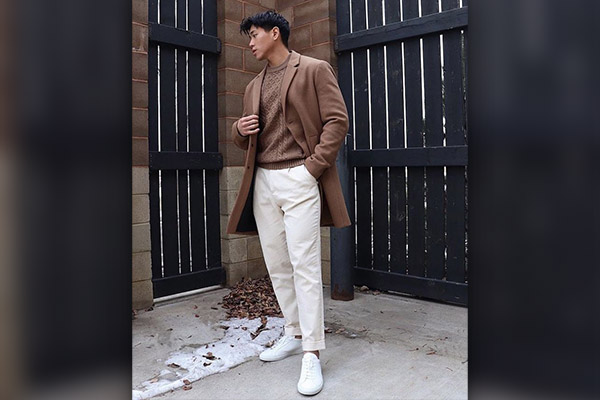 If you do not want to wear a suit or anything remotely resembling it, then streetwear is probably your best option. London streetwear is a mix of fashion and comfort clothing, and you see a lot of people wearing things like leather sports jackets. However, there is no single item that represents this style of outfitting. You can say that it is more of an aesthetic and less of a well-defined style.
This lack of any predetermined notions about this style is what makes it so great and popular among the British youth. You can wear a bright orange jacket with a white T-shirt, red jeans, and white leather sneakers. Or you can go for a super modern look with a pair of narrow black jeans, black sneakers, a white t-shirt, a brown aviator jacket, and a fancy woolen scarf. Top it all off with a cream-colored beanie, and you're dressed to impress.
The only tip for pulling off this look is to be confident. Do not be afraid of experimentation and contrasting interesting colors together. You can look around London streets for plenty of inspiration and ideas for a new British man outfit.
Leather Jackets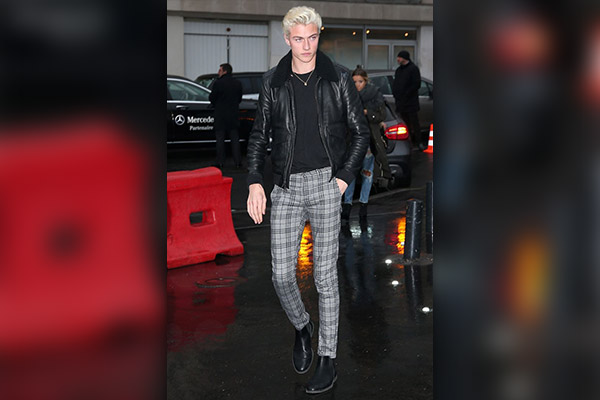 While there are many types of leather jackets available in the market, the one that seems to resonate the most with British Men's Fashion is a shiny black biker jacket (which you can purchase from a reputable menswear brand like The Jacket Maker). The outfits that surround these jackets are relatively similar yet shockingly striking.
A fine example of outfits revolving around these leather biker jackets would be a pair of skinny black jeans, a black turtleneck, and a nice pair of leather shoes. Yes, it's that simple, and the effectiveness of this attire cannot be overstated. Another unexpectedly excellent pairing is a grey flannel which provides comfort in addition to the unmatched style. You can style bomber jackets to achieve a similar aesthetic. So, if you want to dress up in an English men's style then a classy leather jacket might be your go-to choice. 
Sophisticated Sloane Style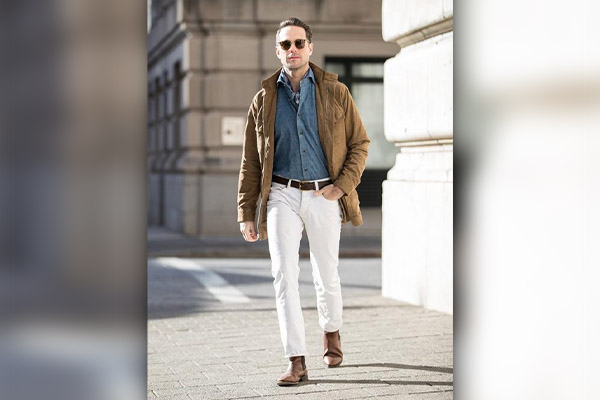 For our last entry on this list, let's get back to an outfit that is a bit more tailored. The sophisticated Sloane contains men's fall clothes but can be worn in winter with minor adjustments. The stars of the show here are the woolen coats that go as far below as the knees. The wool looks absolutely marvelous while also retaining body heat and providing a sense of coziness.
What makes this style so remarkable is its association with luxury brands. No, not the consumer luxury brands, but the ones that don't even put a logo on their work and just let the quality and looks speak for themselves. You, however, do not have to spend that much money to look like a Sloane Square local. The only thing that can ruin your attire in this style is if the clothes don't fit properly. Other than that, just put on a woolen coat over your existing trousers plus turtleneck combo, and you're good to go.
Tips for getting that distinct British look
Wearing the same clothes as a local Londoner is a great start, but memorizing and following existing outfits isn't going to get you anywhere. Instead, you need to understand British men's fashion on a fundamental level and make your own outfitting decisions.
The whole thing is way more complex than the scope of this article, so here are a few tips to make your job easier.
Wear the Suit Properly
If you are going to wear a suit, do it properly. Learn the appropriate etiquette of walking around and operating in a well-fitted suit. The suit will make you look mature and sophisticated, but you can still look like a moron if you don't carry yourself correctly.
Don't Forget Patterns and Colors
Suits and their accessories are relatively plain in most of the world, but not in the UK. So, when choosing your next three-piece suit, don't forget to shop for some colorful and vibrant options.
Dress for the Weather
The weather in the UK is not ideal by any means and can alternate pretty quickly. This means that you need to be equipped to handle such weather. If you know it's going to rain, wear a water-resistant jacket on the outside of your work clothes. If you know that it is going to be cold, wear a sweater and scarf under your usual essential clothing.
Devil's in the Details
Outfitting like a British lad is less about wearing the fanciest of suits but keeping an eye out for detail. If your socks match the color of your tie, you won't think twice about it. But a British observer will not only observe but will also appreciate the effort.
FAQs – British Mens Fashion
How do you dress posh in the UK?
Dressing posh in the UK is not hard, but it is not easy either. All you need is a well-fitting clean suit and a truckload of confidence. Everything else is optional with bonus points. Follow the above-given tips and give your attire the respect it deserves.
Do Londoners wear jeans?
They do. In fact, they pair them with fancy clothing like a sports jacket or casual blazer. Sometimes the jeans are worn with rain boots, while others are accompanied by some high-end sneakers. On top can be anything from an Oxford shirt to a casual shirt or even a plain and simple t-shirt.
Do Londoners wear leather jackets?
Yes, they do. Leather jackets like leather sports jackets and biker jackets are a massive part of Londoner's daily casual attire. They wear them to work, to parties, and even for grocery shopping.
Final words
As now you know how to dress like a Brit you must have realized that British culture and tradition are heavenly for any man interested in fashion. Whether you like it or not, the impact of British fashion on the rest of the world is undeniable. But, the most surprising thing about it all is that it is inclusive to everyone. You can be anyone from anywhere in the world, and a British suit is going to not only fit you but look fabulous in the process.
The list of outfits above is very limited as you can even pick out any other British outfit men. So, go out, and try the core articles of clothing for yourself. Mix and match them until you find something that is entirely yours. Add that English men's style to your outfit and we are sure that it is going to seem undeniably intriguing.