A leather jacket is one of the most essential building blocks of a man's capsule wardrobe. No matter the season, region, or reason, a well-made and well-styled jacket always perfectly fits the scene, which has been true for centuries. But it also stands true that many are unaware of the vast and fascinating history and types of these jackets.
The world of men's leather jackets is varied and wonderful. From the bomber jacket with its roots in the military and air force to the cold-weather warrior shearling jackets and to the cafe racer jacket a subgroup of the infamous biker jacket that we are going to talk about here
Traditionally, the word cafe racer jacket is associated with jackets that are worn by bikers and people that drive around on fancy motorcycles. There are many designs and variations available on the market, but you can recognize a café racer jacket by its simplistic design, flat collar, and straight zipper.
The Cafe Racer Leather Jackets – 11 Top Picks
Now that you know a little bit about what a racer leather jacket looks like. Why not take a look at some of the best cafe racer jacket designs from our selection? Not to forget that these are only a tiny portion of the colors and styles from one of the biggest cafe racer leather jacket for men assortment out there.  
So whether you're just starting your search or you're almost ready to pull the trigger on a purchase, read on for some great options
The Classic & Vintage-Inspired Styles
1. Lavendard Brown Leather Biker Jacket
Let's kick off our list with the illustrious Lavendard Brown Leather Biker Jacket. Made from high-quality leather and boasting a beautiful brown color, this is one of if not the best cafe racer jackets you can buy. A classic brown leather jacket is something that you can never go wrong with, whether it's the middle of winter or the start of a lovely spring.
Brown café racer jackets are famous for their excellent compatibility with all sorts of outfits. You can rock them with a pair of blue jeans and a white t-shirt with brown leather shoes for an overall balanced outfit. Or, you can go top-heavy by going all black and making this jacket the center point of your attire.
2. Brown Leather Cafe Racer Biker Jacket
The second item on our list of best cafe racer jackets is the classic-looking Rustic Brown Leather Biker Jacket. If you want to add a little history to your closet, but do not want to wear an actual vintage racer jacket, then this is an excellent option for you.
Made from real cowhide leather, this jacket not only looks like an old antique piece, but it will also last long enough to become antique itself. This jacket is very much a conversation starter and an article of clothing that demands attention. And if you want to get a unique look with this jacket, you can pair it with light greys and light khaki colors.
3. Gatsby Distressed Brown Leather Cafe Racer Jacket
While speaking of the best cafe racer leather jackets that are designed to represent an era before ours, Gatsby Distressed Brown Leather Jacket is a great racer jacket in that classic rustic brown color. The overall design of this top is very much indicative of its antique inspiration, and the color is done in a way that makes each of these jackets that we sell unique.
In terms of styling it with any outfit, it is pretty much the same deal as the previous one. The novelty factor of this classic design plays a massive role in everyday outfit selection. You can even match this jacket up with some colorful check shirts and create exciting attire
4. Ionic Black Leather Cafe Racer Jacket
Let's leave the topic of historic leather jackets, and move on to one of the best café racer jackets, the Ionic Black Leather Jacket. The design of this jacket is something that is modern but does not deviate too much from the designs from the older years.
The black color looks very clean with the simplistic design of this piece. This raw and minimal design, and a finish that is not very shiny, combine to deliver a men's racer jacket that is understated in every outfit. No matter what you decide to wear under it, it is just going to blend in with it.
5. Hudson Black Leather Cafe Racer Biker Jacket
The first one of the three is an excellent example of what makes leather jackets so versatile. The Hudson Black Leather Biker Jacket takes everything that makes standard leather jackets great and combines it all into one package. You've got the simple design, you've got the shiny black color, and you've certainly got the cool biker jacket aesthetic.
To say that this piece of men's clothing is unique would be an understatement and a blatant lie. This black cafe racer jacket will be an excellent addition to any man's wardrobe and will provide a level of value for money that is almost impossible to replicate with any other option available to you.
6. Legacy Black Leather Cafe Racer Biker Jacket
Staying on the topic of modern and shiny black jackets, Legacy men's cafe racer leather jacket is something that you can fall in love with at first sight. The angular, minimal design complements the black color exceptionally nicely, and to top it all off, the collar is just exceptionally well built.
When it comes to mixing and matching with other pieces of clothing, this falls smack down the middle of our lineup. When we look at it, it is a lustrous men's leather jacket that would sell like a hotcake. Adding this piece to any of your outfits will result in a look that is captivating and interesting from the very start.
7. Equilibrium Black Cafe Racer Leather Jacket
The last one on our list of three excellent jackets with shiny black exteriors is the Equilibrium Black Leather Jacket. Don't like to wear the dull everyday jacket that just blends in with other stuff and has no personality of its own? Then look no further than this glorious café racer jacket.
The highlight of the show with this one is its incredibly stylish and bold design that is achieved by taking the best sheepskin leather and handcrafting it into this masterpiece. The kite stitching on the torso and the arms is something that will let anyone in the world recognize it with just one look.
9. Charcoal Navy Blue Suede Biker Jacket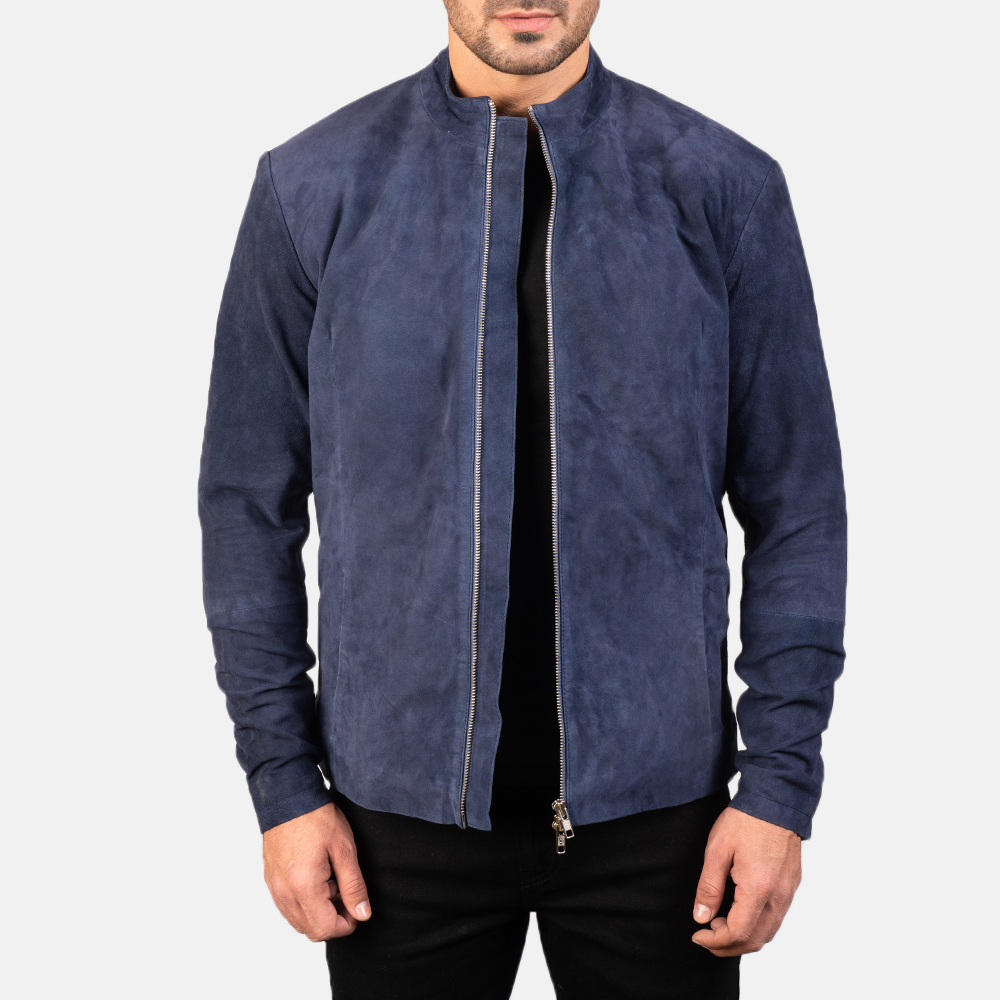 Take a break from the classic colors of men's outerwear i.e. black & brown and go for this men's racer jacket in a cool navy blue color. Made of real goatskin suede, it has a buttery soft appearance and a neat easy-on-the-eye exterior design with an interior lined with quilted polyester.
The jacket has a low mandarin collar that gives you plenty of room to rock your high neck & turtleneck layer under it. For a classic fool-proof look, just put on crew-neck black jeans and selvage denim with Chukka boots and heap praises for your great style
10. Darren Distressed Green Leather Biker Jacket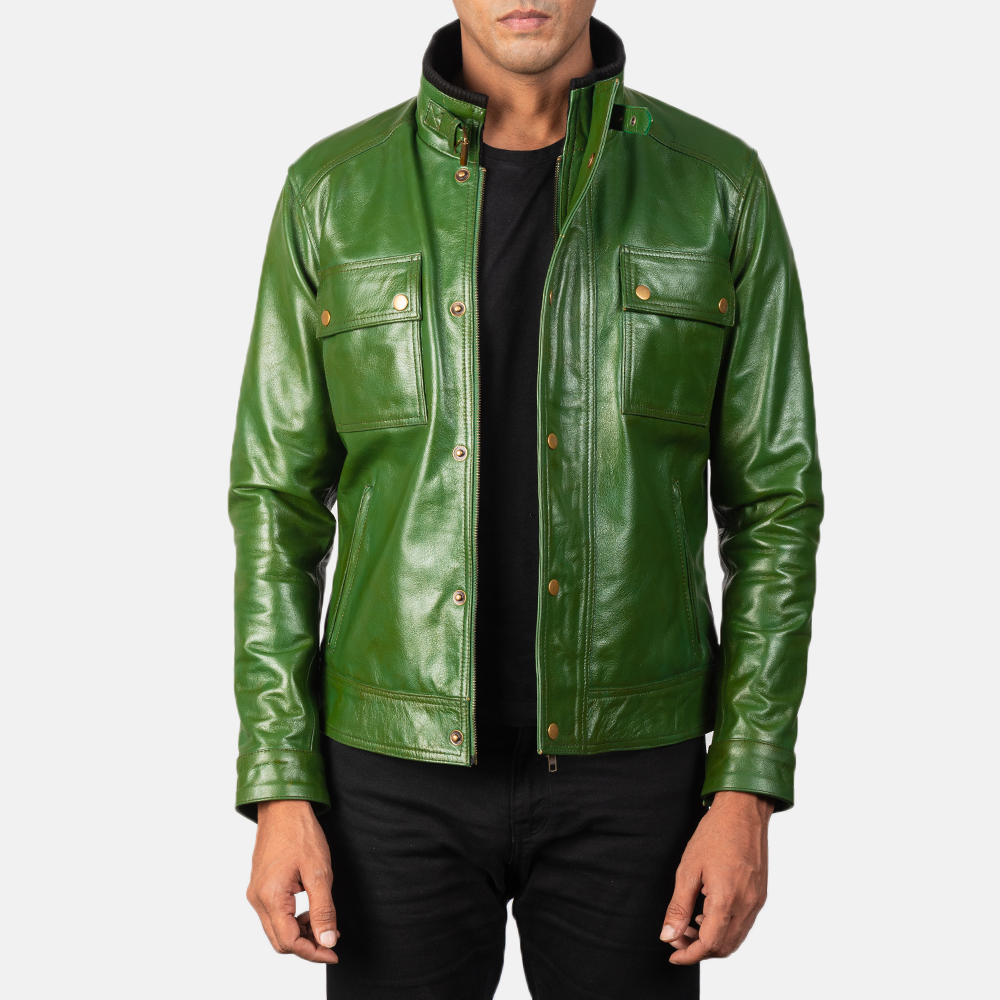 Dare to be different with Darren Distressed Green Leather Biker Jacket in an alluring green color leather with a high sheen. Featuring a snap collar with a belt, a flap over zipper closure style & waist adjustment straps, it will definitely go the extra mile in terms of design.
Made from cow-hide leather in a burnished finish, it offers a great mix of sturdiness & that cool worn-in look of leather. The quilted polyester lining further enhances the structure of the jacket. How to style it? Just keep your other clothing items in your outfit simple and let it shine.
Alex Distressed Burgundy Leather Jacket
We are at the end of this list, and we've saved arguably the best café racer jacket for the last. And that is the vibrant and flamboyant Alex Distressed Burgundy Leather Jacket. Boasting a burgundy-red color, this jacket is truly one of a kind. It is not often that you get a chance to add a leather jacket to your wardrobe that is brimming with color.
When it comes to wearing this leather racer jacket daily, the trick is to just run wild. The already vibrant nature of this jacket will let you assemble an outfit that might seem weird on its own. But when combined with the perfect jacket, it elevates the bar of men's fashion to a new height.
FAQs
Why is it called a cafe racer jacket?
Given their close association with motorcycle culture and a bike of the same name, these jackets came to be known as "cafe racer jackets" They became a popular choice among cafe racer riders, as they offered both protection and style. Today, cafe racer jackets are widely recognized as a classic motorcycle apparel staple, and their minimalist styling remains popular among riders and fashion enthusiasts alike.

How should a cafe racer jacket fit?
Cafe racer jackets, an essential piece of gear for many motorcycle riders, should fit snugly and be comfortable to wear while riding a motorcycle. The jacket should also be fitted so that it does not flutter in the wind and cause the rider to lose control of the bike. However, if you are wearing it only for fashion, you can go for a fit that fits your personal style best. 

What do you wear under a racer jacket? 
Café racer jackets can be excellent for casual & street-style looks. Wear your neutral-colored cafe racer jacket white T-shirt and denim jeans, and finish the ensemble with matching boots. In a more formal setting, choose darker-wash denim or chinos. You might also consider swapping out the T-shirt for a button-down shirt. Finally, complete the look with dress shoes or loafers instead of boots.

Conclusion
The cafe racer jacket is a popular style for men when it comes to leather jackets. While there are many cafe racer jackets on the market, we've found the 11 best ones that will keep you looking stylish and feeling comfortable while you ride or just strut your stuff in any setting.
If you have not found the perfect cafe racer jacket for your style and needs, do not worry. You can always get custom leather jackets in cafe racer style by The Jacket Maker that will fit you perfectly. With so many personalization options, there is no reason to settle for anything less than the best. So what are you waiting for? Start your design consultation for the best cafe racer jackets and get ready to hit the highway or the runway in style!