While rummaging through their wardrobes to gather pieces for a great-looking outfit, most men prefer to grab their black jeans first. Why? Because it's a staple that gives them the liberty to build dapper looks effortlessly. As it is a foundation piece for multiple style outfits, every man must know what to wear with black jeans in order to put their best foot forward.
In this blog, we will be deciphering the men's black jeans styling. We will help you with abundant outfit suggestions for your 2022 lookbook inspiration. Read on to know the brilliant ways to rock the black denim pants and make everyone stunned with your dressing sense.
What To Expect In This Article?
Black Jeans in Menswear: Symbolizing Versatility
Although blue jeans are perceived as the paramount menswear staple, its counterpart in black is no less by any means. Due to the adaptability of the color, black denim pants are one of the most versatile pieces that can be paired with a variety of other essentials. Such as all kinds of t-shirts, stylish formal shirts, sweaters, and your beloved leather jackets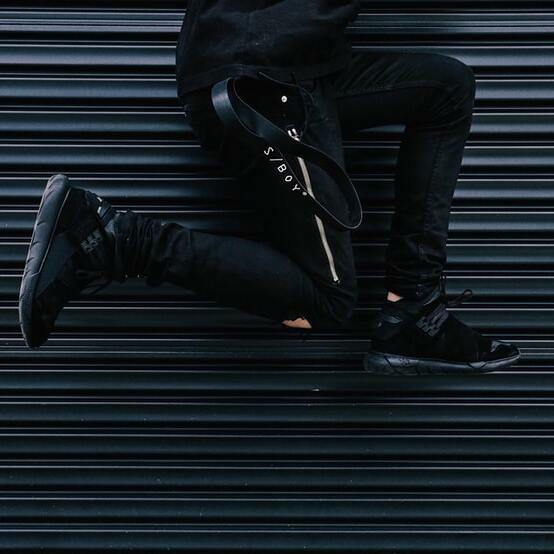 Especially for men who have a minimalist wardrobe, the versatility of black jeans is very useful for building a variety of looks.
Black denim pants are available in a baggy or slim fit, skinny style, ripped or distressed style, or faded ones. If you don't have black jeans and are planning to get one for your wardrobe, we suggest you to choose a straight fit, a dark one that will go well with all kinds of looks.
It would be even better if you also keep ripped black jeans with a slightly loose fit or black baggy jeans, which will be a comfortable option with your casual outfits. Faded jeans are also trending these days for the rugged style, so you can go with that as well.
Black Jeans Outfits Ideas For Men
Questions like what color shirt to wear with black jeans or what shoes to wear with black jeans shouldn't bother you anymore. Whether you want to attend an event with a business casual dress code or want to go for a fashionable boho look for the party, we have got you covered. Check out these black jeans outfits for men ideas, complete with the accessorizing, to nail each kind of look with panache.
What to Wear with Black Jeans in Street Style?
When putting together a street style outfit, the black jeans come in very handy. The darkness of black adds to the dapper looks. Also, pairing it with other streetwear essentials is a breeze as black goes with every color.
Outfit Number 1
The classic denim shirt is the best way to make a fashion statement. It is one of those garments that instantly makes you look handsome as soon as you put it on. The combination of a faded blue denim shirt with black jeans looks very stylish. It is the most effortless and quickest way to nail the street look in summer or the warmer days of spring.
Roll up the sleeves to show those sculpted forearms for a macho look. To add classy finishing touches to this outfit, put on a stylish pair of dark brown suede chukka boots or canvas low top white sneakers and a sporty watch.
Outfit Number 2
Want to dress up in an edgy street style look that will attract admiring stares? Pair a black crewneck t-shirt and black slim fit jeans with a maroon bomber jacket for men. The flashy red color gives a bold style statement that is hard for anyone to ignore.
To infuse some nonchalance to this look, you can don a baseball cap which will double as a functional accessory on those daytime strides in sunny weather. The footwear choice for this outfit is your cool hightops sneakers.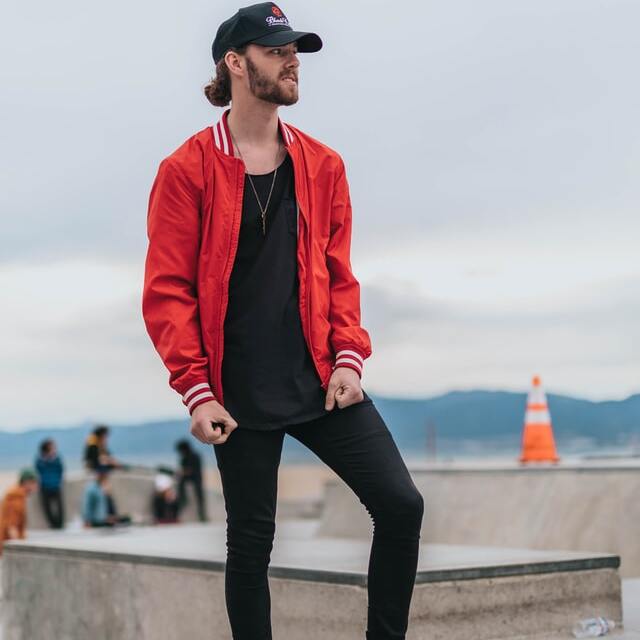 Outfit Number 3
A plain black turtleneck with black jeans is a combo that is a no-fail formula for a dapper look. Although turtleneck is one of those staples that are usually underrated as a statement piece, it is the highlight of this outfit, especially if you are a brawny man with a sculpted body.
To elevate this turtleneck outfit, wear black Chelsea boots and a black leather strap watch.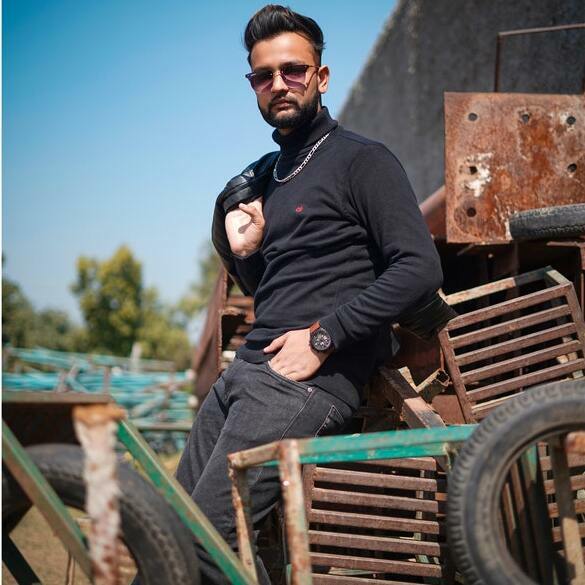 Outfit Number 4
Peculiar and much undervalued, the long line t-shirt is one of the most stylish essentials you can pair with black jeans. It is the ultimate choice when you want to give purely contemporary vibes.
To put together an outfit that makes heads turn, wear a white long line t-shirt along with skinny black jeans. Layer the outfit with a men's black biker leather jacket or a grey shirt jacket. When it comes to footwear, add grey leather boat shoes to the mix and add some more style with a leather band bracelet.
Outfit Number 5
Talk about creating an effortless street style for winters, and the hoodie and suede jacket comes to the rescue. Pair a plum pullover hoodie with slim fit black jeans. Layer it with any of the best men's suede jackets, preferably in a lighter color. Throw a pair of tan chukka boots into the mix for a comfortable yet stylish look. Don't forget to add calm and confident vibes with a classy pair of wayfarer style shades.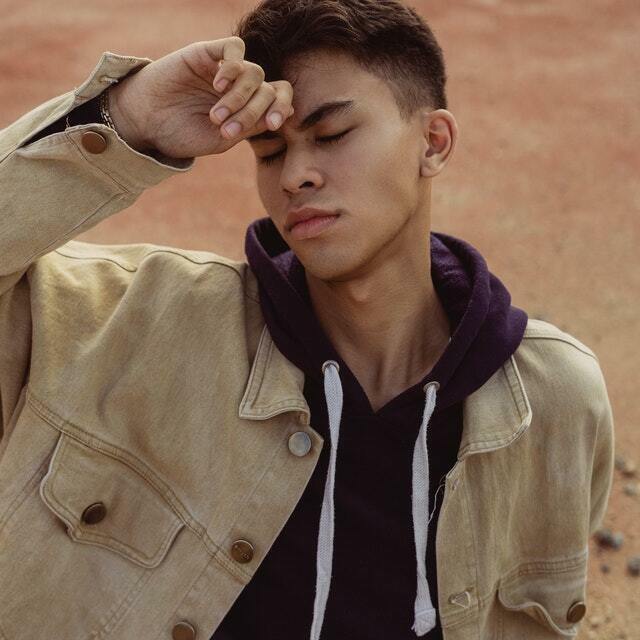 Outfit Number 6
The last one for the street style looks. This is another outfit suggestion for a winter look with black jeans. The foundation of this look is jeans with high-tops, as it brings up the style factor of any look. Pair an off white sweater with baggy style black jeans. Add another insulating layer in the form of a long woolen overcoat in grey. Go for black high-top sneakers for the whole look to come together.
What to Wear With Black Jeans in Casual Style?
Who says black jeans can only be worn for dressy looks? A pair of black jeans is one of the staples that will go well with all sorts of looks. It can undoubtedly bring up the flair of laid back day-to-day looks as well.
Outfit Number 1
The chambray shirt is one of those menswear essentials that lean towards a more casual approach to style. The easiest way to get ready for an informal meetup is to put on a basic white t-shirt and black straight fit jeans. Don an unbuttoned chambray shirt over it for a cool and relaxed look. In the end, spruce up the look with tan loafers.
Outfit Number 2
Coming second is this super easy off duty ensemble. Team up your grey half sleeved crewneck t-shirt with distressed black jeans. It is the perfect summer/spring look which you can layer with any type of lightweight suede jacket or a polyester softshell. Tie the whole look with black and white sneakers.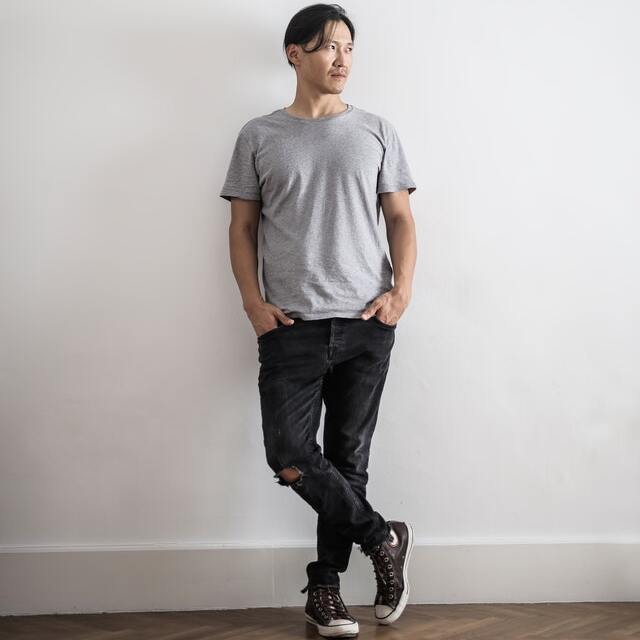 What to Wear With Black Jeans in Grunge Style?
Have a knack for unique fashion subcultures like the Grunge style? Your black jeans will make it a lot easier to pull off any sort of grunge outfit. It works well with exclusive grunge style essentials, such as the plaid shirt, oversized sweatshirts, vintage t-shirts, and converse shoes. 
Outfit Number 1
For the ultimate rockstar look, try the medley of a plain white t-shirt, a red and black plaid shirt, and baggy black jeans. Infuse metal jewelry and a baseball cap into the look for an authentic grunge feel.
Outfit Number 2
A vintage t-shirt depicts the quintessential grunge style and adds a relaxed spin to your outfit. Pair it with faded, ripped jeans in black and add a pair of laced up boots to the look for an urban touch.
What to Wear With Black Jeans in Bad Boy Style?
The contemporary bad boy style is quite rugged. Basically, it is built with clothing essentials and accessories that add rocker vibes to their look and portray a stylish and confident attitude. Ripped or distressed black jeans are the ultimate choice of bad boys around which they plan their outfits. 
Outfit Number 1
If you are thinking about what else to wear with black ripped jeans, this bad boy outfit idea is a must try. Sport a grey hoodie with a torn black skinny jeans. When it comes to footwear, black low top sneakers will go perfectly with this look. Add some gear to the look, like metal neck chains, and don't forget that signature hairstyle of sleek and messy hair to get the true bad boy feel.
Outfit Number 2
Here is another way to tell the world that you are a true bad boy. Team up a white t-shirt with ripped jeans in black, and don a black double rider leather biker jacket over it. Throw in a pair of black laced up boots and leather strap bracelets, and you are good to go.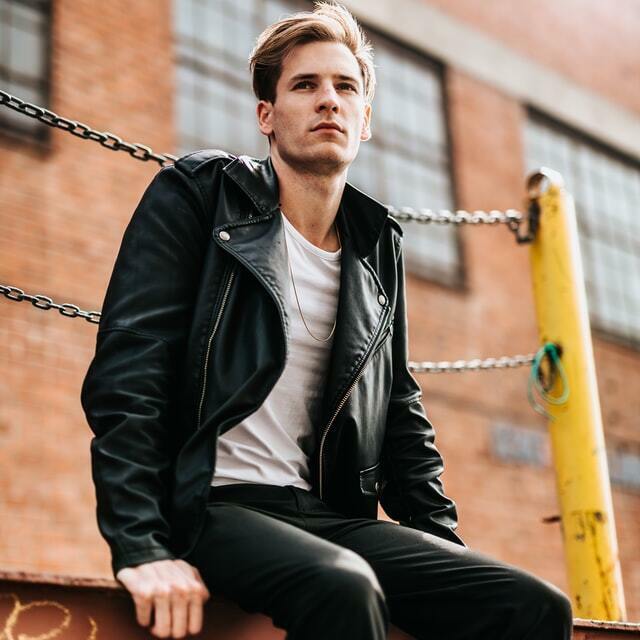 Outfit Number 3
If you have an athletic physique, show your chiseled features, especially those well built arms in a half sleeved white t-shirt and a leather vest. The black jeans provide you with an excellent styling opportunity here. Black and white low top sneakers will tie the whole look together, and you can also add a bit more attitude with a black cowboy hat.
What to Wear With Black Jeans in Boho Style
Many men find it challenging to nail the boho look. The usual bohemian essentials include vivid prints and chunky accessories. Thankfully, black jeans go well with the bold and expressive bohemian style, giving all the men an opportunity to try this style effortlessly.
As black is a versatile color, you don't have to worry about what color combination is best with black jeans. All the fun boho colors can easily be paired with black denims.
Outfit Number 1
Don a casual shirt with a paisley or floral pattern along with black baggy jeans. Leave the top two or three buttons of the shirt undone for the boho touch. Finish off this uber stylish look with bohemian accessories like a neck stacked with beaded chains, chunky men's bracelets, and a fedora hat.
Outfit Number 2
For an effortlessly stylish outfit, team up slim fit back jeans with a black graphic t-shirt. Layer the outfit with a green leather jacket for a boho inspired look. Boost the wow factor of this look with a pair of black chukka boots and retro style sunglasses. A scarf makes a great accessory for this boho look.
What to Wear With Black Jeans in Smart Casual Style?
Since the start of 2021, the smart casual style trend has been gaining momentum. At parties, workplaces and more; black slim fit jeans are considered a critical smart casual staple. The neat, stylish look that falls somewhere between business casual, business formal and formal cannot be complete without a pair of jeans that fits you well. It ties the whole look together while giving a casual touch to your smart casual outfits. 
Outfit Number 1
The first smart casual look we suggest is an all black outfit that will make you look dapper. Monochrome is a no fail look that is easy to put together as you don't have to spend time matching essentials. Build an ensemble by pairing a black crew neck t-shirt, black jeans, and a black tailored blazer. Enhance this smart outfit with a pair of dress boots in black and a silver watch.
Outfit Number 2
A navy blue polo shirt and black jeans outfit is an effortless way to look uber stylish. Black aviator shades, a dark brown leather watch, and brown Chelsea boots enhance this refined look.
Outfit Number 3
For a classy, smart casual look, pair a casual blue shirt and black jeans with a grey tweed or leather sports jacket. There are multiple ways to finish this look, but we recommend wearing brown brogues for a neat appearance.
Outfit Number 4
In the end, we bring you a smart casual style outfit suggestion that is a surefire way to gather compliments. The jean jacket with jeans look is not only classy, but it is also super comfortable.
Don a grey long sleeved t-shirt and black jeans with a dark blue denim jacket. A dark brown leather belt will add a visual appeal to this look, and so will suede shoes in the same color.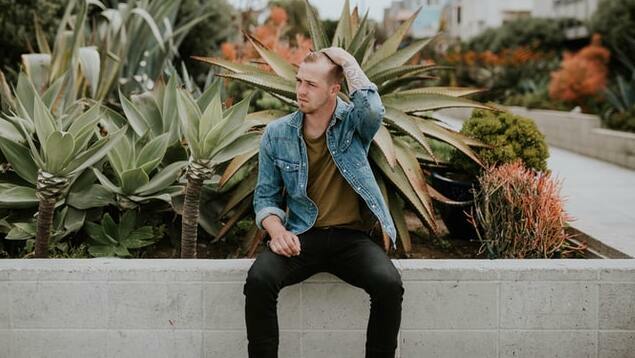 Conclusion
Black jeans are a modish menswear staple that helps you round off several types of looks in smart casual and casual styles. Besides looking stylish, black jeans will not inhibit your style in any way. Try the outfits we have suggested whenever you want to give a classy style statement and gain everyone's attention.