Green is one such color that is a go-to classic for both men and women. Even the ones afraid of taking risks and experimenting with their style cling on to army green utility jackets for different activities. Earthy-toned outerwear like a green leather jacket are perfect to match your minimalist vibe.
Green jackets are highly versatile and dual-natured as they complement all body types, shapes, and colors. Wear a green biker jacket to rock a sporty event and a classic green sports jacket for a laid-back yet leisure-packed evening. You can create a bunch of different outfits using this attention-grabbing outerwear without having to master exclusive fashion courses or degrees.
Make dressing up the least difficult part of your day by adding a green leather jacket to your wardrobe. Not only does this jacket complement individual styles but it also makes you stand out and feel empowered. If you're a beginner and want to invest in a green jacket, we suggest you get one from The Jacket Maker. We provide you with ready-to-wear, made-to-measure, and bespoke services giving you a custom jacket experience.
Types of Fabric and Material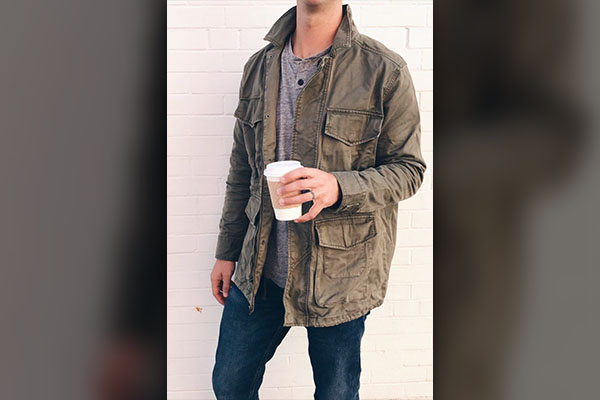 If you're searching for a green leather jacket to update your current capsule wardrobe, we suggest you discover and understand the different leather types first. This essentially helps you determine your needs more inclusively. For example, you should go for cowhide leather in case you're looking for a rugged and durable leather jacket and a lambskin if softness is your priority.
In addition to this, it is essential to distinguish between real and faux leather – should you desire to go for a green leather jacket. Faux leather is also great but not ideal if you want it to last longer than two years. If the intention is to buy a jacket that has a soft and smooth feel to it, you might want to go for a suede leather jacket.
You can also opt for a jacket made of nylon, polyester, or cotton fabrics. But they do have their limitations. For example, some jackets are better for casual wear while others may be suitable for dressy events. Apart from this, there are always debates regarding denim and leather jackets. 
Check Out Our Green Leather Jackets
Shades of Green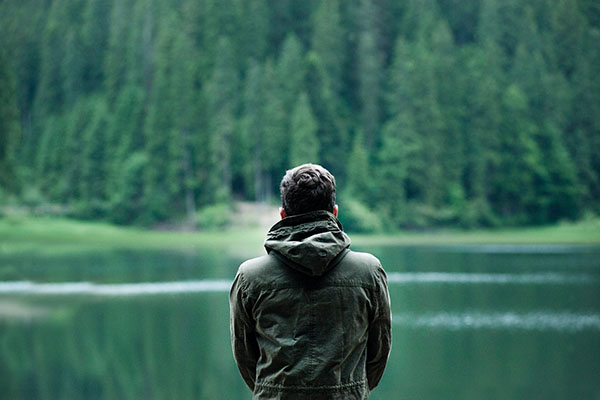 Green is a color that represents peace; however, the color scheme itself is versatile. There are several shades of green in deeper tones. The different shades of green include olive, hunter, forest, mint, emerald, lime, military, etc. This means that you don't always have to stick to brown or black jackets.
How to Style a Green Jacket?
There are various ways you can style a green jacket. Take inspiration from different sources and become obsessed with these shades because not only is this color perfect for dressy events it also induces feelings of positivity and compliance. There are so many types of jackets that you can wear on a daily basis. From bomber and biker jackets to trench coats and sports jackets – the options are endless!
1. All-Time Classic
Wear black fitted jeans with a plain black t-shirt and brown leather shoes. As for the outerwear, go for the Ionic Green Leather Biker Jacket because it's an all-time classic. If you want to wear this look for dinner or any evening smart casual event, of course, don't forget to accessorize by wearing the right belt and watch with the green leather motorcycle jacket.
2. Ultra-Funky Vibe
You can be as creative as you like with the Shane Green Leather Bomber Jacket. Deviate from the norm and go for an ultra-funky vibe by pairing this jacket with an all-white outfit. Choose a distressed white v-neck shirt to go with crisp white pants. Wear tan or beige suede footwear with this outfit.
3. Into the Woods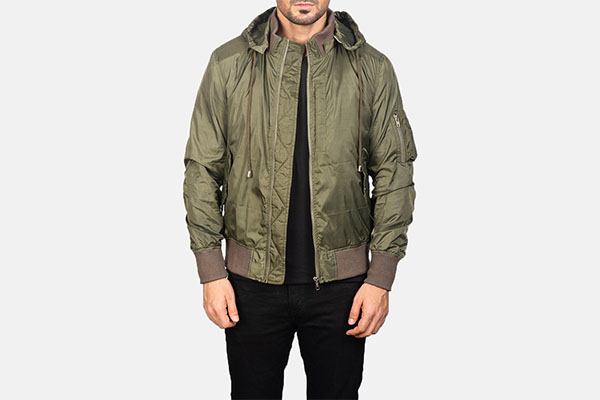 Go for a hooded bomber jacket, like Hanklin Ma-1 Green Hooded Bomber Jacket, for a casual evening out in the woods or with friends. A lighter tint will complement this look since it's in a paler or deeper green tone. Hence, go for a beige, cream, white, or grey color shirt and pants. You can stick to the norm and select an all-black outfit as well.
4. Edgy Look
If you want to create an edgy look, Nashville Quilted Green Windbreaker Jacket is the one to go for! This green jacket with black leather sleeves is perfect for a wild night out. The great thing about this jacket is its versatility. You can wear this jacket for smart-casual events as well as for sports events and carnivals.
5. Traditional Style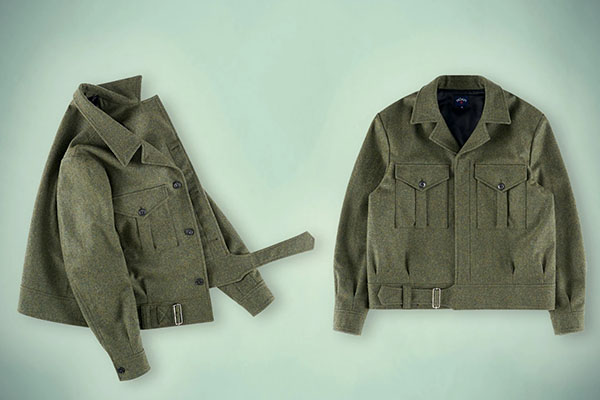 Eisenhower jackets are considerably shorter in length and lie right next to the waistline. These types of jackets have a history, as they were worn during WWII. These jackets have fly-front buttons and an adjustable waistband making them a great everyday choice! Thus, wear them with an all-white costume. 
6. Military-Inspired Overcoat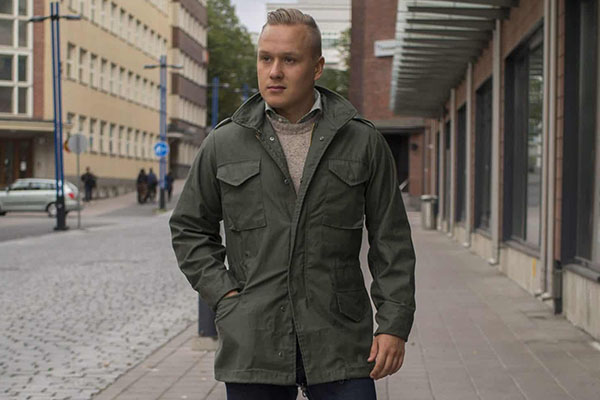 If you're looking for lightweight outerwear with front pockets and water-resistant fabric, field jackets are the ones to go! Initially, these jackets were used by military troops but they've found popularity amongst the masses as well. Although they're available in many colors, they always stand out when worn in green.
7. The Great Gatsby
The Gatsby Green Leather Biker Jacket is a unique shade of green- more towards the brighter and shiny side. Hence, you should wear it to parties and pubs. It has a unique collar and so you can use it for days as you begin to feel experimental and unabashedly cool.
8. Coach
This jacket was a popular choice amongst hip-hop artists and musicians in the 80s. They are effortlessly stylish and can be worn in various styles. The material is nylon with collars and elastic cuffs. You can wear it for a casual outing with friends or at a sports event. Not only is this jacket cool but also highly functional.
9. The One with the Quilts
Down jackets or puffer jackets are popular garments for when you plan hiking trips and outdoor meetups. It has padding that provides warmth and comfort in the colder seasons. Of course, this is not something you would want to wear for formal or even semi-formal evenings.
10. The Functional Ones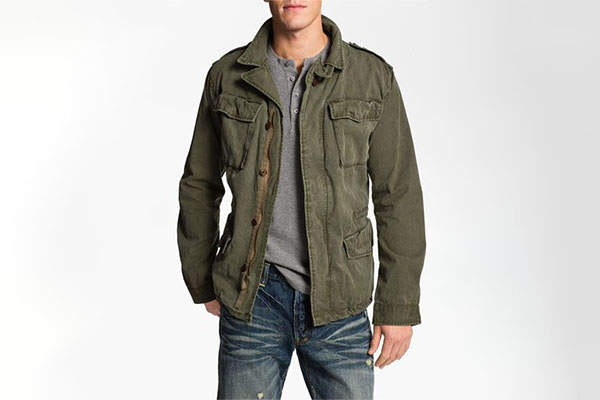 Military jackets are similar to field jackets in many ways. The most obvious connection between the two jacket types is their relationship with the War. These jackets are highly functional and even stylish to look at. You can wear it with chinos or simple cotton pants. The idea is to keep it simple and tidy.
FAQs
What To Wear With An Army Green Jacket?
A crisp white shirt, brown chinos, and a fedora would go really well with an army green jacket. You can also keep it simple by wearing tan jeans instead of chinos. 
What To Wear Under A Green Jacket?
It's preferably better if you wear lighter-toned shirts and pants. However, you may go ahead and wear black underneath if you want to keep it sophisticated and classy. The only rule to remember is to keep the rest of the outfit in the same tone instead of choosing different colored shirts and pants. 
What Does Green Jacket Mean?
A green jacket is a sign of success in the world of Golf. It is a single-breasted and single-event garment that is earned by the player after victory at a Master's Tournament. 
In Conclusion
Thus, it can be established that wearing a green jacket is unlike any other color. It can be classy, smart, and equally casual. If you wish to deviate from the usual black and brown jackets without going completely overboard, experiment by wearing a green jacket.