In the 1960s, the term Minimalism started trending in creative fields such as arts and writing. Simple, clean design with an uncomplicated perspective was an idea that was welcomed outright by the general public.
It was only a matter of time before this approach extended to other walks of life, including clothing and style, eventually paving way for the minimalist wardrobe for men and women.
Ever since then, there was no looking back. Pertaining to its several advantages, more and more people started opting for minimalism in their day-to-day lives.
In particular, a minimalist wardrobe evolved as a trend, as several social media influencers started advocating an effortless, clean look using minimal clothing. A minimalist wardrobe also goes by other names, such as a lean wardrobe, or an interchangeable wardrobe.
Unlike a capsule wardrobe, you are not limited to your options here. This blog will cover all aspects of a minimalist wardrobe for men. Those who are planning to convert to a minimalist lifestyle can find useful ideas.
What To Expect In This Article?
Significance of Minimalism in Clothing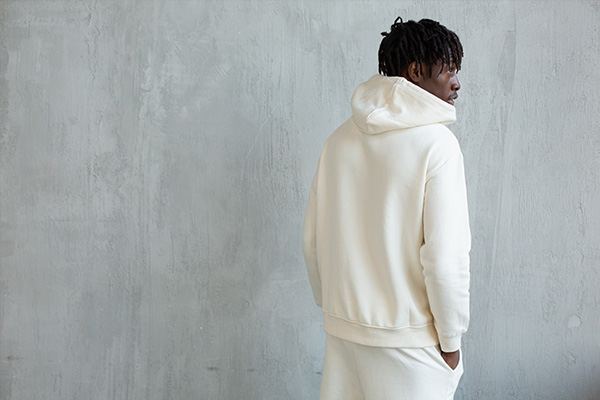 Having minimal clothing doesn't mean that you will be limited by any means to portray a classy style. In fact, a minimalist approach will optimize your personal style. Once you build a men's basic wardrobe with a few items from scratch, you will gradually learn to skew more towards quality rather than quantity.
The men's minimalist wardrobe consists of the most versatile, classic staples in highly wearable colors, along with the best accessories and footwear that would go well with hundreds of outfits, taking your style quotient to the new heights.
Busting the myth once and for all, less number of clothes is by no means a hindrance to dressing well! Minimalism in your wardrobe simply means that you will be able to put together classic outfits in less time even while having the least amount of clothing essentials. Therefore, there is no need to sacrifice your style choices!
It is worth opting for a minimalist wardrobe due to:
Functionality
In a men's minimalist wardrobe, a man has adequate pieces of clothing to build casual and formal outfits. The sufficiency makes this type of wardrobe highly functional. Outfits made with minimum clothing are easy to carry and highly practical. You can keep it as simple as you want, but still, ace the look with comfort.
Versatility
Every item that you add to your minimalist men's wardrobe can help you build various outfits. This means that the color, style, and silhouette of the clothing are versatile enough so that you can pair it with a variety of other essentials. They say the lesser, the better, and we couldn't agree more! When you declutter your mind, you focus more on quality than quantity which helps you create a versatile look.
Durability
Minimalist men's fashion is all about a limited number of staples that would last longer in your closet, giving you wear after wear. Complying with the famous quote "Less is more," you must own clothing of good quality. Durable, colorfast clothes will last longer in your wardrobe, giving you options to build sharp looks in every season.
Saving Space
When you finally decide to transform your wardrobe and aim it to be greatly functional, only the choicest staples should make it to your minimalist men's wardrobe list. A minimalist men's wardrobe has very few staples for which you do not need a lot of space. This also spares you from the arduous task of keeping the closet organized.
Frugality
Minimalist men's fashion is an idea that saves you a lot of money. After carefully selecting the needed clothes for your lean wardrobe, you no longer need to spend tons of money on clothes for every occasion.  
Saving Time
No need to think about what to wear every time you open your closet. Moreover, you won't need to take out time to organize a closet filled to the brim with meaningless clothing.
Less Complexity
As you are only keeping the clothes that are comfortable to wear, your wardrobe has less clutter which otherwise causes a lot of annoyance. A truly valuable wardrobe will help instill a sense of satisfaction in you.
Classifying Men's Minimalist Wardrobe Based on Specific Preferences
To make things easy for you, we have categorized minimalist wardrobes based on varying needs. Here is how to begin building a basic wardrobe for men that has a classic, truly required clothing and accessories.
Determine Your Needs for a Minimalist Wardrobe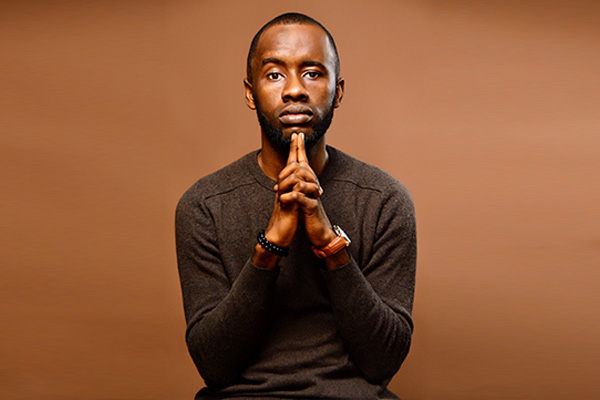 Minimalist men's fashion Can be classified into various sub-types, depending on your lifestyle, weather, surroundings, and even your work. There is no one-for-all formula which will apply to everyone as the minimalist wardrobe essentials would vary for each individual.
Assess what type of clothes you will need the most, write a men's minimalist wardrobe checklist, and curate the wardrobe efficiently according to that. If you do a 9-5 job, you will need a set of apparel for your work and a few casual pieces for weekends and informal events.
On the other hand, build a men's capsule wardrobe with comfortable loungewear and a few smart-casual staples if you work from home.
If you are somewhere where the weather is extremely cold, you will need more than one jacket and adequately warm ones, such as quilted leather jackets or parka jackets. In contrast, a denim or suede jacket is enough for men living in a moderately hot location.
You may be a minimalist man by heart, wishing to lean towards a definitive style. But we suggest to avoid being too specific while choosing the apparel for your minimalist wardrobe. Try to include at least one item that stands out from your usual clothing, such as a classic dress shirt along with your casual shirts.
How to Create a Minimalist Wardrobe on a Budget for Men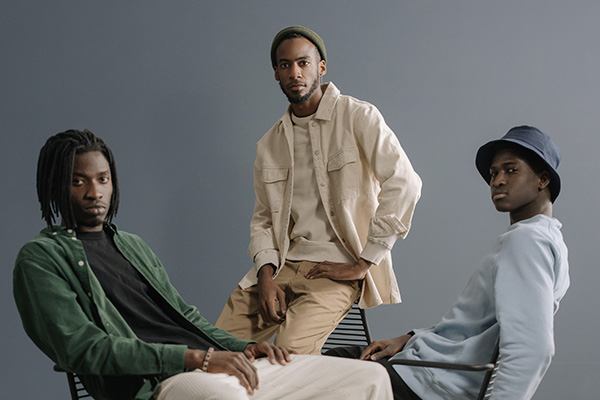 A basic wardrobe for men doesn't require heavily priced clothing. Just a few affordable and good quality staples would be enough to set off your minimalist style. If you are on a budget, that doesn't mean that the only place you can go to buy clothes is in the thrift store. Although we don't totally dismiss the idea, there are several ways to buy good quality at the best value.
Make a minimalist men's wardrobe list of all the essentials you need, and keep an eye on sales and best deals on brands that sell good quality clothing. Invest in a few essentials in premium quality and proper fitting, so you don't have to buy clothes again after a short while.
Remember that clothing that fits you well will always look better than ones that don't, no matter if you bought from high end brands. Here is what you can add to your budget friendly capsule wardrobe.
Shirts
Keep three t-shirts in pastels or solid colors, which will go with a number of outfits in every season. Along with these, keep two henleys in grey and white color for smart casual looks.
You can also have two sweaters in dark hues. For formal needs, keep a white and a light blue dress shirt.
Trousers
You only need a maximum of 6 pairs of trousers to start with. Two chinos in black and blue color and grey flannels will cater to most semi formal outfits. You can own two sweatpants in neutral colors like beige and charcoal grey for a laid-back style. Don't forget to keep dark colored denim that fits you well.
Outerwear
The choice of outerwear largely depends on weather and style needs. However, a black overcoat and a comfortable hoodie are great choices when you are conscious of your budget. Go for an affordable jacket like a bomber jacket. Whether you want to opt for leather vs denim for your jacket pertaining to your particular style needs is up to you.  
Standout Items
You must own a well tailored suit in your wardrobe, so choose a navy blue one for those polished, formal looks.
Footwear
The least number of shoes you should own is three—one pair of casual shoes, one pair of dress shoes, and one pair of boots. Make sure your men's minimalist wardrobe checklist has suitable footwear for the different styles of outfits that you are planning to put together.
Get your hands on white trainers as they pair effortlessly with almost any casual and semi formal outfit. For formal outfits, invest in a pair of dark brown derby shoes. Boots also give you tons of options when it comes to creating dashing looks. We suggest a pair of black Chelsea boots in a budget friendly minimalist wardrobe.
A Minimalist Luxury Wardrobe for Men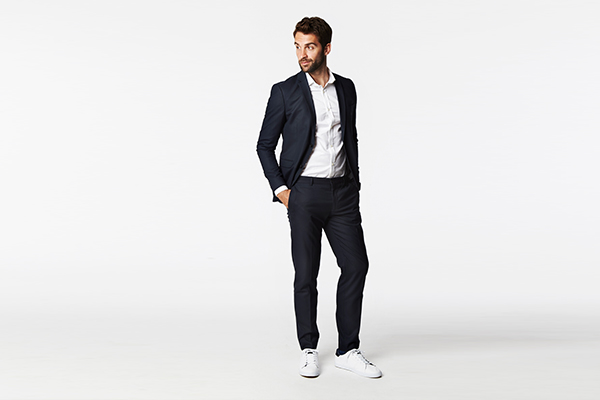 A luxury minimalist wardrobe may consist of a higher number of essentials, and those too from premium brands. However, this doesn't mean that you should add items that have a constricted mixing ability. Doing so will make outfit building difficult, giving you no value in return.
Here are some foundation pieces which you can add to your minimalist men's wardrobe list. Get your hands on these to build outfits that make you look like a million bucks.
Shirts
The humble t-shirts are obviously something that you cannot give up on, even when you are creating a luxury minimalist wardrobe. However, you can go for polo shirts as they give off a refined and classy look.
Along with the polos, keep a chambray shirt, crewneck sweaters in blue and dark grey, and some button-down shirts in contrasting textures.
Keep a few dress shirts in your minimalist men's wardrobe in lighter shades of blue and grey. Also, go for printed dress shirts to portray an exquisite style.
Pants
Two Sweatpants, one pair of khakis, and three chinos will cater to your most minimalist outfits for men. We are not a big fan of shorts, but you can go for them if they keep you comfortable. Also, add charcoal grey joggers, slim fit blue and black jeans, and twill or corduroy pants to your men's minimalist wardrobe.
Outerwear
If budget is not a concern for you, a premium quality full grain leather jacket should be a must in your capsule wardrobe. It will instantly elevate your looks and convert even simple jeans and Henley combo into a luxury outfit. 
Apart from that, you can have a few other staples, such as a grey sports coat, a black blazer, a suede jacket, and a trucker jacket in your outerwear collection.
Standout Items
A classy wool coat, a trench coat, blue suede shoes, or a men's activewear essential like track pants will be a great addition to the luxe minimalist wardrobe.
Footwear
Suede or perforated leather casual shoes, brown loafers, black and brown double monk straps, and chukka boots are appropriate for the footwear choice.
How to Build a Minimalist Work Wardrobe for Men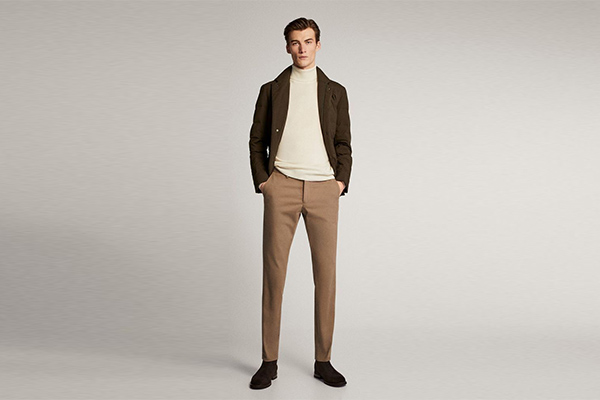 Depending upon whether your workplace has a formal or business casual dress code, you can build a workwear collection. We highly recommend adding tailored clothing to your minimalist men's wardrobe list for work, as you need well fitted clothing for a sleek, professional look.
If you wonder how to dress like a minimalist man at work, the easiest way is to create an outfit with a dress shirt with formal pants in a complementing color (for instance a light blue shirt over grey pants). Layer your navy blazer over it and round off the look with brown oxford shoes.
Shirts
In your work wardrobe, there must be at least four collared shirts either in solid colors, stripes, or checkered prints. You can layer your crewneck sweaters or black high necks under the dress shirts in the colder months. For a business casual style, opt for three button down shirts, two henleys, and a polo t-shirt.
Pants
Formal tailored pants in black and grey are the most versatile. Besides, you can add grey flannels, two chinos, and a pair of straight leg khaki pants to your collection.
Outerwear
The suit jacket is definitely the most suitable choice for work. However, at a workplace that allows business casual, you can wear a classy bomber jacket, a navy blazer, and also a leather coat.
Footwear
In the workwear section of your minimalist wardrobe, keep a pair of black leather dress shoes, brown brogues, and a pair of ultra stylish Chelsea boots.
30 Piece Interchangeable Wardrobe with Everyday Essentials
A men's interchangeable wardrobe is basically a few number of clothing items and shoes which can be mixed and matched in trendy ways to give several possible outfits. Many factors, such as fit, color, and patterns of the clothes play a vital role in creating a good interchangeable wardrobe as you want each piece to go with most of your other clothing. Here is a quick list of everyday essentials in a minimalist men's wardrobe.
4 dress shirts(plain, striped, checked)
4 t-shirts
3 Henley's
1 crew neck shirts
2 hoodies
1 denim shirt
3 button down shirts
2 pairs of shorts
1 sweatpants
3 pairs of jeans (dark and light colored)
Leather vest
Denim jacket
Brown suede casual shoes
Black oxford dress shoes
Dress boots
FAQs – Minimalist Wardrobe Men
How many items are in a minimalist wardrobe for men?
There is a minimum of 16 items in a minimalist men's wardrobe, but you can add up to 30 pieces for an added outfit building flexibility.
What is a minimalist lifestyle?
A minimalist lifestyle means having a lesser number of items that provide optimum functionality rather than hoarding junk.
How do I know if I have too many clothes?
When 80% of your clothing are pieces that you never wear, there is a dire need to replace your current wardrobe. Purge all the "just in case" items and keep the ones which you need. 
How do you master minimalist style?
Shun the fear of "what if I ever need this particular clothing." Remember that versatility is the key to a minimalist style which means that you will have appropriate attire for every occasion.
Summing Up
The next time you open your closet, let it be a source of joy by keeping the least amount of items neatly. Remember that you can make your own wardrobe even smaller than the ones suggested above.
To adapt to the minimalist style, the first thing you need to do is to purge your wardrobe. Take ideas from this blog and only keep the clothes that you will actually wear. Do not just shove the unwanted items into the back of your closet, but give them away or sell them to a thrift store.
Only then would you be able to create the ultimate minimalist wardrobe men strive to put together. Adopting minimalism is a gradual process, especially when it comes to clothing. When you step foot into minimalist practices in men's fashion, you will notice that you are now developing a clean, uncomplicated personal style.
Contrary to the preconceived notion, a men's minimalist wardrobe would bring out the best of your style sense with the choicest clothing and accessories.