A cultural icon in the Hawaiian region presumably originated in the stores of Honolulu; Hawaiian shirts have come a long way. Soon after their inception, a Hawaiian shirt outfit was a popular choice for vacationers in the island region. Later these brightly-colored shirts with bold patterns made their mark in pop culture and fashion most especially.
Relegated to the pile of clothes reserved for vacations, Hawaiian shirts are now fashion-forward staples that have rightfully scored a place in summer/ spring fashion trends 2023. The reasons? They're eye-catching, extremely comfortable, and can be worn smartly or casually, thanks to their versatility.
However, if you're a guy threatened by a cheerful Hawaiian shirt, here's our picks of the best Hawaiian shirt outfits. Those already having them in their closets are also in for a treat to learn some cool facts and new stylish ways to wear this garment that has always been the symbol of tropical leisure.
What To Expect In This Article?
Aloha Shirt vs. Hawaiian Shirt Explained
Early Aloha Shirts
The origins of the aloha shirt can be traced back to the early 19th century when Hawaiian plantation workers began bringing home and popularizing a style of labor shirt worn in their homeland.
This type of shirt consisted of design elements contributed by people of different nationalities and cultures arriving in the region for work purposes. However, who came up with the term Aloha shirts for this type of garment is a little unclear.
One account says that the word first appeared in a local newspaper in an advertisement by a Honolulu-based dry good store merchant. Another popular one is to associate it with a local native Hawaiian who fashioned his own version, called it Aloha shirts, and also trademarked it.
Aloha Shirts Now
Aloha shirts and Hawaiian shirts are interchangeable terms for a collared button-front shirt made from bright printed fabrics. They are characterized by
Half sleeves
Left chest pocket
Flat hem
Tapa & floral prints.
Relaxed fit
Hawaiian Shirts: Prints & Fabrics
The most common fabrics for Hawaiian shirts are cotton and rayon. However, as global fashion continues to embrace them; they have evolved quite significantly. New spins on this island-style staple in terms of fabric and prints are also seen everywhere.
You'll come across contemporary Hawaiian shirts in many other fabrics like poly cotton, jacquard, silk, and organza. The prints can be anything from palm trees to abstract splattered paints to birds, leaves, psychedelic & many more.
How to Style a Hawaiian Shirt the Right Way?
A vestige of 80's style, a Hawaiian collared shirt adorned with loud prints has made a comeback. With this major resurgence, now is a great time to enlighten yourself on how to wear and style it in a fashion-forward way. Here are some essential things you must know before getting started.
Tucked or Untucked?
Hawaiian shirts are worn untucked or tucked in the waist of the trousers. It all comes down to your preferences. Some people enjoy the ease of an untucked shirt, while others prefer to keep it tucked in, for a smart casual look. In places like Hawaii or areas where the weather is scorching hot, Hawaiian shirts may be permitted as business casual style for the comfort of employees. The preferred way to wear a Hawaiian shirt casually is to leave it untucked, especially if it has a vented hem.
Balance with Simple Pieces
When it comes to a Hawaiian shirt outfit, less is definitely more. The bold, often vibrant prints will already make it a focal point in your outfit. Try not to overwhelm it with other razzle-dazzle items. Break up your outfit with neutral tops and bottoms with no prints.
Pick a Contemporary Fit
A lot is happening in men's fashion, from men wearing pink to androgynous clothing becoming mainstream to classic silhouettes being revised. The recent popularity of Hawaiian shirts has also resulted in a number of interpretations of a classic style — ranging from varying degrees of relaxation to a clean, sharp silhouette. Modern Hawaiian variations are fitted and tailored to a modern fit. Therefore if you're going to embrace this summer essential, we recommend doing it the new way unless you are planning to dress retro with a traditional print.
Be Mindful about Colors
Can't argue that nothing says "I'm on vacation" like a Hawaiian shirt. But you can always wear it and not look like a tourist. It may be tempting to wear an extremely bright piece with matching summer shorts, but save that look for the resort or beach. Making sure to keep the colors within a reasonable range can help avoid anything that feels too tacky. In everyday wear, go the conservative route, from muted tones to various pastels.
Pick No-Nonsense Patterns
The Hawaiian shirts prints galore often make it difficult to choose one. You'll find everything pasted on Hawaiian-style shirts these days- from space-themed to funny objects. In our opinion, it's best to go for not so over the top prints. Stick with nature. Palm trees, flora, and your birds tend to be the best of this bunch. They are often-seen styles, but feathers and abstract can work well too.
Hawaiian Shirt Outfit Ideas- 7 Different Ways to Wear this Tropical Top
A Hawaiian shirt is one of the most versatile pieces of clothing you can have in your wardrobe. Also its not your typical boring summer t-shirt. Read on to know some foolproof ways to work the Hawaiian shirt into your everyday life.
Subdued Outfit for the Beginner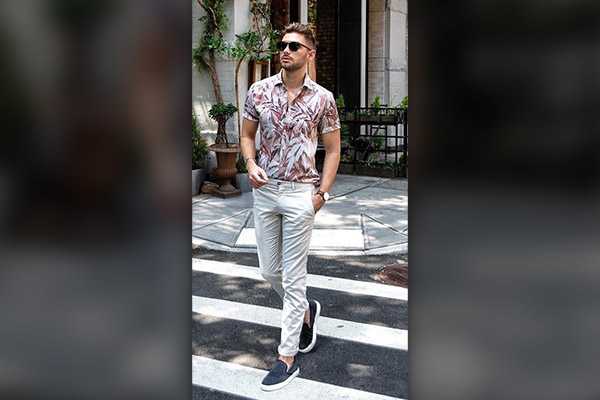 Newbies intending to revamp their stylish persona with a Hawaiian shirt can opt for a monochromatic greyscale shirt with a toile print with island elements. This shirt is the best way to start without going full-on, Aloha. Combine it with your regular black jeans and white sneakers. With subtle gray tones and a youthful essence, it's a subtle take on the Hawaiian style but still imbued with its laid-back charm.
Classic Vacation Dadcore Aesthetic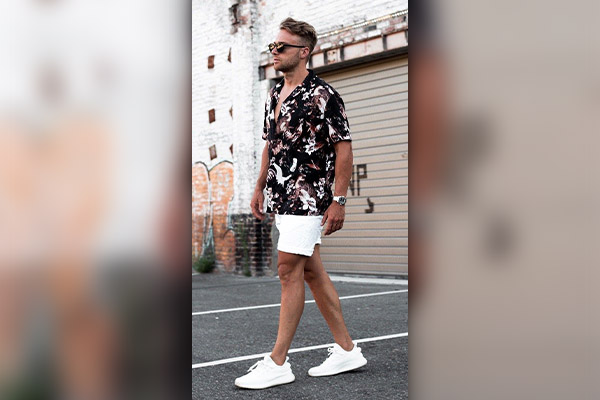 As if being on vacation isn't hard enough with all the planning, it turns out you need to worry about the clothes too. Enter: "Vacation Dadcore ."It is an aesthetic focusing on relaxed, effortless clothing often seen on vacationing fathers.
With Hawaiian shirts as the building block of this style, all you need is a vivid, loose-fit shirt with a palm tree print. To complete this outfit in a classic way, you will need shorts, minimalist footwear and shades.
À la Mode Combo for the Devoted Trend Follower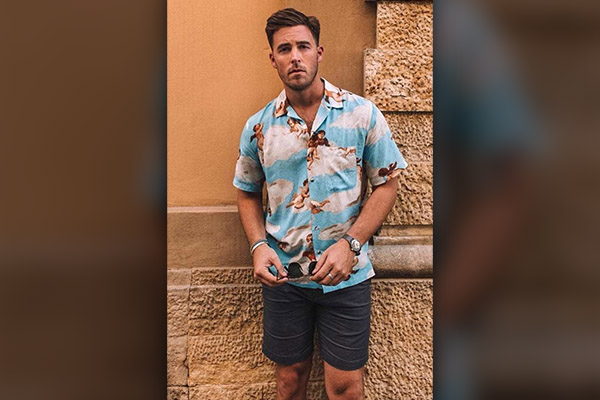 Just because a trend is flourishing, it doesn't mean you should hop on board the bandwagon. This is what stylists with a classical approach will always tell you. We believe sometimes it doesn't hurt to follow trends for which you don't turn your closets upside down.
The Hawaiian shirt and flared trousers are back in style, and it's time to go ahead and take the plunge. Pairing the two will give you a look that's fun, easy and perfect for the season.
Take a mid-length Cuban collar black and white Hawaiian shirt. Wear it with solid green pants in flared style, and suede pointed-toe boots. This outfit is an easy display of your knowledge about what's trending in the fashion world.
For the Layered Look Lovers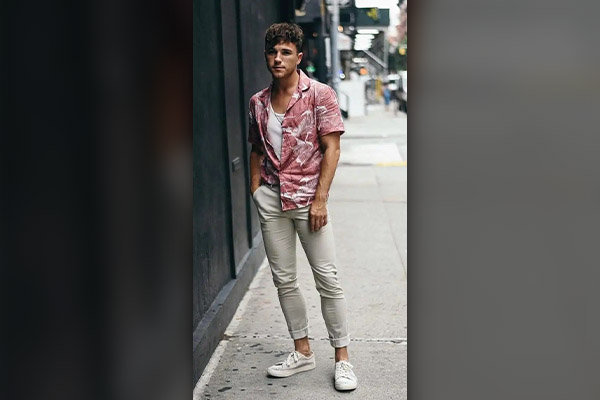 Hawaiian shirts are not just for summer anymore. Once the reserve of vacation destinations and crazy, 2 am karaoke nights out, this bright and bold shirt is now a transitional favorite too. For easy layered Hawaiian shirt looks, wear any of your favorite pieces over another t-shirt or a tank top.
Toss ripped denim jeans with it. Moreover, keep the shirt open and color coordinate the shirt and denim. A lightweight men's aviator jacket as a final layer and high-top sneakers will be a great top-off.
Funky & Fun Beach Hawaiian Shirt Outfit
The beach is supposed to be a break from work and dress code. That said, with the weather warming up and the sun-soaking season approaching, it's best to err on the side of simplicity when choosing a summer beach outfit.
We say why not take a break from teaming simple bottoms with Hawaiian shirts. Instead, wear something that can match your playful attitude. Upgrade your beach-wear rotation with a tropical print navy blue Hawaiian shirt loosely tucked into shorts cut from the same fabric. Light blue canvas espadrilles will balance the outfit.
Western Style Meets Tropical Style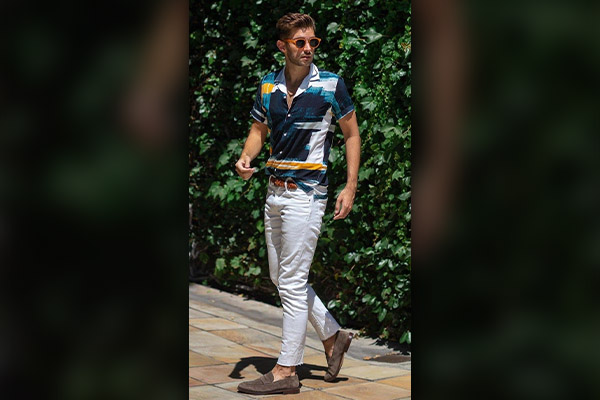 The classic western style brought us such cast iron staples as the full sleeve longer cut shirts, flannel shirts, denim jeans and boots. Not to forget the western suede jackets and cowboy hats. However, the contemporary western-style is multifaceted. Today's modern adaptation is all about mixing up different styles and items of clothing.
You can get the western style aesthetics without opting for the classic yoke-style shirts too. Pick a shirt with vintage Hawaiian prints in autumnal colors and earthy tones. Look for one with one key western element, i.e., snap pockets. It's perfect for exploring the fusion of two styles. Wear it with classic blue straight-leg denim, boots and a brown belt.
Cowboy hats and brown leather jackets in suede (if the weather allows) will be a perfect concluding touch to this Hawaiian shirt outfit.
Hawaiian Shirt Outfit for Beach Wedding Guests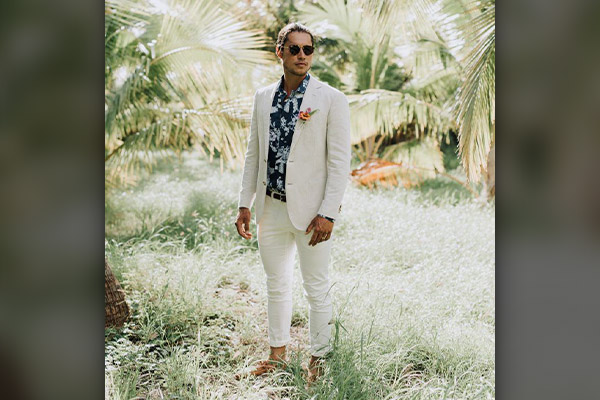 Traditional wedding attire for men boils down to tuxedos, dark suits and white shirts. However, with an elopement, destination marriages and beach weddings becoming all the rage, men are swaying away from the basic wedding outfits.
While you can go for the classic formal wear for beach weddings, too, being a tropical wedding guest, you get to be creative with your outfits. Go for a short sleeve bright Hawaiian shirt with khaki pants and comfortable shoes. This is what Hawaiians do in Hawaii at weddings with a casual vibe.
For a semi-formal look, reach for full-sleeve, less elaborate Hawaiian shirts tucked nicely into solid linen pants. Grab leather loafers as footwear. A beach wedding outfit on the formal side but stylish with a pop of color & print includes a pastel suit, formal shoes and a Hawaiian shirt in a neutral color.
FAQ
Do you wear anything under a Hawaiian shirt?
Hawaiian shirts are bright, mostly densely printed. You can wear a white crew-neck t-shirt or a solid tank top under it.
What is the Hawaiian dress code?
Hawaiian dress code is casual in nature. Aloha shirts, shorts, slacks and flip flops are the key pieces. Men wear their shirts untucked mostly, though in some cases, the shirt may be tucked in for smart casual settings.
Do you wear a T-shirt under a Hawaiian shirt?
Yes, you can, but it's not a must. You can wear a simple t-shirt under a Hawaiian shirt if you are wearing it unbuttoned or untucked. White t-shirts are the most common choice to wear under an Aloha shirt.
Are Hawaiian shirts business casual?
Hawaiian shirts are definitely business casual in Hawaii. In other places, it is subjective to the workplace environment. As a general rule, bright and tacky ones are a no-no. You can work with neutral colors, muted prints and earthy tones, if the work environment permits.
Ending Note
Currently a hot-ticket item, the aloha shirt is becoming a staple of casual wear for men. From traditional bright floral ones to less obvious variants available, there are now plenty of choices when it comes to Hawaiian shirts. Think outside of your polos and button-downs and explore, shop and wear these island-inspired shirts in different ways to revitalize your outfits