Winters have their own charm and semblance thus winter is the season when you can layer up in a certain way and slay that winter outfit. However, we are moving from the winters to summers and summers have their own feel and that leads to people being ecstatic about it. Why won't they be? beach outfits for men make you look forward to it.
Arrival of summers call for a lot of attractive aspects but one of the things that is the most appealing is the beach, especially for men. The warm sand and the cool sea waves are tempting for everyone thus wanting you to head to the beach every now and then. Well, it is not just about the summer beach vibes but it is the also the time when you can dress up in a completely different attire that is perfect for the beach.
Are you planning to go to the beach soon? If you are, then do not just wear anything and leave, as even looking good on the beach is quite channelizing. Opt for a classy beach outfit whenever you plan to go to the beach, you really got to look like a captivating hunk.
Talking about summers and the beach, we thought we would talk about some essential clothing for you to wear on the beach. We are also going to tell you how you can look effortlessly stylish when you walk down to the shore. So here are some beach outfits for men.
What to wear to the beach?
We know for a fact that everyone wears casual outfits to the beach but it is of paramount importance to know that every casual outfit is not fit for the beach. Knowing what to wear to the beach is going to pull you out of a lot of hassle.
First things first, men's casual beach attire consists of shorts that are one spot-on outerwear for the beach. You can pair up a t-shirt, polo shirt, or even a casual button-down with it. While deciding your footwear, flip flops are great; however, if you are going out for a night beach party where you are not going to go in the water then sneakers will look prominent. It is going to elevate your whole outfit and make you look like a stud. 
The Vibe Meter: Beach Outfits for Men
Are you someone who is part of the men's fashion inspiration tribe? Then you surely would want to look inspirational all the time. Who knows, you might be walking on the shore and some guy might like how amazingly you have carried yourself even on the beach. See, that is what we call outfit inspiration. But, If you are blank about what to wear if you are going to the beach soon, then let us help you out. Here are some of the beach outfits that we think are cool and inspirational at the same time.
All White Beach Outfit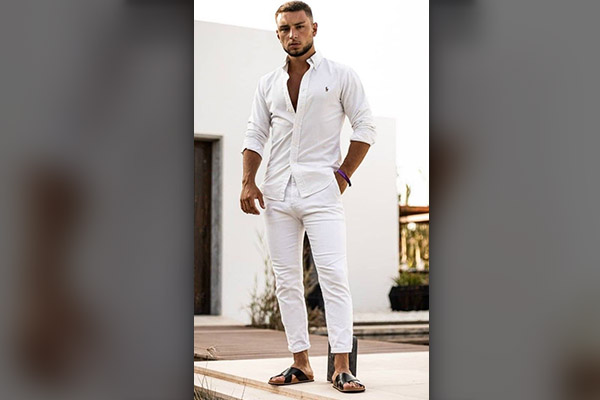 What would look better than an all-white beach outfit? For the men's beach attire, you can take out white denim shorts with a white plain T-shirt; if you are tired of wearing a T-shirt you can even go for a white button-down shirt. Wear flip-flops with your outfit, or if not, even canvas shoes are going to look great. Put on your sunshades and you are ready to ride off to the beach.   
Beach Party Outfits For Guys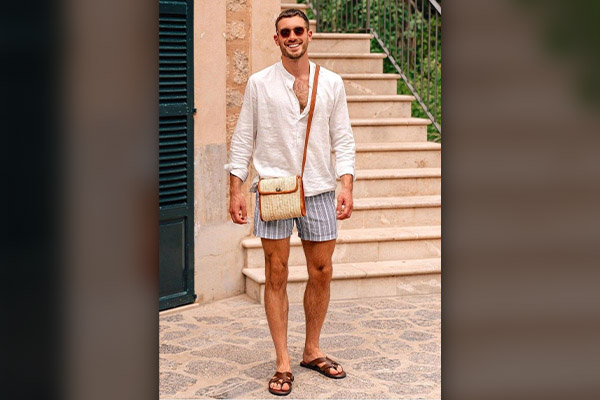 Beach parties are so fun to attend but most men are unaware of how to dress for such a party. When it comes to beach parties, it is not at all necessary for you to wear shorts and a T-shirt. You can always wear khakis too. So, pick light-colored khakis and put on a colorful striped button-down shirt with it. As it is going to be nighttime, a splash of color on your shirt is surely going to enhance how you look. Choose between a trilby or a fedora, and finish your look with loafers. That is what we call a classy look.
Floral Beach Outfits Men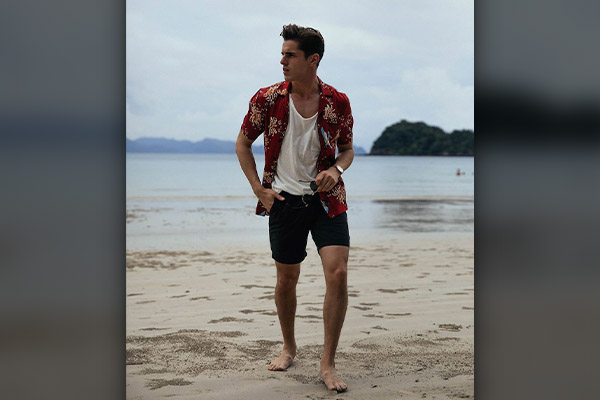 Adding flowers to any beach outfit seems so essential now. You can wear a floral shirt or floral shorts or even both together. If you are someone who thinks that only a single piece should be floral then you can wear a floral shirt with denim shorts. Pair up white sneakers with your clothes, add a chained bracelet to enhance your look, and you are done. This look might seem simple, but we all know less is more, and overdoing it on the beach might not be a very good idea.
Men's Formal Beach Wear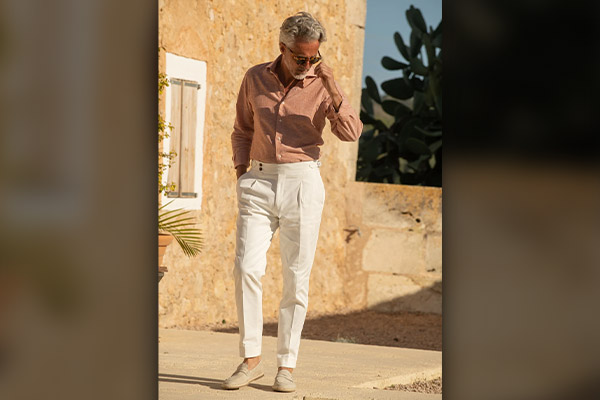 Is it crazy to think that even beachwear is formal? Yes, it is true, we do have formal beachwear. If you are flying to attend a wedding on the beach then we know what you can pull off. For the formal men's vacation outfit tuck in a button-down shirt in your shorts and secure it with a belt. Put on a tie and wear a blazer over your attire. Pick the colors wisely, light, ocean tones are going to look pretty appealing. Lastly, put on your watch, and your hat, and do not forget your sunshades. 
Best Fabric for Beach Shorts
Men mostly opt for a shorts beach outfit as the shorts let the sun hit your legs and keep you at ease around the beach. Well, it is true that sometimes just a pair of shorts, cool flip-flops, and a red bandana on your head will complete your look. 
Before you decide on your beach look, it is very important to know what shorts you are wearing to the beach. You can wear any sort of shorts but know that beach shorts are different and are made of a different fabric.
Most beach shorts that you can see are made out of polyester microfiber. The board shorts you buy mostly are made of it. Such shorts dry in no time and are very soft and comfortable to wear. Secondly, men's beach style calls for funky shorts that have big colorful prints. So, the good part is that you can find microfiber polyester shorts in colorful prints. However, if you are someone who does not like a lot of colors then you can also pick out solid colors in a particular fabric. 
What Type of Shirts To Wear At the Beach
The beach calls out for a pop of colors which is why men's summer beach outfits consist of colorful shirts. In spite of men liking the pop of colors, if you are someone who does not like them, it is okay. You can always go for solid colors. Here we are listing some of the types of shirts that you can wear to the beach. Let us see.  
Polo shirt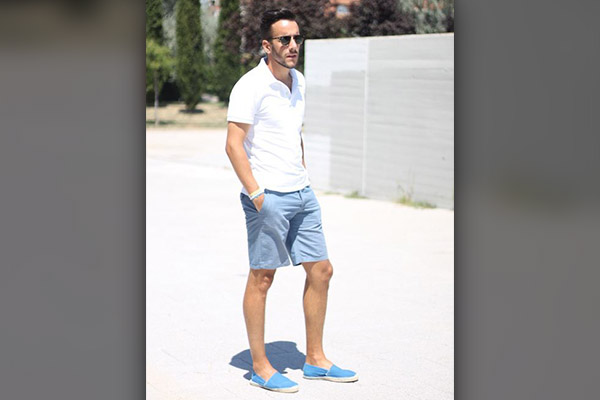 A polo shirt is versatile thus you should know that you can even wear it at the beach or even at business casual events. It is going to look great with solid-colored shorts and white sneakers. We all know that polo shirts are timeless so they are never getting out of style. 
Vibrant Patterns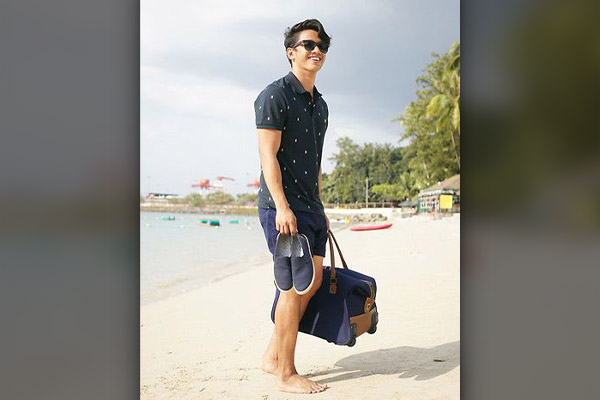 Beach time leads to tropical wear for men. In the sunlight with the blue waves, vibrant colors seem like a need as they instantly highlight you. You can always wear a shirt with a mix of bold colors. No, it is not going to look extra but it surely is going to make you look fashionable and someone who is willing to take a chance when it comes to dressing up.
Plain White Shirt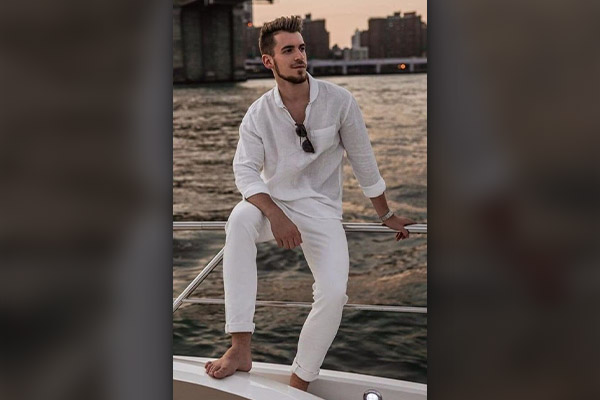 Where there is a full pop of colors never underestimate the power of a loose white button-down shirt. Wearing a plain white shirt is going to make you part of beach chic men. White is going to look top-tier at the beach, against your skin. Wear a trilby with your white outfit and you are ready for a summer beach day. 
Beach Attire Men: Jackets and Other Outerwear
When there is summer beachwear there are also men's winter beach outfits. With the cool breeze of the sea, any type of jacket you wear with your regular beach outfit will enhance your attire. A leather vest, a suede jacket, or even a bomber jacket will complete your winter beach look.
Go for a plain T-shirt, pair it with tropical shorts, slide on your leather jacket, and wear your sneakers. Even just thinking about the entire look is going to make you want to pair the outfit together as soon as possible.  
FAQs
How to look good at the beach guys?
The right beach-vibe outfit includes a pair of shorts, a casual shirt, and flip-flops. Pairing them all together is surely going to make you look great at the beach.  
What is the best outfit for the beach?
You can always pick up board shorts, wear a vest over your shorts, and put on your floral button-down shirt. Do not forget to keep the shirt's buttons open. Wear a fedora or a trilby, and slide on flip-flops. Pick up your surfboard and head to the beach. 
What do you wear to a night at the beach?
There are many beach-inspired outfits but if you are spending a night at the beach then it is a good idea to pick shorts with clashing colors and patterns. With that pair of shorts, you can pick out a light-colored t-shirt, and bold-colored sneakers. 
Conclusion
Now you should be well aware of what guys should wear to the beach. Beach outfits for men are simple yet they have a lot going on. Any of the outerwear can make you look standout or just make you look like any other regular man on the beach. So pick your attire while being artistic, as we all know that beach outfits require you to use such an instinct of yours.