Dressing for summers can be a challenging feat for a handful of men but usually it's a piece of cake. Summer means increased outdoor activities — from the many barbecues in the backyard to hitting the beach and charging for road trips — you get the time to enjoy some much-needed sun. If you are here to get a comprehensive men's summer fashion guide, you've come to the right place. Without any further ado, let's roll up our sleeves and get straight down to business.
What To Expect In This Article?
What Comprises of Summer Menswear?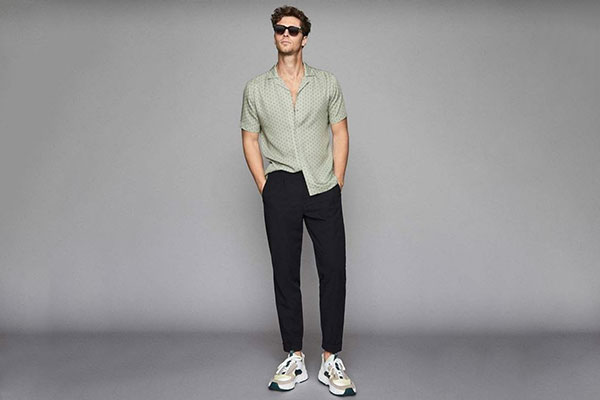 The general concept that one has regarding the summer outfits for men is that it's supposed to be straightforward, without any layers, and consist of no outerwear. Many people strictly follow this philosophy which is honestly flawed. From linen shirts to washed-out denim and leather jackets, there's a lot of room to experiment and look debonair and dapper all the time.
Things to Consider before Deciding Summer Outfits for Men
There are several aspects to men's summer clothes. How do you choose the best summer clothes? What are the key things that one simply can't overlook? From the right fabric for summers to the color and tricks to layering your outfits, here is some information that should be at your fingertips.
Best Fabric for Summers
The toughest battles to fight in summer's heat which naturally leads to excessive sweating. Cotton is one of the best fabrics to wear in summers because it doesn't trap heat, it's highly breathable and doesn't require a lot of care. Linen is yet another natural material that can save you when you dress up for outdoor activities. Simply iron or steam the wrinkles away and you're good to go. Another fabric that is fuss-free is seersucker which has a unique puckered texture. It dries out really quickly and is extremely breathable.
Best Accessories for Summer
From baseball caps to no-show socks, there are several accessories for summers that men simply can't and shouldn't go without. Of course, you need your ties and belts but you also need the sunglasses that perfectly go with your facial structure. And yes, sunscreen; it may not exactly be an accessory but it is important for your grooming.
Best Summer Colors for Men
It's great to experiment and try out colors that make you feel lively and confident. However, for summer days, it's best to keep your canvas limited to lighter shades. However, the best colors to use in your everyday summer wardrobe are millennial pink, sage green, mustard yellow, pastel purple and varsity red. Neutral should be your comfort color throughout the summers as they maintain a minimal style and elevate your looks in the entirety.
Best Ways to Layer Your Outfit
Contrary to popular belief, one should ideally layer their clothes. How? Now that is a question we can converse over. A half-sleeve button-up goes really well with a cotton tee and chinos shorts. You can also go for a leather bomber jacket over a solid tee if it's a night out.
Capsule Wardrobe for An Urban Men's Summer Fashion 
Men's summer fashion is all about playing with the right colors and layering to bring dimension to your body shape and look radiant in the scorching sun. Here is what you need to create the perfect Summer capsule.
Men's Summer Style: Tops
Ideally, the tops that men should wear in summer should be breathable so that it doesn't succumb to all the sweat that appears because of the weather. Furthermore, one should find pieces that complement their physique and not seem too tight on the body. From cotton t-shirts for casual outings to full-sleeve button-up shirts for business casual gatherings, here's your guide to summer tops for men:
Solid Tees
Striped T-shirts
Short-Sleeve Button-ups
Long-Sleeve Button-Ups
Men's Summer Style: Bottoms
Denim jeans, cotton pants, and chinos shorts are some of the no-brainers when it comes to creating a summer capsule wardrobe for men. However, one must ensure they are made from lightweight materials that are durable and long-lasting. Create a wardrobe that has bottoms for formal, semi-formal, and casual outfits.
Chinos Shorts
Chinos Pants
Linen Pants
Light Wash Denim
Jogger Pants
Men's Summer Style: Outerwear
Outerwear is the most disregarded wardrobe item for summers. Most people believe that they don't need jackets and coats for warmer seasons. It may be true if you are out and about in 50-degree weather. But, in most cases, one can wear a jacket when they're inside in a properly air-conditioned meeting. Thus, if you are going out on biking rides, it's best to wear a biker jacket as it protects you from cuts and abrasions. Bomber jackets and tailored blazers accentuate your body and boost your looks.
Men's Summer Style: Footwear
Footwear is the key to bringing your whole look together, Choosing the wrong pair of shoes to wear with your outfit will simply take the entire look down. But hey correction, footwear is part of your outfit and an important one at that. Thus, keep your outfit tight by wearing the right pair of shoes with them. Here are some of the shoes that you need to tick mark for your summer capsule wardrobe.
Slip-Ons
Boat Loafers
Suede Derbys
White Sneakers
Runners
Top 5 Outfits for Summer
Whether you are planning to do a barbecue with the boys in your backyard or go on a date with your special someone or just have an important meeting to attend, we have you all sorted. Here are some great summer outfit ideas for men.
One For The Casual Slackers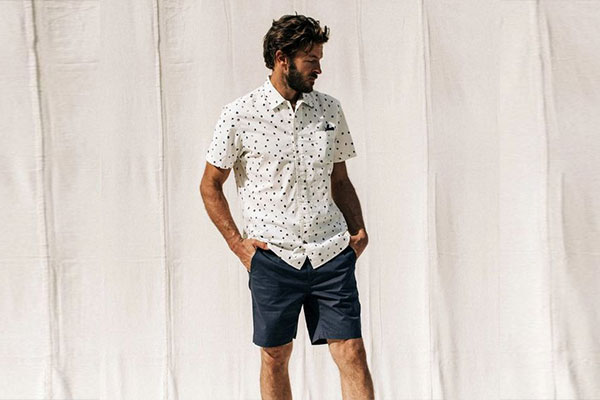 A polka dot shirt with navy blue cotton shorts. Groom your beard and hair and add a pair of boat shoes in a matching color.
One In The Mood For Business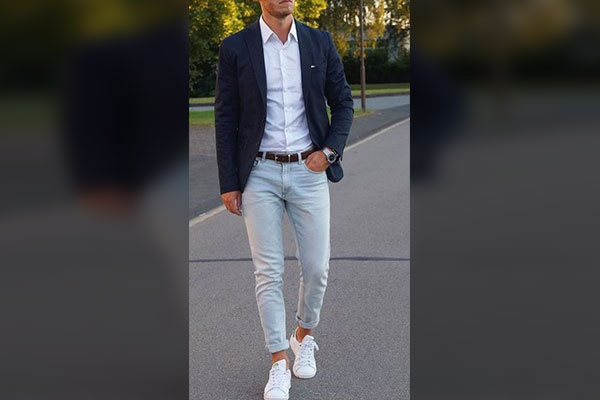 A washed-out blue jeans with a white cotton button-up and white sneakers. Throw a navy blue sports jacket and a brown leather belt.
One Out To Party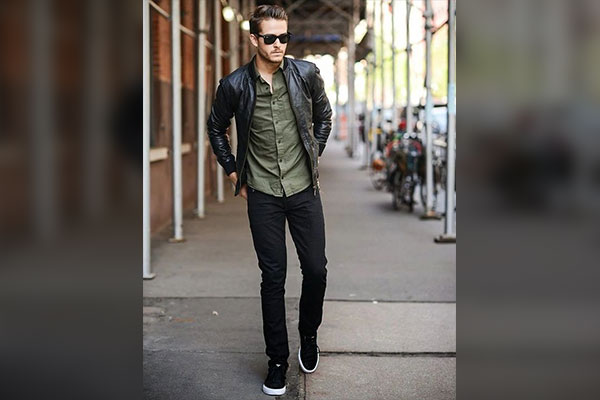 Sage green button-down shirt with black chinos and a matching leather jacket. Put on comfortable shoes and sunglasses to look even more dapper.
One Attending A Traditional Ceremony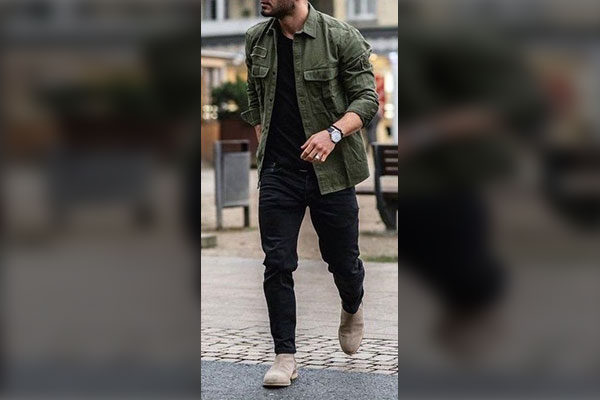 Go back to your roots and keep it simple with an all-black tailored suit. Wear a soft linen black button-down along with polished formal shoes.
One Going On A Date
A black cotton t-shirt paired with matching cargo pants and grey suede boots. Throw a sage green denim shirt and leave the front open. This look says you made the effort but got ready in ten minutes.
In Conclusion
Summertime is ideal for elevating your fashion game. It's for you to make an impression in front of your colleagues and friends. Cotton, linen, and chambray shirts should be your go-to with chinos and denim jeans being the must-haves. And of course, never underestimate the power of outerwear to change your entire wardrobe.