What do you think when you see a Land Rover Discovery or any off-road vehicle? A man on an expedition to explore the wilderness of any forest or someone a lot like Bear Grylls and Wildlife influencers available on the National Geographic channel. Safari is the utterly used, iconic word utilized by the Adventurers in various ways, which means a journey or a voyage, very much similar to adventure right?
In this blog, I am going to brief you guys on how to style a safari jacket
It is tough cotton or cotton-blend fabric formed into a loose-fitting, mid-length garment with four bellows pockets at the chest and hip in earth colours. Today, post-evolution the safari jackets are based upon breathable fabric like linen or cotton drill embedded with fashionable details such as an open neck, epaulettes and a belt to keep everything pulled together and in order. 
History of the Safari Jacket
Second Boer War- In the early 1800s the British soldiers required lightweight, breathable clothing that wouldn't weigh them down in the heat of South Africa. Their uniforms were made from khaki cotton drill and generally featured four large bellows pockets on the chest and waist, a large shirt collar, shoulder epaulettes and a belted waist. Even after decades, the US Army's M-1943 field jacket was introduced- khaki drills with specific pocket, epaulette and belt combination. 
The Practicality of the Design
The safari jacket which served as a uniform once played a vital role with its design; the bellows pocket increased the carrying capacity. The wide collar; spreads across the chest, making it breathable and ventilated for the person wearing it. Lastly, the belt around the waist ensured that everything stayed in place.  
Who Wore the Safari Jackets
Abercrombie & Fitch the designers designed the Safari jacket for Ernest Hemingway in the 1930s who displayed the rugged and practical appeal of these Khaki drills. A&F plead; their jackets were made from an imported English, cotton drill material that had been cravened to shed rain. They also claimed it to be untearable, soft and pliable.
The timeless classic "Safari" starring Douglas Fairbanks Jr. conveyed the rugged look in the Hollywood industry along with Clarke Gable.
Roger Moore's– The classic James Bond The 007 in the 1960s,70s, and 80s wore safari suits on the big screen influencing the fans globally. He wore it in his various James Bond films as well as many other movies too. Lastly,  As befitting of a Royal, of his stature, the former, Prince Charles is just as at home in his bespoke Anderson & Sheppardsuits, as he is on the continent in a time-beaten safari jacket.
Evolution: From Khaki Drill to Safari Jackets
Today the Safari Jackets are equally relevant and have transcended their previous life in terms of fashion and practicality. The elegance of the design and fabric makes the Jacket wearable in
Summers. It helps you to rock the rugged look somewhere where you need just something more than a shirt in warm weather.
The design has evolved a lot with due time and different designers who customized the look- Tom Ford, Ralph Lauren, and brands like Abercrombie and Barbour have versions too.
The safari jacket is one of the most versatile outerwear offerings available today. No longer viewed as a garment worn purely by the wealthy elite, it has, like many of its military cousins, surpassed its origins and become an important sub-genre in contemporary menswear today. Whether you're looking for an alternative replacement for the traditional blazer, or you want a lightweight jacket you can throw over a white T-shirt and jeans, a safari jacket is a viable option that will only get better with time.
How to Style a Safari Jacket
To be in the spotlight there are various ways you can wear the safari jacket adroitly. And there are also some key features you need to know before you start expressing your charisma.
Elementary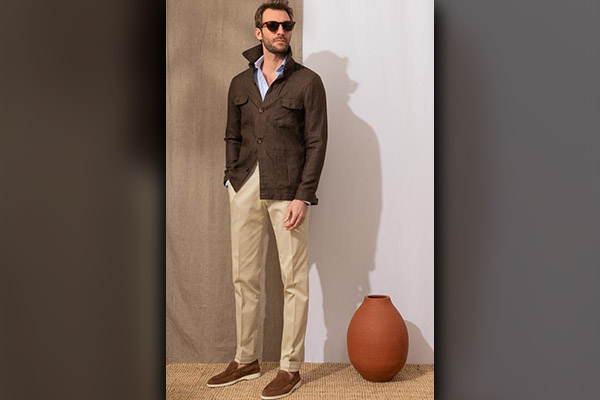 The best way you can radiate your safari jacket is by keeping it basic. Avoid wearing something that competes with it in terms of attention. Put on a plain T-shirt underneath along with denim or earthy colour boots and rock the dandy style.
Canny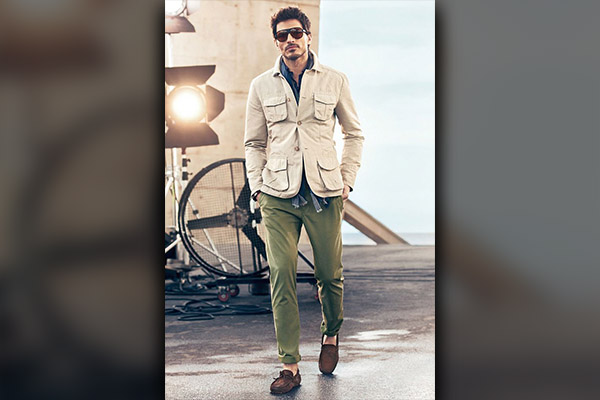 John Frankenstein's look is the canniest when it comes to safari jackets- a red tie, black oxfords and the open front. It is the smartest look one can emit in the safari saga.
Ceremonious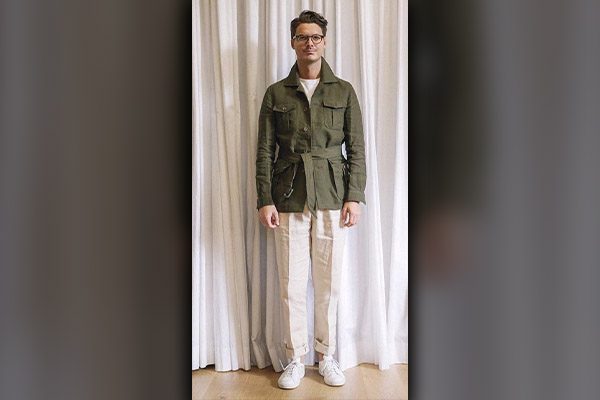 The safari jacket can be styled formally too. If you have a go-to formal event in the summers then you can throw on a formal shirt and semi-formal corduroy and moccasins and that might be it to radiate your personality and look whilst wearing that very safari jacket.
Stony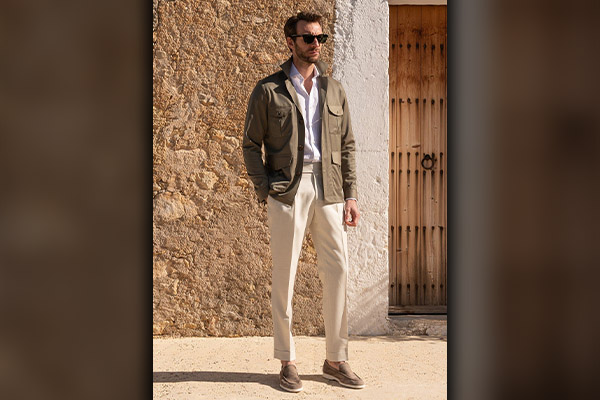 This style is for those who like the wilderness. The jacket with the epaulettes and loads of pockets can be very essential in keeping ammo for you when you go hunting or maybe the best for keeping camera equipment while you're on a wildlife shoot. You can throw it on yourself with boots and shorts and you're good to go.
The 3 Best Coloured Safari Jackets to Go for:
It is earthy-coloured poly cotton, lined with polyester with a notched collar style and a buttoned closure style embedded with open hem cuffs which makes it breathable. The total of 6 pockets, 4 on the outside and 2 on the inside makes it fashionable and as well as practical. We hope you would say goodbye to the bags you carry after buying this specific piece. They are available in various colours but I believe the best are as followed: 
Kajetan Beige Safari Jacket
Kajetan Grey Safari Jacket
Kajetan Khaki Safari Jacket
Closing Thoughts
Converging all the points to realize how robust this outwear is. Safari Jackets are not just stylish but are also functional at the same time. The minimalist take on these jackets makes them easier to wear. No more epaulets and prison belts on the belly. Instead, pared-down pockets, shorter lengths, and a hidden placket make Safari jackets the outerwear of choice.