Starting its journey in the 1920s, the trucker jacket has held its position as an iconic wardrobe staple for rugged and androgynous fashion; resulting as the inspiration behind the design of denim jackets. Wondering what is a trucker jacket? Well, the classic American trucker jackets are an excellent upper for all seasons, working as the main layering option for spring and an addition to your winter jackets in the winter. 
The design of these jackets is heavily inspired by the coveted denim trucker jackets, and their prominent features such as the waist-length cut, button front closure, buttons on the sleeve cuffs and front chest pockets, and the trademark vertical or slanted seams that run from the front chest pockets to the waist, make these jackets instantly recognizable.
What Is A Trucker Jacket? Design & Construction of Men's Trucker Jackets
The design of trucker jackets can be carved out of a whole host of materials, but the leather vs denim debate and which one of them is superior, remains unsettled.
The denim trucker jackets provide an excellent sense of style. With custom denim jackets, you can choose the type and thickness of the fabric to your liking. Spice up your jacket a substantial amount with attractive custom stitching and patterns.
But when it comes to the comfort and durability of the jacket, there is one clear winner, and that is leather trucker jacket. The soft and robust nature of leather, when combined with this design, produces a jacket that is both stylish and practical.
Besides, the options offered by leather in terms of the types of leather and their various finishes, is nothing to scoff at. But despite their differences, both denim and leather trucker jackets have their place in modern-day fashion.
How Long Do Men's Trucker Jackets Last?
Trucker jackets are meant to be your daily driver jacket, so they are built to last a long time. The denim jackets last upwards of 3-4 years, while the high-quality suede trucker jacket can last for about 7-8 years.
The thing to keep in mind here is that these numbers are highly dependent on two main factors. First is the type of material used in the jacket's creation. Obviously, a trucker made from thin denim fabric would tear up earlier than a jacket made from thicker, more rugged denim like selvedge denim.
The other huge factor is your usage patterns and care regime. If taken care of properly, the life span of these jackets can be easily increased by years.
Should Men's Trucker Jackets Be Tight?
A trucker jacket is meant to be a close-fitting piece of upper wear, so the overall fit and finish is a bit tighter than other leather jackets. But this tight finish does not mean skinny jeans tight. There is a bit of leeway for other garments that you may want to wear under them, for example, a matching sweatshirt for the summer or a turtleneck in the winter.
In terms of the overall size of the trucker jackets, the shoulder seam should end right when your shoulder ends. The sleeves should be cut narrow and should fall just under the wrist when in the normal resting position, and the body of the jacket should be just a little under your waistline while staying close to your body for a contemporary look.
These, however, are just suggestions on what looks the best in general, and you are ultimately allowed, in fact, encouraged to make adjustments according to your body type and personal preferences when creating a custom trucker jacket.
Where to Get a Customized Leather Trucker Jacket for Men?
There are plenty of fantastic leather trucker jackets available on the market, in all sorts of sizes, designs, and colors. Most people would be happy just purchasing a predesigned jacket, but for some, they are not enough.
If you want a design that is not readily available on the market, or you want to make some adjustments to an already existing design, or you want to get something that is personal to you and represents you as a person, then getting a custom leather trucker jacket is the best option for you.
All you have to do is head over to our custom jackets page and provide the required information. Our automatic and sophisticated system will connect you to one of our design experts. You can discuss anything you would want to customize about your custom trucker jacket, and they will guide you through the process and will also provide useful advice.
You can tailor a bunch of things to your preference, anything from the type of construction material and the color of said material to personalized embroidery. They cater to both small and petite frames as well as big and tall leather jackets in trucker style.
Are Trucker Jackets in Style?
Trucker jackets have been in style for decades now, and they've never dropped in popularity or got out of fashion all this time. This persistence in fame is partly due to their unobtrusive and simple design that fits with almost all outfits and partly due to their versatility as an all-season jacket. So yes, trucker jackets are still very much in style and will remain in style for decades to come.
How To Wear A Trucker Jacket?
The amount of variety and styling options offered by trucker jackets is massive. The core design of these jackets allows for a very lax and open outfitting experience. You can get an outfit done and wear your leather trucker jacket on top for extra style points.
But there are a few styles and looks that are exceptionally well at capturing the full potential of these jackets. Let's look at a few of the most popular outfits, attires and looks:
The Casual Polo Look
To start things off is a look that thrives on the bright blue colors a denim trucker jacket provides and the way these colors can be integrated with other darker shades to create a properly balanced outfit.
To achieve this look, you have to pair a blue denim trucker jacket with darker blue or grey pants, and to tie the whole outfit together, a wear a polo shirt in white underneath.
The Autumn Look
This is one of the most stylish looks that requires some improvisation from the wearer. The best thing about this look is that you do not need a specific color of garments for it to work, as the look can be achieved through a spectrum of colors.
To get started with this look, all you have to do is to pair your beige, brown, caramel, or dark khaki or brown jacket (it can be both denim or leather) with a set of matching colorful pants and an equally colorful sweater for both the look of cold, and protection against the cold.
The colors of the sweater and pants can be whatever you want, but the outfit looks the best if they lean more toward orangey autumn tones.
The White Winter Look
This look is the chronological progression of the autumn look, but the key difference being that you do not need actual winter for this attire to work. If you want to rock an all white outfit for men by pairing an ice blue or cream white trucker jacket with a pair of black jeans and a white t-shirt or a turtleneck depending on the weather.
The All-black Look
There are many fashion trends that become popular and fade away from people's memory on a regular basis. But one style that is never going away is the all-black look. As the name implies, to achieve this look, you have to wear your leather trucker jacket over an entirely black outfit.
The exciting part of using a trucker jacket is the option you get. You can either go for the classic semi-aniline men's black leather jacket or a more modern and matte, suede one.
Both, however, are excellent for pulling off an all-black look, and the choice of the jacket comes down to your personal preference.
The Weekend Morning Look
Going out for an early coffee on a Saturday morning has a vibe of its own. The main feature of this outfit is the hooded sweatshirt that you wear under your black trucker jacket or brown suede leather trucker jackets.
The look is meant to be a bit laid back, so it is critical to avoid vibrant colors and sharp hues. A combination of a grey sweatshirt, brown trucker jacket, black jeans, and a pair of brown sneakers is the gold standard for this kind of outfit.
How To Elevate The Trucker Style?
The combination of a leather jacket with a pair of jeans and a t-shirt creates an ensemble that is fairly complete, and if done right, would make you look great in almost all situations. But there is more to an outfit than the color of the jacket you are wearing.
With minor touches you can elevate your fashion game to new heights. A fairly famous example of these accessories would be a set of matching aviator glasses and a fancy watch. Alternatively, you can also experiment a little and wear a beanie with denim trucker jackets.
The Best Men's Trucker Jackets
If you are someone new to the leather jackets market and want to own a stylish piece of outerwear, or someone who already owns a fancy jacket collection and wants to simply expand it, keep reading! Here are the three best trucker jackets we offer:
1. Stallon Black Suede Jacket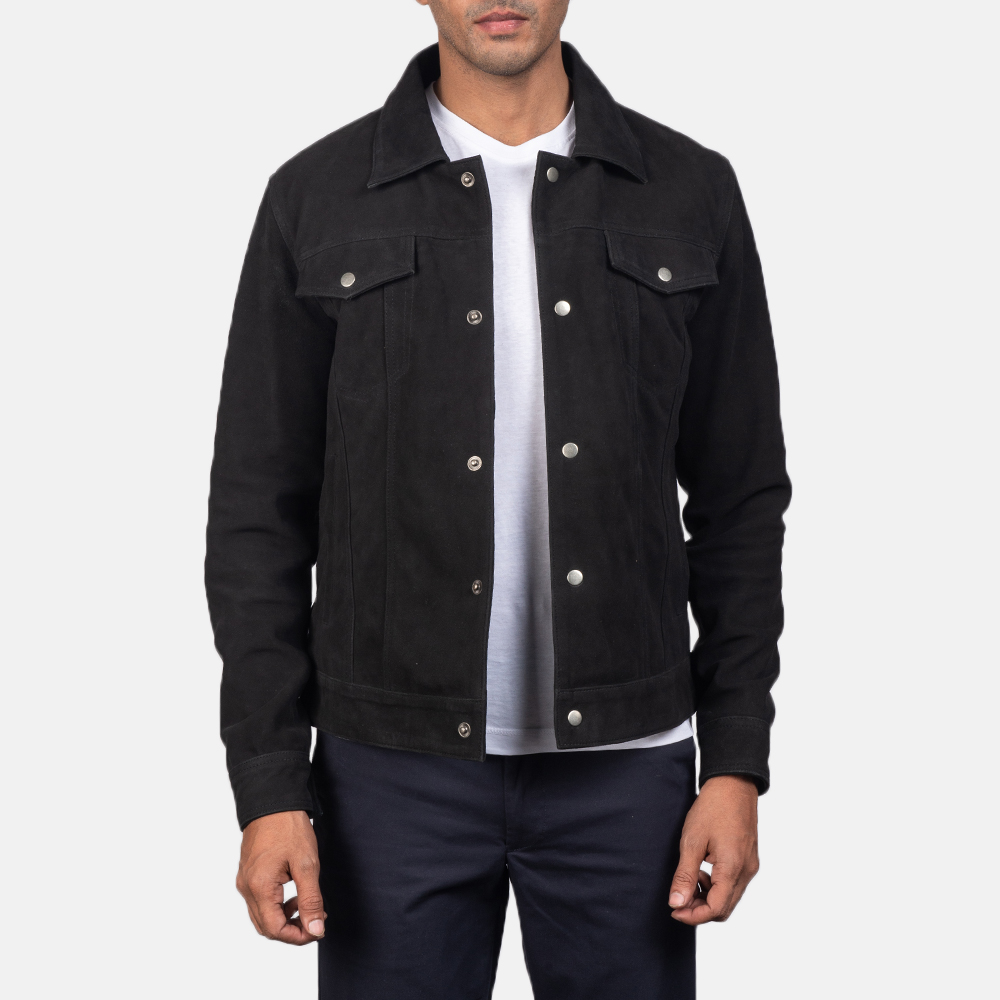 Let's start our list with a trucker jacket that almost everyone can get behind. The clean minimal design of the black trucker jacket ensure its compatibility with everything that you have in your wardrobe.
At the same time, the soft suede leather creates visual interest in the jacket and makes it stand out against both the rest of the outfit and other plain black leather jackets around you.
Stallon Brown Suede Jacket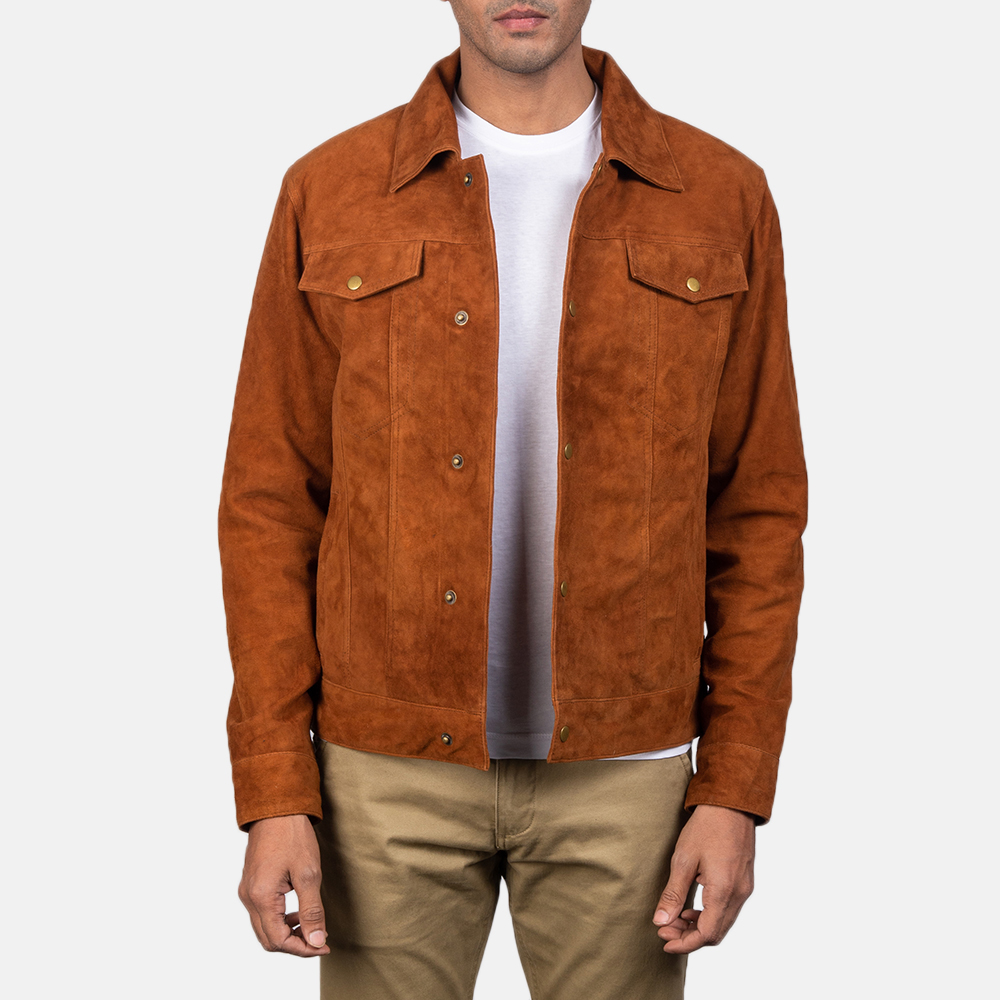 If you want the minimal design and suede finish of the Stallon black suede jacket, but you already own a black jacket, or you want something a bit more vibrant and colorful, then this is the perfect jacket for you.
The unique color and finish combo of this jacket provide a very distinct outfitting option while also making this trucker jacket the perfect contender for the above-mentioned autumn colors and weekend morning looks.
Ranchson Black Leather Shirt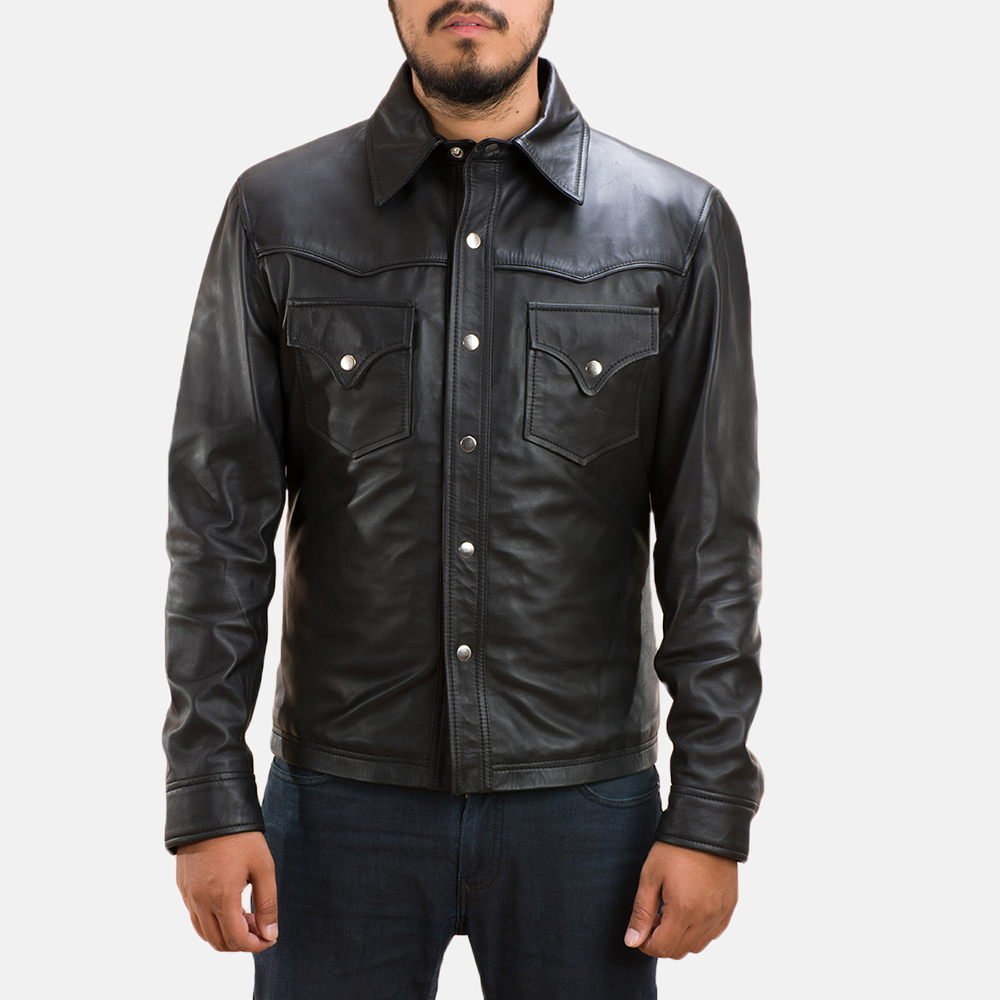 The last item on our list of the astonishing trucker jackets is a jacket that is essentially a two in one deal. You can wear it as a normal leather jacket over a V-neck or even a dress shirt, but where it truly comes into its own is when you wear it as a shirt, essentially bringing this black leather shirt to the forefront of your attire.
A trick you can try with this jacket is wearing it over a colorful t-shirt and buttoning it up. This allows you to transform your entire look just by opening up the front buttons, basically giving you two different styles for the effort of one.
Conclusion
What is a trucker jacket and what to wear with a trucker jacket? We answered so many questions regarding the men's trucker jackets in this blog. There are many leather jackets and coats on the market that are immensely popular but rarely do you find something as versatile and wardrobe-changing as the trucker jacket.
From its ability to be worn in all seasons to its massive fashion potential, if you can only get one leather jacket, purchasing a leather trucker jacket would be a decision you won't regret making.