The days of staying at home and living in pj's are over. It's time to get up and face the real world. A busy life awaits, but there is one silver lining, new fashion trends to follow!
2023 is the year of revival, and what's a better way than to revamp your wardrobe. How about you kickstart your collection by investing in the color of the season, sage green. Sage green is the new aesthetic. This blend of gray-green is a breath of fresh air.
This exquisite color gives off a mysterious yet beautiful vibe. It pairs well with pastels and basics and is stunning on its own. This refreshing color is a versatile shade that works with every season. It's easy to incorporate into everyday wear and brings a touch of coolness to every outfit.
So, in this blog, let us talk about the colors that go with sage green clothes and how you can style them differently. Let us head on to the blog.
What To Expect In This Article?
Sage Green Clothes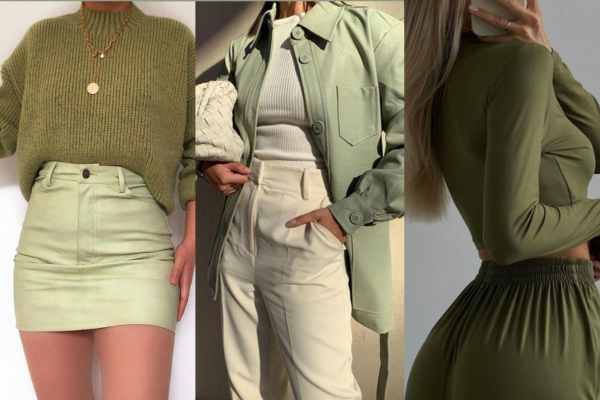 This soul-soothing color is a must-have in one's wardrobe. Its muted green tone brings an earthiness to a look and is a great alternative to a boring beige. If you're wondering what colors go with sage green, then have a look below. We have compiled a few different ways you can make sage green the star of your wardrobe.
Black and Sage Green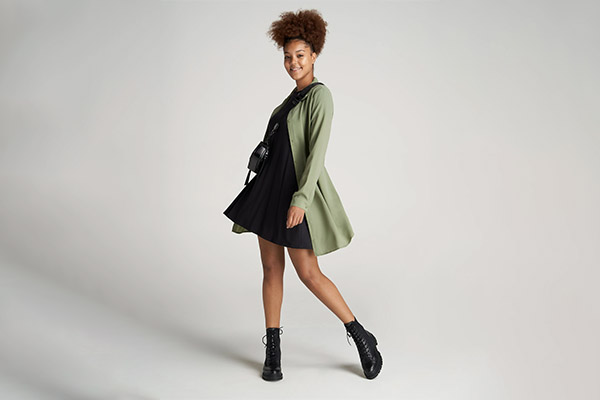 These two colors combined together to create a mysteriously attractive look. The black further enhances the green outfit and pulls the whole look together and is one of the colors that go with sage green clothing. Try this stylish color combination by combining a black fitted top and flared sage green pants. Keep accessories to a minimum and let the outfit shine through.
For a more fashionable outfit, a black full-sleeved shirt paired with a patterned, sage green short suit is bound to get all the attention.
Sage Green and White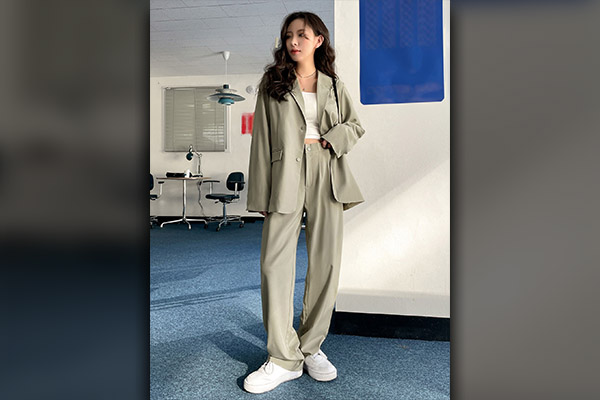 If you are looking for colors to wear with sage green for a springy look, pair sage green with white. These two colors work in harmony, creating a look full of freshness. Pairing sage green pants with a white crop top makes a youthful look.
For a more preppy style, try pairing a baggy sage green sweater with a high-collared, crisp button-up shirt. The structured shirt against the baggy sweater adds a sort of 'off-duty' vibe to the whole outfit.
Sage Green and Pastels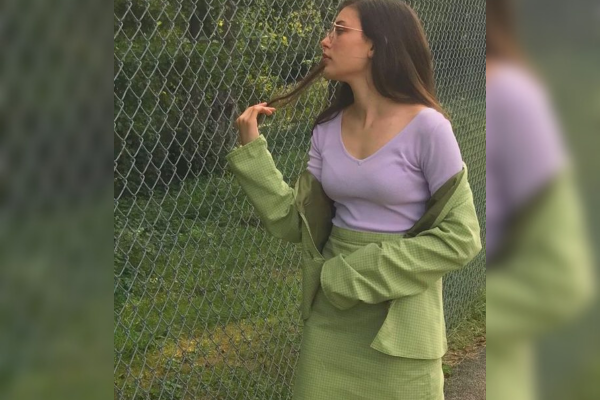 What to wear with sage green can be a highlighted question. Well, choose pastel colors. For a beautiful and flowery spring palette, sage green and pastels are the way to go. Lavender and sage green make an extremely pretty duo. A pastel-colored crop top with cargo pants creates a streetwear-ready look.
Keep things business-friendly by pairing an oversized sage green suit with a lavender knitted crop top. Finish off the look with a sleek low bun and small gold hoops.
Combine white, sage green, and lavender for the perfect Easter look! These colors complement each other and keep the energy of the outfit cheerful.

Sage Green and Denims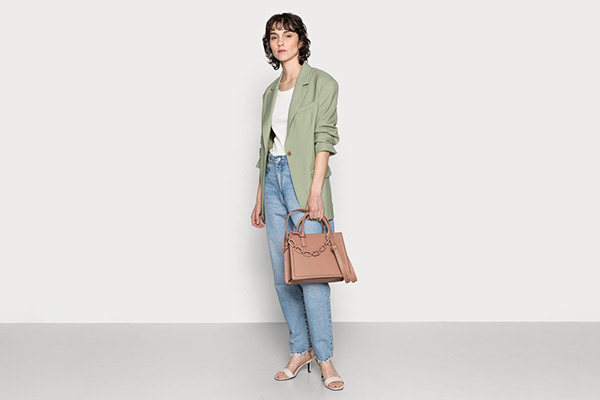 The easiest way to test out any fashion trend is by pairing it with denim. Jeans just seem to work with every color. The blue hue of denim, when combined with sage green mimics a riverside scenery. The coolness of a river crashing against the green fields creates a calming look. You too can use this color combination to create an eye-pleasing look.
Sage green denim is another way to incorporate this soothing color into your wardrobe. It gives off a polished and classy vibe when paired with white.
Sage Green and Brown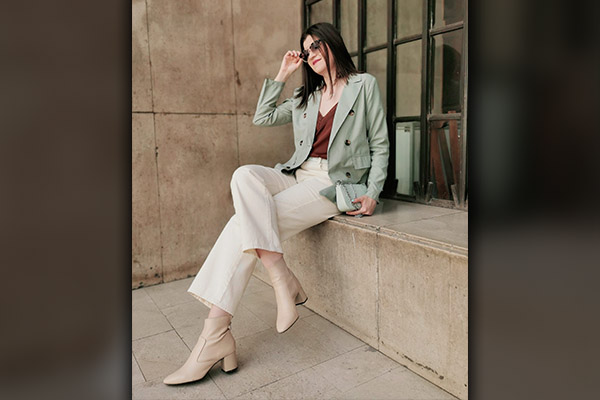 Browns and green are colors that are recognized as earthy tones. These colors have a sort of rustic feel to them, and they add this effect to the overall outfit.
A sage green jacket, a white cropped top, and a brown skater skirt create an earthy-flirty sort of look.
For an aesthetic green outfit, pair a puffy brown jacket with a crochet sage green top and white pants. Pair it with black boots and a saddle bag to complete the look.
Sage Green Dresses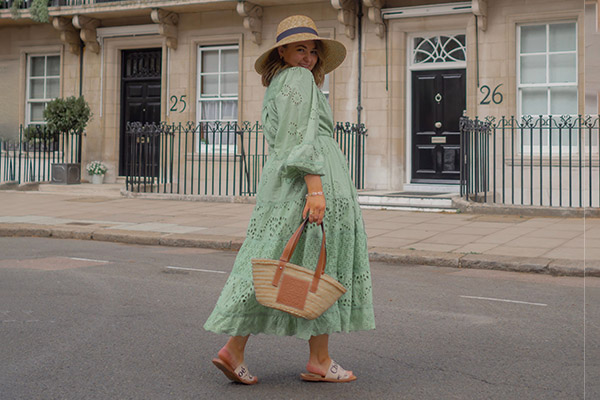 This mystical color when paired with the right silhouette makes a gorgeous dress. Something about this color just gives off Greek Goddess vibes. Sage green slip dresses, maxi dresses, or even knee-length dresses all make wonderful options to wear out in the summertime. Colors that compliment sage green dress might be white, dark green or even something tan.
Thrown on a leather blazer and you can make it work in the winter as well! 
Sage Green Clothing Items
This trending green color of 2023 is the latest obsession. Wearing sage green on its own may not be for everyone so a great option is to mix and match the color, as mentioned previously. So, if you do not know what to wear with sage then this guide would be it for it.
Sage green cardigans are a must if you want to achieve the cute college girl vibe. Throw it on a white bralette or tie it around your waist for a girl-on-the-run sort of look. The overall look is absolutely beautiful and chic.
Autumn is usually all about oranges, reds, and browns but there is a new contender in town. Sage green sweaters and jackets are stunning and bring a contrasting coolness to the otherwise full-bodied, warm colors of autumn. The color looks stunning when paired with brown and white.
A sage green skirt paired with a white preppy top and brown boots makes a perfect summer-autumn transition.
Our Green Leather Jackets Collection
FAQ's – What Colors Go With Sage Green Clothing
How to mix sage green in an outfit? 
Sage green is a cool-toned color and it looks best on its own. Sage green-colored clothing items like sweaters, cardigans, pants, skirts, and dresses, all are different ways to make this beautiful green work.
What color matches sage the best? 
Many colors go with sage green like; white and gray, pastels like lavender, yellow and pink, brown, black, and even navy blue. 
What color accessories to wear with a green dress?
Green looks beautiful when paired with gold, black, brown, and, nude. You can also pair green with green for a more monochromatic look. 
What color looks good with sage jackets?
White is the best color to pair with sage jackets. White provides sage green a clear canvas to shine through. Sage green also pairs well with black for a more sophisticated sort of look and lavender if you're going for spring vibes. 
Can you wear an all-sage outfit? 
Yes, you can. In fact, sage green looks best when you wear an all-sage outfit. Whether it be jumpsuits, a romper, a dress, or a two-piece suit, sage green looks refreshing when worn on its own. 
What color goes with sage green shirt?
In our suggestion, a muted earthy brown pant might be a great combination to go with a sage green shirt. 
Is sage green a summer color?
Sage is surely a summer color as it is light and fresh and makes you feel cool all day. 
Sage Green – The color of Sophistication
Fashion nowadays is mostly about loud prints and neon colors. Yet, a color as muted and calm as sage green has managed to take its place. This color is easy on the eyes and gives off positive and refreshing vibes.
It's an exceptionally peaceful tone in a world of flashiness. So, if you're planning for something different then sage green color combinations clothes might actually be your new style. We are sure that this style guide of ours might have cleared your question of 'what color to wear with sage green'. Happy styling!