Sweatpants hold a special place in every woman's heart. They are comfortable clothing, something you wear after a long workday. Just swapping out your regular outfit for sweatpants and a turtleneck feels incredibly relaxing and refreshing.
However, this is not where the sweatpants' supremacy ends. They are just as viable for everyday stylish clothing as they are for weekend comfort wear. Let's take a look at what sweatpants are, what works with them, how to style sweatpants, and how you can craft wonderful outfits with the sweatpants you already own.
What To Expect In This Article?
What are Sweatpants?
Sweatpants are trousers made to withstand sweat. They are often used on tracks, for running/jogging, but they're mainly famous for their comfort and ease when in use. In fact, sweatpants are the default at-home trouser for many around the globe.
As for the construction, they are made from cotton (high-quality ones are 100% cotton), and they are loose and baggy with elastic bands at both the waist and ankles.
Sweatpants Trends in History
Sweatpants began their life as knitted jersey pants for athletes in the 1920s. They were designed for unrestricted movement.
Their worldwide debut was in the 1930s when they were worn by many athletes in the Olympics. Their popularity began growing, and soon they were the athletic pants of choice.
However, their mainstream appeal as everyday item of clothing started with the rise of American hip-hop culture in the 1980s. A lot of the traditional hip-hop outfits incorporated colorful sweatpants as the focal point. It also became a part of the hipster culture over time.
The debate of whether sweatpants are a part of modern fashion or not has been going on ever since the hip-hop era. However, the pandemic and lockdowns have made sweatpants a staple of everyone's closet and their personal styles.
Tops to Wear with Sweatpants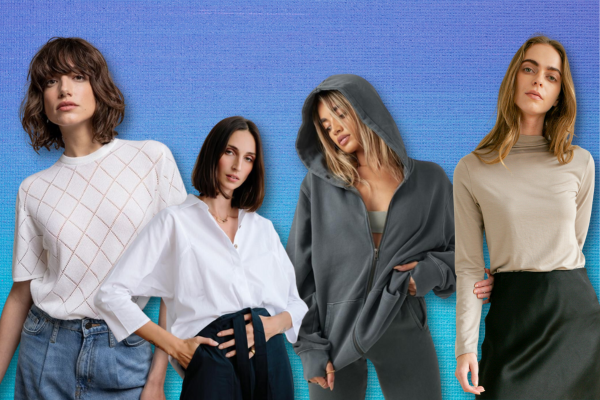 Women's sweatpants are surprisingly versatile. If worn correctly, they will work with almost any top you can find in your closet, whether it's a crisp white t-shirt, a hooded sweatshirt, or a black turtleneck. Even knit sweaters and architectural blouses are a perfect fit for sweatpants. The only ones that don't look so good are the formal/semi-formal ones.
Chic Sweatpants Outfit
Many assume sweatpants to be nothing more than sloppy, but that is not true at all. Sweatpants are more than capable of creating amazing chic outfits around them. However, extracting the smart style out of sweatpants requires a little bit of work.
You can just wear your favorite top on a pair of sweatpants and call it a day. But you'd have to meticulously choose each element of your attire in order to create a craft cohesive chic outfit.
Let's say you're wearing a pair of black sweatpants. A black t-shirt with a brown shrug and a pair of white low-top sneakers are great choices to create a chic sweatpants outfit.
Sweatpants Outfit Ideas
Sweatpants work with almost any clothing item you can find in your closet. However, there are a few combinations that work particularly well. Here are a few of the best ones.
Sweatpants and Combat Boots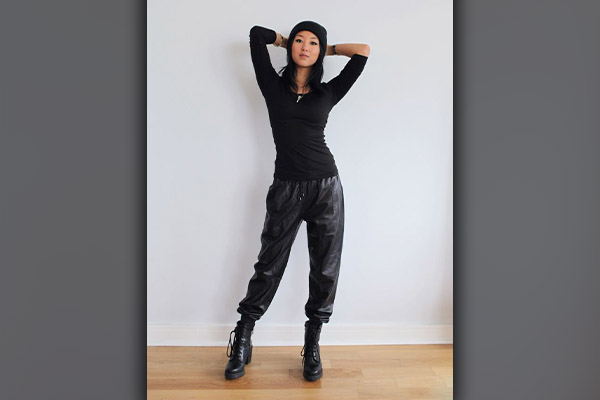 The first combination on our list is sweatpants and combat boots, and they work together like peanut butter and jelly. Just tuck your sweatpants into the boots, and you've instantly gained more style points.
If you want to get the most out of this combination, then wear a tight-fit t-shirt and a rugged leather motorcycle jacket for women on top.
Sweatpants and T-Shirt Outfit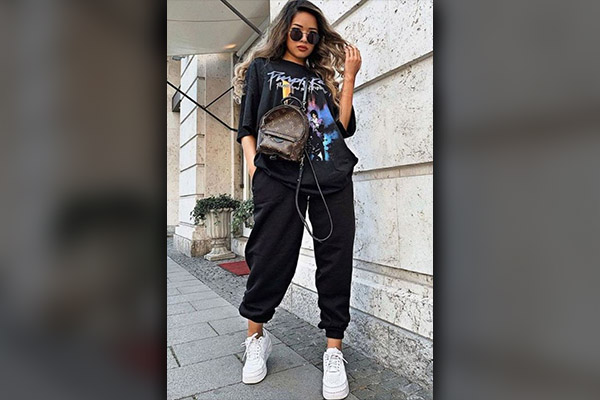 A t-shirt and sweatpants combo is easy to pull off yet amazingly stylish if done correctly. All you need is a T-shirt and a pair of sweatpants, with no color, pattern, or design requirements. You'd be hard-pressed to find a T-shirt that does not work with sweatpants.
However, you can get even more stylish if you put some effort into matching the right colors. Also, if you're not sure about color matchups, wear all-black; it looks just as fantastic as more colorful options.
Crop Top and Sweatpants Outfit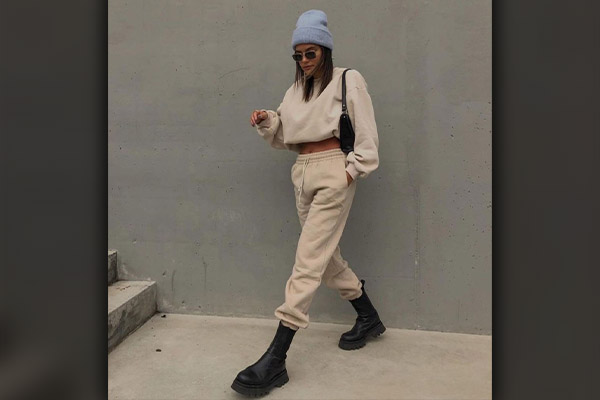 Crop tops and sweatpants are the quintessential outfits that every woman should have in their arsenal. It is simple on the surface but packs layers of complexity underneath. The best part about this specific outfit, however, is that it is extremely easy to distinguish yourself. Just find an uncommon color combination that you like, and you'll be the center of attention wherever you go.
You can also further disguise yourself with a cropped leather jacket, interesting footwear, and accessories like sunglasses and hats.
Cute Comfy Outfits with Sweatpants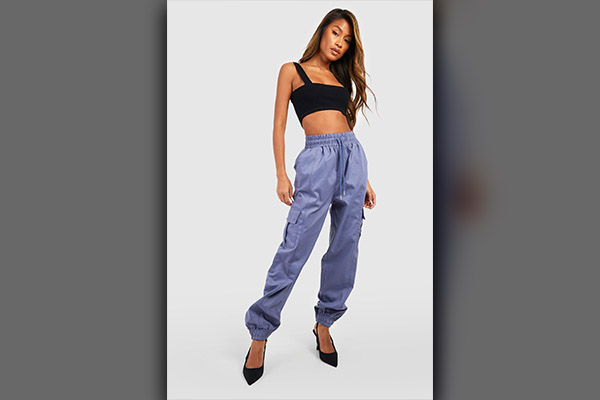 Sweatpants, if worn correctly, can be extremely cute. The key to this cuteness is fluffy tops like a bolero jacket, low-top sneakers, adorable hats, and the color pink. You can mix and match light pastel colors, or you can go for the age-old tactic of all-pink, which is adorable even by modern fashion standards. Also, make sure your makeup and hairdo follow this cute aesthetic.
Oversized Sweatpants Outfit
Sweatpants are loose and open, so it makes sense that oversized tops and jackets look brilliant with them. You can start with the most basic oversized style of a comfy hooded sweatshirt and achieve great stylistic success. However, you can go a step further and introduce large jackets into your outfit.
Dressing up Sweatpants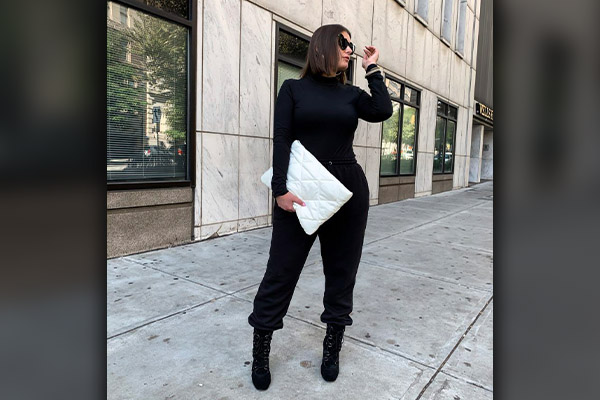 Sweatpants aren't purely casual either. Yes, they are generally associated with laid-back comfort-first fashion. But you can totally dress them up as the need arrives.
A good example of sweatpants dressing would be a pair of black sweatpants with a black tank top, a pair of black leather heels, and a women's brown leather jacket.
Sweatpants with Leather Jacket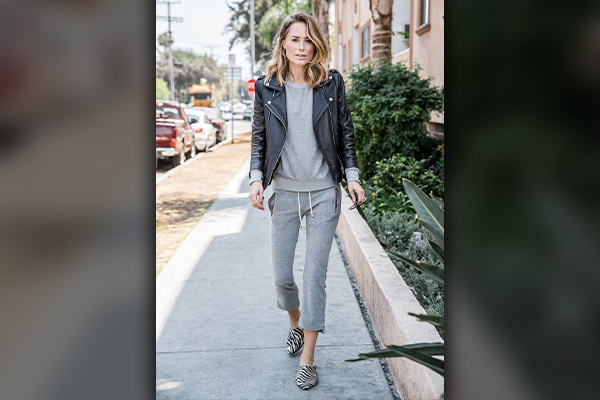 So, it's getting cold outside, and you do not abandon your trusty sweatpants. What can you do? Well, your best option would be to bring out the coveted leather jacket. You can wear the jacket over a plain T-shirt, or you can spruce things up with hooded sweatshirts or turtlenecks.
Sweatpants and Sweatshirt Outfit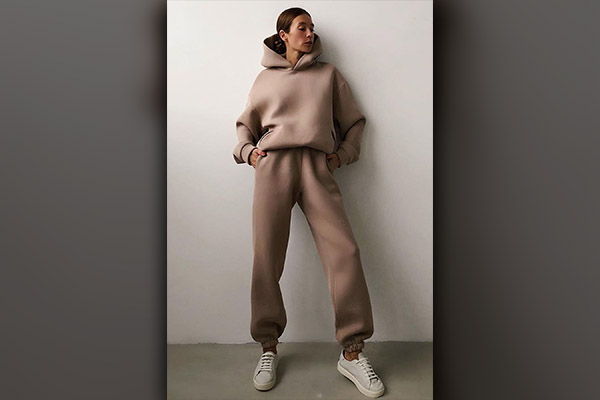 Sweatpants and sweatshirts are the most obvious and easiest to pull off pairing on this list. They work so well together that even an all-grey combo looks cute. But your options are not limited to monochrome outfits. In fact, playing around with interesting color combinations is a surefire way of adding some personal flair and additional style to this simple outfit. You can also try the tomboy look by adding a cap and unisex sneakers into the mix.
Streetwear Sweatpants Outfit
Modern streetwear and sweatpants go hand in hand. All you need is a pair of dark-colored (preferably black) sweatpants and a colorful sweatshirt. The secret to women's sweatpants' street style is patterns. For example, a grey sweatshirt with colorful floral prints is perfect for this style.
Keep in mind that street style is all about comfort and personal expression. So, don't wear something uncomfortable, and don't be afraid to play with colors and patterns. If you want to take your streetwear game a bit further, introduce layers into your outfit as well.
Sweatpants and Hoodie Outfit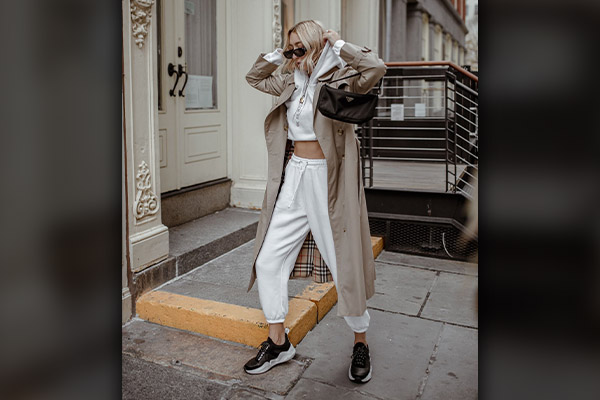 We've mentioned this specific multiple times now, and it is, without a doubt, one of the best sweatpants outfits. Just pick any hoodie from your closet and wear it over your sweatpants; it's that simple.
You have the option to wear a tight-fit hoodie for an athletic look or an oversized one to become adorably cute. If you want more hoodie ideas, look into the VSCO girl style.
Trench Coat and Sweatpants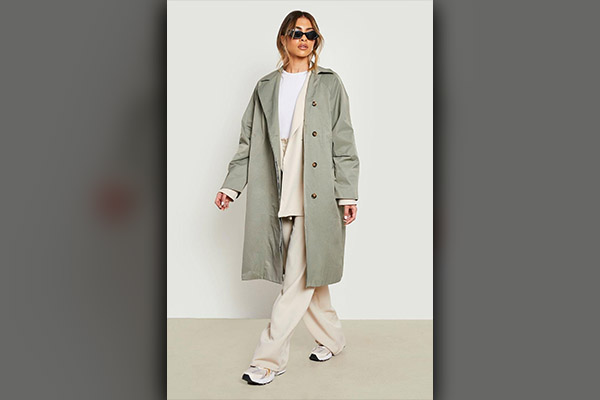 Sweatpants are an all-year item. Yes, even in winter. All you need is a cozy upper like the leather trench coat. You can just wear a trench coat over your existing sweatpants outfit and call it a day. However, the best way to do it is to wear the same light color sweatpants sweatshirt, then wear the dark brown or black trench coat on top.
Black and White Sweatpants Outfit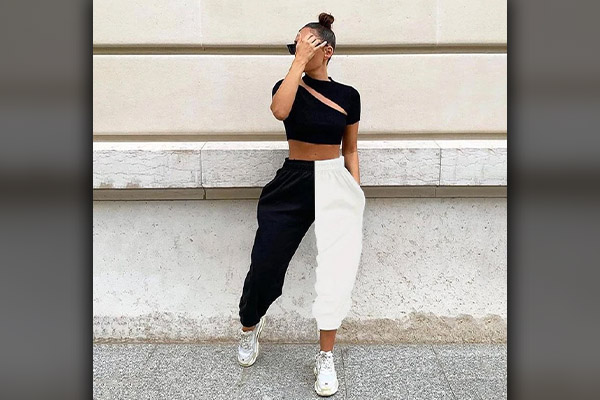 Black and white are the perfect matchup colors. They fit together in everything from formal suits to casual attires, and sweatpants outfits are no exception. You can wear these two colors horizontally, with a white shirt and black sweatpants. Or, you can take a fancier approach with a combo that's "cut in half" with black and white in the vertical direction.
Sweatpants and Blazer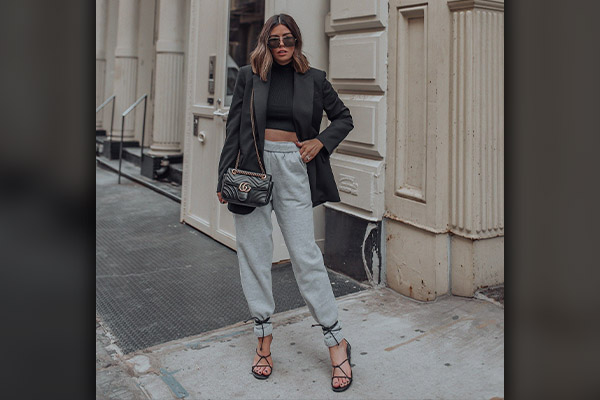 Are you looking for a preppy sweatpants outfit? Something that is quick to set up but looks professional and well-put-together? All you need is a blazer, and that's it. An outfit that consists of a pair of black sweatpants, a black tank top, and a brown blazer belongs on a fashion show runway.
One thing to remember is that loose or oversized sweatpants are not right for this look. You need the ones with a defined shape.
Cardigan and Sweatpants Combo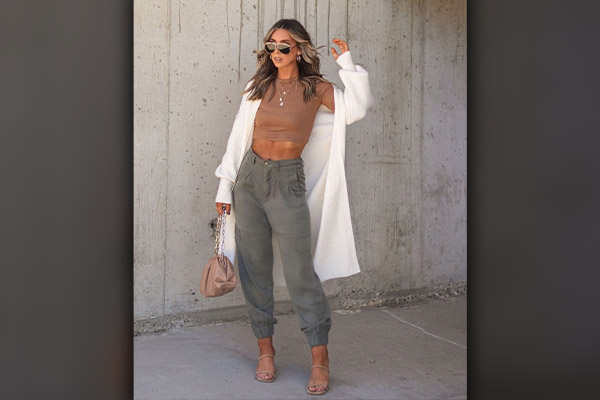 As far as tops for sweatpants are concerned, cardigans are at the top. They are just as, if not more, comfy, and they fit the sweatpants' aesthetics perfectly. Just pair your colorful cardigan with a plain t-shirt, and you're good to go.
Leather Sweatpants Outfit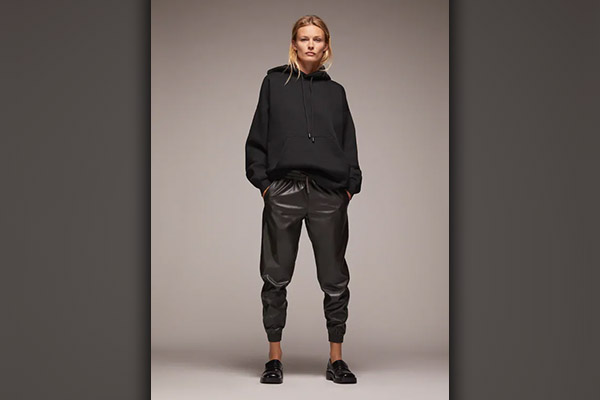 Leather sweatpants don't get as much attention as they should. They are on par with cotton sweatpants in terms of comfort, and they even have better thermal properties. The thing that makes leather sweatpants a must-have is the confidence they exude. If you wear leather sweatpants, everyone around you gets notified of your supreme self-confidence immediately.
As far as styling them is concerned, they work with anything that regular sweatpants do. However, their best match is with other leather garments such as a leather bomber jacket for women or coats.
Frequently Asked Questions
How to Dress up Sweatpants?
Dressing up with sweatpants can be as simple as just wearing them with a matching sweatshirt. However, you can take things a lot further if you want to. The next step is finding the right top and layering it with jackets and coats if necessary. Last comes the colors and how to effectively use them to your advantage. Sweatpants come in almost every shade you can imagine, so the only limiting factor is your imagination.
How to Wear Joggers Fashionably?
The key to wearing joggers fashionably is to completely embrace them. Wear them with confidence and only wear what you want to wear. Sure, that outfit idea from the internet will look very good on you, but ask yourself, "do I personally like it?" If the answer is no, then do not wear that outfit.
Another thing to remember is that sweatpants offer a lot of freedom in experimentation. So, mix and match garments from your closet until you have something gorgeous to wear.
How to Wear Baggy Sweatpants?
Baggy sweatpants can be a bit tricky to pull off without making them look sloppy. The best advice to remember is to integrate them into the outfit. The rest of the clothing should fit with the baggy sweatpants and make them feel like one part of a bigger picture.
What to Wear with White Sweats?
White sweats are the easiest ones to style, maybe only behind black ones. They work with every color imaginable, and no style of top is off-limits.
What to Wear with Pink Sweatpants?
Pink sweatpants look the cutest when worn correctly. You can wear them in matching pink sweatshirts for an adorable unified look, or you can pair them with pastel-colored tops to create an aesthetic ensemble.
What to Wear with Beige Sweatpants?
Beige sweatpants are a bit restricting when it comes to top colors and designs, but the combinations that do work are flawless. Black and dark greys are easy options, while blue and maroon can be pulled off with a little bit of effort.
What Goes with Black Sweatpants?
The answer is everything. Yes, it's that simple. You can go the hip-hop route, the streetwear style, or the smart casual. The options are truly endless.
Think of black sweatpants as a blank canvas that enhances your every choice. So, even a simple white t-shirt will look phenomenal when paired with a pair of black sweatpants.
Final Words:
Sweatpants are the most versatile pair of pants in your closet right now. They are comfortable to wear for long periods of time, incredibly easy to style, and fantastic at infusing your personality into the outfit. So, don't let your sweatpants get relegated as weekend attire. Start experimenting, and add thousands of new outfits to your day-to-day fashion arsenal.