While everyone loves that standard corporate attire, sometimes it's nice to break that monotony. In such a situation, brown and grey outfits are a perfect style option to upgrade your suit wardrobe.
While you can be on the top of your styling game with a black blazer outfit, the brown and grey outfits have that right blend of fresh and bold vibe, creating a unique style statement. Likewise, you can slay your dress-up game with a single gray suit by dressing up or down with some appropriate brown accessories and shoes for work, parties, or casual weekends.
However, styling a brown and grey outfit is easier said than done. Finding the right shade of gray and brown to match your formal is a daunting task. But, with the right styling tip and fashion consciousness, you can ace your outfit game in no time.
Therefore, we have curated this ultimate brown and grey outfit to ease your styling labor. So, stick along to know more.
What To Expect In This Article?
Do Gray And Brown Go Together?
The Brown and gray color scheme is a combination of two neutral shades. Typically these two shades are paired with more intense colors. However, Grey being on the cooler side of the spectrum creates a perfect balance with brown (a warmer tone). So, there is absolutely no argument about whether gray and brown can go together.
However, considering the wide range of shades, there may be a few variants of gray and brown that do not complement when paired together. So, the trick here is to try out a few combinations to mark out an effective pair for a truly adorable look.
How To Pair Brown And Gray Outfits?
Let's be honest, styling in an unfamiliar color combination (i.e., Brown and grey color palette) is sometimes intimidating. However, with the correct styling knowledge and a suitable choice of shoes and accessories, you can be at the top of your styling game. So, here is the complete guide on how you can pair brown and gray outfits to create an aesthetic look.
The Right Contrast
The golden rule of pulling up a perfect brown and grey outfit look is finding the proper contrast. In order to come up with an effective combination, you can try contrasting a muted grey tone with a darker shade of brown. The more the contrast is unsaturated, it will require more elements( i.e., colors and patterns) to compensate for the lack of complementary hues.
To get a deeper insight, here are a few color combinations that will serve you a long way when dressing up in brown and grey outfits. So let's dig in!
What Colors Go With Brown Clothes?
Light brown clothes complement best with other light shades. For Instance, you can pair your light brown or tan pants with white, cream, and light blue shirts.
However, the absolute answer for what colors goes with dark brown clothes is neutral hues such as a variation of whites. For pairing dark brown with dark shades: black, maroon, navy blue, olive, and deep green are some decent options.
Color That Goes With Gray Clothes
The light tones of grey clothes go best with light hues such as dull blues, muted pinks, and shades of whites. In comparison, dark greys look best with black, burgundy, and of course, crisp whites.
Do Maroon And Gray Go Together?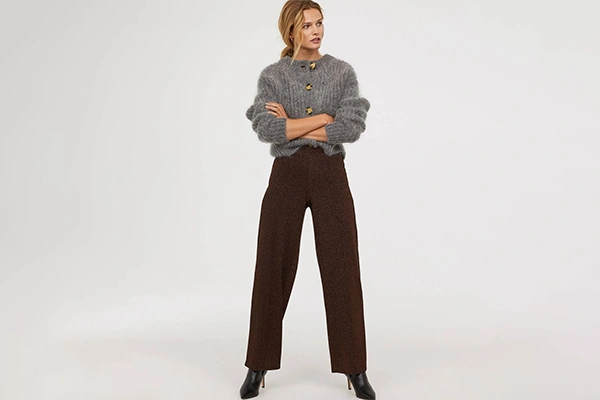 Maroon works best with light and charcoal grey if you want to pull off a decent casual or smart casual attire.
Do Dark Gray And Light Gray Go Together?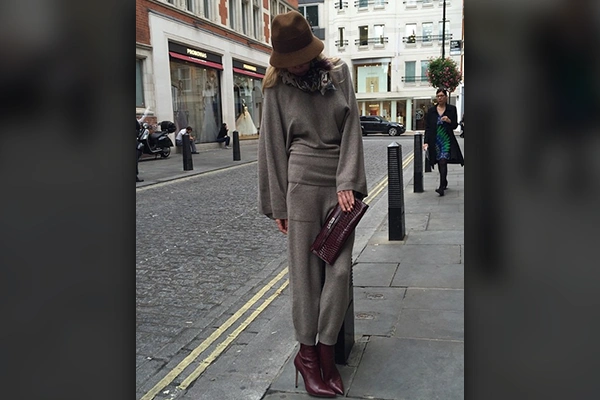 Light grey and dark grey are absolute gems if paired together. However, adding a third tone to this color combination would be a smart move to pull off a dapper look.
Does Black And Gray Match?
Yes, you can match any shades of gray and black, considering the contrast and saturation of the two colors, to create a decent look.
Do Tan And Gray Go Together?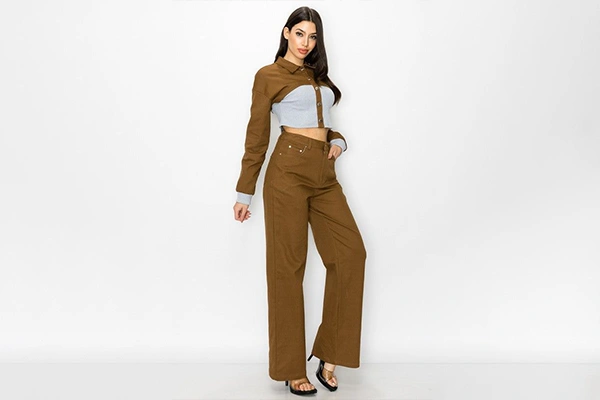 Tan and gray outfits are among the most sought-after combinations these days. You can pair muted grey tones with tan browns and beiges for sophisticated formal attire.
Seasonality And Formality
Considering the formal setting and seasonality is crucial for pulling off a sophisticated brown and grey outfit look. For Instance, you cannot wear a brown flannel coat with a charcoal grey or black suit in the formal summer setting. Aligning your outfit with the correct seasonal clothing and formal aesthetics plays a significant role in ensuring a polished look.
The brown and grey outfit combination for suits deviates from the typical formal dress code. So, it is important to know the correct formal setting. Apart from work, a brown blazer and gray pants attire can work well in a few business casual and semi-formal setups. For example, it can be a wedding event or a cocktail party, where the dress code is not so strict.
As a universal dressing rule, the darker the hues, the more the formality. But, there is always room for experimentation. Considering the versatility of brown and grey outfits. You can experiment with shades of greys and browns, incorporating various patterns and fabrics to create a decent look that perfectly aligns with the season and formality.
Adding A Third Hue
Introducing a third color with brown and grey outfits can instantly add flair and depth to your entire look. Whether it's a typical grey suit and brown shoe outfit or a brown coat and charcoal suit, incorporating a third hue by a shirt, tie, belt, or pattern will add to the entire look.
However, while introducing a different color into your grey and brown look, start with tried and tested ones that complement most formal settings, such as blues and whites. Then, once you know the trick, you can go for other difficult styling hues like pink, purple, and green.
To make your task a little easier, here are a few clothing accessories you can use to add a variety of colors to your existing brown and grey outfit. So, let's have a look.
Adding too many colors to your outfit may sometimes outbalance your whole look. Going for a blue button-down dress shirt to pair with your brown and grey outfit is a sure shot for a smart look. The conservative muted blue shirt is a safe choice here. 
However, If you are up for a unique style statement, light pink and olive green can be good choices to assemble your grey suit and brown shoes outfit.
Choosing appropriate ties to match your formal suits demands a lot of brainstorming and styling knowledge. Whether it's a dapper evening look or a dinner date, a refined casual outfit with a knitted tie can cover you for most semi-formal occasions.
For Instance, brown shoes and a grey suit formal with silk knitted ties in dark tones such as burgundy, black, or navy blue are a foolproof combination. However, you can always use patterns and prints to create a unique style statement.
Pocket squares are among the ideal accessories to add some texture and definition to your look. As a general styling rule, opting for a lighter-tone pocket square with a louder color and pattern tie is best. 
On the other hand, if your tie is neutral, going for a statement pocket square is ok. Adding intricate colors and patterns to your brown and grey outfit is a wise way to elevate your entire look.
According to the formal suiting rule, your belt must be the same color as your shoes. Unfortunately, there are not enough colors to experiment with your belt choices. So, if you are going for a classic brown and grey outfit, the dark brown leather belt suits best with your tan or brown shoes or leather jacket outfits.
The Appropriate Shoes
The best choice for brown and gray outfits is to go for a formal pair of brown shoes. Here are a few decent shoe options you can consider wearing with your formal attire to pull off a sophisticated look.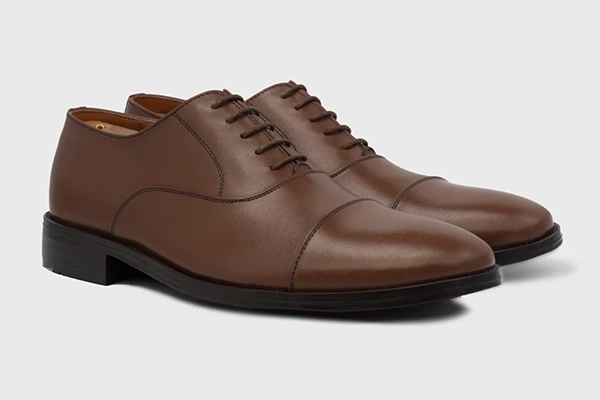 Oxfords are among the most common and timeless shoe options for formalwear. Its distinctive designs utilize a closed lacing system giving out a slimmer, polished vibe making them the best option to wear with business professional attire and suits.
They come in various designs, i.e., whole cut, cap toes, wingtips, and plain toes. You can make your brown and grey outfits work well with dark brown variants of Oxford.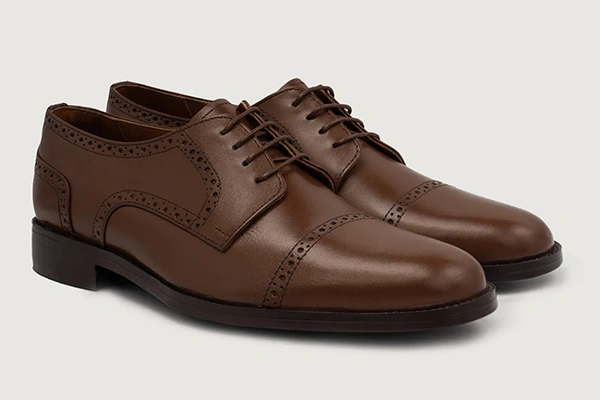 Wingtip brogues have a distinctive perforated design. These boots styles are more suited for less formal occasions and work best with practically any color suit, including grey and brown. Therefore, it is a must-pair to add to your formal shoe wardrobe.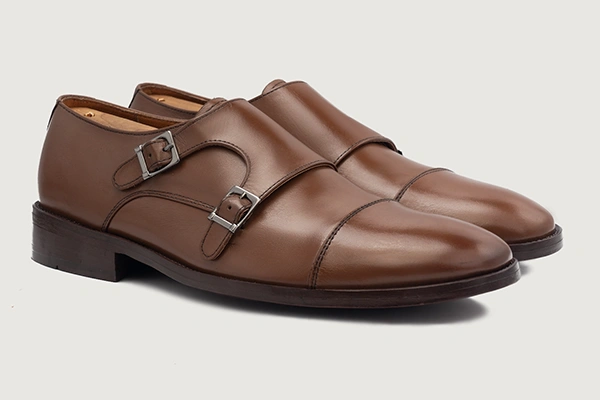 These shoe designs, while initially called for being too casual, today is a popular formal shoe because of their design versatility and durability. The double monk straps are similar in shape to oxfords but differ in the fabric toe design. The double strap refers to the conservative dual buckle closing system instead of lacing.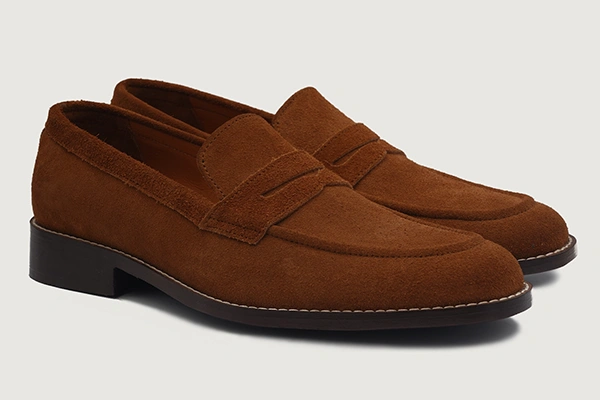 Loafers can have a plain strap, a slit strap, or a metal buckle decorative segment of design. Loafers are more suited for less formal or casual arrangements. For a smart casual look, you can opt for a penny loafer to wear with gray linen suits.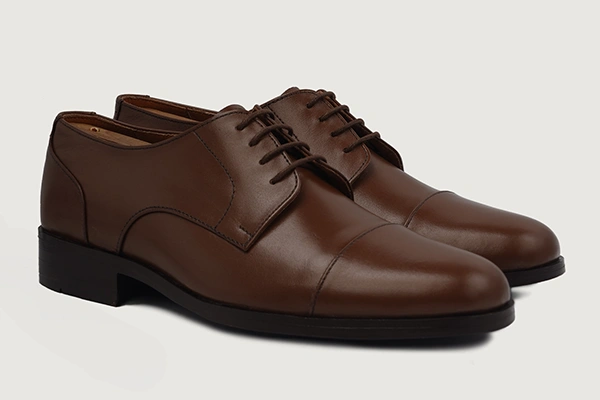 Derbies have an open lacing system, making them a few casual shoes, perfect to pair with summer business suits or for a casual day out with friends. A tan derby will work best with grey blazer suits during your spring and summer workdays.
Accessories With Brown And Gray Outfits
The right accessories have the power to make or break your whole look, so choose carefully. Apart from contrasting ties, pockets, squares, and belts, there are a few accessories that can instantly uplift your brown and grey outfit look.
These accessories may include a quality watch, metallic cufflinks, tie pins, and a stylish pair of sunglasses. For slightly colder days, wearing a neutral crew neck sweater, a brown leather jacket, or a warm knitted scarf would make your whole look even more appealing.
FAQs
What color looks good with brown?
White, off-white, cream, navy blue, light blue, shades of green, burgundy, maroon and black are some evergreen colors that look good with brown.
Do grey and khaki match?
Yes, grey and khaki are an effortlessly beautiful color combination and match each other pretty well.
Can you wear brown shoes with gray pants?
All gray shades, including muted gray and charcoal, compliment brown shoes really well.
Conclusion
While everyone loves sleek black suits with brown shoes, opting for a brown and grey outfit combination is an excellent option to create a style statement. The classic way to wear a brown and grey color scheme is to pair your basic grey suit with brown dress shoes. Then, pair your basic grey suit with a contrasting color tie or shirt and suitable accessories like a watch and sunglasses to add even more sophistication to your whole look.