While everyone loves to dress up in suits, choosing appropriate shoes to wear with suits is not as simple as it sounds. You can have all the finest pairs of shoes and suits but still, end up in a fashion disaster without proper styling knowledge.
Having a variety of shoe styles, colors, and dress codes can make styling your suit a confusing affair sometimes. Therefore, to help you ace your fashion game, here are all the fundamental tips and tricks to match your footwear with suits.
So, read till the end to be a pro!
What To Expect In This Article?
Best Shoe Styles To Wear With Suits
When it comes to suiting, most of us practically stand at zero. So, let's start from the basics. Before we head to what shoes to wear with what suits, we must know the basic shoe style that best compliments suits. So, let's dig in!
1. Derby
Derby shoes are the most effortless style in workwear fashion to wear with suits. They are most suited for business meetings and workplace attire. But, who said you couldn't wear them to the bar? It's the perfect pair when you have to run for a night out after your work hours.
The distinctive open lace design makes it less formal than oxford dress shoes but still has enough sophistication to cover you for most semi-formal occasions.
2. Brogues
Brogues are among the most popular shoes to wear with suits. Whether it's an oxford brogue or a derby brogue, having identical perforated decorations on the upper part of the shoes both equally complement suits.
However, sometimes these detailings come with some additional heel cups and wingtips, making them a suitable option for smart casual affairs.
3. Monkstrap
If you are looking for a bold footwear option to wear with your suit, monk straps are the one for you. Whether it's a cocktail party or a business meeting, monk straps will cover you for everything.
The monk strap shoe design is essentially inspired by oxford shoes with a difference of single or double strap system instead of lacing, keeping your toes in place inside the shoes.
4. Oxfords
If you love derbies, you will surely like oxfords too. Patent leather oxford is the most appropriate pair of leather shoes to wear with a suit at a black tie or black or white tie event. But, that does not mean you can't wear them in less formal setups. The amount of detailing and the leather texture dictates the right extent of formality for these shoes.
5. Loafers
The laceless loafers are perfect for less formal, smart casual suits. You can wear them on your casual business days or with your crop pants for a dressy yet subtle vibe. However, you can choose between suede leather or leather built to move in and out of your casual and semi-formal days.
5. Smart Sneakers
Not so long ago, wearing leather sneakers with formal suits was considered a fashion sin. However, now it's alright and, in fact, a raging fashion trend in smart casual aesthetics.
Styling with sneakers requires putting a little more thought than usual. For Instance, you can pair crisp white sneakers with a suit, especially trousers suits, but wearing a tuxedo outfit with sneakers to a highly formal event is a big no.
Suit And Shoes According To The Dress Code
Now that you know all the different shoe styles that best complement suits. Let's move to the next step, which is deciding on the right suit and shoes to wear on a specific occasion.
Before deciding on your outfit, ensure the right dress code for the event, and if there is no proper guideline, then do some digging. In order to cut the labor, here are some tricks to dress according to the formality.
Cocktails And Semi Formal Events
Out of all the other dress code options, cocktail attire gives you the most liberty for picking the right footwear. For such semi-formal events, brogues and monk straps are a perfect shoe style.
However, you can also opt for suede shoes or a smart pair of sneakers for some bold style statement. You can couple either of them with crop trousers and low-cut socks for a sophisticated finished look.
Black-tie Attire
Black tie attires are for highly formal events, having strict dress code limitations. But that's the good part. Now, you do not have to sweat over choosing the right outfit; just follow the predefined guidelines, and you are done.
As a rule of thumb, black patent leather oxfords are classic shoes for any black tie event. However, shiny, scuff-free regular leather oxfords will also work here well.
Business Formal/Casual
Derbies and sneakers make up the best options If you are looking for a shoe pair for your regular work days. However, wearing derbies to a wedding or any other casual, dressy event will not hurt anyone.
On the other hand, formal business dinners and meeting oxfords and brogues make a good choice, with the right amount of sophistication.
Black-tie Optional
An event with a black tie optional is severely formal affairs with the leniency of giving the guest to dress as per their comfort. In such a situation, opting for your patent leather shoes with your formal suit is a safe choice. So, you can't go wrong with your dress-up game.
However, taking advantage of the less formal environment, you can opt for oxfords or monk straps with your suits.
Shoes To Wear With Different Color Suits
Wearing your suits with a misfit shoe color can ruin your whole vibe. However, pinning down what color shoes best match a suit is the hardest part of styling formal wear. In that case, it is better to stick with all the tried and tested shoes and suit combinations below.
1. Shoes To Wear With A Black Suit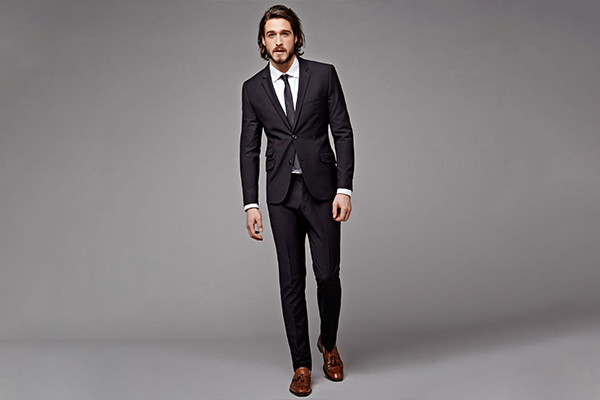 As per the universal styling rules, the more intense the color of the suit, the lesser shoe option you are left with. With the dark aura of a black suit, no other shoe color complements best other than intense black dress shoes.
Black shoes and a black suit are the ultimate gentleman's attire. However, you can also opt for dark brown or grey shoes with black suits if the event is not severely formal. Make sure they are in good condition with a clean and presentable outlook to complement your formal wear.
2. Shoes To Wear With A Navy Suit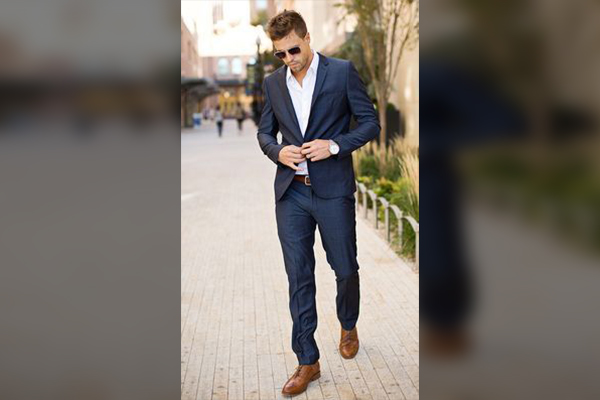 Navy blue is believed to represent trust, wisdom, and responsibility. That's why navy suits are among the most sought-after business professional attires. If you want to play it safe, go for any leather dress shoes. Trust me; this combo will never disappoint you.
However, the other shoe color options that will look equally classy with navy blue formal wear are black, dark brown, and burgundy. While black is for the most formal events(black-tie), brown and oxblood can be worn in more relaxed setups. So, choose accordingly.
3. Shoes To Wear With A Grey Suit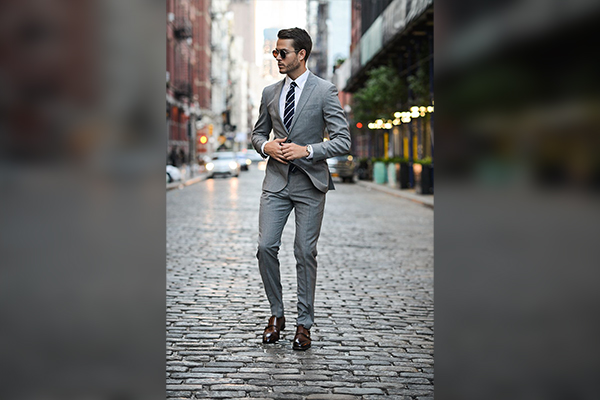 Gray suits may be less formal, but they have more flexibility to go well with almost all shoe colors. The light aura of gray suits makes them a less ideal option for the business professional. But these suits actually work well with the business casual dress code where a more relaxed dress-up is required.
For an office setup pairing your grey suit with black shoes is the ideal option. While for casual and social gatherings you can wear tan, browns and burgundy dress shoes.
4. Shoes To Wear With A Charcoal Suit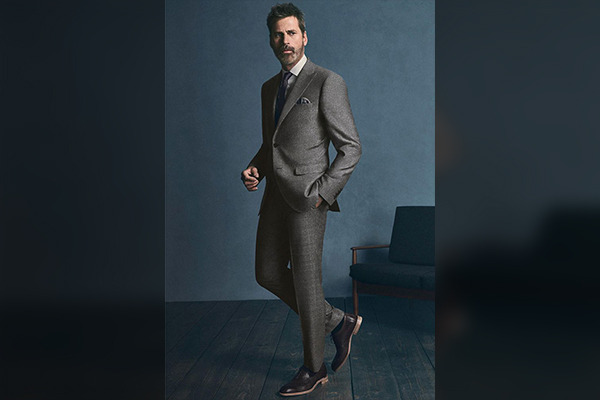 If you are looking for one suit color that equally covers you for severely formal (business professional) and casual setups, charcoal is the one for you. When it comes to choosing the right shoe color for a charcoal suit, never go for a brown dress shoe (never).
Plain black shoes are the only best choice to wear with a charcoal suit in formal affairs. However, deep burgundy will also give out a classy casual outfit vibe when paired with the charcoal suit.
5. Shoes To Wear With A Beige Suit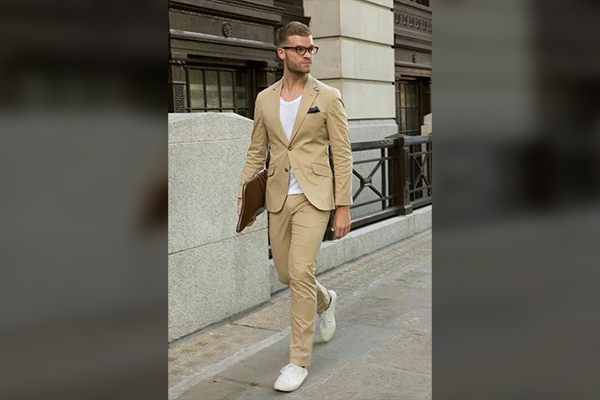 On the lighter side of the color chart, beige is an inappropriate suit color to wear at highly formal events. However, it's a great option to wear for less formal to semi-casual events such as a wedding guest outfit.
There are a few suit colors that never go well with black footwear, and beige is one of them. Therefore, opting for any brown shade, i.e., tan, dark brown, or leather finish, will be a perfect match for such suits.
6. Shoes To Wear With A Olive Green Suit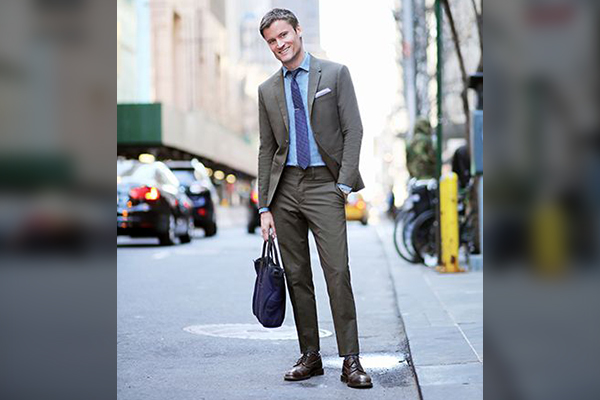 Green and olive are not the colors that most men can wear with confidence. But if you know how to wear it correctly with the appropriate shoes, this suit can take you a long way.
For choosing the right shoe color to wear with green, go for all the browns, from tan to chestnut to mahogany. However, you can also keep it sober with a pair of minimalist black dress shoes.
7. Shoes To Wear With Brown Suit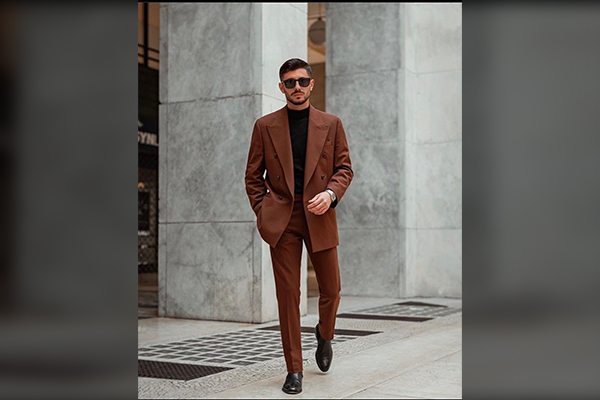 Brown is the most common suit color in business professional attire. If you are wondering what shoes to wear with a brown suit? Go for a brown-brown combo without a second thought. You won't regret it.
However, while choosing the perfect shade of brown for the shoes, considering the shade of brown is crucial. Wearing the same shade as your suit makes your whole look off. So, you better go for a more intense brown shade.
If you want to go for a contrasting color for a more casual setup, burgundy and oxblood dress shoes will do the work here.
What shoes to wear with a suit for the wedding?
There are a bunch of good footwear options you can wear with your semi-formal suit at the wedding. Some of the most popular ones are oxfords, monk straps, brogues, loafers, and leather boots. You can pair these shoes effortlessly with your suit for a dapper wedding guest look.
What shoes do you wear with suits in the winter?
You can wear all that you want with your winter suits but the best and the most appropriate footwear to wear with your suits in winter are boots. You can go for oxford boots, Chelsea boots, suede chukkas, and other dress boots options.
How do you combine suits and shoes?
Combining the suits with the right shoes, consider the formality of the occasion and the color of your suit. For Instance, smart sneakers and converse will not work for severely formal events, while monk straps and derbies will suit well, according to the dress code demands.
Conclusion
Suits are among the most popular outfits in men's fashion. You can wear them from formal and professional occasions to the after-work cocktail parties at the bar. But choosing what shoes to wear with suits according to the formality of the events requires a lot of brainstorming. A single mistake can make you end up in a disaster. So, better be cautious than poorly dressed up.