Dressing up for a man can feel extremely trivial at times. Outfits as simple as a white crewneck t-shirt with a pair of blue jeans work fine in most casual situations and require mere minutes to put together. If you're feeling particularly adventurous, then putting on a matching leather jacket will take that basic outfit to a whole new level.
However, this is not the limit of style for men; far from it. There are still a lot of style points left unclaimed. All you have to do to access them is pay attention to the details, most notably to your footwear. You might not think that your choice of shoes matters much in the grand scheme of things, but it does. Wearing the right footwear can make your outfit feel cohesive and complete, and for a lot of ensembles, this right choice is a pair of well-maintained boots.
What To Expect In This Article?
Boots Vs. Sneakers
Sneakers are one of, if not the most popular footwear in the world, and for a good reason. They are the ultimate kings of comfort. A good pair of sneakers will keep your feet cozy all day long. Plus, all of the different designs of sneakers provide plenty of options to customize your look.
Boots, on the other hand, take a different approach to footwear. Instead of being lightweight and trendy, boots are durable and professional. They are still plenty comfortable on the inside, but they also have a sturdy exterior. Additionally, leather boots are the perfect pair of shoes for leather jacket outfits.
How to Tell Them Apart
One of the easiest ways to tell the difference between sneakers and boots is with their height. Even high-top sneakers stay below the ankles. Boots, on the other hand, are often much higher than the ankle and can go as high as the knee.
Another clear difference between sneakers and boots is their color and material. Sneakers tend to be a bit colorful and often have more than one hue in their design. Conversely, boots are made from a single monotone material, often black or brown. Though, there are both suede and shiny leather boots available on the market.
Outfit Ideas with Boots
Rocking a pair of boots can feel daunting if you have no prior experience with them. Unlike sneakers or other forms of men's footwear, boots don't just blend in with the rest of the outfit. They have a strong and noticeable presence that needs to be accounted for if you want to dress to impress.
Luckily, you don't have to spend any time looking for the right combination for your leather boots. Here is a comprehensive guide on the outfits that are guaranteed to work with boots. Take a look.
With Jeans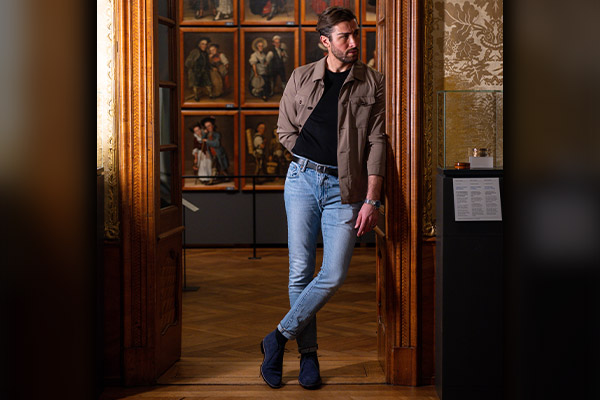 As we just mentioned, boots are not the type of footwear that blends into the background of the outfit. So, why not play into this aspect more by wearing them under a pair of white jeans. The white color of the jeans will put even more focus on the boots, making them the star of the outfit. The best boots for this combo are brown Chelsea boots. As for the upper side of the outfit, a blue button-up with a brown suede jacket will look brilliant. You can add even more flair to this already remarkable outfit by rocking a shiny brown belt.
As Formal Footwear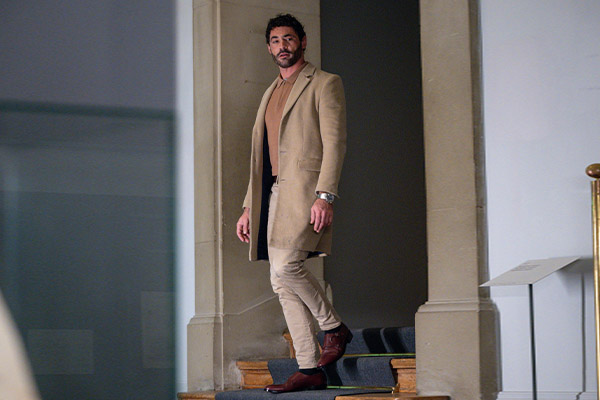 Suits are considered the pinnacle of men's fashion by many. They say that there is nothing left to improve about suits as they are already perfect. This might be true to some extent. But what you can improve instead is the footwear you wear underneath, and there is nothing that better fits the bill than black Balmoral or Wingtip boots. The Balmoral boots, in particular, work flawlessly with almost every three-piece suit.
The biggest benefit of wearing boots instead of regular formal shoes is that they are significantly more comfortable for longer periods of time. Plus, if you're expecting to do a lot of walking while wearing the suit, boots will save your feet from days of pain and agony.
Preppy Boots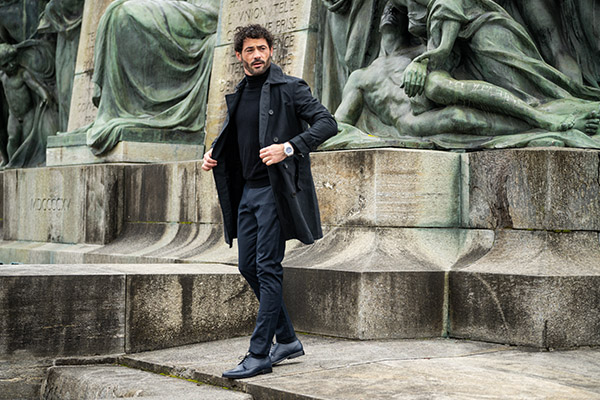 Suiting up is the best way to look professional, but what if you don't have the time and energy for it? What if you want something that looks just as professional (at least close enough) and requires much less work? Well, it turns out that such outfits exist, and all you need for them is a white blazer and a pair of black Jodhpur shoes. Additionally, well-fitted black pants and a black turtleneck are ideal to complete this robust outfit.
If you want to create a similar look but without having to deal with a white blazer, then you can swap it out for a black blazer as well. Just change the black turtleneck to a cream-colored one, and you're good to go.
Summer Shorts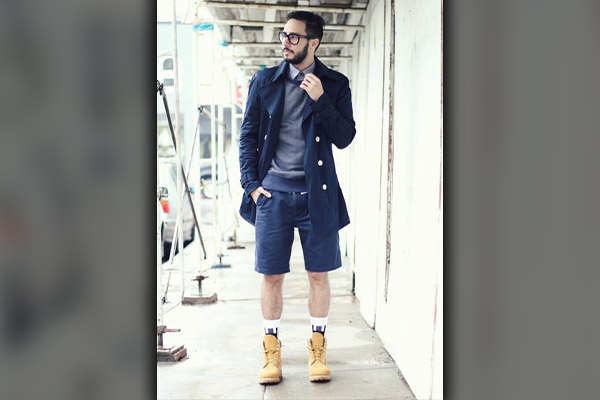 Boots and summer fashion are a combo that not many people know about. But, despite its relative lack of popularity, it is a style that you should definitely know about. The first step is to pick a pair of boots, and the lightweight Chukka boots are the way to go. You can also wear combat boots at the start of the summer, but they are not a good idea as the average temperature gets higher.
Once you've picked your boots, wear them under a pair of knee-high shorts and a V-neck t-shirt. The color of the shorts and the shirt is fairly flexible as they can be anything between camo green and plain black. Wearing straight-up camo shorts in this outfit is also an effortless way of emulating the 90s dad fashion.
Wrapped Winter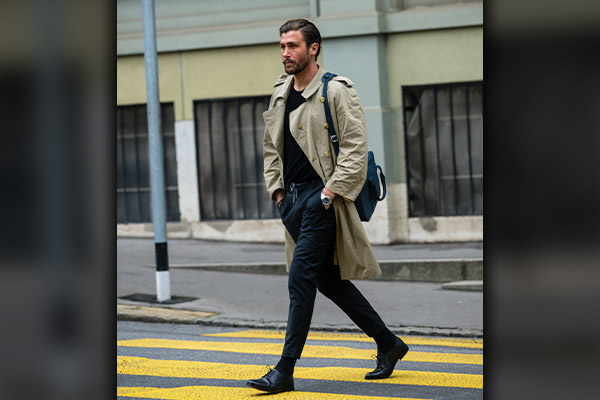 Winter and boots are a match made in heaven. If you live in an area that gets covered in snow every winter, then you're already familiar with the importance of quality boots. But did you know that you can use the same boots to create extremely polished and chiseled outfits just by rocking the right jacket? Now, there are a lot of winter jackets to choose from for this sharp winter look. However, none of them strike a better balance between looks and comfort than the peacoat.
You can either keep the focus on the jacket and the dark brown Moc Toe boots by rocking them with black jeans and a black turtleneck. Or, you can make the whole outfit a sight to behold by wearing a pair of blue jeans, a checkered button-up, and a navy blue sweater under the leather peacoat.  
Athletics and Sweatpants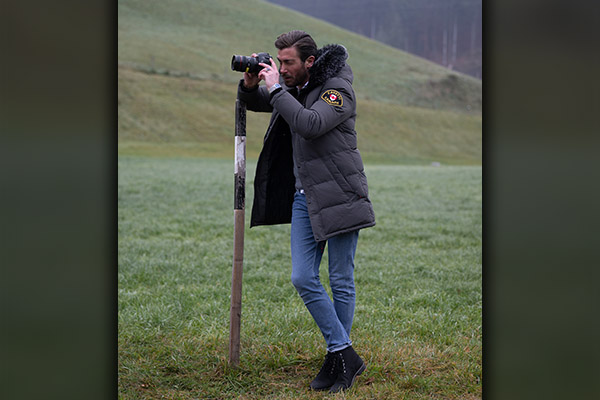 Athletic activities and boots are a blend that just makes sense. You can take advantage of this blend and become a master of stylish athleisure. A great example of this look would be a pair of black combat boots worn under light brown sweatpants and a black hooded sweatshirt. Add in a sports wristwatch and a pair of matching aviators, and you're ready to be on the cover of an athletic-fashion magazine.
Urban Casual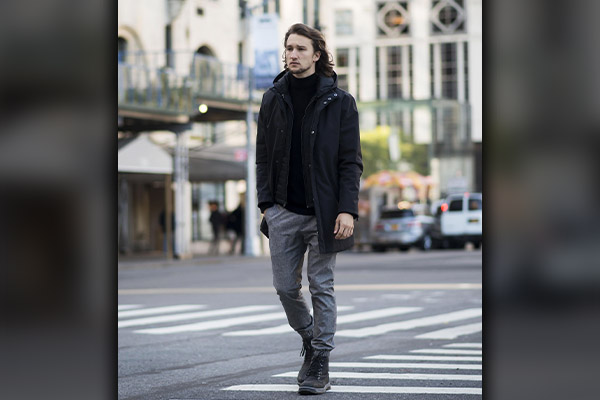 Having stylish outfits for specific situations allows you to look your best with minimal effort. However, not every day is going to contain some special event or activity. Sometimes you just have to go grocery shopping or hang out with your friends without any occasion. This is why having a strong arsenal of daily driver outfits is so important, and there is no better choice of footwear than a pair of black work boots.
As for the rest of the outfit, there are no specific guidelines. This is where you use whatever you have in your closet in a smart way. For example, let's say you own a denim jacket. Pair it with charcoal jeans and a loose-fitting cotton button-up for a lean and calculated look. Similarly, you can combine a red flannel with a sleeveless puffer jacket or a gray sweatshirt with a shiny leather jacket to create creative outfits that you can wear on a regular basis.
Frequently Asked Questions
Here are a few of the most frequently asked questions regarding boots. The answers to these will help you better understand men's boots and how to wear them.
How do men wear boots with style?
The thing to understand about boots is that they are extremely stylish on their own. You can wear them under almost any outfit, and boots will look good, even if the rest of the outfit does not. That said, if you want to get the most out of your boots, you have to pair them with outfits that are just as stylish.
Another thing to remember when styling boots is their type. Combat boots look fantastic with both jeans and sweatpants, but they are a terrible match for suits. For that application, a pair of Balmoral boots is the way to go.
Lastly, learn and remember the basics of wearing boots. For example, instead of leaving your pants as is, either tuck them inside the boots or stack them on top of the boots. Similarly, never leave your boots loose. This used to be a trend, but now it just looks immature.
How should men wear boots in the summer?
The first step of wearing boots in summer is picking the right type of boots. If you're wearing shorts of any kind, then the Desert boots are the optimal choice. On the other hand, jeans and other full-length pants work better with Chelsea boots.
Once you're done picking the type of boots you will wear, remember to keep everything above the boots as lightweight as possible. T-shirts, jeans, summer shirts, and shorts are your best friend in this situation.
How do men style combat boots?
Combat boots have a very rugged vibe, and you can utilize this aesthetic in two distinct ways.
Your first option is to contrast the look with simple and minimal clothes. A great example of such an outfit would be an all-black look with black combat boots, black tight-fit jeans, a black t-shirt, and a shiny black biker jacket.
The other option is to embrace the military/worker aesthetic of combat boots and choose your outfit accordingly. An outfit along the lines of brown combat boots, tan cargo pants, brown turtleneck will look fantastic. You can further enhance the earthy tones with a green workwear jacket.
Can men wear boots all year-round?
Yes, men can wear boots all year-round if they know how to style them correctly. Thick winter boots are obviously not a good choice for summer, but standard combat boots or Chelsea boots are great throughout the year.
Final Words
Footwear is the most ignored part of men's fashion, and it is easy to understand why. Modern men's sneakers are wildly universal. You can wear them under almost every casual or even smart casual outfit, and they will just work. However, if you're looking to take your fashion game to the next level, you have to give boots a try. They will require some work to look their best, but it's all worth the effort. Owning a single pair of boots can add so many new and exciting outfits to your arsenal, all with just the garments you already have in your wardrobe.