Men's fashion is all about dressing the part. The right shoe can get you noticed. Whether it be the office or an outing with the boys, the style of shoes you wear sets the tone for your whole outfit.
Every step you take is a step towards success. We don't know about you, but we would surely want our leather shoes to look the part. There are several options when it comes to men's footwear like different types of boots, sneakers, and sandals. Even with all these options, Oxford vs Derby shoes still takes the cake.
Oxfords vs derby shoes are quite similar yet extremely different. If you're an amateur, then at first glance, you might not be able to distinguish the two. That's where we step in.
What To Expect In This Article?
Oxford Vs Derby Shoes – The Details
Now that we have established that Oxfords and Derbys are the top two shoe choices, it's only right to give you a bit more information about the two. If you're a beginner to shoe terminology, don't worry. We'll explain all the terms you need to know in order to understand the difference between oxford vs derby shoes. Let's first learn about what these two shoe styles are and how they differ from each other.
Oxford Shoes
An oxford shoe is the classic shoe style for major events. Whether it be charity events, organizations, weddings, or business meetings, oxford shoes are the shoe of choice. An oxford shoe is an attractive shoe style that features a closed lacing system.
What this means is that quarters of the shoe – the side parts where the shoelace eyelets are made- are sewn under the vamp (front part of the shoe). Basically, what we are focusing on is the seam that appears right beneath the laces.
Derby Shoes
What are derby shoes? A derby shoe is a relaxed version of an oxford shoe. How to wear derby shoes? Derby shoes are a more versatile shoe style and can be worn with both casual and formal attire. This shoe style is for the guy that wants the best of both worlds. The main difference between derby and oxford shoes is that derby shoes have an open lacing system. This means that the quarters of the shoe – the side parts- are stitched above the vamp rather than under it. There is no noticeable seam like that in Oxford shoes. This allows for more flexibility and a general increase in comfort.
Oxford vs Derby Shoes – An Overview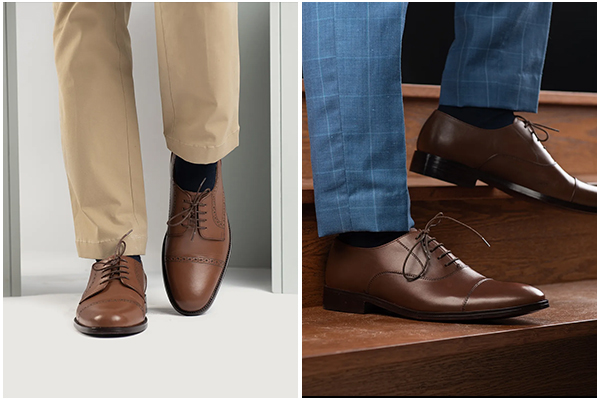 Oxford vs derby shoes have a lot in common. The details, however, are what make these shoes so different. This short overview will help you get the right pair of shoes for the next time you go shopping; for elegant and classy outfits for men.
Oxfords:
They have a closed lacing system.
The tongue of the shoe – part of the shoe between your foot and shoelaces – is separately stitched under the vamp.
The quarters of the shoes – side parts- are sewn beneath the vamp.
Gives a tight fit.
Derbys:
They have an open lacing system.
The shoes have three main pieces, a vamp, a tongue, and two quarters. The vamp is stitched with the tongue.
The two quarters are sewn over the vamp.
Gives a relaxed fit.
How To Pick Between Oxfords vs Derby Shoes
Now that you know all about what makes these two shoe styles so unique, it's time to figure out which shoe you should wear with what outfit. We have created 5 different clothing options that feature oxfords vs derby shoes. If you're looking for an affordable approach to classic men's style then read on!
White Shirt + Tan Oxfords
Oxford shoes are great for dressing up and looking the part. For a clean, sophisticated look pair a white shirt with a pair of chino pants. Add on dark brown round toe oxford shoes and a belt to complete the look. You can also take this outfit one step further by adding on a tan coat.
Gray Suit + Black Oxfords
There's nothing like a gray blazer pants combination. Create a dapper look by pairing a three-piece gray suit with a white button-down. For shoes, it's down to oxfords vs derby shoes. Since this look is more formal, oxfords are the more favorable choice. Add on black oxfords to complete this business sleek look.
Blue Trench Coat + Blue Suede Oxfords
Blue is such a versatile color. It looks great in both winter and summer. Pair a stunning trench coat with a white or light blue button-down. Add on gray jeans or trousers. Now for the key piece, blue suede oxfords. This look is easy to style and looks great on everyone. You can swap the oxfords for Chelsea boots, but if you ask us, the oxfords just bring an element of elegance to the whole look.
White Jeans + Brown Derby Shoes
Derby shoes are great if you want to create a more relaxed look. They add a bit of fun into a casual everyday look. Pair a light blue button, linen button-down with a pair of white jeans. Add on a pair of dark brown derby shoes to finish off the look. The white creates a crisp contrast with the derby shoes, making them the star of the outfit.
For a more sporty look, you can pair a basic white tee with a pair of white jeans and a navy blue varsity jacket. Derby shoes flatter this relaxed fit brilliantly.
Black Suit + Black Derby or Oxford Shoes
Although oxfords and derby shoes have their differences, some outfits look great with either. Picking between oxfords vs derby shoes can be a bit confusing. To figure out the right shoe for you, you just have to ask yourself some basic questions.
For example, got a formal event to attend? No problem. Wear a black suit with a black dress shirt and black dress shoes. Does the event involve dancing? Switch the oxfords for a pair of black derby shoes. These shoes allow more movement so you can show off your dance moves effortlessly.
If you're still deciding on whether to wear a tuxedo vs a suit, that's a whole debate of its own. No matter what you choose, the key is to wear it with confidence and pick a classy shoe.
FAQ's
Are Derby Shoes Formal?
Derby shoes can be worn with both formal and casual wear. Their relaxed fit and seamless outlook are great for all sorts of outfits.
What Makes a Shoe An Oxford?
An Oxford shoe is a formal style of shoewear. Oxfords stand apart from other shoes due to their closed lacing system, and quarters are sewn under the vamp. This shoe style has a visible seam and depicts class.
Pick Your Style – Oxford Shoes vs Derby Shoes
The shoes you wear tell a story. They create a distinctive persona and set the tone for your outfit. A shoe shouldn't just be comfortable. It should also be fashionable, wearable, and durable. The style of shoe you pick should also be versatile. Something that you'll be able to wear all year long.
Oxford vs derby shoes fit the criteria of versatility. These shoes are elegant, classy, and sophisticated. You can pick any men's suit color or a shirt of any color, and these two shoe styles will pair seamlessly.
To sum it up, if you want a relaxed, smart-casual sort of look, then derby shoes are the shoe of choice. However, if you want a more formal look, then look no further than Oxford shoes.
We hope this guide helps you understand the difference between oxford vs derby shoes and that you gain inspiration on how to style the two.