Regardless of age, black pants are every guy's favorite. However, not many of us pay attention when it comes to choosing the right shoes with black pants.
Pairing the appropriate shoes with black may seem like an easy task. But, contrary to popular belief, even the color black has its own set of limitations and cannot be paired well with every color in the palette.
Therefore, to help you pull off an amazing black pants outfit with the right shoe contrast, here are some foolproof shoes to wear with black pants that will level up your styling game in no time.
So, let's begin!
Rules For Pairing Shoes With Black Pants
A flawless outfit demands attention to the details. Therefore, before we dive into the actual topic, there are a few styling rules you should need to know.
Consider The Formality
Considering the formality of the event is crucial if you want to put together an appropriate look with your black pants.
For Instance, you can wear sneakers or loafers with your black jeans on a casual day at work. But, showing up to a black tie event wearing casual shoes with your black suit would be highly inappropriate.
However, black oxford or derby dress shoes would be a wise choice in such a situation.
Checkout Our Black Oxford/Derby Collection
Focus On The Contrast
No matter what your outfit is. Focusing on contrast will always be the first and foremost rule of styling. As a general rule, lighter shoes with dark pants work well for casual setups.
However, for a formal occasion, it is better to go for darker contrasts for shoes to wear with black pants.
Pick The Right Accessories
Selecting the right accessories to complement your outfit can make or break your look. Wearing the same color accessories such as a belt and watch may help you put together your look appropriately.
However, you can always experiment with your choice of accessories to create a style statement with your casual black pant outfits. But, with formal wear, it is better to play by the rules.
What Color Shoes With Black Pants?
Black pants outfits are among the most sought-after trends these days. It's the most effortless fashion that can fulfill both your casual and dressy needs. However, choosing shoes that go with black pants may be confusing sometimes.
So, here are some timeless shoe colors that can instantly make your black pants outfit stand out in seconds.
1. Black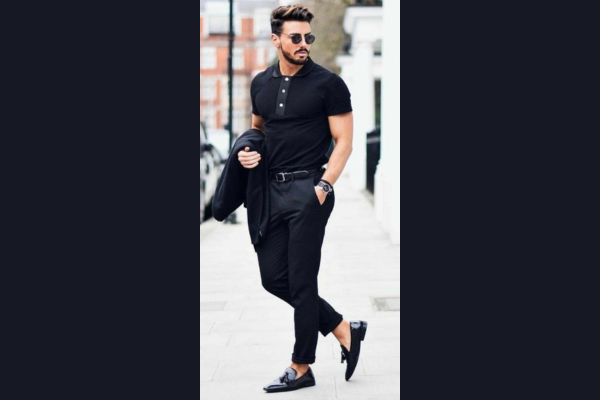 Black shoes with black pants are the classic combination that you can never go wrong with. Whether it's a pair of black sneakers, suede loafers, or black patent dress shoes, this color contrast will never disappoint you.
For instance, a pair of black chinos styled with a polo shirt and black leather loafer is a perfect casual summer look. However, if you want to go dressy, try experimenting with a black dress shoe pair and nail your style game.
2. Brown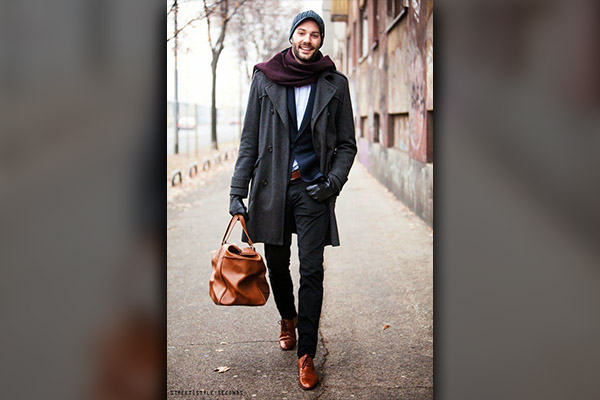 Can you wear brown shoes with black pants? We all have asked ourselves this question while styling our black pants. The sure-shot answer is yes! In fact, brown shoes with black pants are the most effortless combination for formal black tie optional attire.
So, next time you are uncertain, pair your brown leather dress shoes with a black suit to that special business meeting or a friend's wedding reception party without giving it a second thought and see the magic happen.
3. White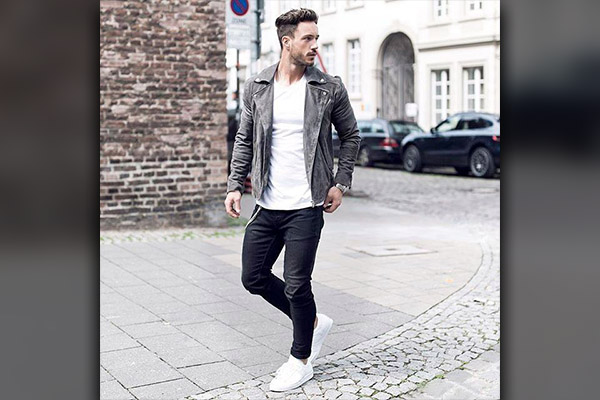 If you are thinking why white is even on this list when we hardly have any good white shoes for men in the market. Well, here is a surprise entry.
The crisp white pair of sneakers/trainers is more of a wardrobe essential for every man. You can pair them with your every casual or business casual outfit to instantly add a relaxed vibe to your entire look without compromising on the style.
4. Oxblood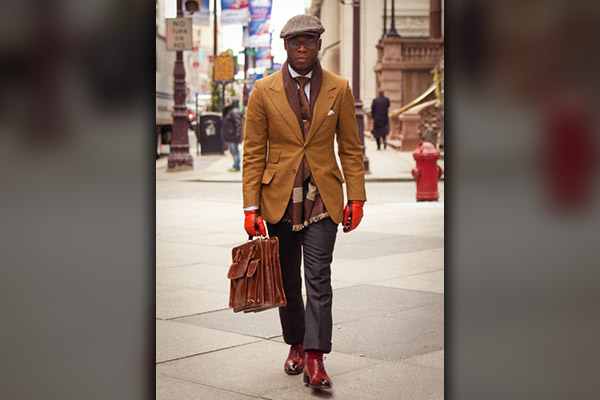 Although grey and navy blue suits are better options to pair with oxblood or burgundy dress shoes, pairing them with a black suit is also not a bad idea at all.
However, this style combination is more appropriate for semi-formal occasions like some business meeting or dinner date. Wearing them at a formal event is a risky business. So, you better be very cautious wearing this shoe color.
5. Navy Blue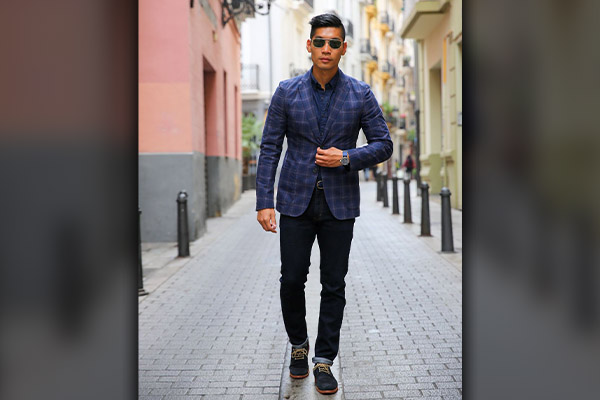 Navy blue is a pretty decent choice to wear with black pants. But, it is not suitable for formal or semi-formal wear.
However, suede navy blue loafer, slip-on shoes, and sneakers worn with casual black chinos and button-downs make a trendy combination for your casual every day dress-ups.
No-Go Shoe Colors With Black Pants
Despite all the shoe colors that complement black pants, there are also a bunch of colors that make no match with black. Here is the list of all those colors, so you better not go down that way.
Beige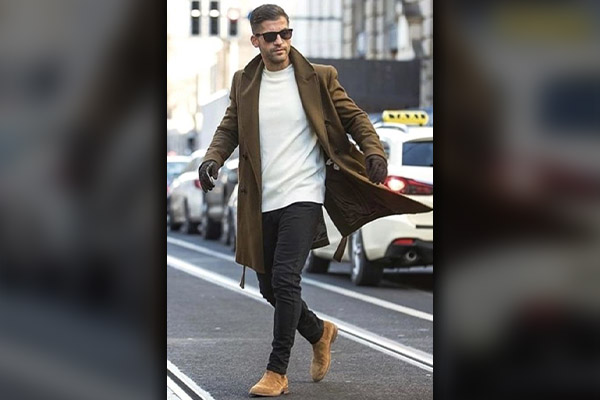 Although, beige shoes with black pants are an excellent outfit combo for women. But, there are some restrictions when it comes to men's fashion. So, we do not recommend this at all.
Red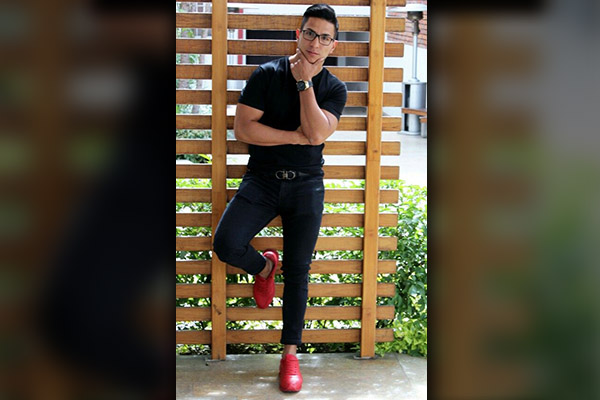 While black and red are a good color contrast, a pair of red shoes worn with black trousers is not something that looks good together. Therefore we never recommend this odd clothing combination.
Green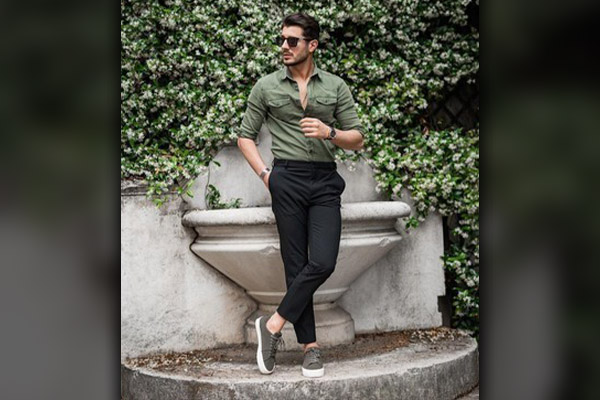 Green is an earth tone, and earth tones do not usually complement dark colors, especially black. So, it is better to avoid wearing green shoes with black pants to not end up in a fashion disaster.
Orange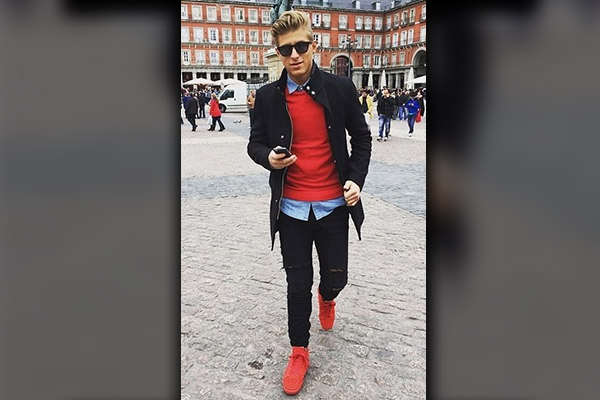 Orange is not the new black when it comes to gentlemen's styling. Yes, unless it's Halloween and you are dressing for a costume party.
However, wearing orange sneakers with black pants for a color-blocking look may be acceptable if you have enough courage to pull off such a bold combination.
Shoes To Wear With Black Jeans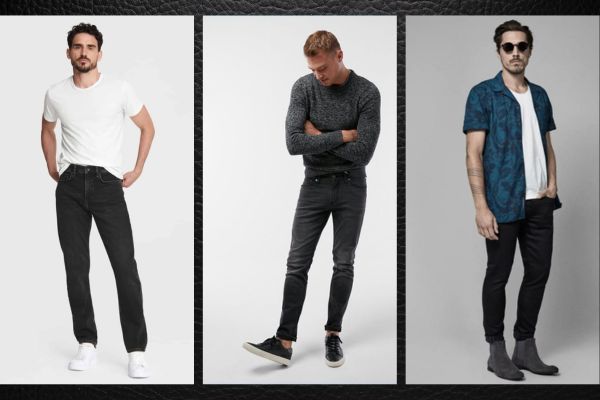 Among all the other options, black jeans are the most effortlessly stylish pair of pants. You can wear your black jeans outfits in every season all year round with your fashion game in check.
For Instance, wearing a t-shirt and black jeans with shoes like sneakers, suede loafers, or dress shoes is a perfect way to nail your simmer styling game. 
On the other hand, you can wear black jeans with brown leather boots, Chelsea, and high-top dress shoes to pull off a dapper winter look. Adding an extra layer with a trendy leather jacket or blazer will elevate this look even more.
Shoes To Wear With Black Suits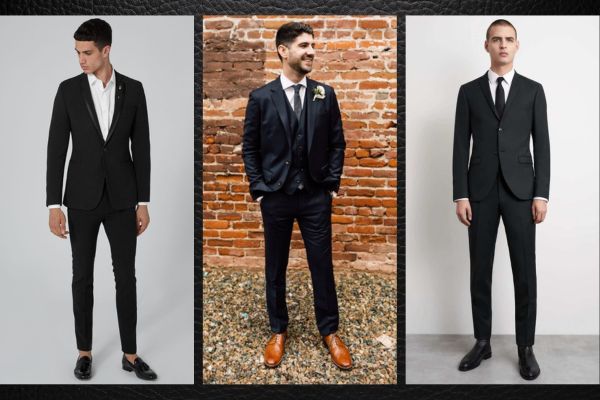 Formal occasions call for some sleek and stylish clothes; that's when a black suit comes into play.
Although a pair of black patent dress shoes are the ideal choice to wear at formal events. But, you can wear other dress shoes to your semi-formal events like a business meeting or a wedding party.
Therefore, next time you feel like experimenting with your semi-formal dress-ups, try wearing brown or oxblood dress shoes with suits for a change.
FAQs – Shoes With Black Pants
Do brown shoes go with black pants?
Yes, black pants are among the most sought-after outfits with brown dress shoes. The other brown shoes to wear with black pants include brown suede loafers, dress boots, and lace-up shoes.
Can you wear brown boots with black pants?
Yes, brown boots and black pants make the most effortlessly trendy stylish outfit combination for winter. Wearing a brown leather jacket or a coat over this outfit will be a great idea.
Can a woman wear tan shoes with black pants?
Yes, tan shoes with black pants are a color combination that suits everyone regardless of gender. So, women can also wear tan shoes and black tan to keep their feminine grace in check.
Conclusion
Black is an iconic color, especially when it comes to men's fashion. Choosing a suitable pair of shoes with black pants is a daunting task sometimes. However, with the right styling knowledge, you pull off any outfit with perfection.
The most popular colors to wear with black pants include black, brown, and oxblood.No matter, if it's a casual day out with a friend or a formal business party black pants with the right shoes can cover you for all.