Understanding the parameters of business casual is quite easy. All you have to do is figure out the ingredients for a classy elegant outfit. It makes total sense that t-shirts and tank tops are not appropriate casual attire for an office, but turtlenecks and polo shirts are.
The same case with legwear; chinos and plain jeans are business casual but ripped skin-tight jeans and colorful shorts are not. The only confusing part of this operation is when we start investigating footwear; more specifically, sneakers. Their designation as business casual seems super solid at one moment and totally wrong the next.
Luckily, you don't have to worry much as this guide is all you need to understand sneaker use in a casual yet professional setting. So, are sneakers business casual? Let's find out.
Brief Background of Men's Sneakers
Modern-day sneakers were first conceived as the right footwear for certain sports and other physical activities like working out at a gym. Their super comfortable design became the reason behind their initial success.
However, just like the case with most military clothing items and workwear, sneakers became a part of men's fashion. Since then, sneakers have become as popular as jeans and basic crew-neck t-shirts and are the face of men's fashion.
Are Sneakers Okay For Business Casual?
The answer to this is both yes and no, deepening on the circumstances. The first factor to consider is the dress code at your workplace. Make sure sneakers aren't outright banned from business casual events before you even think about their viability.
Generally, most offices allow sneakers but with certain design restrictions. So, you might not be able to wear the latest trendy sneakers on a business casual day, but sneakers are still acceptable within some predetermined boundaries.
Professional Sneakers
One issue you can encounter is that the dress code in many workplaces says that you can wear sneakers, but you need professional looking sneakers that exude an air of sophistication and maturity.
This statement is also not followed by any further details or explanation. So, what makes a pair of sneakers professional and office-worthy? Here are a few guidelines about that.
Design of Sneakers
Sneakers capable of fitting in with business casual outfits are very simple in design. Both high-top and low-top shapes are welcome, but they cannot have any distracting design elements like giant logos on any sides or extra-large soles. In other words, the sneakers should not draw any unnecessary attention towards them due to their silhouette.
This excludes stuff like basketball sneakers that are known for their trendy style, large brand logos, and tons of little design details with stitching and material patches.
Sneaker Shades & Colors
The safest color option for sneakers in business casual is black. They fit right in with everything from all-black outfits to classy browns and tan. Plus, they follow the most important rule of not attracting any unnecessary attention towards them.
The second best option is sneakers with darker shades of brown. These look great with colors used in business casual outfits like blue and white. Also, there is no better option than brown sneakers if your business casual outfit includes a brown leather jacket. Other acceptable colors include dark shades of blue, very dark maroon, and white.
One thing to remember about business casual men's sneakers colors is that they need to be solid. So, no multi-colored sneakers or even sneakers with different colored stitching. The only exceptions to this are the white soles found on most sneakers, no matter their color. A black and white combo might work with certain sneakers' professional attire, but it's better to avoid the risk altogether.
Material of Sneakers
Modern sneakers are available in all sorts of materials, ranging from denim to velvet. However, the ideal materials for business casual men's sneakers are the same for traditional office footwear – leather and suede. These materials make sneakers a great fit for professional clothing without any issues.
Picking the right material works so well, in fact, that you can wear bright blue leather sneakers, and they might still look acceptable. That said, you are advised to choose leather or suede in dark neutral colors with non-existent design details to maximize their compatibility.
As a side note, materials like velvet can work as well but only with certain sneaker sub-types like Chelsea boots.
What to Wear with Business Casual Sneakers?
Now that you know about the best types of sneakers for business casual outfits, it's time to look the other way. Here are a few tips to make your business casual outfit look good with the right sneakers.
Stay Simple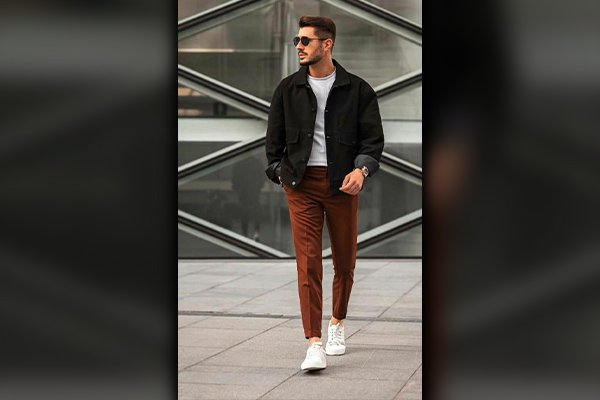 Keep your entire business casual outfit simple and to the point. Items like white shirts in either button-down or button-up designs, neutral-colored chinos, and solid well-fitted blazers are the key to success here.
Focus on Fitting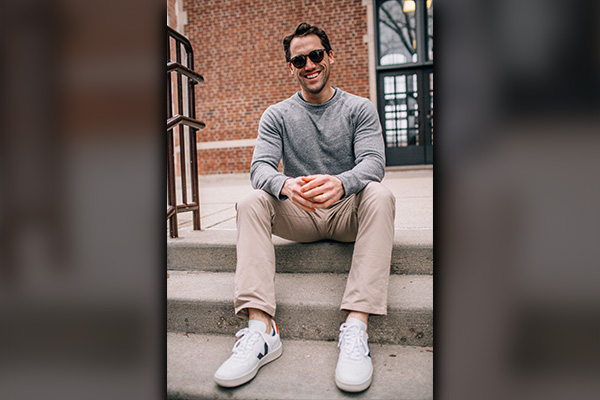 Make sure that every item in your outfit is fitted to your body proportions. Loose and baggy clothing exudes a more casual vibe that will get amplified by the sneakers. So, whether you're a chubby guy or someone skinny, don't wear the wrong fit.
Dress Down Formal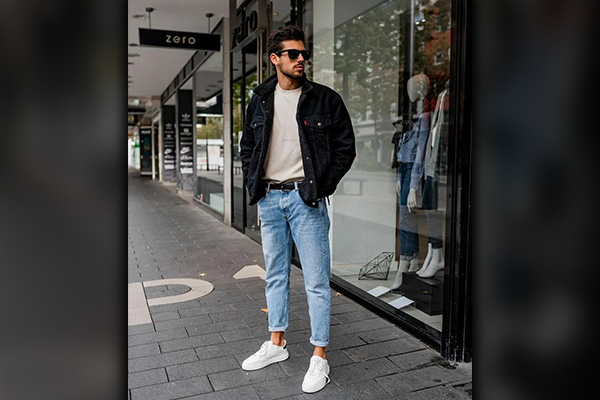 Try wearing your sneakers under a suit. This blend of formal and casual will merge together to form the ultimate business casual outfit. If a full suit doesn't work for you, try the same look but with a broken suit to ease up the formal vibes. Also, wear turtlenecks or polos instead of dress shirts to further smooth out the ensemble.
FAQs – Are Sneakers Business Casual
What Shoes Are Considered Business Casual?
The ideal business casual shoes for men include loafers, oxfords, derby shoes, leather boots, and Chelsea boots. Sneakers are also a part of this list but with specific shape, color, and design parameters. Lastly, dress shoes can work in business casual as well if you pair them with an outfit that tones down their formal look.
Can You Wear Sandals for Business Casual?
The biggest hurdle in wearing sandals for business casual is the dress code in your workplace, as most institutes outright ban open-toe shoes like sandals. That said, if sandals are allowed in the dress code, brown and black leather sandals with black soles are your best options.
How to Wear Sneakers with Dress Pants?
Dress pants and sneakers are not a good combo on their own. However, this matchup becomes not only viable but a certified banger when you add a classy blazer into the mix. The blazer must be lighter in color than the pants, and patterns like check are welcome as well.
Can You Wear Tennis Shoes For Business Casual With A Dress?
Yes, you can wear tennis shoes with a dress. This pairing works surprisingly well when both the sneakers and the dress are mostly white, but you can also rock them with light-colored sundresses and some pastel A-liners. The only exception to this pairing is maxi dresses, as they look their best with leather shoes that leave your instep, toes, or both exposed.
Does Business Casual Include Sneakers That Are Fancy And Vibrant?
Whether a pair qualifies as business professional sneakers for work or not can vary drastically between designs. However, keep in mind that any pairs with vibrant eye-catching colors or unique trendy shapes are usually not considered work dress sneakers.
Is Business Casual With Jeans And Sneakers A Good Idea?
They are a good idea if the answer to "can I wear sneakers for business casual" at your workplace is yes. That said, you should focus on the color and design of your jeans and sneakers, as well as the top to make this outfit as viable and business-friendly as possible. 
Final Words
Wearing sneakers with business casual outfits might sound like a very odd and mostly impractical proposition at first. But, as we dive deeper into its nitty-gritty, the viability of this matchup becomes apparent. In conclusion, the answer to "are sneakers business casual" is a resounding yes (with certain limitations, of course).
As for why you'd want to wear sneakers in business casual, the answer is uniqueness. Everyone has seen thousands of business casual outfits with the same loafers and leather boots. Outfitting yourself with sneakers is a great way of distinguishing your style while also following an emerging trend in men's fashion.