The Italian men's wardrobe is not new to broken suit combinations, also known as spezzato, a quirky way men spill up a suit, wearing the trousers from one and jacket from another. However, these mismatched suit jackets and pants are versatile and highly chic in their ways, which is why it has become a trending part of contemporary culture and are considered art. 
You will often come across fashion icons flaunting a mismatched suits to express their individuality and add that extra personal touch of creativity, which you can do too. This broken suit might be very weird to hear about but trust us that men actually slay in it.
So, for you, in this blog, we'll discuss how you can rock this versatile Italian culture on the streets of your own country by providing you with various popular combinations and tricks. 
However, first, let's discuss what a spezzato is:
What is meant by a Spezzato?
The Italian term spezzato means broken, and it is an advanced impeccable technique that includes mixing the jacket from one suit with the pants of another. So just make sure that you are mixing pieces from two different suits to create that spezzato effect and parade it boldly.
Popular Color Combinations
While this may seem an absurd concept at first, it is highly acceptable in Italy and around other parts of the globe due to its creative and innovative appeal. However, mixing and matching entirely different elements can be tricky, especially if you're new to this term, so we've picked out some dapper, error-free broken suit combinations for you to try.
 If you want to perk off this exciting combination and step out of your comfort zone, then here are some blazer pants color combinations you must experiment with. These are by far the best-broken suit combinations you will ever come across, so let us get going! 
Navy Blazer + Neutral Trousers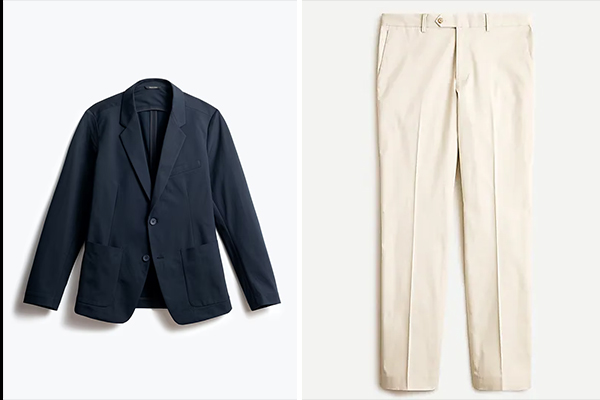 Navy and Neutral, the two N's are often called the bread and butter of separates, owing to their crisp, classic look, almost natural for two-tone suit combinations. For example, pair a classic navy blue Blazer with neutral-toned pants, and a pastel-shade tee, and finish your look with matching formal shoes. 
However, if it looks too cliched and you want to add a fun element, accessorize with pocket squares or ties in emerald green, burgundy, or even rick brown to amplify this authentic combination. We are sure that this would be by far one of the best two-tone suit combinations that men would want in their wardrobes! 
Navy Blazer + Grey Trousers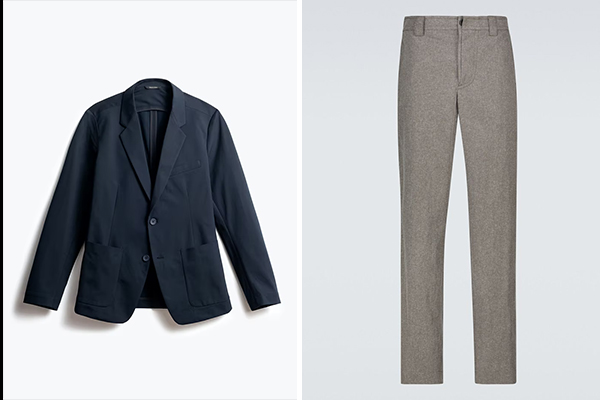 Another obvious pairing for a flawless matching blazer and pants combination is teaming a navy blue blazer with grey trousers that are easy to perfect and appealing. For this combination, wear a classic white or powder blue shirt under a deep navy blue blazer to allow a more traditional interpretation of the trend.
Ensure you select the correct shade of grey, which is not too light and not too dark because there will be no distinction between the Blazer and the trouser. Wear a matching striped tie or a pastel pocket square and finish the look with classic Oxford or Derby shoes. These men's broken suit combinations are perfect for semi-formal and formal wear. 
Grey Blazer + Dark Wash Jeans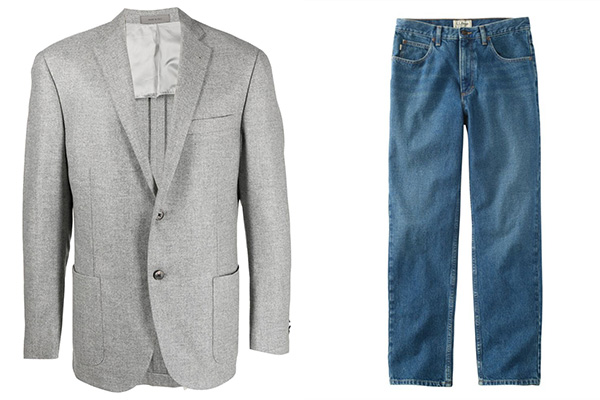 One super hit duo for breaking suits is the timeless grey blazers paired nicely with dark-wash denim jeans. However, it is essential to remember that the separates only complement each other if they have the same level of formality, so make sure that the material of the Blazer is not too formal. 
Since denim is a more rough, casual material, instead of a stiff, formal grey blazer, opt for lightweight cotton grey blazers to keep some matching intact and avoid things from looking too out of place.
Grey Blazer + Black Trousers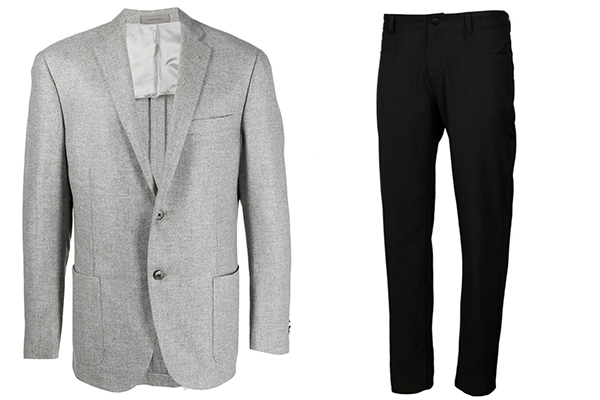 If you're looking for an option that's fail-proof, and safe, yet projects a classic aesthetic, then there is nothing better than pairing a traditional grey blazer with some dark black trousers. Since black and grey come from a similar palette, this ensures that the combination is not overboard and complements one another.
To acclimate the color combination, go for a simple white Oxford shirt and stick with a monochrome accessory to sustain the classic color story.
However, if you still want to add some color or spice, go for a dark blue tie to be the right amount of color needed and make the suit look more customized. Colors are everything so suit color combinations should be picked out very wisely.
Black Blazers + Grey Trousers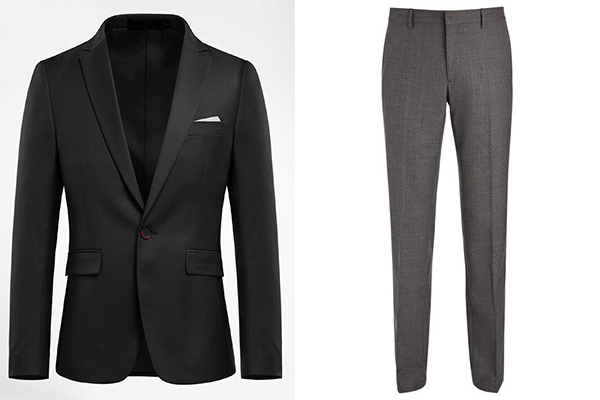 One of the other broken suit combinations that are very popular amongst the guys is black blazers paired with grey trousers. You could always switch around and go for a fitted silhouette black blazer and grey trousers that work tremendously well for formal and casual looks and are a great option to balance out proportions. 
To maintain the color combinations, stick with simplistic colors and patterns to preserve the classic aesthetic and look more sharp and clean-cut. But, of course, you could always add patterned pocket squares or wear brown shoes to brighten up a solemn black blazer and add that fun element to your outfit.
Brown Blazer + Navy Trousers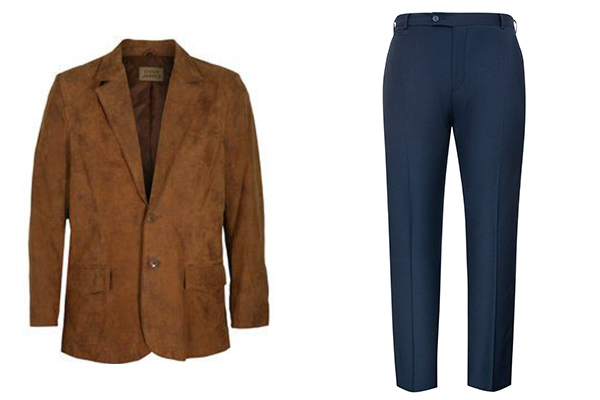 Go for deep navy blue pants with a youthfully tailored brown blazer which is a classic combination, visually appealing, and perfect for a quasi-formal event. If you want to play with different fabrics, combine a tweed blazer with denim jeans which is an attractive option.
You could pair these with a soft blue shirt, printed ties, and traditionally patterned scarves and finish the look with dark brown Oxford, Brogue, or Chelsea boots for a sophisticated, refined attire. 
Colored Blazer + White Trousers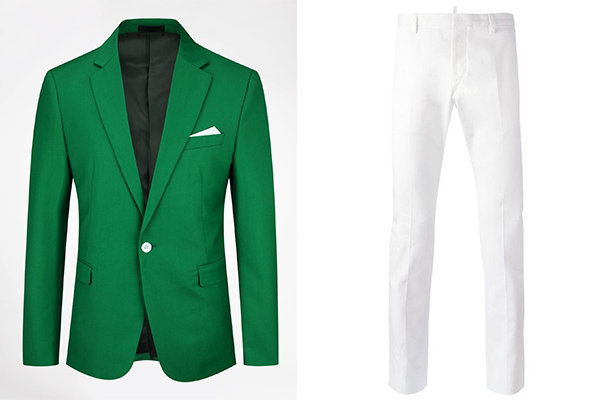 One of the go-to ensembles for many bloggers and street stylers is typical white trousers, which are light, fresh, and perfect for a relaxing weekend. You can pair this great bottom with a dark-toned blazer such as blue, green, or even black to add some depth to your outfit and balance the plainness of white.
Of course, you could go for pastels for a more soft look; however, add one dark element such as a pocket square or a tie to bind the whole look together carefully. Last, pair the suit with matching loafers, a classic watch, or glasses, and you're good to go.
5 Important Rules to follow
While wearing some popular combinations, it is possible that you want to try some different colors and styles but are afraid of making an error. If this is the case, don't worry, because we have four essential tips that you must follow for a perfect broken suit.
Here is your suit separates guide that will allow you to show off refined elegance without making any mistakes. So, whether it be three-piece broken suit combinations or two-piece broken suit combinations, we are sure that you will not make any blunder while dressing up: 
Create a Contrast
Depending on different situations and moods, you must manage color contrasts to maintain a polished look. For example, play with shades from the same color palette for uniformed attire, or spice up your outfit by contrasting bold colors with pastels for a more casual look. For example, highlight a pastel suit with a dark-colored pocket square.
Use a Unifying Color
To interact the whole together, you must use parts of two suits that have the color of the other to unify the entire look. For example, if your suit jacket has the colors of your pants, then it helps to visually bind the top and bottom halves and make your outfit more uniform.
Go for a Nice Fit
It is often hard to retain sophistication for broken suits due to its unconventional mix and match approach. However, if you still want to opt for a more posh formal look, then make sure you go for superbly tailored blazers and trousers in a neat color scheme.
Choose Compatible Fabrics
Next, it is incredibly vital to ensure that your materials work together, so you do not look like you've tried too hard and the whole outfit falls apart. For example, do not mix a winter leather jacket with a thin linen trouser or do not pair a formal silhouette with a denim partner.
Avoid Casual Pants
A common practice when weaning a spezzato is, wearing casual pants like chinos or jeans with a formal suit jacket that doesn't blend well together. On the other hand, you could wear a coat that looks more casual to avoid the harsh contrast or go for formal pants for a safe bet.
FAQs – Broken Suit Combinations
Can I wear green pants and brown shoes?
Yes, pairing deep brown shoes with olive chinos is an excellent example of how earthly colors blend well. 
What goes well with green shoes?
Green shoes would look great with monochrome white, blue, or even black outfit. You could also use colors like red and pink to create an eccentric contrast or complementary tones like orange, blue, or purple. 
Which color shirt goes with green pants?
You could go for a lighter shade of green if your pants are dark, or pair it with white or black for a cleaner look. Don't shy about experimenting with pastels like pink, purple or deep tones like grey. 
Do blue and green go together?
Yes, they complement tones, and pairing the right shades would go well together. 
What Color suit goes with dark green?
Any pastel color would go well with dark green; however, avoid darker tones because that would set the whole outfit off balance. The suit separates color combinations may also include specific colors like off white or maybe just crisp white, it would elevate the entire vibe of your outfit.
Conclusion
This was our take on how to break suits elegantly in a fashion-forward way and look sophisticated and stylish despite following this unconventional trend. Of course, you could always add more colors and styles in the mix, as long as they complement each other and retain the outfit's elegance.
Take out some time and pick those basics from your wardrobe and pair them with bold colored broken suit combinations. You can go wild with different thoughts, it is all about what you come up with. Have fun styling!