The world of fashion is continuously evolving, with changing trends every day it is very hard to maintain your style in the most perfect way. There are two types of clothing, one that is stylish but not comfortable and one that is stylish but also very comfortable.
All about Black outfits:
It's on you what you will choose, style over comfort or both. Black outfits have the most versatile options to style them. From a casual fun day to a formal meeting black outfit will be a perfect fit for your wardrobe.
Ways to carry a black outfit:
Black outfit or black color clothing never goes out of style and is the safest option to wear on any occasion. For a formal gathering, black colour can give you a very edgy look. We have aligned a few looks that you can carry wearing black outfits.
Casual Look: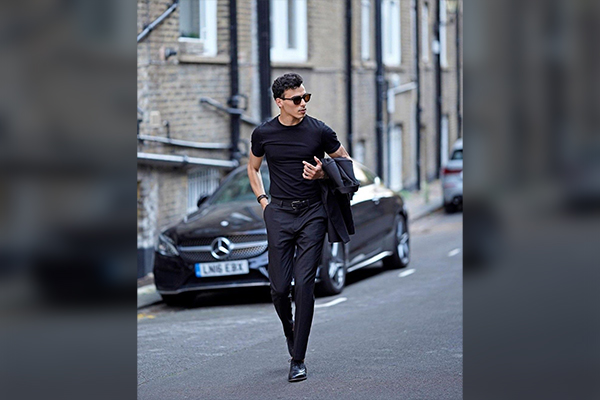 All black casual style is for people who don't work in a corporate environment but still want to stand out in their casual setup of work. Get in your closet, take out a pair of black jeans, pair it with a classic t-shirt in grey color and top it off with a black casual jacket or a black waist-length coat. Wear it with your most comfy black loafers to complete the look. 
Formal for a Meeting: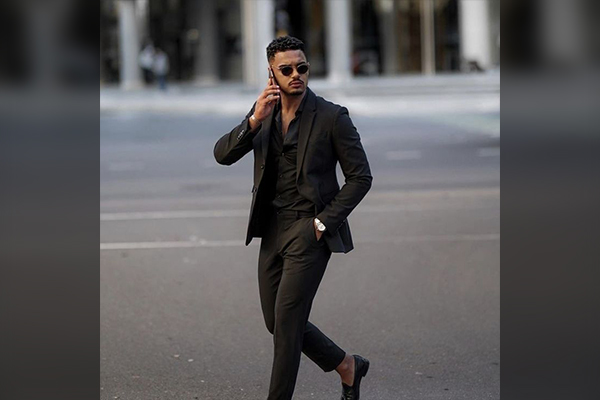 You want to channel the best and classy side to your corporate colleagues. A black attire will give you the edge you want in your look. A modern formal dress for men, with a black tie and black undershirt, is a perfect way to get ready in the most effortless way. Complete this look by styling it with formal black shoes and be the star of every meeting.
Semi-Formal Attire: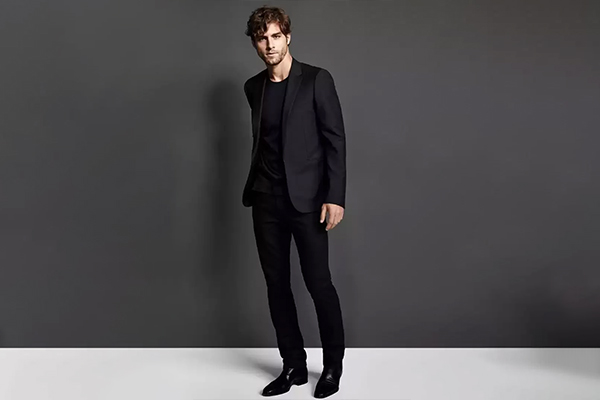 Save yourself the time to think and follow a semi-formal attire when not too sure what dress code to follow in an event you are invited to. A black skin-tight jeans, with a round collar black shirt, are perfect for any semi-formal gathering. The look can further be enhanced if you layer it up with a black leather jacket. You can add a watch to this look and you are all set to rock the day.
Gym Ready in Black: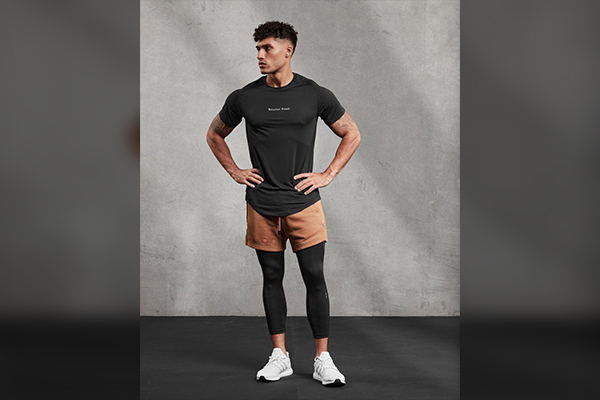 Gym clothing has to be the most comfortable of all because that's the place where you will be exerting yourself so choose wisely. The gym wear is a totally different material of clothes to keep away the sweat. Get yourself a black slim-fit gym vest or a half sleeves tank top, pair it with black jogger pants, and boom you are ready to work out. For a more hip style, you can wear a black jacket with black and white converse.
Street Style Ready: 
A style most men love to follow and has been in trend for a very long time. This is the most comfortable look with the most versatile options. Wear a black sweatshirt with your favourite black jeans and ankle-length boots. Just to give an extra edge to your attire, pair it with a black leather jacket and you will do wonders walking there on the street.
Summer Styling in Black: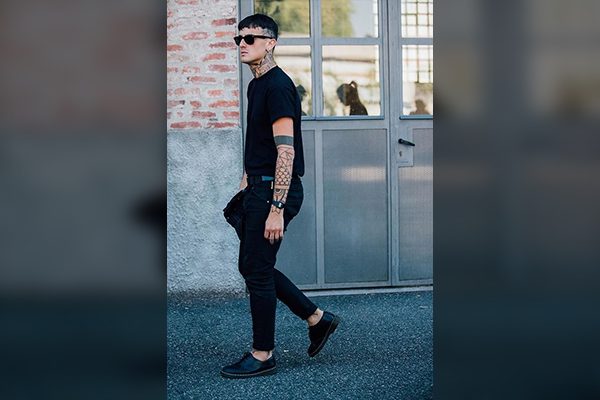 Summers are the time when you want to stay in style but also don't want to feel hot by wearing the wrong type of clothes, summer outfits for men are the best option. For a casual summer day, you can always wear a black half sleeves shirt with complimentary light color shorts and a pair of matching loafers. For a more semi-formal look, you can pair a black polo shirt with jeans and get going for a perfect day out.
Ready for a Winter Evening: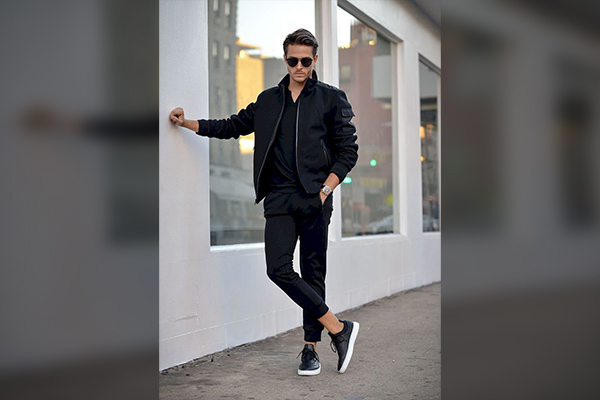 Winters are the time when whatever you wear will have the power to make you look good. For winter attire you can always go for a long coat or black blazer, with a high neck underneath and a pair of black sneakers. You can further top up the look with a silver color watch and a belt with a silver hook.
Black Themed Party:
You would be wondering what is a black-themed party and what to wear to an all-black party? It is as simple as a red color day or any other color day you celebrate. For a black theme party, all you have to do is dress in all black with a hint of other complimenting colors. The all-black theme color party can be the easiest theme you can follow out of all. This doesn't require much of an effort, you would just need everything black in your wardrobe and you are all good to enjoy the party.
What to wear to an All black themed party:
An all-black-themed dress is the most decent yet happening way to dress for a party. You can add a fun touch to it by adding accessories that go well with the outfit. All you have to do is put together all your black clothes and you are fit for a casual or smart casual look for the party. For a black-themed party we have made a list of these looks you can carry:

1. A biker look: Something that will give your look an edge over the others because of the strong vibe it offers. Get your leather biker jacket and pair it with your ripped jeans for a different party look.
2. A College Boy Look: You can pair a black colour shirt, with black blazer and chino pants to create a look of the college boy you have always wanted for yourself. For adding a touch to the look you can wear a pair of sunglasses too.
3. All Denim: A look purely consisting of everything denim cannot go wrong. A denim black jacket, with a black undershirt, and denim jeans can be the most laid-back yet sharp look for an all-black theme party. This will be the most classy all-black party outfit.
4. Suit up: One more way to dress yourself up for a party is to wear a black suit. Suits are an investment that will last you a lifetime, so make good use of them anytime you get a chance. For a change, suit up for a black themed party and you will be appreciated for your choices.
The End:
Black is a color liked by many because of the elegance it offers. Wearing a black outfit will simply pump up your fashion game. It may sound boring to many, but almost all of us have always been hoarding on black outfits in our wardrobes. The easy-to-style options, the versatility it offers, and last but not least, the style statement you will make wearing all black is just extraordinary.