Dressing up can instantly elevate your mood. It's pretty simple. If you look good, you feel good. Figuring out your own personal style can be something that may take years, months, or, if you are lucky, just a few days. It's all about figuring out what types of clothes make you feel like you.
Men's fashion wear used to be basic with limited clothing options. Thanks to fashion trends and social media, men's fashion is reintroducing itself in a way unlike ever before.
Not only is fashion now more accessible but there is also an affordable approach to men's style. You don't have to break the bank to look stylish. Instead, investing in a few statement pieces can help create a foundation for your wardrobe.
One key piece you need in your wardrobe is a pair of sneakers. Sneakers are the most versatile shoe to exist. They add to your outfit. For example, when you pair slacks with sneakers, you get a sporty, sort of vibe.
If you pair them with bright-colored hoodies, you get a summer streetwear-appropriate outfit. These are some basic ways to wear sneakers but what if you paired dress pants with sneakers?
Dress pants with sneakers together can sound like a bit of an eccentric combination but isn't that what fashion is all about? Dress pants have this very formal sort of look to them. If you follow non-existent rules then sure, oxfords are the shoes of choice to pair them with.
Different types of boots or loafers may even work, but sneakers with suit pants sound exciting.
Different Ways to Wear Shoes With Dress Pants
Sneakers add a laidback element to an otherwise fancy outfit. Every outfit you wear has something to say. The shoes you wear with them are just a part of the message. If you too are wondering how to wear dress pants with sneakers then you have come to the right place.
Here are a few different ways you can hop on this trend and make it work according to your personal style.
Running Shoes With Dress Pants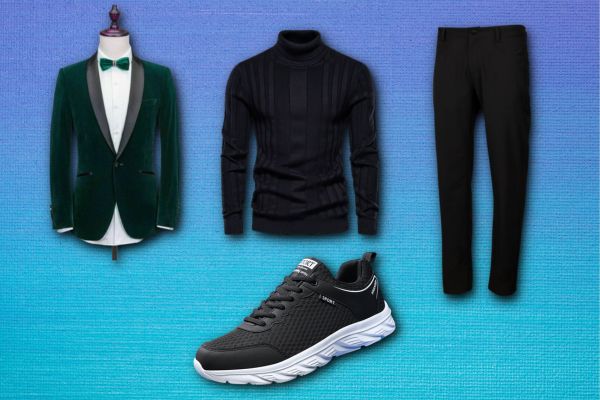 Who says you have to sacrifice your comfort when it comes to fashion? Create an uber-fashionable outfit by pairing brown dress pants with an espresso-colored turtleneck. Add on an olive green coat and white running shoes to complete the look. The result? An elegant and classy outfit. 
You can also create a classy yet casual look by pairing a black textured turtleneck with a pair of well-fitting navy blue dress pants. Stick to the color scheme and add on a pair of matching navy blue running shoes to complete the look.
Burgundy Shoes with Dress Pants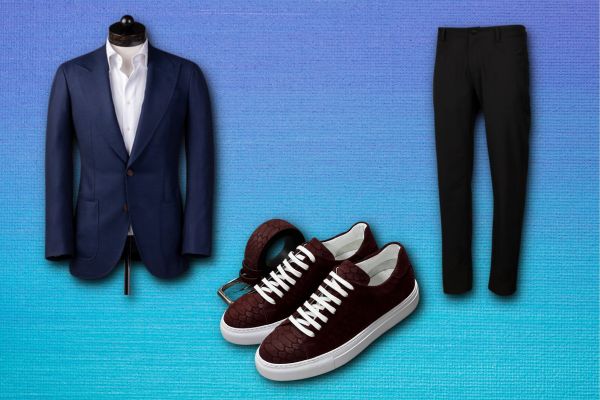 Workwear fashion is a fun way to add some style to your 9-to-5 outfits. Got a big meeting, or a presentation? Make a statement with a pair of burgundy sneakers. Keep the rest of the outfit simple by pairing a navy blazer with gray dress pants and a white crew neck t-shirt.
This look just screams confidence and the best part is that all you have to do is pair dress pants with sneakers.
Black Athletic Dress Shoes with Dress Pants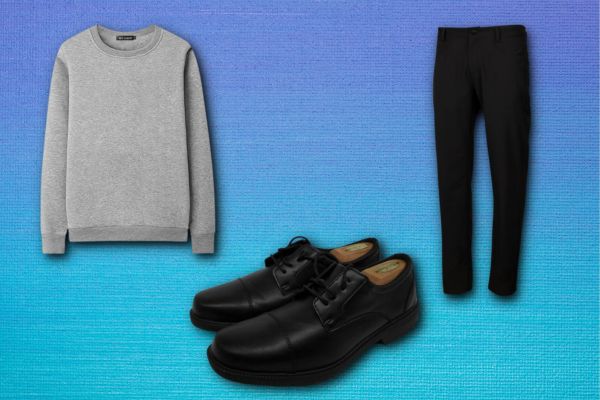 Black shoes are probably the best sneaker to wear with dress pants. They are minimalistic and cool at the same time. They pair well with most outfits and are an absolute must-have in your shoe collection. Pair a gray hoodie with black athletic shoes.
Give this casual outfit more of a sophisticated look by adding on a tan blazer and olive green dress pants. You can also opt for linen dress pants and a white shirt outfit for a more summer-appropriate look.
Tennis shoes with Dress Pants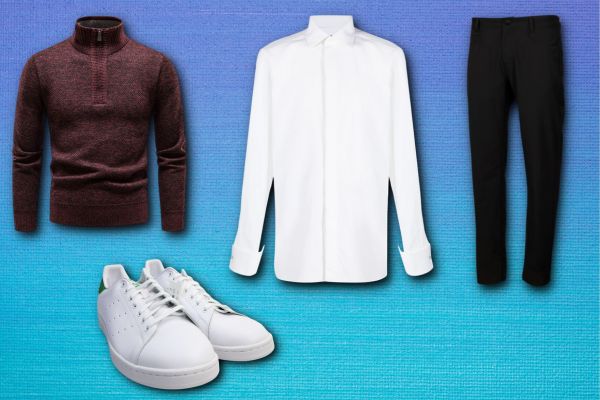 Tennis shoes are an iconic shoe style. This crisp white shoe looks great when paired with darker colors. Create the perfect men's thanksgiving outfit by pairing a white button-down with a burgundy sweater.
Add on a pair of navy blue dress pants and white tennis shoes. The colors together create a royal outfit. You can also add on a matching blue blazer and wear the outfit to a work event or business meeting.
Men's tennis shoes also look great when paired with red. For a more energetic outfit, pair a red blazer with a basic white tee. Add on a pair of dark blue pants and white tennis shoes to complete the look.
The white of the tennis shoes balances out the dominant red and blue. The overall outfit is easy to wear and is a great way to wear dress pants with sneakers.
Gray Shoes with Dress Pants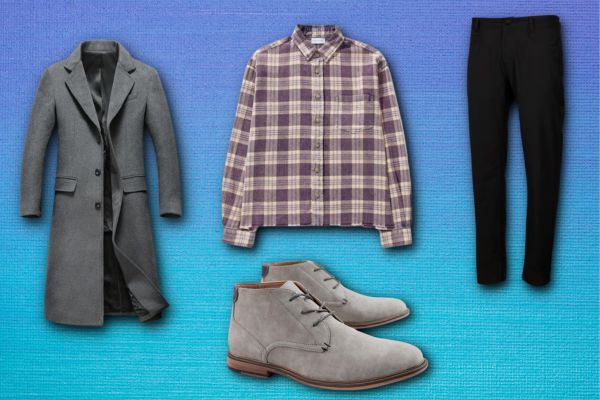 Winter time calls for grays and blues. Chelsea boots are seen everywhere and blazers are the layer of choice. Why not shake things up a bit? Put on a gray sweater and black dress pants.
Layer the sweater with a dark blue, oversized flannel shirt and a gray trench coat. For shoes, opt for a pair of light gray sneakers to add a more relaxing effect to the overall dapper look.
If smart casual wear is more your thing then try pairing a blue printed shirt with a pair of high-waisted gray or violet dress pants. Add on a pair of gray shoes to complete the look. This dress pants with sneakers look is great for a day out or for an outdoor party.
Which Shoes To Wear With Formal Pants?
You can wear oxfords, loafers, sneakers, Derbys, and boots with formal pants. It all depends on the look you're going for. 
What Shoes To Wear With Trousers?
Trousers look excellent with boots because of the added height. You can also wear loafers, sandals, and oxfords with trousers. Dress pants with sneakers are also a great option. 
Can You Wear Tennis Shoes With A Suit?
Yes, you can. If you're going for a casual or smart casual look, tennis shoes are a great option. But, if you are going for a more formal outfit then it's best to stick to oxfords or loafers. 
Sneakers Are Taking Over The Fashion World
It's a fact that most people judge you based on your footwear. Shoes are an essential part of any outfit and add to your overall look. Finding casual shoes to wear with dress pants can be a difficult task.
You want to pick a simplistic style and one that doesn't overpower the rest of your outfit. Dress pants with sneakers make an incredible duo and you should definitely try it to believe it.